NBA Playoffs 2012: Injury Replacements Who Will Thrive in Spotlight
May 2, 2012

Mike Ehrmann/Getty Images
Life goes on after injuries in the NBA postseason, thanks in large part to reserves who rise to the occasion.
The Chicago Bulls, Los Angeles Clippers, Atlanta Hawks and New York Knicks have all had their respective playoff ambitions threatened by untimely injuries, but they just might have a few of those dependable reserves waiting in the wings.
Sure, these guys might not be enough to put their respective teams over the top, but they're the best hopes their teams have. Win or lose, these often forgotten role players will at least have a chance to show what they can do.
C.J Watson & John Lucas III, PGs, Chicago Bulls
The Chicago Bulls got beat up by the Philadelphia 76ers Tuesday night, but that had a lot more to do with a surprising defensive breakdown than it did the absence of Derrick Rose. Backup point guards C.J. Watson and John Lucas III combined for 27 points, including a solid 7-of-12 outing from Lucas III.
While these guys won't replace Rose's distribution or leadership, the reserves did pick up seven assists between them.
There's no doubt that Rose is irreplaceable in important ways; few in this league are better at taking a game over when it's on the line. Still, as understudies go, Rose's will continue to play their parts pretty well.
Nick Young, SG, Los Angeles Clippers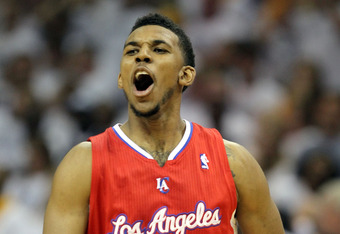 Andy Lyons/Getty Images
Nick Young is much more of a shooting guard than a small forward, but he'll still see more minutes with Caron Butler out and will find himself in the starting lineup, at least for now. Young was fantastic in the Clippers' Game 1 comeback, leading the team with 19 points and three clutch three-pointers down the stretch of a wild fourth-quarter run.
Young is still inexperienced and something of a defensive liability, but he was an electric shooter at times for the Washington Wizards. If he stays hot, the Grizzlies will have a headache on their hands.
Marvin Williams, SF, Atlanta Hawks
The revelation that Josh Smith will miss at least Game 3 of the Hawks' series against the Boston Celtics was bad news for an Atlanta team that's already had its fair share. The team's frontcourt is already missing Al Horford and Zaza Pachulia, and Smith was the roster's best hope of matching up against Kevin Garnett.
First-year forward Ivan Johnson becomes the best fit to replace Smith, but expect the Hawks to go small for long stretches and give 6'9" forward Marvin Williams more minutes. Williams is more of a 3, but his length will help this depleted squad out.
He's also been an effective three-point shooter this season. While he hasn't been a factor yet in this series, don't be surprised if he has a big game or two.
Steve Novak, PF, New York Knicks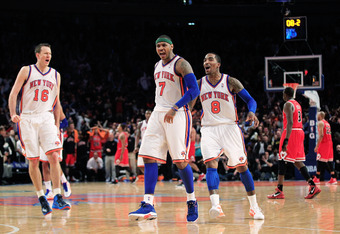 Chris Trotman/Getty Images
Novak isn't the best interior defender, nor is he an imposing rebounder—then again, those weren't Amar'e Stoudemire's strengths either. Even if Stoudemire does end up returning for Game 4 after lacerating his hand, there's no telling how much he'll be able to contribute.
Novak will get more minutes without Amar'e, and he'll become a de facto small forward on offense thanks to his ability to space the floor. That gives Carmelo Anthony plenty of space to roam the high post.
Novak has been a fantastic long-range threat this year, hitting 47 percent of his three-point attempts during the regular season. He won't get many clean looks against Miami, but the additional playing time will at least give him more opportunities.
J.R. Smith, SG, New York Knicks
Iman Shumpert's torn ACL paves the way for Smith to become the Knicks' only real sixth man for the remainder of New York's postseason—however long that lasts.
Aside from some ill-advised fouls and turnovers, Smith has been solid thus far in the playoffs–he's averaging 15 points on 46 percent shooting in his first two games against the Heat. Chances are that Smith would have seen plenty of action even with Shumpert around, but New York will rely on him that much more now.