Notre Dame Football: Why Tommy Rees Must Start at QB in 2012
May 3, 2012

Stephen Dunn/Getty Images
I am assuming that most of the Notre Dame fanbase will be grabbing their pitchforks after they read what I am about to write—that is if they haven't already grabbed them after reading the title of this article.
Tommy Rees must lead the Fighting Irish to begin the 2012 season.
As much as I would love to start comparing the quarterbacks' statistics and stating Rees' case for deserving the starting nod, there is simply just too small of a sample for Everett Golson, Andrew Hendrix and newcomer Gunner Kiel—which is one of the main reasons Rees must begin as the starter.
I am not naive or ingenuous. I am fully aware of Rees' performance in pressure situations, but isn't improvement when under pressure a big part of almost any quarterback's progression? 
As Notre Dame fans, we carry a pride and tradition that sometimes blurs our vision of the future. We have become a fanbase that expects great things, year in and out. When a player, such as Tommy Rees in this case, makes timely miscues in a few situations, we shun them and proclaim them invaluable to the team.
We also tend to ignore the glaring mistakes and inadequacies of other players. Maybe we do this to subconsciously facilitate our reasoning of blaming that single player.
When Notre Dame lost the opening game to South Florida in 2011, there were many factors and plays that contributed to the loss—although many will only remember Rees's interception late in the game.
Let's not forget that Dayne Crist started for the first half and only managed 85 yards. Jonas Gray fumbled on the opposing goal line during the opening drive, which was returned 99 yards for a touchdown. Crist threw an interception in the red zone in the second quarter, and the Irish failed to score for the entire half.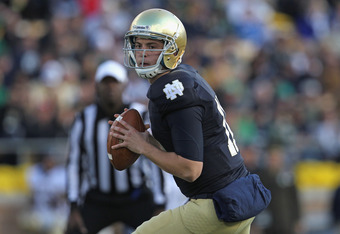 Jonathan Daniel/Getty Images
Things weren't exactly looking good through the first half of football with Notre Dame down 16-0, so Tommy Rees took over to start the third quarter.
With his first action of the season, Rees threw an interception. The following two drives, however, he led the Notre Dame offense by passing for 109 yards and throwing for a touchdown.
Kicker David Ruffer missed from 39 yards—a field goal that proved vital.
On 3rd-and-goal, the Irish defense was flagged for pass interference which finally led to the Bulls crossing the end zone for another score.
Once Rees took the ball in his hands after the defensive miscue, he drove Notre Dame 71 yards down the field while completing 7-of-10 passes. Cierre Wood then took the ball from the 1-yard line to score.
Down 23-13 with 4:37 left in the game, it already seemed highly improbable that Notre Dame could come out victorious. Two plays later, Rees threw his second interception.
After a South Florida punt, Rees led the Irish down the field for a score once again, this time driving 99 yards. That drive gave the Irish a chance at an onside kick, which they unfortunately failed to recover.
Every time I look at that series of events, I start to blame Rees less and less.
Whether you agree or disagree with my opinion of starting Rees, you must succumb to the notion that he was not the reason for losing this game. Had any of the miscues out of Rees' control gone another way, Notre Dame would have come out of that game starting the season undefeated.
If the defense had not committed pass interference on 3rd-and-goal, Gray scored or even at least held onto the ball or Ruffer converted the mid-range field goal, no one would be talking about the two interceptions by Rees, but rather the unbelievable 99-yard drive he manifested to win the game.
It is amazing how the first game of a season can shape a fanbase's opinions.
The same can be said for the Michigan game. While I will not go into depth about this game, I will say that Rees had another victory if the Irish defense hadn't collapsed.
Does this mean he played flawlessly? No, but a win sure does help fans forget about your miscues.
In theory, Rees should be far from the first person taking accountability for these crushing losses—but, as we all know, theory and reality are separate matters and Rees has been the unfair victim of blame.
Beyond Rees's actual play is the doubt caused by the rise of Everett Golson, Andrew Hendrix and Gunner Kiel. While I think Kiel is the future of this program, he is not yet mature enough to take control of the highly visible South Bend offense.
Everett Golson and Andrew Hendrix are without a doubt talented quarterbacks, but what exactly have they done to prove themselves over Rees?
During last year's season, Hendrix showed no improvement over Rees when it comes to turning the ball over, and Golson has failed to win any playing time. None of us know why Golson has yet to receive a chance, but we can only assume that coach Brian Kelly doesn't like what he sees—and he sees a lot more than us fans.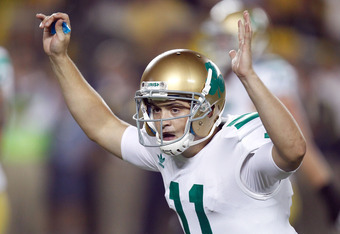 Gregory Shamus/Getty Images
After all, Rees is not as bad as you may believe. Try to imagine last year without losing the first two games—since Rees had a smaller part to be blamed, rather than being the only one blamed.
When you imagine that, you see a 10-2 season and a strong BCS bowl appearance.
Now look at Rees' stats. You will see a rating of 133.4 with 2.871 yards and 20 touchdowns. They may not be flashy or overwhelming, but you should realize that the Miami Dolphins drafted Ryan Tannehill with a 133.2 rating.
Of course, Tannehill has the intangibles Rees may not, but my point is that Rees was not a bad quarterback.
I, for one, believe Rees gives the Irish their best chances to win in 2012. With a better defense, some Heisman hopes for Cierre Wood, the return of Tyler Eifert and a young group of exciting receivers, Rees can manufacture a very good season and finally give Notre Dame fans the relief of living up to sometimes unfair expectations.
It may not be the popular decision to start Rees, but then again, how often is the popular choice the right choice? Rarely.