Steven Gerrard's 20 Best Goals for Liverpool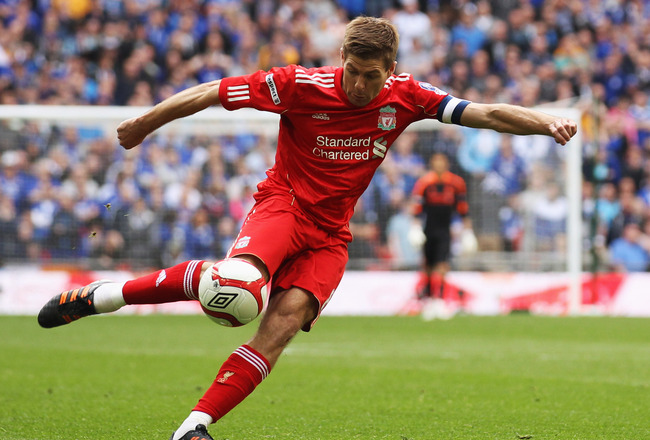 Scott Heavey/Getty Images
There was a sense of déjà vu all around Anfield yesterday.
Liverpool had lost once again in front of home support and yet again it was by the embarrassing margin of 0-1. Although, this time the fault was of their own making, because the scorers were troubled by a Martin Skrtel own goal.
Alright. It would be in the best interests of everyone associated with Liverpool if the criticism of the team's Premier League form stops here.
Liverpool now look forward to their third Wembley appearance of the season with the FA Cup final versus Chelsea on the cards. Rest assured, this Saturday spectators are in for one joy ride, with both teams hitting red-hot form just in time for the big occasion.
Chelsea travel to Wembley on the back of some scintillating performances, which saw them run over Barcelona to enter the Champions League final for their second time in the Roman Abramovich era.
And with ex-Liverpool hit man Fernando Torres returning to his goal-scoring ways once again with his hat trick against QPR to go with the match-winning goal at Camp Nou, things are certain to heat up between both sets of supporters.
Liverpool, especially Luis Suarez, looked to be at their best against Norwich City. The Fulham loss notwithstanding, Liverpool are just as much the favourites as Chelsea going into Saturday.
For one person, however, the occasion means something else. Steven Gerrard will certainly remember the 2005 League Cup final when his own goal helped Chelsea on their way to their victory. He will want to correct the mistake by getting his name on the score sheet on Saturday.
And, as usual, let's do our bit in motivating him by presenting a package of the best Steven Gerrard goals. Let's hope for a beauty on Saturday…
Liverpool vs. Sheffield Wednesday (Premier League—1999)
Steven Gerrard's first goal was against Sheffield Wednesday in the Premier League in his first full season as a Liverpool player.
This goal, scored by a teenage Gerrard during the 1999-00 season, has pure class written all over it.
It was scored in some fashion—Gerrard dribbling past three opposition players before scoring past a frustrated goalie—as Liverpool went on to win the match 4-1.
Liverpool vs. Southampton (Premier League—2001)
One of the trademarks of Steven Gerrard is his long-range shooting ability.
Even as a youngster, Gerrard had a sharp eye for the goal, justified by the many pile-drivers he has drilled past opposition goalkeepers.
Doubt not, folks. It was not a FIFA console-generated goal.
This goal, scored on New Year's Day, ranks among one of his best goals. Simply stupendous!
Liverpool vs. Manchester United (Premier League—2001)
A goal against the bitter rivals will always be a part of the folklore.
Steven Gerrard, as an up-and-coming youngster, made a statement on that day when he scored this bullet from range.
Martin Tyler described it as "sensational". But, I'd rather know what Fabien Barthez and Sir Alex Ferguson thought of it.
Liverpool vs. Manchester United (2003 League Cup Final)
Yet another long-range effort to prove to his critics the impeccable vision that this man possessed.
What makes this goal special is that not only was it against Manchester United, but it was in a Cup final.
Liverpool went on to lift yet another "Mickey Mouse Cup," as Alex Ferguson was once again left frustrated at his team's incompetence and inability to finish off a game.
Steven Gerrard, playing in the central midfield, attempted a shot from outside the box which took an evil deflection off former Red Devil David Beckham, but was high enough to escape the hands of Manchester United goalie Barthez.
Michael Owen scored another to win it 2-0 for Liverpool and Gerrard added a second league Cup winner medal to his collection.
Liverpool vs. Olympiacos FC (Champions League—2004-05)
Three words…"Oh, you beauty!"
That explains it all. This goal proved to be the decisive goal that put Liverpool through into the knockout fixtures of the 2004-05 UEFA CL competition.
Gerrard was returning from a foot injury that had kept him out for a good couple of months.
Liverpool needed a two-goal margin of victory to proceed in the competition. And Gerrard did just that with this strike.
Liverpool vs. AC Milan (2005 Champions League Final)
In Istanbul, we won it FIVE times!
Liverpool's fifth European Cup came home in some style. Not many teams could comeback from being 3-0 down at half time to win the game on penalties.
Six minutes of second-half magic and this Gerrard goal off a John Arne Riise cross was the beginning point of the fight back.
Jerzy Dudek was undoubtedly one of the star performers of the night, but it was Steven Gerrard who inspired a comeback, scoring one and winning a penalty for Xabi Alonso to stab home.
And the rest is history!
Liverpool vs. West Ham United (2006 FA Cup Final)
One of the greatest Cup finals of all time and one of the greatest goals ever scored.
Liverpool came back from two goals down and won the game 3-2 on penalties following a Steven Gerrard wonder strike that took the game into extra time.
Steven Gerrard's two goals shifted the fortunes for Liverpool, who untill that point were heading towards a certain defeat.
If the 2001 FA Cup Final was a "Michael Owen Final," then this surely was a "Steven Gerrard Final".
Liverpool vs. Aston Villa (Premier League—2007-08)
Stevie G's 87th-minute free kick gave Liverpool a narrow 1-2 victory after minutes of high-intensity action didn't make a difference.
And what a goal it was!
Incidentally, Aston Villa was the club against whom Steven Gerrard scored the first of his two Barclays Premier League hat tricks. We know the other one, don't we!
Liverpool vs. Middlesbrough (Premier League—2005-06)
What a goal!
Brad Jones had no chance in hell to stop that. Only one person can manage to score goals of this calibre.
Liverpool vs. Real Madrid (Champions League—2008/09)
What a night it was!
The elite of world football came crashing to the ground at Anfield.
Fernando Torres delivered a virtuoso performance on that night, but Steven Gerrard scored two crucial goals to stamp Liverpool's superiority on the nine-time European victors.
Lookout for Stevie G's sensational second goal…
Liverpool vs. Marseille (Champions League—2008-09)
In a Champions League group stage fixture against Marseille, Liverpool were struggling to break down the defence.
But when you've got Gerrard in your lineup, you don't necessarily need to break down a defence. There is always the option of sending the ball high over their heads and into the back of the net.
Liverpool vs. Arsenal (Premier League—2007-08)
A powerful free kick through the crowd in typical Gerrard style and Manuel Almunia can only scratch his beard.
Fabregas brought down Xabi Alonso on the edge of the box following a goal-mouth scramble and Gerrard stepped up to drill in the resulting free kick from the foul.
Liverpool vs. Newcastle United (Premier League—2011-12)
And there's the comeback goal against Newcastle on New Year's Eve 2011.
Gerrard came off the bench and scored a goal of sublime quality to remind the fans what they had been missing. Tim Krul was just clueless here.
Liverpool vs. Everton (Premier League—2000-01)
Then a cocky teenager, Gerrard scored this wonderfully-timed goal from an acute angle against Everton.
And he went off to celebrate right in the face of the bitter blues of Merseyside.
Liverpool vs. Manchester United (Premier League—2011-12)
Remember this free-kick goal, folks?
I must admit, I still haven't managed to figure out what exactly Ryan Giggs was protecting from the ball's trajectory…
Liverpool vs. Manchester United (Premier League—2010-11)
Although the match ended in a Liverpool loss due to a Berbatov hat trick, Stevie G's angled free kick still found its way to the back of the net through the wall.
Van Der Sar didn't have to move an inch, neither did the United wall. Such was the timing of the kick.
Liverpool vs. Newcastle (Premier League—2005-06)
Steven Gerrard once again proved why he is such a dangerous player when he had the ball inside the opponent's penalty box.
An unmarked Gerrard received the cross from Riise, passed it to Crouch, who then laid it off to Gerrard for him to smash it in at the far corner past a diving Newcastle goalie.
Liverpool vs. Hull City (Premier League—2008-09)
You've got to watch it to believe it.
This guy can score from near the corner flag, apparently. What a natural talent this man is!
Liverpool vs. Aston Villa (Premier League—2005-06)
How does he manage to repeat the feat so many times?
Watching Gerrard score from a distance is a real treat to a sore eye. A recent phenomenon was the thigh exhibition by Cristiano Ronaldo following a goal from range. Well, Ronaldo should learn to behave when Guru Gerrard is still in one piece…
Liverpool vs. Total Network Solutions FC, AKA the New Saints FC (2005-06)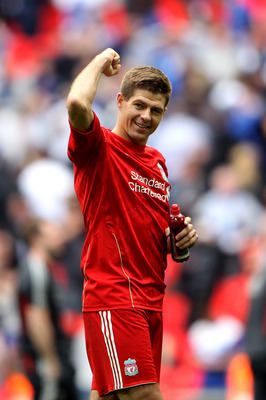 Scott Heavey/Getty Images
This goal was in the first leg of a first qualifying-round tie for the 2006 UEFA Champions League qualification.
Stevie Gerrard's hat trick ensured Liverpool won the first leg with a comfortable 3-0 margin.
This goal was the hat-trick goal, and look at the ease with which Gerrard dispatched the ball into the goal from range with his weaker foot.
Here's the link to the video.
Conclusion
Steven Gerrard will reach the 150-goals landmark for Liverpool if he scores against Chelsea on Saturday.
But, the most important thing on his mind would be to get his hands on that FA Cup trophy atop the Wembley balcony.
And that is precisely what every Liverpool fan wants, too…
Keep Reading

Liverpool: Like this team?