Clippers vs. Grizzlies: A Sign of Good Things to Come?
May 2, 2012

Andy Lyons/Getty Images
Game 1 of the Los Angeles Clippers' first-round series against the Memphis Grizzlies proved one very important thing: you can't count this team out that easily.
I admit, it didn't look good. Many times in the past, the Clippers being down 27 points would be a death knell for the game, and if they were playing at home, many fans would have left Staples Center near the beginning of the fourth quarter, if not before.
And those fans would have missed a fantastic comeback.
This matchup is one of the most interesting in the first round because it is impossible to predict what will happen with these two teams. They are so closely matched that in the final two games of the regular season, they switched seed positions.
And when you have two teams eager to show what they can do, you get games like this.
This outing is particularly promising for the Clippers. It demonstrates that they have the grit to get the job done, even when the circumstances look pretty grim. It also shows that even under pressure, they can win on the road—in a hostile environment, no less—just as they did in their last regular-season game against the Denver Nuggets.
Going forward, I think that Memphis will be a little more cautious, making sure they have enough in the tank in case the Clippers decide to charge again. 
I also think it's unlikely that the Clippers will lag in their future postseason games now that their inexperience has been so dramatically reduced and their confidence has been boosted in equal measure.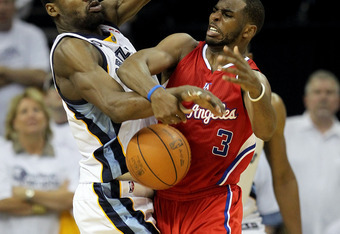 Andy Lyons/Getty Images
Up until now, I have been very disappointed in the media coverage, or lack thereof, given to the Clippers with regards to the playoffs. Given the statistics I mentioned in my last article, I found it unbelievable that little to no attention was paid to the Clippers. Yet news of the Lakers, who have won so many championships that it is a little boring to contemplate them getting one more, receives national coverage.
I am very happy to see more and more mentions of the Clippers—most of them positive—when I watch the news or when I scan Google search results for my favorite team. Reducing the weight of negativity that has surrounded this team for too long will only help their playoff experience.
Not that anything could hold this team back if they really want something. For instance, their first conference championship, or at the very least, their very first trip to the conference finals. Either way, this first postseason game has shown Clipper fans everywhere that we are in for a wild ride.
Everybody buckle your seat belts. Otherwise you just might fall off the edge of your seat when you see how high we can rise.