Eric LeGrand: How His Signing Will Influence the Tampa Bay Buccaneers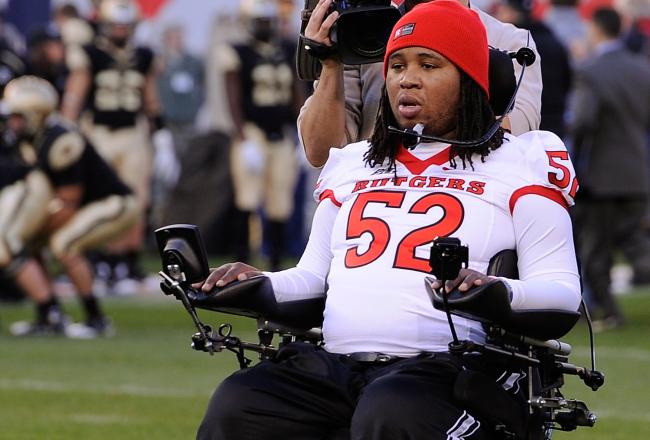 Patrick McDermott/Getty Images
Back in October of the 2010 college football season, Rutgers defensive lineman Eric LeGrand suffered a spinal injury in a game against Army that left him paralyzed and ultimately ended his career.
In a classy gesture by the Tampa Bay Buccaneers, LeGrand was signed to the team on Wednesday according to Pat Yasinskas of ESPN:
In a symbolic gesture, the Tampa Bay Buccaneers signed Rutgers defensive tackle Eric LeGrand.
"It's something I always dreamed about, go to the NFL and retire and become a sportscaster," LeGrand added. "Dreams do come true if you really believe. You do the right things in life, good things happen to you."
As many Bucs fans know, LeGrand played for current Buccaneers' head coach Greg Schiano at Rutgers and it's clear that Tampa Bay wants LeGrand to be a part of the team.
With that happening in addition to the Bucs' impressive offseason, here are a few ways in which LeGrand's signing will influence Tampa in 2012.
Motivation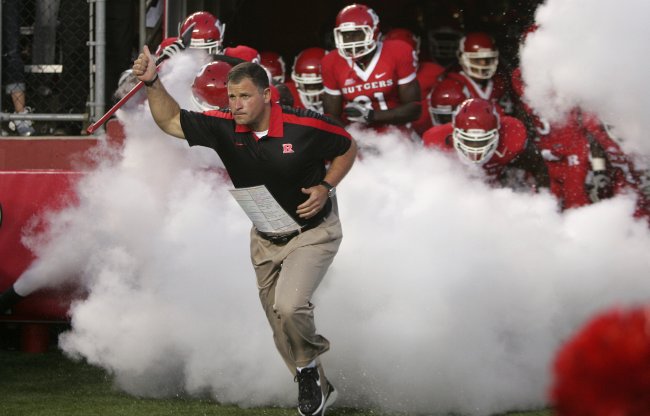 Rich Schultz/Getty Images
Regardless of the sport, any time a player gets injured, it's never a good feeling for anyone—especially the teammates of the injured player.
What comes from that though is the motivation to both play harder and to play for that player. Team sports are comparable to life because no one gets anywhere on their own. No team reaches the pinnacle of its respective sport without its players relying on one another.
In short, there's power in numbers, and when a member goes down, the desire to succeed burns even stronger.
Now, look at this example from Greg Schiano's perspective and it reaches a whole another level.
LeGrand's career is over but his positive outlook on life can only drive Schiano to coach even better. As for the Bucs, LeGrand is a teammate that can no longer contribute on the field, but his presence is a motivational factor connected with their new head coach.
Connection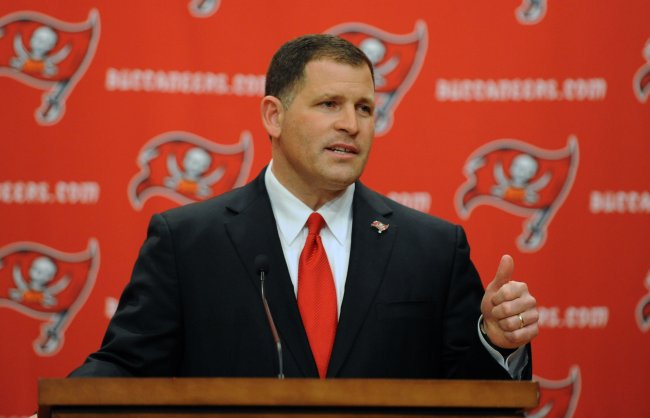 Al Messerschmidt/Getty Images
As previously mentioned, Schiano was head coach at Rutgers when LeGrand suffered his injury in 2010. Schiano remained with the Scarlet Knights for the 2011 campaign.
When we as fans see a player get injured—or if you still compete and an opponent goes down—that's never a good sight.
In Greg Schiano's case though, he wanted to sign LeGrand to his NFL team in order to keep that connection strong.
The only way to possibly imagine how this feels for Schiano and LeGrand is to put ourselves in their shoes. Imagine you were a college coach (regardless of the sport) and one of your players has a career-ending injury. Then, roughly 18 months later that player is set to graduate while you make the jump to the next level.
As a rookie head coach, Schiano has made some great additions to Tampa Bay, but his biggest impact to the team comes from LeGrand. This "symbolic gesture" as LeGrand put it, displays what type of person that Schiano is...one that he truly cares for his players.
It makes Tampa Bay a stronger team and only gets Schiano more respect heading into his first NFL season.
Appreciation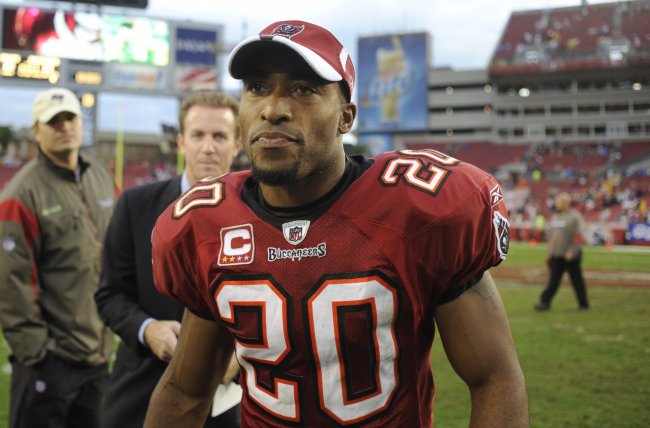 Al Messerschmidt/Getty Images
When an injury occurs like the one to LeGrand, the appreciation for health and the physical ability to compete in any sport provides an immediate reality check.
Back in my high school days I had a teammate who suffered a neck injury that ended his football career.
It was undoubtedly a burden for my team but, in an instant, it gave me, my teammates and coaches a completely new appreciation for the game.
LeGrand's injury is on a much more extreme level, but similar, in that learning of athletic careers ending by injury puts one's own health into perspective.
Considering the amount of violence that still exists in football, anyone who can physically walk away from the game healthy has much to be thankful for. Tampa Bay cornerback Ronde Barber enters his sixteenth season and has played in 224 consecutive games.
So, Schiano virtually has two players on exact opposite ends of the spectrum and Barber's veteran leadership will play a major role in the younger players' appreciation of their ability to still play the game.
And the stronger a player appreciates the opportunity to participate, the stronger the team becomes.
John Rozum on Twitter.

This article is
What is the duplicate article?
Why is this article offensive?
Where is this article plagiarized from?
Why is this article poorly edited?

Tampa Bay Buccaneers: Like this team?