2013 NFL Mock Draft: Predicting Where Best Pass-Rushers Will Land
May 2, 2012

Andy Lyons/Getty Images
With passing statistics on the rise with no signs of slowing down, NFL teams must find quality pass-rushers. 
The best defensive ends and attacking outside linebackers will land with the following teams next April. 
1. Jacksonville Jaguars: Matt Barkley, QB, USC
It's impossible to predict how Blaine Gabbert will fare in 2012, but let's just say he doesn't show much improvement even with a vastly improved receiving corps. 
Fans will be calling for a new face to lead the franchise. 
Matt Barkley should flourish in 2012 with a loaded Trojans team and projects as a fine pro-style quarterback with a good arm, terrific pocket awareness and desired football intelligence. 
2. Indianapolis Colts: Jarvis Jones, OLB, Georgia
Jones had 13.5 sacks for the Bulldogs in 2011. If he has a similar impact nest season in the SEC, he'd be the perfect guy to groom under Dwight Freeney and Robert Mathis.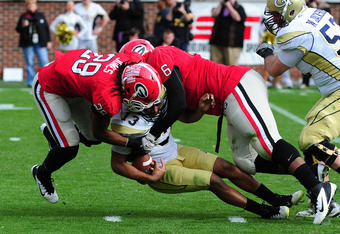 Scott Cunningham/Getty Images
At 6'3'' and 241 pounds, Jones is the perfect outside linebacker/defensive end hybrid for the Colts' new 3-4 scheme.
Although SEC opponents will likely send additional blockers Jones' way, his speed and pure power will likely result in another stupendous season in the nation's best collegiate conference.
After dedicating their 2012 draft to offense in an attempt to aid Andrew Luck's transition to the pros, the Colts go defense-heavy to help round out their rebuilding club.  
3. Miami Dolphins: Robert Woods, WR, USC
Will Ryan Tannehill have the reins of the offense by the start of the 2013 season? Dolphins fans hope so. He'll need a true No. 1 receiver, and the ultra-productive and speedy Woods can be that guy. 
4. Minnesota Vikings: David Amerson, CB, N.C. State
The Vikings still need vast improvements in their secondary. They passed on Morris Claiborne in 2012, so they get a fine cornerback prospect in 2013. 
5. St. Louis Rams: Manti Te'o, MLB, Notre Dame 
Jeff Fisher drafted Michael Brockers in the first round this year, and he'll look to add more talent to the middle of the previously victimized Rams defense with Te'o. 
He's a heady linebacker who flashes quickly from sideline to sideline and makes his presence felt against the run. 
With improved coverage play, he'll be a three-down linebacker at the professional ranks. 
6. Tennessee Titans: Barkevious Mingo, DE/OLB, LSU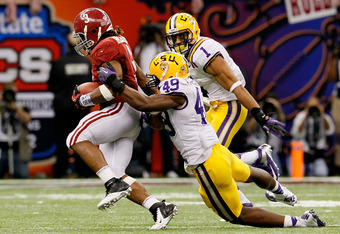 Kevin C. Cox/Getty Images
Mingo is a freakish athlete who really knows how to get to the quarterback. Jake Locker and Kendall Wright represent the future on offense, and Mingo becomes the team's defensive stalwart.
In 2011, the relatively raw 6'5'', 240-pound Mingo totaled seven sacks and 15 tackles-for-loss for the Tigers.
His rare speed and long arms off the edge allowed him to frequently disrupt the backfield of many of his opponents and that should continue this upcoming season.
If so, the Titans grab their Javon Kearse of the future in hopes of bolstering their somewhat anemic pass-rush.  
7. Seattle Seahawks: Keenan Allen, WR, California
Allen is a load to handle for just about any defensive back at 6'3''. He should have another solid campaign for the Bears in 2012. 
Matt Flynn should have a decent season this fall for the Seahawks, but he needs more talent and steadiness outside at receiver. 
Allen's a perfect fit. 
8. Tampa Bay Buccaneers: Sam Montgomery, DE, LSU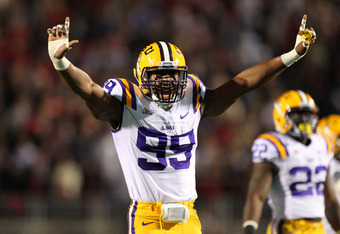 Joe Murphy/Getty Images
Yes, LSU is loaded on defense. Again. Mingo and Montgomery will feast on opposing quarterbacks in 2012, leading to both of them being selected in the top 10. 
He accumulated nine sacks in 2011 and at 6'4'' 245 pounds, he's another defensive end that utilizes blazing speed to get into the backfield and wreak havoc. 
The Buccaneers implement a 4-3 system, and they can use Montgomery as a small defensive end who will come flying off the edge in the pass-happy AFC South. 
They'll need to get after Matt Ryan, Cam Newton and Drew Brees in the future. 
Montgomery's the perfect guy to do just that. 
9. Cleveland Browns: Brandon Jenkins, DE, Florida State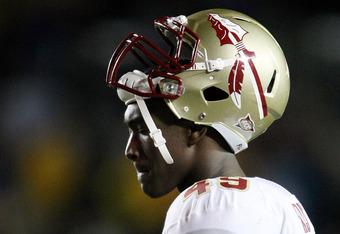 Elsa/Getty Images
The Browns have been adding to their defensive line over the last year and a half, in free agency and the draft, but they still are without a true pass-rushing demon. 
Jabaal Sheard registered 8.5 sacks last season and Jenkins would be the ideal complement in the Browns defensive scheme. 
Jenkins had eight sacks for the Seminoles in 2011 and hopes to build on that number next season.  
10. St. Louis Rams (from Washington): Marcus Lattimore, RB, South Carolina
Lattimore is the unquestioned best NFL running back prospect heading into the 2012 season. If he returns to 100 percent from his knee injury, he'll have a monster year in the SEC that will lead to his selection. 
Is there a better Steven Jackson replacement? 
Nope.
The Chargers are getting a little old in their secondary and may consider moving Quentin Jammer to safety in the near future. 
They get a truly dynamic cornerback with absolutely insane return ability in Mathieu. 
12. New York Jets: D.J. Fluker, OT, Alabama
The Jets can't move forward with Wayne Hunter as their starting right tackle. They passed on Riley Reiff in the first round this year, but will look to upgrade the position in next year's draft. 
Fluker's the best guy to do just that. 
13. Oakland Raiders: Tyler Wilson, QB, Arkansas
Wilson comes from the pro-style system in Arkansas, has a good arm and is more athletic than people think. Carson Palmer isn't the answer at QB, and I'm not sure Terrelle Pryor is either. 
14. Arizona Cardinals: Jake Matthews, OT, Texas A&M
The Cardinals inexplicably extended left tackle Levi Brown this offseason, but after what could be another disappointing season on the edge, they'll look to replace him. 
Matthews has the size and experience to become an NFL blindside protector. 
15. Buffalo Bills: Logan Thomas, QB, Virginia Tech 
Chan Gailey is apparently enamored with mobile quarterbacks. Ryan Fitzpatrick's been a competent stop-gap option, but with the team trending upward, they need someone with more upside. 
Thomas isn't exactly the athlete Cam Newton was, but he's close. 
He's got an enormous frame and a great arm. 
16. Carolina Panthers: Kawann Short, DT, Purdue 
The Panthers added Luke Kuechly in the 2012 draft, and they'll look to continue the fortification of the middle of their defense with Short. 
He's totaled nearly 30 tackles for loss and exactly 12 sacks over the last two seasons for the Boilermakers. 
17. Dallas Cowboys: Barrett Jones, OG, Alabama
The Cowboys will look to add youth to their offensive line. Jones is the best available guard and played in the NFL's farm league, the SEC. 
18. New York Giants:  Kevin Reddick, LB, North Carolina
The Giants' roster is pretty solid. However, they'd be better off adding a dependable linebacker to the mix. That's precisely what Reddick is. 
19. Denver Broncos: T.J. McDonald, S, USC
Now that Brian Dawkins has retired, the Broncos need to find their next secondary leader. McDonald has all the tools to become that guy in the Mile High City. 
20. New Orleans Saints: Ricky Wagner, OT, Wisconsin
The Saints are going to be a pass-happy team as long as Drew Brees is under center. Wagner will provide quality depth to the team's offensive front. 
21. Cincinnati Bengals: Knile Davis, RB, Arkansas
BenJarvus Green-Ellis is a good back, but Davis will bring an explosive facet to one of the up-and-coming teams in the AFC. 
22. San Francisco 49ers: Tony Jefferson, S, Oklahoma
If Dashon Goldson isn't re-signed after the 2012 season, the 49ers will need safety help. Jefferson's the best available safety prospect. 
23. Kansas City Chiefs: Landry Jones, QB, Oklahoma
I love the Chiefs' roster: downright scary if everyone's healthy. I don't love the idea of Matt Cassel as the team's franchise quarterback. Jones has a better skill set and represents a bright future. 
24. Atlanta Falcons: Seantrel Henderson, OT, Miami
The Falcons don't have a ton of holes, but would likely add some youth to their offensive line. Henderson bolsters a front required to protect Matt Ryan. 
25. Pittsburgh Steelers: C.J. Mosley, ILB, Alabama
The Steelers would have liked to grab Dont'a Hightower, but the thought of David DeCastro was too enticing. In 2013, they get their James Farrior replacement with the ultra-athletic Mosley. 
26. Detroit Lions: Johnny Adams, CB, Michigan State
The Lions are loaded on offense. Absolutely loaded. What they need is more secondary help. Adams has lockdown corner potential, something they'll need playing in a division with Aaron Rodgers, Greg Jennings, Jay Cutler, Brandon Marshall and Alshon Jeffery. 
27. Philadelphia Eagles: Chris Faulk, OT, LSU 
Demetress Bell was signed to replace the injured Jason Peters. The only problem is, Bell has a past dotted with injures, too. Even when Peters returns, the Eagles need more offensive line depth. 
28. New England Patriots: Kwame Geathers, DT, Georgia
Vince Wilfork has been the Patriots' defensive centerpiece for a while, but he's nearing the twilight of his career. Geathers is the ideal big body to be groomed in Bill Belichick's defense.
29. Chicago Bears: Alex Okafor, DE, Texas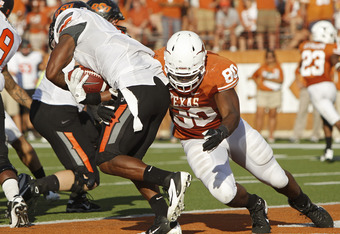 Erich Schlegel/Getty Images
Julius Peppers is phenomenal, but the Bears would like to give him some help along the defensive line. Okafor's a nice 4-3 defensive end option. 
Okafor is a menacing 6'4'' and 260 pounds and is able to get low around the edge when facing bigger offensive tackles.
With Peppers and Okafor on the opposite ends, they're set to make a Super Bowl run.
30. Baltimore Ravens: Sean Porter, OLB, Texas A&M
The Ravens are always looking to add pieces to their defense, and Porter can learn the nuances of the game from Ray Lewis and Terrell Suggs. 
31. Houston Texans: Tavon Austin, WR, West Virginia
Austin will provide a fine underneath slot option for one of the AFC's legitimate Super Bowl contenders. 
The ideal complement to the more physically imposing Andre Johnson and DeVier Posey. 
32. Green Bay Packers: Montee Ball, RB, Wisconsin
The Packers draft the hometown Ball in hopes of balancing out their explosive attack.  He's a bouncy and patient runner that should be coming off a huge 2012.