Kentucky Derby 2012: At the Post in Churchill Downs
May 2, 2012

Matthew Stockman/Getty Images
The 138th run for the roses is in the final stretch of planning. As ladies finish up shopping for over the top chapeaus and bartenders perfect mint julep garnishes, trainers are scrutinizing the last days' workout details while jockeys plan their strategies for the world's most famous race: the Kentucky Derby, 2012.

One such team is trainer Bob Baffert and Mike Smith who will be aboard Bodemeister from Zayat Stables.
Baffert, 59, is no stranger to major stakes racing. He's trained Kentucky Derby winners Silver Charm, Real Quiet and War Emblem. Under his guidance, his charges have won two-thirds of the triple crown four times between 1997 and 2002, making Baffert one of the most successful trainers in horse racing history. In 2009, he was inducted into the National Hall of Fame for thoroughbred racing.
Yet the most prestigious award continues to allude Baffert. The coveted triple crown has been bestowed on only 11 horses since 1919, with Affirmed the last to grab the title in 1978. Can Bodemeister—the namesake of Baffert's young son—finally deliver? The three-year-old definitely brought it at the San Felipe Maiden race in Santa Anita this March, winning the 1 1/16-mile by 10 lengths. Despite the thoroughbred's record, Baffert is cautiously optimistic.
"We were a little late getting him going, but I'll tell you one thing: I've never seen a slow, fit seasoned three-year old win the Derby. You still have to have that talent," he reasoned in a recent interview, according to KentuckyDerby.com.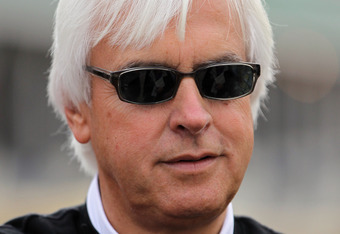 Michael Heiman/Getty Images
The second member of the team is Mike Smith, 46, whose maiden voyage on Bodemeister landed him the win at the Arkansas Derby last week. Smith's pedigree is impressive as the winning rider on Giacamo in the 2005 Kentucky Derby. He is also widely known as the jockey of 2010's Horse of the Year, Zenyatta. Together they won 16-of-17 races until she retired.

This year Smith became the 25th North American to reach 5,000 career wins in a sprint race aboard Amazonbie. His list of accomplishments is at least 16 hands high, but like Baffert, he has yet to capture the brass ring. Could Bodemeister be his ticket to racing immortality? After the Arkansas win, Smith skirted the obvious question.
"I don't even know if I'm going to get to ride this horse back, because I was really just kind of filling in, Smith remarked. "I'm just going to enjoy it and we'll see. We all know how much things can change this time of year before the Derby."
Bodemeister had four starts in 2012 with two wins and two second-place finishes, all on fast tracks. Although the majority of derby winners begin their racing days at age two, this colt still impressed fans at the Arkansas Derby by breaking away from the competition and crossing the wire more than nine lengths ahead of the field, despite his rocky post-11 start.

However, Bodemeister is not the only choice at this point. Union Rags, trained by Michael Matz, is also a favorite. He has had more experience having raced as a two-year-old, but came in a disappointing third in his last bid at the Florida Derby.  Betting odds for both horses are at 9:2.
There is much at stake for the trio. Together, they just might accomplish greatness at the Kentucky Derby 2012 and beyond, all in the span of five short weeks.

Most certainly, on the first Saturday in May, Bodemeister will be asked to run the race of his life.