WWE 2012: Top 5 Reasons John Cena vs. John Laurinaitis Is Perfect Right Now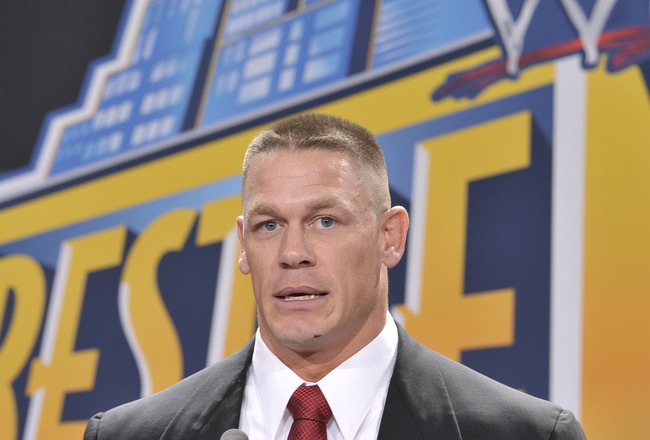 Michael N. Todaro/Getty Images
On Monday night, the WWE Universe witnessed a very memorable ending to Raw. With John Cena waiting for his next pay-per-view opponent to be announced, Lord Tensai and Sakamoto made their way down to the ring.

While many expected that to happen, not a lot of folks expected the next move. John Laurinaitis—not Tensai—made himself Cena's next opponent.
Some fans were shocked, others confused.

Here are five reasons why this match makes perfect sense!
5. John Cena 'Haters'
John Cena isn't turning heel. The sooner fans realize this, the better for everybody involved. If anybody is to blame for Mr. Excitement vs. Cena, it is all the fans that chant "Cena Sucks" every week.

WWE has its top face in Cena. Despite what anybody wants to tell you, fans chanting against mean isn't going to change anything. Thus, the crowd needs to slowly get on his side again.

Who is going to cheer for Laurinaitis at Over the Limit? How many fans are going to be in his corner in three weeks?

Not many.

Almost by default, you have to root for Cena. Whether you like it or not, WWE knows what it is doing in this case.
4. Lord Tensai Build
We may have seen Lord Tensai vs. John Cena on Raw already, but that doesn't change much. That is likely to be a pay-per-view match somewhere down the line.

Why rush back into it at Over the Limit?

Give these two some interaction without giving away the big match. Let them go at it for a few weeks (or months), and then you can give fans the battle!

No need to see it now...
3. Mr. Excitement
Johnny Ace has done a nice job during the past year.

He isn't Vince McMahon, nor is he Triple H. However, the man plays a great heel and authority figure on top of Raw and Smackdown.

He has also been in the ring before. John used to wrestle, so I do have confidence that he will perform well.
Certainly a good showing against Cena will be nothing short of amazing!
2. WWE Universe Challenge
Unless there is some sort of huge ending, I can't see Laurinaitis vs. Cena being the last match at Over the Limit. That will likely be towards the end of the night, but it almost can't close the show.

Thus, you have to assume the main event will be CM Punk vs. Daniel Bryan for the WWE Title.

Read that sentence again folks! Those two will be headlining a pay-per-view for the biggest wrestling company in the world. Be careful what you wish for because you just might get it.

You want them in the main events? You want to see them battle for the WWE Title? You want to see some sort of epic feud between the two?

Now is your chance.

Fans all over the world must spend money on Over the Limit. They have to show WWE that these two are "draws." It is time to put your money where your mouth is.

Punk and Bryan are finally being given the huge opportunity they have been looking for after many years in this business. It is up to their fans to come through now.

No illegal streams. No piracy. No downloading something without spending a dime. That isn't supporting them in the main event. Prove to the world that these two can mean big money for the company!

The only way to do so is by paying for the event...
1. Who Else?
Honestly, what else was John Cena going to do?

You can't give away Brock Lesnar wrestling again so soon. Lord Tensai is not ready yet for a huge match near the top of a pay-per-view card.

Wade Barrett is injured. Christian is still not ready to go (apparently). Alberto Del Rio is feuding with Sheamus on Smackdown.

Dolph Ziggler is losing to Brodus Clay every week. The Miz is hit or miss and may not even be on television much longer (Marine 3). Anybody else left for Cena to face?

The only two options were taking time off or being involved in some sort of feud with Laurinaitis.

WWE has tons of great heel right now. A lot of them are impressive inside the ring and are being built up nicely. Right now, none of them are in a position to face Cena in a realistic manner.

Follow Justin Watry on Twitter!
Keep Reading