Green Bay Packers: Does Anthony Hargrove's Suspension Hurt the Pack?
May 2, 2012

Jay Drowns/Getty Images
ESPN, amongst others, are reporting that the NFL has handed out its punishments for four players that played for the Saints that were involved in what is known as "bounty gate".
One of those players, Anthony Hargrove, was recently signed by the Green Bay Packers in free agency.  He was also just banned eight games.  He is still allowed to participate in the Packers' offseason and preseason activities, but is suspended from the regular season without pay. 
The Pack will not see Hargrove suit up for them until after they play the Jacksonville Jaguars on October 28. 
The fact of the matter is that this is not a huge loss for the Packers.  It could be a blessing in disguise. 
The Packers brought Hargrove in to help the team's frequently anemic pass rush.  Hargrove has never been the kind of player that will get you double digit sacks every season, but he is a high motor player that should help a certain Clay Matthews III get to the quarterback.
Hargrove is a solid player but will not completely solve a pass-rushing problem.  It looks like Green Bay knew that as well, based on their draft.  The Packers went after defenders, specifically defensive lineman, in the 2012 draft.
USC OLB/DE Nick Perry and Michigan State DT Jerel Worthy should be able to contribute to the Packers immediately.  Even though he is a bit undersized, I think Iowa's Mike Daniels could be a solid NFL player as well. 
Suddenly, even without Hargrove, the Packers should have plenty of depth at the defensive line this season.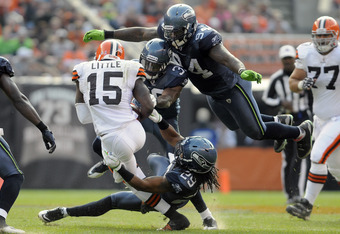 Jason Miller/Getty Images
When Hargrove comes back to the fold on November 4 against the Arizona Cardinals, he should be a injection of health to the Packers.  You would have to imagine that someone on that line will be hurt (probably Mike Neal).  Hargrove gives the Packers someone to turn to later in the season when they are no longer 100 percent healthy on their defensive line.
Hargrove will probably be a bit out of playing shape, but the Packers will have enough time to get him into shape before the playoffs.  In fact, he should hit his stride right before the playoffs start.
In short, the Packers' draft picks and overall youth will help mend the hole left by Hargrove's eight-game suspension.  Hargrove coming back when he does could actually help the Packers through a long, brutal NFL season.