FHM's 100 Sexiest Women in the World: Breaking Down the Sports Hotties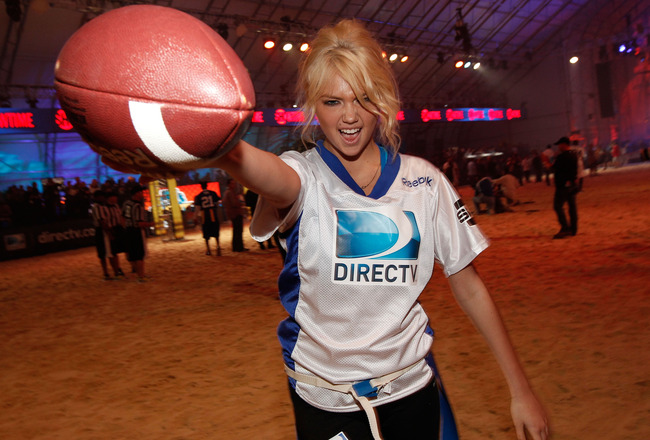 Christopher Polk/Getty Images
Now that FHM has officially released its 2012 version of sexiest women in the world, fans can finally unclench their fists and take a breather.
As we peruse the long-awaited list, there are naturally several enticing sports-related names who jump off the page. And we're here to detail those women just a bit further.
Let's take a look at the sports hotties who made FHM's top 100 hottest women list.
We've yet to escape their seduction.
No. 95: Irina Shayk (WAG)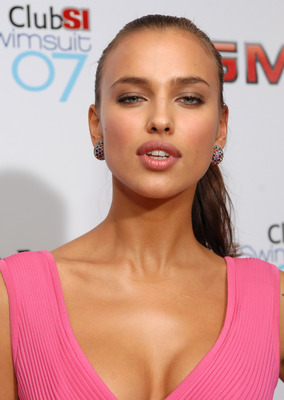 John Sciulli/Getty Images
This Russian model has been shadowing the sports world for years, specifically gracing the pages of the Sports Illustrated Swimsuit Issue between 2007 and 2012.
But her relationship with serial WAG artist Cristiano Ronaldo cemented her name on the pitch for good.
No. 69: Abbey Clancy (WAG)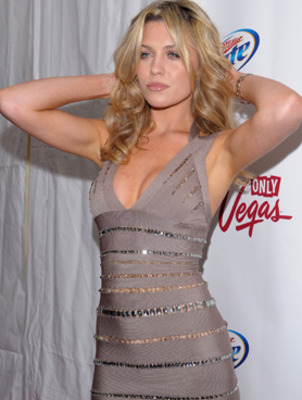 Image via virginmedia.com
English footballer Peter Crouch is a lucky man; that much is certain.
But No. 69?? Must be a joke.
No. 68: Minka Kelly (uncertain WAG)
Rusty Jarrett/Getty Images
We're not sure what kind of Facebook status Derek Jeter and Minka Kelly hold right now, but we're assuming it's something along the lines of a "domestic partnership."
Either way, she's been shadowing the Pinstripe culture for some time now.
No. 65: Kim Kardashian (ex-WAG)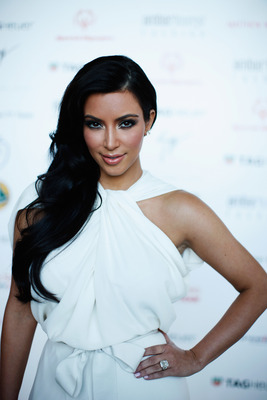 Mark Thompson/Getty Images
It's official. We'll never be able to escape the Kardashian enterprise.
Despite the fact that her hotness level has completely dwindled because of her lacking personality, Kim somehow made this list.
Kris Humphries and Reggie Bush are fuming somewhere in the distance.
No. 46: Bar Rafaeli (Swimsuit Model)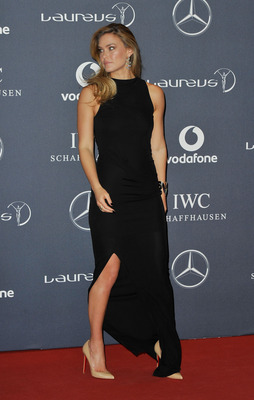 Gareth Cattermole/Getty Images
As she shows off a little leg, let's take a moment to enjoy beautiful Israeli model Bar Rafaeli.
After gracing the cover of the 2009 Sports Illustrated Swimsuit Issue, it was clear Rafaeli was headed for greatness.
No. 46 is a solid stepping stone.
No. 45: Adriana Lima (WAG)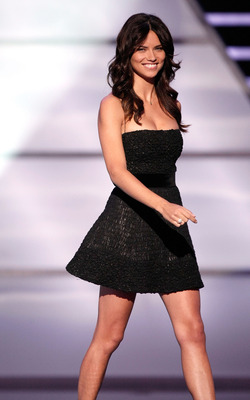 Kevin Winter/Getty Images
Being married to former NBA journeyman Marko Jaric has certainly kept Adriana Lima associated with the sports world, but it's her other work that keeps us intrigued.
The Victoria's Secret angel never disappoints.
No. 43: Nicole Scherzinger (uncertain WAG)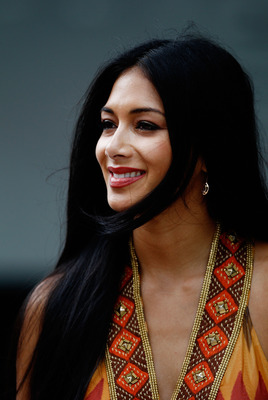 Paul Gilham/Getty Images
Formula One World Champion Lewis Hamilton was the recipient of this Pussycat Doll's seductive love back in 2008, but conflicting updates have confused us all since then. On, then off, then on...enough already.
She can always be seen perusing racetracks around the world.
No. 41: Jessica Alba (ex-WAG)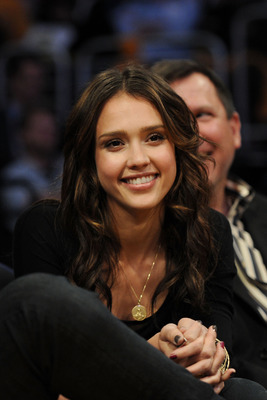 Harry How/Getty Images
Derek Jeter has certainly had an enticing selection of women to choose from during his career, and Jessica Alba was just another stellar notch on the old belt for the Pinstriped shortstop.
But letting her go was perhaps his most crucial error.
No. 40: Olivia Munn (ex-WAG)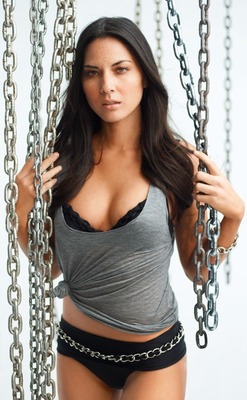 Image via bestcelebwallpapers.net
She certainly got her feet wet in the sports world in dating Rangers center Brad Richards, but she kept herself relevant with her stunning exterior.
Not quite sure what's going on here.
No. 38: Beyonce Knowles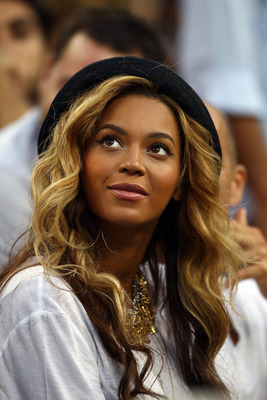 Clive Brunskill/Getty Images
The first non-model and non-athlete woman to pose on the cover of the Sports Illustrated Swimsuit Issue (2007), Beyonce now basks in the Brooklyn-bound Nets franchise her husband owns a part of.
Jay-Z is quite blessed.
No. 35: Paris Hilton (ex-WAG)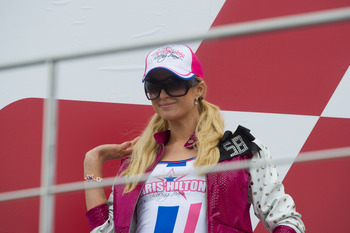 Mirco Lazzari gp/Getty Images
FHM must love ditsy legacies with less meat on their bones than a strand of angel hair pasta. This ranking is mind boggling to say the least.
But as far as sports go, she's scribbled names such as Brian Urlacher, Mark Philipoussis, Jose Theodore, Matt Leinart, Andy Roddick and Cristiano Ronaldo in her little pink book.
Classy.
No. 30: ‪Scarlett Johansson‬ (ex-WAG)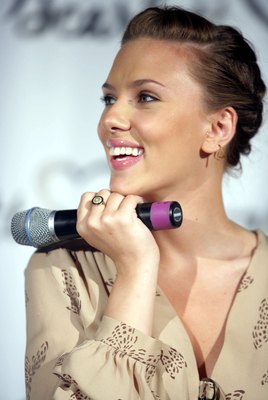 Matthew Peyton/Getty Images
Who hasn't dated Derek Jeter, you ask?
Not Scarlett Johansson (huh? OK, got it).
No. 23: Kate Upton (Superstar Model)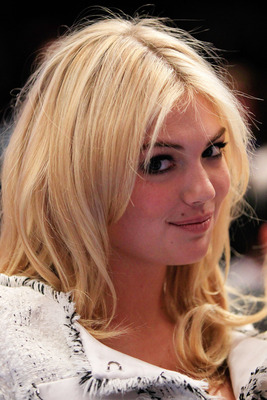 Chris Trotman/Getty Images
Sports without Kate Upton at this point is like Mustard without the Heinz (thank you, Eminem).
She's seen in the Sports Illustrated Swimsuit Issue, prancing about various promotions and dancing in the BLEACHER REPORT STUDIOS, of course.
She also might be dating Mark Sanchez.
No. 20: Kelly Brook (WAG)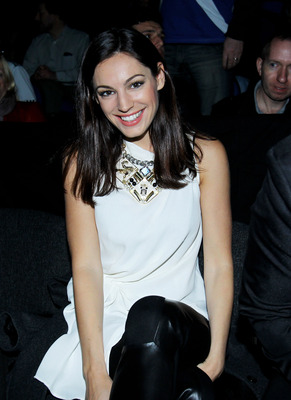 Matthew Lewis/Getty Images
From actors Jason Statham and Billy Zane to rugby man Thom Evans. Quite the manly-man group for English model Kelly Brook.
The latter earns her a nice carving in the athletic domain.
No. 8: Keeley Hazell (attempted WAG)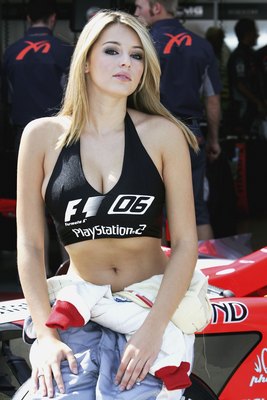 Mark Thompson/Getty Images
When footballer Joe Cole was beaten up at one of Keeley Hazell's parties after supposedly attempting to spark some romance, the English glamour model was somehow thrust into the role of WAG.
It's the thought that counts.
No. 3: Rihanna (ex-WAG)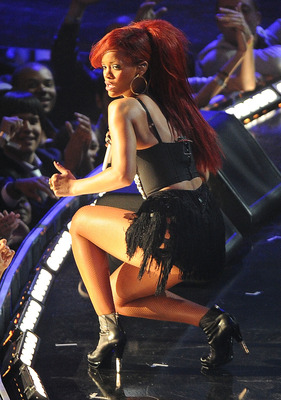 Jason Merritt/Getty Images
There was a time when the over-played pop singer was dating Matt Kemp, but now she seems focused on her music.
The Dodgers star, on the other hand, has apparently found quite the rebound.
No. 2: Cheryl Cole (ex-WAG)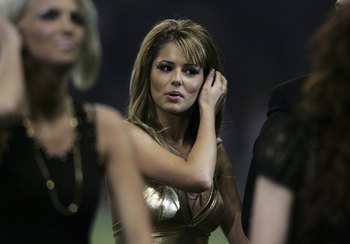 David Rogers/Getty Images
Perhaps the most famous ex-wife not named Eva Longoria, this singer continues to dominate the world of sports despite divorcing footballer husband Ashley Cole back in September of 2010.
WAGs swearing they're on top, Cheryl Cole is coming for that No. 1 spot.
Keep Reading