Troy Aikman Girlfriend: Dallas Cowboys Legend Proves He Still Has Monster Game
May 2, 2012

If you need me, I will be on one knee in what looks to be a "Tebow" genuflection. It's all because I have nothing but mad respect for Troy Aikman, a legend who still has ridiculous game. 
Aikman hit the town recently and was accompanied by a gorgeous blonde. This demanded a couple questions from the peanut gallery known as the Internet. 
Who is she? And what is she to you?
TMZ reports the story of boy meets cameraman, and rose lady meets boy, all while a beautiful woman stands in the near distance, and you can see it all go down in their video. 
The report gives us no closure as to the relationship, but we like Aikman's style. The good people over at Busted Coverage do settle who this lovely lady is though. 
They uncovered the mystery woman is Abigail Klein and the two are "just friends," as best they can estimate. 
That doesn't stop them from giving us a great deal of background in the form of pictures. Klein is a former Dallas Cowboys cheerleader and is now working on her career as a model and actress in Los Angeles.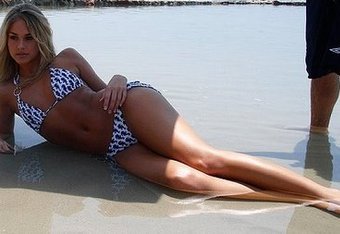 Aikman has been divorced for about a year, and it's well time he get back out there. But we will not assume the two are romantically involved, only to say that we are not about to hate on him if they are. 
This brings me back to the scene outside Boa on Sunset Blvd. 
This is where Aikman waits for his car to be pulled around, and a very awkward situation unfolds. Lesser men would have surely gone down looking like a dork, but not the Cowboys legend. 
He is blasted in the face with a TMZ cameraman and forced to answer an inane question about where current NFL talent should spend their money. 
His answer of "Buy their moms a home" is sure to have every lady out there sighing with amusement. 
Then comes the awful rose lady, a malady that every man has to deal with at some point in their lives. 
Do I want to buy your rose? No. Do I have to? Yes. 
Aikman handles it with utter cool and swagger—which brings us back to the assumption that if the pair isn't dating now, they very well should be in the near future.