Brock Lesnar: Predicting Lesnar's Next Steps After Loss to John Cena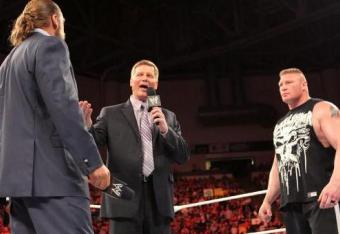 Photo courtesy of WWE.com

When Brock Lesnar made his triumphant return to the WWE on the night after WrestleMania, most expected him to steamroll John Cena and send him into an even bigger downward spiral.
Cena shockingly came out on top in their match at Extreme Rules, though, so it will be interesting to see where the former MMA star goes from here.
Lesnar's first act after losing to Cena was to attack WWE COO Triple H and "break" his arm with a Kimura lock on Raw. Triple H refused to agree to the contract that Lesnar negotiated with John Laurinaitis the previous week, and that prompted Lesnar to snap and destroy the former champion.
There hasn't yet been a decision on Lesnar's status, but it stands to reason that he will either be fired or suspended indefinitely as part of the storyline. That means that he won't be on television for a while, which works well since his contract apparently limits the amount of appearances he has to make.
Such an angle would allow him to stay out of the spotlight until the build to either Money in the Bank or SummerSlam.
Triple H also figures to be out for a similar time frame to sell his arm injury. This could lead to a few different scenarios.
When The Game returns, he could call out Lesnar. He could say that he is reinstating him simply so that they can have a match at one of this summer's two big pay-per-view events. There could also be some sort of stipulation, such as Lesnar getting the contract he wanted if he wins or being fired permanently if he loses.
Another option is for Lesnar to return on his own volition whilst attacking random superstars in a fit of rage. This would also lead to a match against Triple H, as the COO would intervene in Lesnar's attacks and take matters into his own hands.
Again, there would be a stipulation of some kind added to the match, possibly one in which Triple H would have to step down if Lesnar wins.
Whatever the case, there is little doubt that Lesnar's feud with Cena is likely over. His involvement appears to have been little more than a vehicle to ramp up the rivalry between Cena and John Laurinaitis. For whatever reason, Laurinaitis wants to knock Cena from his perch atop the company, much like Vince McMahon and "Stone Cold" Steve Austin during the Attitude Era.
Laurinatis, Lord Tensai and Sakamoto attacked Cena on Monday night and targeted his injured arm, so the focus has shifted away from Lesnar in that respect already. Lesnar and Triple H are undoubtedly waiting in the wings, but the only questions are exactly when the match will happen and how the buildup will take place.
What should Lesnar do next?
Some might view it as a step down for Lesnar, especially after losing to Cena, but there is obviously a plan in place. Lesnar certainly wasn't signed without there being a vision for what he'll be doing over the next year or so.
A rivalry with Triple H is good enough to headline a big pay-per-view, and Lesnar figures to go over this time to preserve his tough-guy image.
As much as many wanted to see Lesnar beat Cena, he didn't lose any credibility in the loss. He busted Cena's head open, Cena came out the next night in a sling and then Lesnar broke Triple H's arm. The creative team has done a nice job of making him look strong even though he came out on the short end at Extreme Rules.
The WWE didn't sign Lesnar to a reported $5 million deal for the heck of it. He's going to be a huge part of the operation over the next year, and while he'll likely be out of the picture for a month or two, he'll make a huge impact when he returns.
Triple H seems to be next on his radar and it should be a highly entertaining feud.
This article is
What is the duplicate article?
Why is this article offensive?
Where is this article plagiarized from?
Why is this article poorly edited?