2012 NBA Playoffs: Coaches with the Most Playoff Wins and No NBA Title
May 2, 2012

Kevin C. Cox/Getty Images
Few experts would argue that Jerry Sloan had a very distinguished NBA career as a player and then as a coach. Sloan, however, tops the list of coaches  who have the most NBA playoff wins without winning a NBA championship.
As a coach, Sloan won 98 playoff games in his career, but came away empty in his attempt to win an NBA title when his Utah team was defeated in a pair of Finals series.
Ironically, they lost to the Chicago Bulls both times, the team with which Sloan spent most of his playing career.
Of the 16 coaches in this year's playoffs, just three (Doc Rivers, Rick Carlisle and Gregg Popovich) have already won an NBA title.
Fifteen of the 16 coaches have previously won at least one playoff game. The lone coach without a playoff victory is Utah's Tyrone Corbin.
What follows are the 21 coaches who have won 25 or more NBA playoff games but have not won an NBA championship.
Coach, Playoff wins (through playoff games of May 1, 2012)
Jerry Sloan, 98
Rick Adelman, 79
George Karl, 75
Don Nelson, 75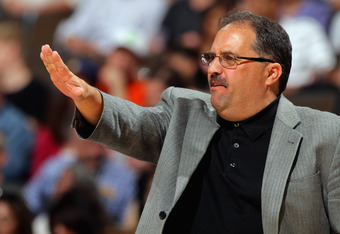 Doug Pensinger/Getty Images
Stan Van Gundy, 48
John MacLeod, 47
Flip Saunders, 47
Mike Brown, 44
Jeff Van Gundy, 44
Mike Dunleavy, 38
Del Harris, 38
Cotton Fitzsimmons, 35
Doug Moe, 33
Fred Schaus, 33
Byron Scott, 33
Larry Bird, 32
Joe Lapchick, 30
Gene Shue, 30
Paul Westphal, 27
Mike D'Antoni, 26
Richie Guerin, 26
Four of the coaches listed above have coached in a pair of NBA Finals. That quartet is Jerry Sloan, Rick Adelman, Byron Scott and Gene Shue.
Nine of the coaches on the above list made one trip to the NBA Finals: George Karl, John MacLeod, Jeff Van Gundy, Del Harris, Mike Dunleavy, Larry Bird, Stan Van Gundy, Mike Brown and Paul Westphal.
We could be in store for some firsts in these playoffs. If a team other than the Celtics, Mavericks or Spurs wins the title, that team's coach will hoist the Larry O'Brien Championship Trophy for the first time in their career.
Follow Jerry on Twitter @StatsonTapp