NHL Playoffs: 5 Changes the Washington Capitals Need to Make Heading into Game 3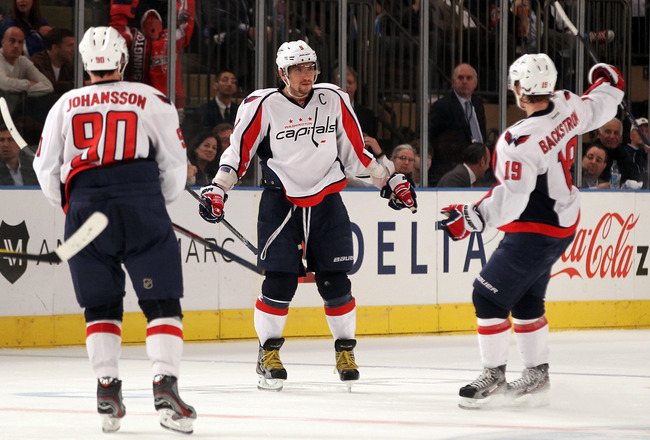 Bruce Bennett/Getty Images
On Monday night, the Washington Capitals rebounded from a largely uninspiring performance in Game 1 to even their Eastern Conference Semifinals matchup with the Rangers with a victory in Game 2.
It wasn't the prettiest of victories, as the Caps needed a couple of late power plays to score the go-ahead goal, but they managed to hold off a furious flurry of New York shots late in the game to preserve the victory.
With the series shifting back to Washington for Games 3 on Wednesday night, the Capitals are looking to take their first lead of the series on home ice.
Although the Caps have played surprisingly well defensively, the team still seems to be lacking a spark in the offensive zone, which isn't much of a shock considering how little ice time some of Washington's top offensive weapons have received thus far against the Rangers.
Heading into tonight's contest, here are five changes the Caps should make in preparation of Game 3.
5. Minimize Odd-Man Rushes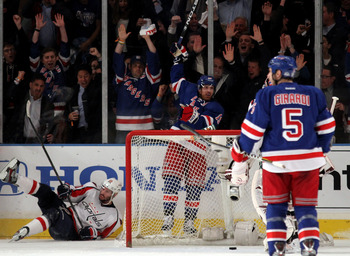 Bruce Bennett/Getty Images
In Game 2, the Caps gave the New York Rangers far too many odd-man rush opportunities, forcing Braden Holtby to come up big more often than Dale Hunter would like.
On Monday night, Holtby needed to deny clean breakaway chances from Game 1 hero Chris Kreider and Mike Rupp, which isn't something the Caps should take for granted moving forward.
In fact, the Rangers' first goal on Monday came on a two-on-one rush that Dennis Wideman played poorly, leaving Brad Richards wide open to receive Marian Gaborik's backdoor pass in the final minute of the opening period.
Going forward, the Capitals need to reduce the number of odd-man rushes, just as they did during their Quarterfinal series with the Bruins.
Braden Holtby has performed admirably through the first nine games of the Caps' postseason run, but one can't expect a relatively untested rookie to bail his teammates out as often as he did in Game 2.
4. More Alexander Semin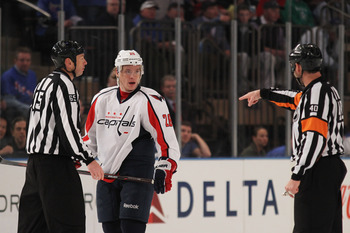 Bruce Bennett/Getty Images
During Washington's opening round series against the Bruins, no Capitals skater had a more consistent offensive impact than Alexander Semin, as the mercurial sniper potted a team-leading three goals in seven games.
Although he's been held pointless during the first two games against the Rangers, Semin has been creating chances and was a crossbar away from notching his fourth of the postseason in Game 1.
Despite Semin's production against Boston, the Russian star was limited to just over 12 minutes of ice time in Game 2. In each of the Caps' previous eight postseason games, Semin played under 15 minutes on just one occasion, and he currently ranks sixth among Caps forwards in ice time.
What's even more surprising is that Semin ranks fifth among Washington's forwards in power play time, and he hasn't been given many opportunities to play on the top unit.
If the Capitals are hoping to continue producing results with the man advantage, one would think that Semin, the team's leader in power play goals, should be on the ice more in those situations.
3. Mathieu Perrault In, Keith Aucoin out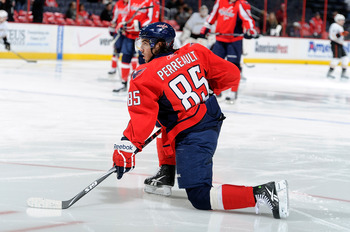 Greg Fiume/Getty Images
After posting 30 points in 64 games during the regular season, it seemed that Mathieu Perrault would be all but assured a spot in the Caps' lineup for the postseason.
Unfortunately for Perrault, Dale Hunter has opted to scratch the skilled but diminutive center in favor of 33-year old Keith Aucoin. As one of the best AHL scorers in recent memory, Aucoin has never been able to carve out a top-nine role for himself at the NHL level. Despite having two assists in nine games this postseason, Aucoin doesn't seem suited for fourth line duty, as his lack of size puts him at a disadvantage.
Although Perrault is roughly the same size as Aucoin, he's demonstrated an ability to score big goals and contribute on the power play, which is a quality the Caps could certainly benefit from going forward.
If Hunter were to slot Perrault in between some big, physical wingers such as Jason Chimera and Matt Hendricks, the Caps would have three dangerous offensive units, while keeping a shutdown line of Mike Knuble, Jay Beagle and Joel Ward intact.
Aucoin is the type of journeyman every fan can't help but cheer for, but unless he begins to make his presence felt, Hunter and the Caps would be well-advised to give Perrault the opportunity to prove himself.
2. Consistency on the Back End
Bruce Bennett/Getty Images
Through the Caps' nine Playoff games, the team has consistently swapped Jeff Schultz and John Erskine in-and-out of the lineup on a nightly basis.
Lineup adjustments like this are common during the regular season, but it's rare to see a coach change defensive pairings with such regularity during the postseason.
Generally speaking, Schultz and Erskine have been slotted next to All-Star Dennis Wideman on the Caps "third" defensive pairing, making it difficult for Wideman to get into a rhythm with a new partner each night.
Against the Rangers in particular, Wideman and Schultz haven't been great together, and Schultz is a minus-5 in his five games, which suggests that Erskine may be a better fit.
Erskine's physical presence and stay-at-home mentality meshes well with Wideman's puck-rushing game, but either way, Hunter is playing with fire by changing Wideman's partner so frequently.
1. Reuniting Backstrom and Ovechkin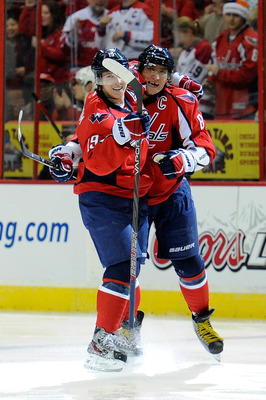 Patrick McDermott/Getty Images
Much has been said about the decrease in Alex Ovechkin's ice time in Game 2, as Washington's captain and undisputed best player was out for just over 13 minutes in Monday night's win.
Despite playing the second-lowest minutes of his career, Ovechkin fired a game-high seven shots, and netted the game-winner on the power play in the third period.
In nine games thus far, Ovechkin has scored three times, and two of those tallies were the resultant of face off wins by Nicklas Backstrom. Backstrom and Ovechkin, for the most part, have not played together except during power play situations, which is puzzling when considering the amount of success they've had during the short periods of time they've had together.
Instead of having his two best offensive weapons skating together, Dale Hunter has attempted to balance his top two lines by putting Ovechkin with grinders like Troy Brouwer and Brooks Laich, and having Backstrom center the second unit with Alexander Semin and Marcus Johansson on his wings.
So far, Ovechkin hasn't really clicked with Laich and Brouwer, and though Backstrom's unit has been more effective, neither has looked like a true scoring line.
If Hunter wants to jumpstart an offense that is far too talented to have just 15 even strength goals in 9 games, his best course of action may be to reunite the Caps' top sniper with the playmaker that helped him score 65 goals in 2007-08.
Keep Reading

Washington Capitals: Like this team?