Roy Hodgson Appointed England Manager: How He Should Handle John Terry Problem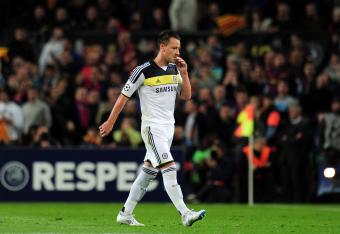 Shaun Botterill/Getty Images
Roy Hodgson's "surprise" appointment as England's newest manager is a bittersweet promotion. While he is now in charge of one of the most prestigious and historical teams in the game's history, he has also inherited the issues and off-field controversies that have seen many greater managers before him humbled into a disappointing end.
Hodgson's predecessor, Fabio Capello, was not immune to the calamities of a gossip-loving country, resigning his duties as head of the squad after the controversial decision made by the FA to relieve John Terry of his captaincy, following allegations that he directed racial abuse at QPR defender Anton Ferdinand during an EPL fixture.
With Capello slinking out of town in the dead of night like a weasel with the forehand knowledge of an impending nuclear attack, he escapes all salacious banter. Now the onus must fall on Hodgson to make the choice of what to do with the defender.
Will it be a footballing one made to best help the team win? Or will it be a social proclamation that would undoubtedly receive a round of applause, but ultimately give his team little chance of making an impression at Euros this summer?
Let's be honest: England is not a favorite to win in Poland/Ukraine. The pride of the Three Lions has taken a massive hit over the past few years, as the unprecedented exposure and monetary compensation the world's best league has enjoyed is not backed by a strong national side.
Blame it on the lack of "creativity" or a stubbornness to progress beyond the pales of tradition, but it ultimately is a nuanced argument that can best be served with one simple fact—they do not score enough.
Their 17 goals in the qualifying stage were only better than Denmark, Greece and France out of the nine group winners and were tied for eleventh-best overall. Considering tournament favorites Germany, Holland and Spain combined for 101 goals, it is plain to see that this is a tournament that will be decided on the offensive side of the pitch.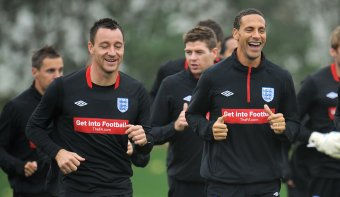 Michael Regan/Getty Images
This, however, does not mean England's chances are set on the ability of Wayne Rooney engineering perhaps the greatest performance by an individual in the game's history. On the contrary, it will be about taking their opponent's game away from them, turning it into a slugfest, aka "The John Terry Special."
If Hodgson's men can limit the dynamic intermixing play of these incredibly free-flowing attacks, then England's chances of shocking the continent become as likely as Chelsea's were in upsetting Barcelona in the Champions League semifinal.
It will take the incredible discipline of 11 men working together in complete harmony, a core of individuals not reacting, but being preemptive. One piece moves out of place and the stability comes under question, giving just enough space for the inventive play of the game's best to take advantage of the weakness.
It requires leadership, trust, respect and an innate ability to understand how your teammate is reading the play to pull this off. But how is one supposed to do this when the one who is expected to lead is also a bigot?
One of the most incredible feats an athlete can summon is the transposing of his psyche when he enters the field of play. It is almost mythical in the respect that a being becomes a different being all because of a blown whistle.
It is the argument Terry will likely use in court to defend himself: that his emotions got the better of him, and the heat of the action altered his reasoning. In an ironic twist, it is the very same thing that also allows Ashley Cole to continue to play alongside him week in and week out, in what is arguably the best defensive duo in the EPL over the past decade.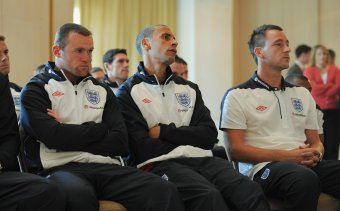 Michael Regan/Getty Images
However, it is not Cole who needs to be consoled on the issue. It is another partnership on the backline that will be called into question, and likely the one that must be perfect if England wants to avoid an embarrassing exit from this summer's tournament: the one between Terry and fellow center-back Rio Ferdinand, the brother of Anton.
Hodgson has already made clear that he will attempt to take both of the players along, but he must see where they stand in relation to the issue:
I'll have to get in touch with John and Rio to speak with them, hopefully face to face, and find out where they are in this situation. And not just those two. I'll have to speak to as many senior players as I can. Until such time as I've actually spoken to them and found out where they stand in relation to the current situation, it would be wrong of me to comment.
A politically correct statement if there ever was one, more apt to get pushy reporters off his back in the most efficient way possible than actually inviting any insight into his feelings on the matter.
But the truth is that it should matter little how the two players feel about any of this in regards to Hodgson's team selection. The only thing that he should take into account is whether or not both of them on the field at the same time will best help his side to victory.
If for some reason the schism that exists between them off the field impedes their play when on it, then something must be done and the player removed must be the one not performing.
If Rio cannot get over the malfeasance and play alongside Terry, then he must be the one to go. It is simple, cold and heartless, but also the best possible way Hodgson can win over the fans and secure his post for the long term.
Should Hodgson take Terry to Euros?
Because in an even more sick and twisted manner, the fans are the true judges of this case. Unlike in a judicial court, in the court of public opinion, results always take precedence or process. If a John Terry led-England is able to overcome the odds and bring home England's first major trophy in nearly half a century, the fans will cast aside their judgment in celebration.
In the same guise, if Terry is unable to perform due to the amount of pressure and assault being lobbed at him, then there is no reason to have him on the squad list.
In 1791, the Right Honorable Sir William Garrow introduced the term "innocent until proven guilty" to the lexicon of the British judicial system. The groundbreaking proclamation is the very foundation of many contemporary western justice systems and is one of the most important rights we have to a fair trial.
Terry's court date is set for July 9, one week after the conclusion of Euro 2012. Until the courts are able to prove his guilt, he will remain an innocent man and should be treated accordingly. This does not mean he automatically deserves a spot on the national team, but rather that he should be treated as any other player would in the selection process.
If he can help the team win, then Hodgson should make no qualms about taking him. If he does not, for any reason—including the racial allegations—then he should be left home.
However, what is important is that the decision is made with football in mind and nothing else.
For all my articles, follow me on Twitter: @thecriterionman
This article is
What is the duplicate article?
Why is this article offensive?
Where is this article plagiarized from?
Why is this article poorly edited?

England (National Football): Like this team?