WWE Extreme Rules 2012 Results: Analyzing PPV's Biggest Surprises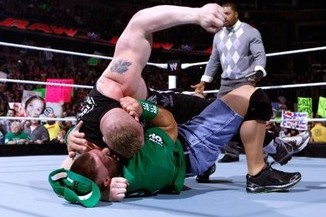 Photo courtesy of WWE.com

Extreme Rules has come and gone, but the effects of the pay-per-view are sure to be felt for quite some time. While some things went the way they were expected to, there were several shocking outcomes that promise to change the WWE's landscape.
The creative team seems to deviate from the obvious result at times, in favor of a surprise, and while that approach works sometimes, there are other occasions where it makes you wonder where they go from here. That was the case with Extreme Rules, as they went against the grain in a few matches. With that said, though, the finishes should make for some interesting story lines going forward.
Here is an analysis of each of the biggest surprises to come out of Extreme Rules, as well as what they mean for the WWE in the coming weeks and months.
John Cena Beats Brock Lesnar
Which Extreme Rules result surprised you most?
Seeing as it was rumored that the WWE signed Brock Lesnar to a one-year, $5 million deal, very few expected him to come back and put John Cena over. That is precisely what happened in their Extreme Rules match, though, as Cena beat Lesnar with an Attitude Adjustment on the steel steps after being decimated for much of the match.
Lesnar still looked strong since he busted Cena open early and was the aggressor for much of the contest, but Cena winning really took a lot of people by surprise. If nothing else, it appears as though the decision was made in order to further the feud between Cena and John Laurinaitis. Had Cena lost to Lesnar, then Laurinaitis wouldn't have viewed him as a threat any longer.
Now Laurinaitis is apparently going to face Cena at Over the Limit, although it's tough to say if that's going to happen because of Cena's story line arm injury. Lesnar, on the other hand, attacked Triple H as a way to write him off of television for a couple months due to a firing or suspension. I tend to say that the feud between Cena and Lesnar is over, and while I wasn't a big fan of the result at first, it makes sense in retrospect.
Layla Returns to Win Divas Championship
When it was announced that Nikki Bella would defend the Divas Championship against a mystery opponent, since Beth Phoenix wasn't medically cleared to compete, the first thought that likely came to most was Kharma. Eve squashed any notion of a Kharma return, though, and it turned out that Layla was the surprise challenger as she came back after missing about a year with a significant knee injury.
Layla won the title in her first match back and basically sent the Bellas to the unemployment line when she beat them in a rematch the next night. That begs the question of where the women's division goes from here. We could see Beth enact her rematch clause against Layla, but then it will have seemed quite pointless to have taken the belt off of Beth in the first place.
The only explanation I can come up with for why the title has been moved around so much is that Kharma's return is on the horizon. I know that it seems like it has been speculated for quite some time, but the fact that her name was mentioned on WWE programming for the first time since the Royal Rumble leads me to believe that she will come back, win the belt from Layla and start a program with Beth.
Cody Rhodes Beats Big Show for Intercontinental Championship
Many were a bit upset when Cody Rhodes lost the Intercontinental Championship to Big Show at WrestleMania, but the silver lining was that it might lead to a main-event run for Rhodes. It appears as though that won't be happening any time soon, however, because Rhodes was victorious in a tables match at Extreme Rules and recaptured the gold.
The way Rhodes won was quite entertaining as he dropkicked Big Show on the apron, prompting Big Show to step through the table. I fully expected Big Show to come out on top and move on to another feud, but this one seems to be far from over. Big Show assaulted Rhodes after the match and put him through a of couple tables. This may be a long shot, but I can possibly see a double turn in the near future.
The Chicago crowd was hot for Rhodes before and during the match, and they were even more supportive afterward. Putting Rhodes through tables after the match showed a heelish side to Big Show, while Rhodes getting up on his own and walking off made him look strong and valiant to the fans. With the lack of depth in terms of faces in the WWE right now, I could imagine such a role reversal happening.
This article is
What is the duplicate article?
Why is this article offensive?
Where is this article plagiarized from?
Why is this article poorly edited?