Is Dan Henderson the Best Opponent Jon Jones Will Have Ever Faced?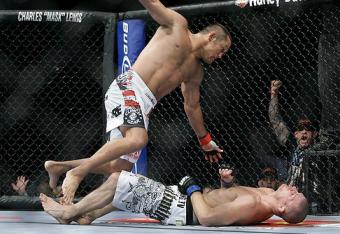 Source: cagepotato.com

Yesterday, MMA Junkie's Danny Acosta made the bold assertion that 41-year-old Dan Henderson is the greatest mixed martial artist of all time. If Jones wins his upcoming light heavyweight title defence, says Acosta, he will have beaten the best in the world...ever.
From the outset, I have to admit that Hendo is a personal favourite. And it's not just his Olympic-level wrestling or his powerful right hand; he has the heart, tenacity and indomitable fighting spirit other fighters can only dream of.
At 41, that is an exceptional accolade which none (save Randy Couture) could live up to.
Acosta makes his case by saying Hendo's 15-year history includes wins over some of the biggest names in the sport, such as Antonio Rodrigo Nogueira, Vitor Belfort, Wanderlei Silva, Fedor Emelianenko and Mauricio Rua. And while the man most consider the greatest in the sport, Anderson Silva, has an unprecedented run of victories no fighter can match, his scalps are nowhere near as illustrious.
Remarkable still that so many of Hendo's wins came against men far outside his natural weight class of 185 lbs, such as Strikeforce Light Heavyweight Rafael Cavalcante and heavyweight Emelianenko. While Silva has dabbled outside his division, Hendo has consistently fought bigger, stronger opponents and dominated in most circumstances.
But still, Hendo is 41—a man approaching the twilight of his career. Through longevity and consistency, you can make the case of Hendo's greatness, but to say that the man who will enter the Octagon against Jones later this year is the best challenger the incumbent will have faced is quite another matter.
Jones has torn through the light heavyweight division since he entered the UFC back in 2008, and he left it looking like a tawdry band of dilettantes, overawed and overpowered by a new generation of MMA fighter. None of his opponents has put up any effectual resistance against him, and to think that Hendo will do so is still, despite his achievements, a leap.
Is Dan Henderson Jon Jones' toughest challenge?
In his time, Jones has dismantled Rua, Quinton Jackson, Lyoto Machida and Rashad Evans: all former UFC Light Heavyweight champions.
Some of these fighters Hendo is familiar with. Late last year, he fought Rua to a thrilling five-round decision win—one of the most brutal and evenly-fought matches of all time in the UFC. In 2007, he lost a similarly even match against Jackson, also over five rounds.
But Jones finished Rua in an overwhelmingly dominant performance inside three rounds and dispatched Jackson in the fourth.
Of course, it's impossible to grade fighters based on fight-for-fight comparisons like this. So many factors come into play when judging the quality of an opponent. There's issues of injury, time out of competition, age, how well their training camp went, the focus of the fighter at the time and a whole host of other factors complicating such comparisons.
And the fact is, Hendo is 41 years old. That puts up a big question mark over how great of an opponent he will prove to be compared to Machida or Evans, who were both in their prime.
Much will depend on Henderson himself: whether we will see the same fighter who was soundly beaten by Jake Shields at middleweight two years ago or the man who TKO'd legend Emelianenko inside the first round last year.
And we'll only find the answer to that question after Jones and Henderson finally meet.
This article is
What is the duplicate article?
Why is this article offensive?
Where is this article plagiarized from?
Why is this article poorly edited?