2012 NFL Draft Grades: Players Who Will Prove Their Teams Are Draft-Day Losers
May 2, 2012

Streeter Lecka/Getty Images
The 2012 NFL draft will be no different from all the others, as multiple first-round picks will never amount to much in the league, resulting in said team being labeled a draft-day loser. 
It's the unfortunate truth that comes with the draft, and every team is well aware it could fall victim to this. Of course, it's up to the team to ensure its draft picks reach their full potential, but sometimes things just don't work out. 
It's tough to hand out grades to a team, but it's also fairly easy to see which guys will fall flat on their faces. 
Whether the player doesn't quite have the right talent to make it or the expectations around him are too high, there will be rookies who flop big-time this coming season. 
With that said, here are a few players who will prove their teams are in fact draft-day losers. For guys I think who will prove their teas are draft-day winners, click here. 
Bruce Irvin, Seattle 
The biggest reach of the 2012 NFL draft, Irvin will fail to live up to the expectations that comes with being a first-round pick. 
Selected by the Seahawks at No. 15, Irvin enters the league with a ton of critics. He had a second-round grade by most, and off-the-field issues are also of concern.
Irvin is a pass-rush specialist, but he will soon find the harsh reality that life in the NFL is vastly more difficult than college.
He'll struggle to disrupt plays in the backfield, making the Seahawks look foolish for drafting him so high. 
Ryan Tannehill, Miami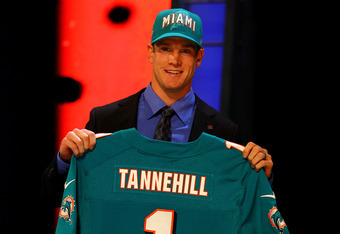 Al Bello/Getty Images
Another giant draft-day reach, Tannehill isn't guaranteed the starting job for the Dolphins, but odds are he'll end up as QB 1 at some point soon. 
Considering his new offensive coordinator is the same guy who was his head coach during his college career, Tannehill will see the field early. 
Mike Sherman is going to want the guy he feels comfortable with running the show, and since Matt Moore won't be overly impressive, he'll be yanked for Tannehill in no time. 
The only bad part about this, though, is that Tannehill isn't ready to be a starting QB in the NFL. He'll be thrown into the fire too soon, failing to deliver on what his team is hoping for from drafting him at No. 8 overall. 
A.J. Jenkins, San Francisco 
For starters, it was rather puzzling that the 49ers drafted a wide receiver in the first round. The fact that they reached on Jenkins is even more of a head-scratcher. 
With guys like Alshon Jeffery, Stephen Hill and Rueben Randle still on the board, it's quite mind-boggling that San Francisco drafted Jenkins. He had just one solid year in college, and it will be no surprise to see him become a bust at the next level. 
Jenkins does have great speed, as he ran a 4.39 in the 40-yard-dash at the NFL Scouting Combine. But if speed is what the 49ers were after, Hill would have been a better option, as he is also four inches taller than the six-foot Jenkins.
Another reason it's insane that the 49ers drafted Jenkins is because San Francisco is loaded at the wideout position. The 49ers brought in Mario Manningham and Randy Moss this offseason, plus they have Michael Crabtree and Ted Ginn. 
Jenkins will get much action thrown his way, which will hurt his development, proving that the 49ers are draft-day losers for picking him in the first round.