2013 NFL Mock Draft: Biggest NCAA Playmakers Ready to Shine in NFL
May 2, 2012

Stephen Dunn/Getty Images
The NFL and college football won't kick off for another five months, but we've come to grips with the fact that there is no offseason in football coverage across America.
Thus, with the 2012 NFL draft in the books and mini-camps scheduled to open in the coming weeks, we're well on our way to dissecting the 2013 draft class and the potential needs of NFL ball clubs.
Trends will come and go, but one thing NFL teams always need is playmakers and the 2013 NFL draft-eligible class has plenty of them.
Here's a look at a few ready to shine at the next level.
1. Jacksonville Jaguars: Matt Barkley, QB, USC (Sr. - 6'2", 220 pounds)
Barkley is a playmaker at the quarterback position, but all good quarterbacks should be playmakers. He was an absolute stud for the Trojans a year ago and continues to improve with each passing year.
He may not have the upside the likes of Tyler Bray or Tyler Wilson, but he's going to be a great quarterback all the same.
And the Jaguars, well, if they earn the No. 1 overall pick we'll certainly know why.
2. Indianapolis Colts: D.J. Fluker, OT, Alabama (r-Jr. - 6'6", 335 pounds)
The massive Crimson Tide tackle continues to improve and could be a star blindside protector at the next level.
3. Cleveland Browns: Robert Woods, WR, USC (Jr. - 6'1", 185 pounds)
Woods doesn't have freakish Calvin Johnson or Julio Jones size, but he's a gifted playmaker with ridiculous levels of productivity.
Having Matt Barkley chucking the rock obviously helps matters, but Woods is a supreme talent who'll dominate the field on Saturdays this fall.
Some will look at him and see a prospect similar to Justin Blackmon in size, but he's a better overall athlete and the Browns have a big need for an elite playmaker on the outside.
4. Minnesota Vikings: Keenan Allen, WR, California (Jr. - 6'3", 205 pounds)
Another Pac-12 receiver, Allen is a guy with that coveted size-speed ratio. Unlike Woods, Allen didn't find the endzone all that frequently, but he caught a ton a of balls and showcased elite skills.
The Vikings have an elite playmaker in Percy Harvin, but he's not a true No. 1 receiver. Allen fills that void and gives Christian Ponder somebody else to throw to and Harvin more room to work with.
5. Miami Dolphins: Sam Montgomery, DE/OLB, LSU (r-Jr. - 6'4", 245 pounds)
LSU's star pass rusher was a potential first round pick this year had he declared, but he returned and should be a top 10 pick in 2013. The Dolphins would be foolish to pass on his talents. 
6. Arizona Cardinals: Tyler Wilson, QB, Arkansas (r-Sr. - 6'3", 220 pounds)
Unless the Cardinals make a surprise push for the postseason with one of their two dueling quarterbacks, their best bet will be to end that duel with a new franchise signal-caller.
Wilson lost his top three receivers this year but that will make his production this season even more impressive.
7. St. Louis Rams: Jake Matthews, OT, Texas A&M (Jr. - 6'5", 305 pounds)
A new franchise left tackle will suit Sam Bradford just fine.
8. Oakland Raiders: Tyler Bray, QB, Tennessee (Jr. - 6'5", 210 pounds)
Tyler Bray has been flirting with greatness for two years, but this season he'll rise to the top and challenge Wilson as the best quarterback in the SEC thanks to playmakers like Da'Rick Rogers and Justin Hunter.
He has a ton of potential and could be the Raiders' answer at quarterback they've been looking for since Rich Gannon retired.
9. St. Louis Rams (via WASH): Marquess Wilson, WR, Washington State (Jr. - 6'3", 190 pounds)
A physically imposing specimen, Wilson rounds out the trio of star Pac-12 receivers eligible for the draft in 2013. He's long, athletic and plays that way averaging about 17 yards per catch in his two years with the Cougars.
Wilson's topped 1,000 yards in each of his two seasons thus far, and is the type of deep threat Sam Bradford needs to back defenses off.
10. Seattle Seahawks: Jarvis Jones, DE/OLB, Georgia (r-Jr. - 6'2", 242 pounds)
A likely first round pick had he entered the draft as a redshirt sophomore, Jones is a terror off the edge and will dominate the SEC again this season.
Seahawks coach Pete Carroll has plenty of reason to continue bolstering his pass rush.
11. Tampa Bay Buccaneers: David Amerson, CB, N.C. State (Jr. - 6'2", 193 pounds)
The rangy Wolfpack cornerback burst onto the scene by leading the nation in interceptions in 2011. His combination of size, athleticism and ball skills will be coveted by nearly every team in the league in less than a year's time.
The Bucs missed on their star cornerback in the 2012 draft, but can get one here.
12. Buffalo Bills: Jelani Jenkins, OLB, Florida (r-Jr. - 6', 230 pounds)
The tackling machine can step on the field immediately and make plays for the Bills defense. He will need to add some muscle, though.
13. Tennessee Titans: Tyrann Mathieu, CB, LSU (Jr. - 5'9", 180 pounds)
Although vastly undersized, Mathieu is a natural playmaker and ballhawk who can change the course of a game in a single play.
Whether on defense or special teams, the "Honey Badger" is someone opponents always have to keep an eye on.
Tennessee landed an offensive playmaker in the first round of the 2012 draft, and can do the same on the opposite side of the ball in 2013.
14. Carolina Panthers: Johnathan Hankins, DT, Ohio State (Jr. - 6'3", 335 pounds)
The mammoth defensive tackle from Ohio State fills a need in the Carolina front seven immediately.
15. Denver Broncos: Marcus Lattimore, RB, South Carolina (Jr. - 6', 230 pounds)
Lattimore's durability may be a cause of concern for some, but he's a proven playmaker with a nose for the endzone.
Barring Steve Spurrier running him into the ground, he'll still carry a first round grade after the 2012 season.
16. Kansas City Chiefs: Manti Te'o, ILB, Notre Dame (Sr. - 6'2", 255 pounds)
A lock for the first round had he entered this year's draft, Notre Dame's captain in the middle has been a star since his freshman season and fits great in KC.
17. Chicago Bears: DeMarcus Milliner, CB, Alabama (Jr. - 6'1', 197 pounds)
The true junior cornerback isn't a guaranteed lock for the first round just yet, but this is Nick Saban and the Crimson Tide we're talking about here. Milliner is going be the next in a line of star players.
18. Cincinnati Bengals: Barkevious Mingo, DE/OLB, LSU (r-Jr. - 6'4", 240 pounds)
Another one of LSU's star pass rushers, Mingo's combination of size and skill make him awfully tough to pass on in the draft.
19. Philadelphia Eagles: Ricky Wagner, OT, Wisconsin (r-Sr. - 6'6", 320 pounds)
An available lineman and the Eagles? This is a no-brainer.
20. Dallas Cowboys: Sharrif Floyd, DT, Florida (Jr. - 6'3", 298 pounds)
The Cowboys were rumored to be after Michael Brockers in the first round of 2012 draft, but traded up for Morris Claiborne instead. Floyd would be a great consolation prize in next year's draft.
21. New York Jets: Montee Ball, RB, Wisconsin (Sr. - 5'9, 212 pounds)
Some may look at this as a bit high for the Heisman candidate, but Montee Ball is a star and the Jets will be looking for more running back help again in a year's time.
22. San Francisco 49ers: Barrett Jones, G/C, Alabama (r-Sr. - 6'4", 312 pounds)
The tough, versatile interior lineman gives the 49ers another road-grader to help plow the way for their stable of running backs.
23. New Orleans Saints: Landry Jones, QB, Oklahoma (r-Sr. - 6'4", 230 pounds)
It wouldn't be surprising at all to see Landry Jones vault back into top 10 consideration for the 2013 draft, but after a disappointing end to the 2012 season he starts on the low-end of the first round.
He'll need to prove he can overcome a bit of adversity this season.
As for the Saints, developing Jones behind Brees is too good a value to pass up.
24: San Diego Chargers: T.J. McDonald, S, USC (Sr. - 6'2", 205 pounds)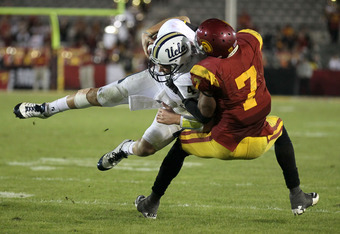 Stephen Dunn/Getty Images
The star safety had a down year in 2011, but he'll bounce back in 2012 and reestablish himself as a legitimate first round prospect with elite talent.
25. Atlanta Falcons: Alex Okafor, DE, Texas (Sr. - 6'4", 260 pounds)
The Falcons have a dire need for pass rush help and Okafor is a guy who has proven capable of getting in quarterback's faces.
26. Baltimore Ravens: Chris Faulk, OT, LSU (r-Jr. 6'6", 325 pounds)
The massive Tigers' tackle has great potential and will see his stock rise from this position.
Meanwhile, Baltimore can add him and pair him up with Michael Oher for the foreseeable future.
27. Green Bay Packers: Xavier Rhodes, CB, Florida State (r-Jr. 6'1", 215 pounds)
FSU's big, physical corner is an ideal fit with the Green Bay Packers. They know Charles Woodson only has a couple of years left in the league and Rhodes has elite potential to go with this his size.
Joe Robbins/Getty Images
28. Pittsburgh Steelers: Kawann Short, DT, Purdue (r-Sr. - 6'3", 310 pounds)
A potential riser in this class, Short's talents will be put on full display this season and if he's available here he'd be great value for a Steelers team that will look to get younger in the front seven.
29. Detroit Lions: Luke Joeckel, OT, Texas A&M (Jr. - 6'6", 310 pounds)
The other Texas A&M tackle, Joeckel has big-time potential and prototype size and skills. The Lions could go a number of ways here, but a potential franchise tackle this late doesn't come around often.
30. Houston Texans: C.J. Mosley, ILB, Alabama (Jr. - 6'2", 235 pounds)
It wouldn't be surprising at all to see Nick Saban's star linebacker rise higher in this draft class. He's not, however, the same talent of Rolando McClain or Dont'a Hightower before him.
Houston can add him to their 3-4 and let him run around making plays from sideline to sideline.
31. New England Patriots: Khaled Holmes, G/C, USC (r-Sr. - 6'3", 310 pounds)
Arguably the draft's best interior lineman, Holmes offers great value for a Patriots team that took some chances in their 2012 draft.
32. New York Giants: Robert Lester, S, Alabama (Sr. - 6'2", 210 pounds)
Lester is an ideal fit for the Giants' three-safety look and could even be a potential replacement for Antrel Rolle sooner than later.
He flashed dominant ballhawk skills two seasons ago and was solid yet unspectacular in 2011. This season, though, he will get a chance to shine again along with Milliner after the Crimson Tide secondary lost starters Mark Barron, Dre Kirkpatrick and DeQuan Menzie in this year's draft.