NBA Playoff Schedule 2012: Complete Guide to Wednesday's Game 2 and 3 Action
May 2, 2012

Ronald Martinez/Getty Images
The 2012 NBA Playoffs aren't disappointing us at all.
We've already seen player injuries, incredible shots as well as season-changing comebacks, and it's only the opening round. In fact, we've only just had Game 1.
I can't promise all that again in Games 2 and 3, but I am sure we'll definitely still be treated to some outstanding basketball as the top sides in the league go head-to-head during the NBA Playoffs.
There are three games Wednesday night, and you'll find your complete guide right here.
Utah Jazz @ San Antonio Spurs
7PM ET at AT&T Center, San Antonio
The San Antonio Spurs haven't had a 2-0 lead in a series since 2008, but that's exactly what they'll be looking for as they take on the Utah Jazz at home in Game 2. Behind Tony Parker's 28 points and eight assists, the Spurs took out the opening round comfortably—running out 106-91 victors on the night.
For the Jazz, the key to tying the series rests in their ability to shut down Tony Parker and Tim Duncan. Duncan picked up 17 points, five assists and 11 rebounds in the first match, including four offensive boards. Limiting San Antonio's second-chance points and the ball movement from Parker and Manu Ginobili through their defense will be necessary for Utah.
Spurs forward Steven Jackson said in the light of Game 2 that:
"One thing you've always known about the Spurs—they're going to play the same way, and get it done the same way. It's a team that doesn't get rattled [and] keeps their composure..."
More of the same seems to be the key for San Antonio, as they seek to stretch their series lead to 2-0. Their field goal, three-point and free throw averages were all down in Game 1; they'll seek to rectify that for their second match.
Al Jefferson is primed for a big game for the Jazz, but at home, San Antonio will be too strong. Their big three—Parker, Duncan and Ginobili—are playing well and are proving to the league that the Spurs are genuine championship contenders.
San Antonio Spurs by 10 points.
Indiana Pacers @ Orlando Magic
7:30PM ET at Amway Center, Orlando
The Indiana Pacers travel to Orlando to take on the Magic with their series locked at 1-1 after the first two matches. The Magic took the opening match 81-77 and looked to have stolen home court advantage before being blown away in Game 2—eventually going down 93-78.
Indiana know that they most likely should have won the opening round and, were it not for a dreadful final quarter, could have had a 2-0 series lead. Their discipline and focus—particularly on defense—were prominent in their second game and they now average over eight steals and eight blocks for the series.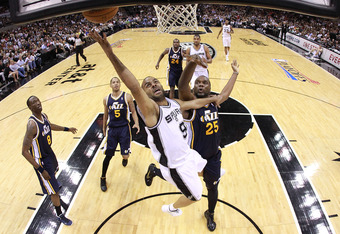 Ronald Martinez/Getty Images
Minus Dwight Howard, the Magic are developing a tendency to shoot from beyond the arc, rather than working the ball around inside the key. Despite landing 17 threes in just two games, their three-point shooting percentage still only sits at 0.347 percent.
The key for the Magic then is Glen Davis, who is leading the team in points, rebounds and blocks in the playoffs. Of particular importance is the 13 offensive rebounds that Davis has reeled in so far and, if he can continue to dominate inside, then the Magic could well improve their shooting and offensive production.
Indiana should let Orlando shoot from deep as long as they want; making the primary focus to box out Davis and not allow offensive boards. They beat the Magic 50-28 in the paint in Game 2—numbers they'll surely try to emulate again in this one.
For me, the Pacers look too strong inside as the Magic continue to show just how badly they miss Dwight Howard.
Indiana Pacers by 8 points.
Los Angeles Clippers @ Memphis Grizzlies
9:30PM ET at FedEx Forum, Memphis
Game 2 of the Clippers-Grizzlies series will no doubt be fascinating, but surely it cannot top the antics of the opening round. Trailing by 24 points with 9:13 left in the final quarter, the Los Angeles Clippers stunned everyone by finishing on a 28-3 run to sneak a one-point victory.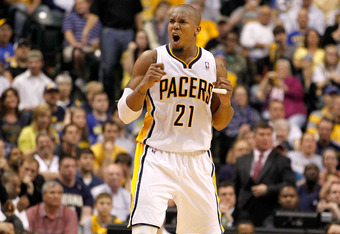 Gregory Shamus/Getty Images
If you haven't already, do yourself a favor and go watch the highlights.
For the Clippers, the key to taking a 2-0 series lead lies in their ability to win the battle inside—a tough ask considering the likes of Marc Gasol and Zach Randolph. Having said that, they outscored Memphis 54-38 in the paint in Game 1 and, if they can win that battle again, then they may well take this one.
After shooting an astounding 11 three-pointers in the opening game, Memphis need to not focus on their deep shooting, but their work in the paint. Rudy Gay shot at 0.409 percent and Randolph just 0.214 percent in Game 1—both numbers that need to improve should their outside shooting begin to drop.
For me, there's no way that Mike Conley and O.J, Mayo can shoot at above 80 percent for the series from beyond the arc and Memphis could be in some real trouble when it does eventually drop. They were well and truly beaten in the paint against the Clippers and that's the key battle again in this one.
If Gasol and Randolph can exert their dominance inside, then we should see a tied series. If they can't, then the Clippers will have a 2-0 series lead.
Los Angeles Clippers by 4 points.
Read more articles by Dan here — or  Follow @dantalintyre