2012 NFL Draft: Falcons Look to Fix 4th-and-Short Failures Through Draft
May 2, 2012

Al Bello/Getty Images
Head Coach Mike Smith and general manager Thomas Dimitroff know about the Atlanta Falcons' fourth-and-short woes from last season. The team ranked 26th in the league with a dismal 30.8 percent success rate on fourth-down plays in 2011.
But it was so much more than that.
Who could forget the third possession of the playoff game in New York? Atlanta entered the series with just four yards of total offense on its first two drives. As its drive stalled, Smith faced a fourth-and-one situation and decided to go for it. Atlanta came up short and ended up scoring just two points all day.
Who could forget the Week 10 game against New Orleans? In a possible season-defining moment. Smith decided to attempt a fourth-and-one play from deep inside Atlanta territory in overtime, worried that if he gave the ball back to New Orleans' potent offense, they would end the game with a score.
The play failed. Saints kicker John Kasay made short work of a 26-yard field goal moments later for the win.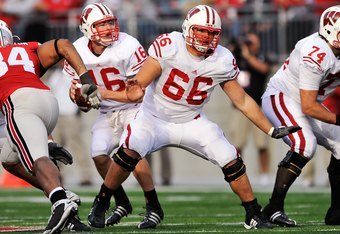 Jamie Sabau/Getty Images
No one inside Falcons Draft Headquarters Friday forgot about those moments either.
With its first two picks in the 2012 NFL draft, Atlanta enhanced its offensive line by grabbing two behemoth linemen; Peter Konz and Lamar Holmes.
Konz is a 6-foot-5, 315-pound center that the team will use at guard this season. Holmes is a 6-foot-6, 334-pound tackle whose toughness is well documented.
With those two picks, Atlanta added 649 pounds of pile-moving mass in an attempt to make sure the Falcons didn't have fourth-and-short issues in 2012.
During a press conference that Bleacher Report attended, Dimitroff noted "We waited a whole round to jump into our offensive line sweepstakes," since the team had no first-round pick. "It was something that we were focused on through the offseason and both Smitty and I spent a lot of time focusing on the offensive line and how we would acquire some more size, strength and stoutness to help bolster our roster."
Smith, as camp approaches, promised an open competition on the offensive line, a unit that suffered through injury, cohesion issues and attempts to find the right five starters.
With a new offensive coordinator and a new line coach, Atlanta could take this newly acquired mass and shuffle things around completely. The coaching staff is going to look for the best five linemen, period, Smith said.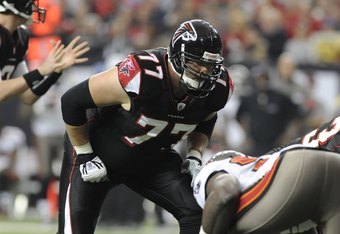 Al Messerschmidt/Getty Images
If that means Tyson Clabo has to move from right tackle—where he played all 16 games last year—to left to bolster the line, that's what he'll do. If the Falcons find that two rookies make this unit better, that's who will start.
Whatever group of five that walks onto the field to start the season, it's Atlanta's goal to make sure that it has better success at fourth-and-1 than last year.