St. Louis Rams: Reviewing Their 2012 NFL Draft
Al Bello/Getty Images

The St. Louis Rams are certainly going to end up getting a lot out of this year's No. 2 overall pick. Their two trades down from No. 2 to No. 14 overall turned one pick into five picks in the first two rounds in a three-year span. As a result of the trade, the Rams had three second-round picks in the 2012 NFL draft and will have two first-round draft choices each of the next two seasons.

While it is clear to see that the Rams got very good trade value at the top of the draft, did they take advantage of value through the rest of the draft? Read through the following slides to find out.
Begin Slideshow

»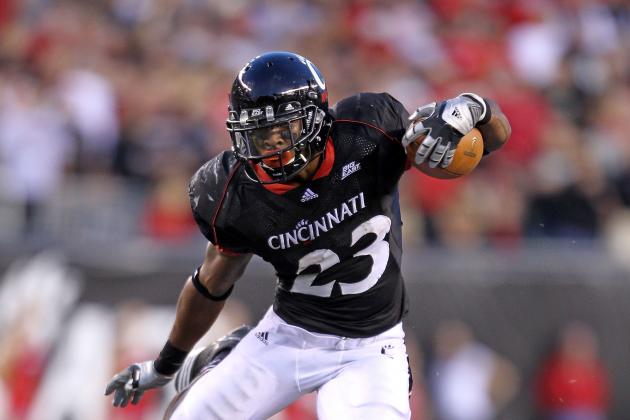 Andy Lyons/Getty Images
Isaiah Pead
Round 1, Pick 14: Michael Brockers, DT, LSU

Overall Prospect Rank: No. 41

Overrated prospect who should not have been a top-15 draft pick, but a talented defensive lineman with big upside. Big defensive tackle who is an explosive penetrator. Brockers was a rotational player at LSU and is unlikely to be a three-down lineman at the next level. A good athlete, but not elite.
Round 2, Pick 33: Brian Quick, WR, Appalachian State

Overall Prospect Rank: No. 70

Very good combination of size and athleticism. Natural hands, good route-runner and quick as his name suggests. Unproven as he comes from the FCS level of competition, but has upside to be a productive No. 2 wideout. Unlikely to emerge as a No. 1 deep threat, a position he will be placed into in St. Louis given its lack of talent at wide receiver.
Round 2, Pick 39: Janoris Jenkins, CB, North Alabama

Overall Prospect Rank: No. 36

As talented as any cornerback in the draft class, including Morris Claiborne, but has serious character concerns. Was a star defensive back at Florida, but was dismissed from the team following multiple arrests. Has the skill set to be an elite man-to-man cover corner. Big risk as an early selection, but could emerge as a true No. 1 shutdown defensive back in the Rams' secondary if he keeps his head on straight.
Round 2, Pick 50: Isaiah Pead, RB, Cincinnati

Overall Prospect Rank: No. 88

Well-rounded running back. Hard runner who is undersized to run between the tackles, but also has good speed and quickness. Effective receiver out of the backfield, willing blocker. Good fit for the Rams to be a second-string back and spell Steven Jackson.
Round 3, Pick 65: Trumaine Johnson, FS/CB, Montana

Overall Prospect Rank: No. 74

Dominant cornerback at the FCS level, but may not be athletic to play the position at the next level. Likely to play free safety for the Rams, where he could emerge as a starter. Great size with tackling and coverage ability in middle of field. A project, but talented with upside.
Round 4, Pick 96: Chris Givens, WR, Wake Forest

Overall Prospect Rank: No. 90

Givens was a productive wide receiver at Wake Forest. Good hands, effective route-runner and a very good athlete. Only 6'0" tall, but has a solid all-around game. Should be a solid third or fourth receiver for the Rams.
Round 5, Pick 150: Rokevious Watkins, G, South Carolina

Overall Prospect Rank: No. 262

Powerful offensive lineman with solid footwork. Not dominant, but has the versatility to provide depth at both guard and tackle.
Round 6, Pick 171: Greg Zuerlein, K, Missouri Western

Overall Prospect Rank: Not in Top 400

Zuerlein was drafted to replace Josh Brown, who has since been released. Productive kicker at the Division II level who has a strong leg. Not necessarily worth a draft pick, but if they went in with the intention of replacing Brown, then it made sense to ensure they were able to bring in the replacement they coveted.
Round 7, Pick 209: Aaron Brown, OLB, Hawaii

Overall Prospect Rank: Not in Top 400

Productive linebacker at Hawaii, but undersized. Nothing special about him athletically or in his game. A project who will have to be able to play special teams.
Round 7, Pick 252 (compensatory selection): Daryl Richardson, RB, Abilene Christian

Overall Prospect Rank: No. 301

Richardson is an intriguing athlete who made a name for himself with an impressive pro day. Could follow in the footsteps of relatives Bernard Scott and Clyde Gates, who emerged as sleepers from Abilene Christian to become productive NFL players thanks to their explosive athleticism. An athletic project.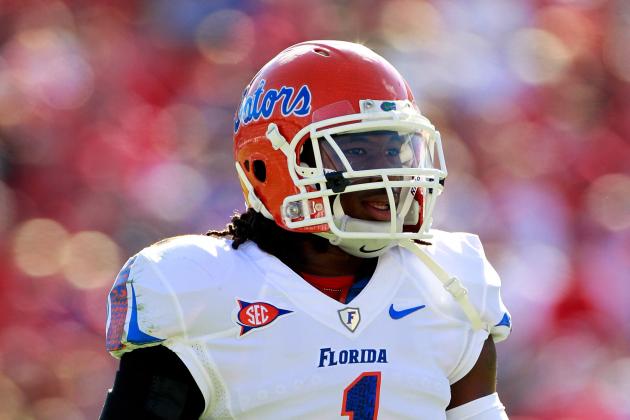 Sam Greenwood/Getty Images
Janoris Jenkins
The Rams traded Round 1, Pick 2 to the Washington Redskins for the No. 6 and No. 39 overall selections, along with the Redskins' 2013 and 2014 first-round selections. The Rams later traded Round 1, Pick 6 to the Dallas Cowboys for Round 1, Pick 14 and Round 2, Pick 45. The Rams later traded Round 2, Pick 45 to the Chicago Bears for Round 2, Pick 50 and Round 5, Pick 150.

The St. Louis Rams turned one pick into six picks, five of which were or will be in the first two rounds of the draft. That says it all right there. By already having a franchise quarterback and being able to move out of their prime spot at the top of the draft, the Rams could end up with five starters out of that one pick.

Already, this trade has yielded Michael Brockers, Janoris Jenkins, Isaiah Pead and Rokevious Watkins, and there are two additional first-round picks in the next two drafts to add to that yield.
The Rams traded Round 5, Pick 137 to the Denver Broncos for wide receiver Brandon Lloyd.

The Rams made this trade in October 2011 and only had Lloyd for the rest of that season. Lloyd became a free agent at the end of the year and has signed with the New England Patriots.

Getting Brandon Lloyd for a fifth-round pick was good value at the time, but only getting a partial season out of him in a year the Rams won only two games made the trade a waste of a pick.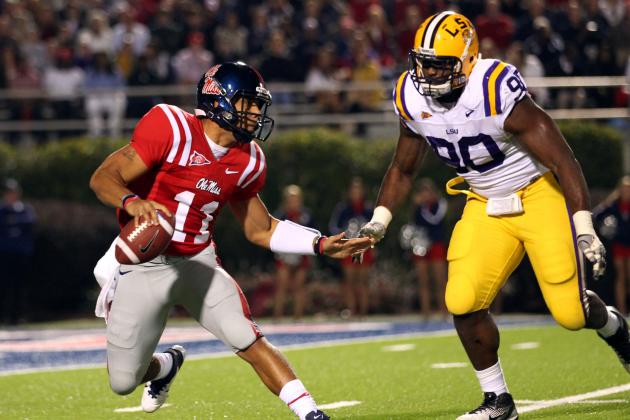 Joe Murphy/Getty Images
Michael Brockers
Getting three first-round picks, two second-round picks and a fifth-round pick out of one pick is about as good as value can get. The Rams certainly maximized their value on the trade front with the No. 2 overall pick.

As for their selections, they did not maximize all their value. Michael Brockers was a reach in the first round, as was Brian Quick with the first pick of Round 2. Isaiah Pead in Round 2, Rokevious Watkins in Round 5 and Greg Zuerlein in Round 6 were all reaches as well.

That said, it must also be taken into consideration that Brockers, Pead and Watkins were all the products of what was originally one draft pick, which certainly gives the Rams somewhat of a pass on reaching for those players.
Additionally, the Rams also got Janoris Jenkins out of their trade down; Jenkins fell to Round 2 due to serious character issues, but he was still very good value in the second round.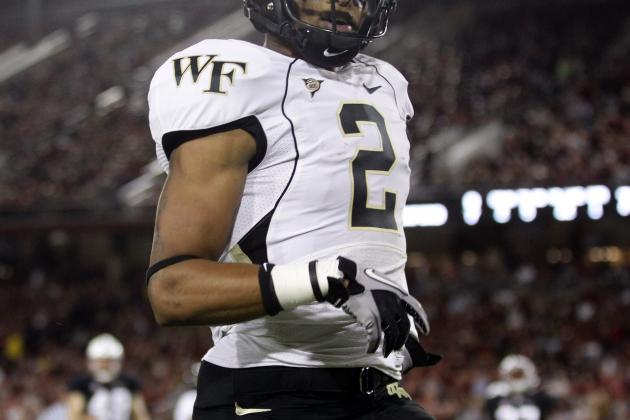 Ezra Shaw/Getty Images
Chris Givens
By trading down three times, the Rams picked up many additional selections to work with in order to address their many needs. With the four selections they had from that one pick in this draft, they addressed areas of need at defensive tackle, cornerback, running back and offensive line.

The Rams' biggest need coming into the draft was at wide receiver, and they addressed that need by drafting two wide receivers in the first four rounds. The Rams may not have found their true No. 1 wide receiver yet, but they used their resources well to upgrade at the position.

The Rams were unable to address every need. The Rams still need both starting-caliber linebackers and depth, and they also have needs at offensive tackle and strong safety.
That said, the Rams addressed the majority of needs and came up with the resources to do so by trading down.
Mike Ehrmann/Getty Images

By trading out of the No. 2 overall pick, the Rams gave up the risk of banking their entire draft upon one prospect and instead stockpiled draft picks to add many quality players.

Michael Brockers was a first-round reach, but he addressed a position of need. The Rams also added quality players at both wide receiver in Brian Quick and Chris Givens, and also in the secondary with the additions of Janoris Jenkins and Trumaine Johnson.

Jenkins is a high-risk player with potential high reward, but whether he becomes a star cornerback or a total bust, they surrounded him with quality players and should safely come out of this draft with a number of quality starters that make them a better team than they were coming in.

The Rams traded better than any other team in the 2012 draft and grade out well as a result.

Overall: A-
Thanks for reading!

Throughout the month of May, I will be reviewing one team's draft each day, in the order of the original 2012 NFL draft order.

Follow me on Twitter @Dan_Hope.