2012 NBA Free Agents: Best Bargain Big Men Looking for a Championship
May 2, 2012

Elsa/Getty Images
When you reach a certain level, money doesn't motivate you anymore.
After years of cashing seven and eight figure paychecks while enduring endless amounts of wind sprints, plane flights and room service meals, there comes a point in every man's NBA career where the only thing that truly matters is winning an NBA championship.
For the following big men all north of the age of 30, they enter free agency with one goal in mind: hoisting the Larry O'Brien trophy with confetti streaming down their face.
Reggie Evans - Los Angeles Clippers
Did you see his defense on Zach Randolph the other night?
Evans can challenge any back-to-the-basket player in the game right now because of his strength, aggressiveness and experience. Don't pay attention to his regular season numbers (1.9 PPG, 4.8 RPG), the Clippers are counting on him in the postseason for a reason.
Evans is a strong role player with postseason experience that won't break the bank.
Jared Jeffries - New York Knicks
The 6'11'', 240-pound power forward is certainly injury prone, but when healthy he provides solid defense on the pick-and-roll and is a strong finisher. He didn't fit well with the Knicks, but there is still decent basketball left in this 30-year-old's tank.
Greg Oden - N/A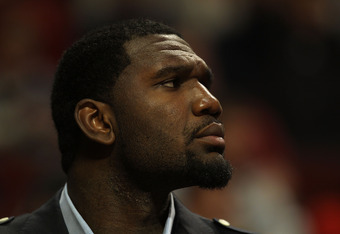 Jonathan Daniel/Getty Images
The Blazers may have gotten hosed by Oden's injuries, but he is still worth taking a flier on. His sheer size (7'0'', 285 pounds) makes him at least worth a look.
If the Heat gambled on Eddy Curry, there is certainly going to be some sort of market for the top pick in the 2007 draft.
Jason Collins - Atlanta Hawks
Collins may not have eye-popping numbers (1.3 PPG, 1.6 RPG) , but he provides solid post defense that can come in handy against teams with ridiculous height like the Lakers, Pacers, Thunder and Jazz.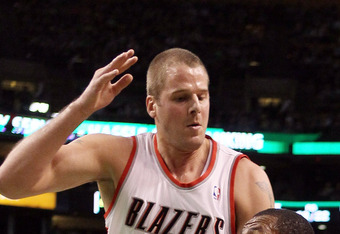 Elsa/Getty Images
You can never have enough veteran big's with playoff experience that don't get injured every time they fall to the floor. He even can provide you with a steady dose of 10-footers.
Joel Przybilla - Portland Trail Blazers
At the age of 32, this shot-blocking machine is still good for 20 minutes a night as one of the enforcers of the paint.
After dealing with injuries for the majority of the season, Przybilla will be much more effective next year after a full offseason worth of conditioning.