College Football 2012: Picking the Best Game in Every Conference for Every Week
Gregory Shamus/Getty Images

Each week of the college football season is chock full of games, and these days, most of them are televised.
It can be a daunting task to sift through all of the garbage each week to find those few games you might actually want to watch in their entirety. So, we thought we'd help you out by highlighting the top game in each BCS automatic-qualifying conference for every week of the season.
Break out the calendars and make sure there's plenty of space available on the DVR!
Begin Slideshow

»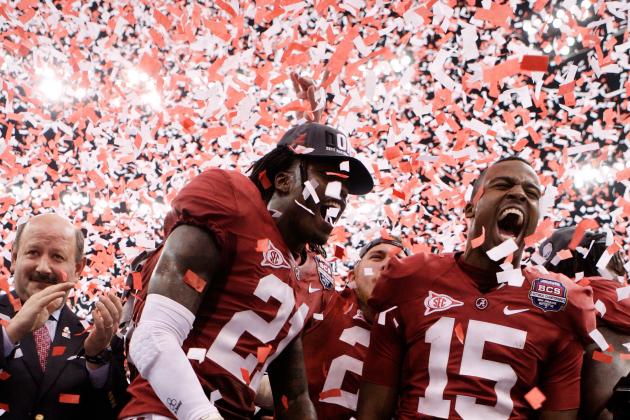 Andy Lyons/Getty Images

ACC: Georgia Tech at Virginia Tech
The ACC wastes no time getting the 2012 conference schedule underway with a Week 1 ACC clash on Monday, September 3. The Yellow Jackets, a pleasant surprise from 2011, will travel to Lane Stadium to take on the defending Coastal Division champs.
Big 12: SMU at Baylor
It might not seem that interesting, but the improving Mustangs against the RG3-less Bears will likely be more interesting than Texas-Wyoming or Oklahoma-UTEP.
Big East: Kentucky at Louisville
This is the only AQ vs. AQ matchup the Big East has in Week 1, so it was a no-brainer.
Big Ten: Boise State at Michigan State
Both teams are in rebuilding mode. It will be interesting to see which one of these upstarts can maintain its winning ways. Boise State has a knack for knocking off AQ programs in their own stadium.
Pac-12: Hawaii at USC
We're all anxious to see just how good USC is going to be in 2012. Hawai'i may not provide the best opposition, but it's far better than trying to judge the Trojans against the likes of Big Ten cellar-dweller Minnesota or some FCS team.
SEC: Michigan vs. Alabama (Arlington, Texas)
We're putting this game under the SEC's headline, because it's arguably bigger for the SEC than the Big Ten. Alabama should be favored, and if Alabama's win is anything less than impressive, it will only serve to highlight a possible chink in the seemingly impenetrable SEC armor.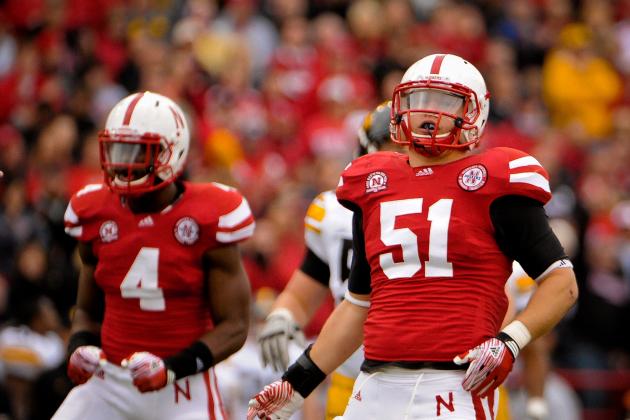 Eric Francis/Getty Images

ACC: Miami at Kansas State
If you want to know just how far Miami has fallen (or possibly how abruptly Al Golden has stopped the slide), you'll want to catch the Hurricanes' trip to Bill Snyder Stadium to take on Bill Snyder and his Wildcats.
Big 12: Oklahoma State at Arizona
The Pokes are Weeden and Blackmon-less, and Arizona is now under the leadership of Rich Rod. Should be interesting, to say the least.
Big East: Syracuse vs. USC (East Rutherford, N.J.)
This is an excellent opportunity for all you East Coast football fans to get a look at USC. And it's an excellent opportunity to see if the Orange are still as bad as they were last season.
Big Ten: Penn State at Virginia
First test for new head coach Bill O'Brien will be against a much-improved Virginia team.
Pac-12: Nebraska at UCLA
If UCLA has any chance of redeeming itself anytime soon, a strong showing—even in a loss—at home against the Cornhuskers is a must.
SEC: Auburn at Mississippi State
The conference schedule gets underway in a game that will set the tone for each team in 2012.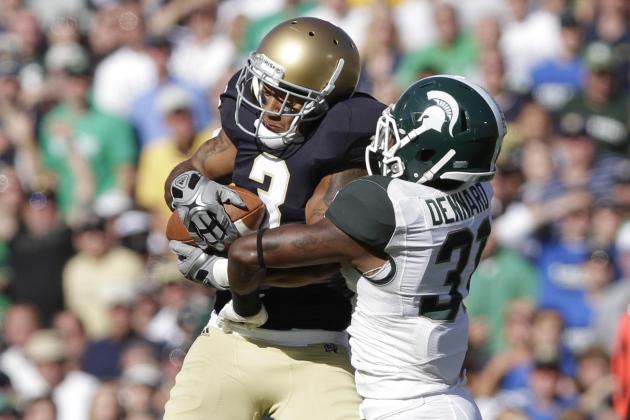 John Gress/Getty Images

ACC: Wake Forest at Florida State
The Seminoles laughingly start 2012 against two FCS opponents. No strength of schedule points there. But we'll finally get a halfway decent look at FSU in its Week 3 ACC opener.
Big 12: TCU at Kansas
The Horned Frogs make their Big 12 debut, as does new Kansas head coach Charlie Weis. We'll get a quick idea about which one will find success first in this game.
Big East: Virginia Tech at Pittsburgh
A Pitt win against a depleted Virginia Tech squad could be a big boost to the much-maligned Big East.
Big Ten: Notre Dame at Michigan State
This game is always entertaining, and in recent years has had some pretty significant poll implications for both squads.
Pac-12: USC at Stanford
The Pac-12 season gets underway with a bang. Will the Luck-less Cardinal have any hope against a USC squad that's perceived as unstoppable?
SEC: Alabama at Arkansas
The 2012 season in the SEC West will have some early questions answered quickly with this clash between division hopefuls.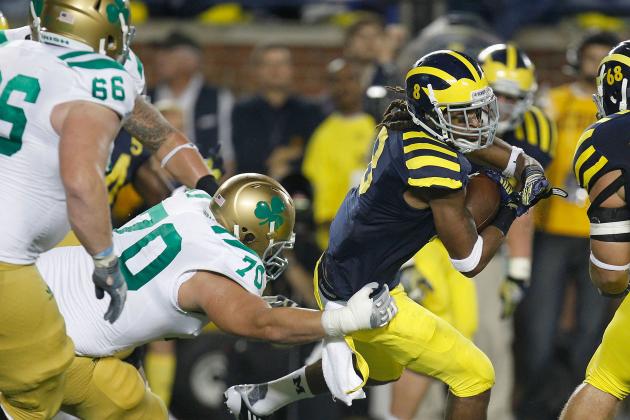 Gregory Shamus/Getty Images

ACC: Clemson at Florida State
There probably isn't a bigger game in the Atlantic Division this season. The winner could be headed to the ACC championship game.
Big 12: Baylor at Louisiana-Monroe
If Baylor struggles in this warm-up to the Big 12 opener in Week 5, we'll know exactly how far the Bears have fallen without RG3.
Big East: Rutgers at Arkansas
If Rutgers can keep it somewhat close, it will be a moral victory for the Knights and the conference at large. But it's a mighty big "if."
Big Ten: Michigan at Notre Dame
The independent Irish show up for a second straight week in our Big Ten game of the week, this time against the Wolverines. An epic win against what could be a very highly ranked U-M squad could set the tone for a BCS run for Brian Kelly and company. A Michigan win, however, would simply reinforce the late wave of maize and blue dominance over Notre Dame.
Pac-12: Arizona at Oregon
After a few warm-ups, we'll finally see the Ducks against an opponent of supposedly equal size. How much of a difference will Oregon's personnel losses make this season? How much of a difference will Rich Rod make at Arizona?
SEC: LSU at Auburn
There's no better place to start the march back to the SEC title game than walking into Jordan-Hare and walking out with a victory.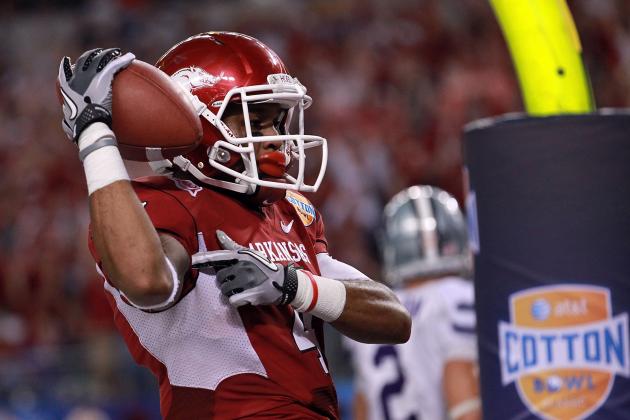 Ronald Martinez/Getty Images

ACC: Florida State at South Florida
At first, this game looks to be a no-brainer. But those Bulls can be pesky, and you can bet they're going to love having a shot at the 'Noles in Tampa.
Big 12: Baylor at West Virginia
The Mountaineers make their long-awaited Big 12 debut, and the Baylor Bears are the guests for homecoming in Morgantown.
Big East: Cincinnati vs. Virginia Tech (Landover, Md.)
Since there are only three Big East teams playing in Week 5, and we've already mentioned South Florida, we begrudgingly selected Cincy vs. Virgina Tech over Buffalo at Connecticut.
Big Ten: Ohio State at Michigan State
Can the sanction-laden, Urban Meyer-led Buckeyes exact revenge against Sparty in his own backyard?
Pac-12: UCLA at Colorado
Both programs need some improvement in the conference, and this game will provide a good opportunity to change some minds in a week with few conference games.
SEC: Arkansas at Texas A&M
Can the Aggies hang with the rest of the SEC? We'll have our answer in this Week 5 West Division showdown.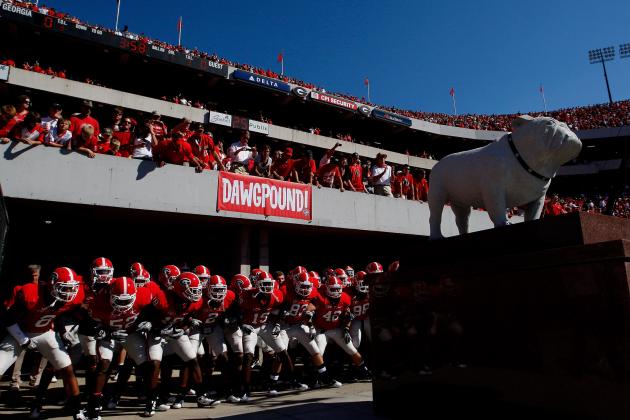 Kevin C. Cox/Getty Images

ACC: Georgia Tech at Clemson
Big 12: West Virginia at Texas
Little would do more for WVU's confidence in the Big 12 than knocking off a (usually) perennial power like Texas.
Big East: South Florida at Temple
The Owls host their first-ever Big East game, and do so against a South Florida team that is capable of dishing out a very rude welcome.
Big Ten: Nebraska at Ohio State
The Cornhuskers make their first conference trip to the Horseshoe in Columbus, and this year, both teams should be pretty good.
Pac-12: USC at Utah
This Thursday night game is a rematch of last season's nail-biter in LA. Will Utah be able to seal the deal on its home turf, or will a trophy-hungry USC simply ride right over the Utes?
SEC: Georgia at South Carolina
This game will easily be the best matchup in the East Division this season.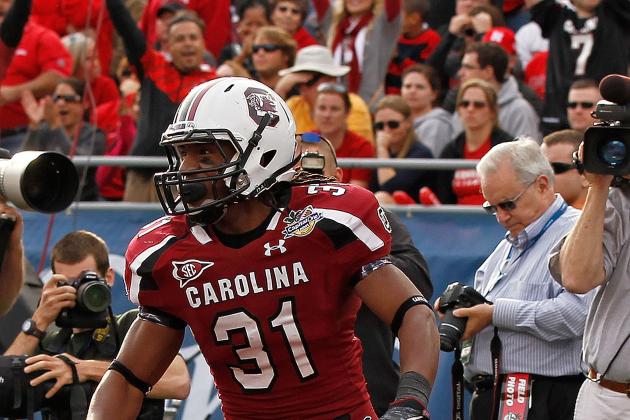 Mike Ehrmann/Getty Images

ACC: Maryland at Virginia
In a week full of rather uninteresting ACC games, this could be an opportunity for Maryland to break out of the doldrums against an improving Virginia program.
Big 12: Texas vs. Oklahoma (Dallas, Texas)
Texas-Oklahoma. Cotton Bowl. Enough said.
Big East: Louisville at Pittsburgh
If Louisville has any hope of trying to repeat last season's co-championship performance in the Big East, a win on the road at Pitt is a must.
Big Ten: Iowa at Michigan State
Sparty has had some trouble with the Hawkeyes as of late, and any possible Legends Division title run will be quickly derailed with a loss.
Pac-12: Utah at UCLA
SEC: South Carolina at LSU
A week after facing Georgia, South Carolina must head to Baton Rouge to face one of the giants from the West. If the East ever hopes to dispose of the "JV" moniker in the SEC, this could be the game to do it.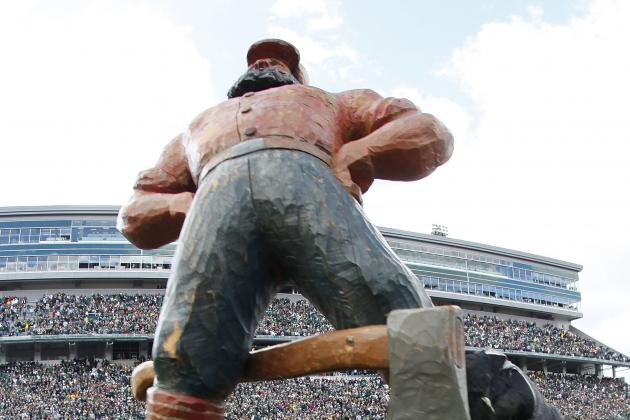 Leon Halip/Getty Images

ACC: Florida State at Miami
While the Hurricanes may be considered down and out by many, you can never discount Miami when going up against a hated rival like Florida State.
Big 12: Kansas State at West Virginia
Last season's Cinderella against the new kids on the Big 12 block. Should be a great game to use as a barometer for both squads.
Big East: South Florida at Louisville
Unfortunately, this is about as exciting as the Big East gets this week.
Big Ten: Michigan State at Michigan
The rivalry was once only truly interesting in the state of Michigan. Now it has national implications, and Sparty has really taken Michigan to the woodshed ever since Mike Hart's "little brother" comments. Can Michigan finally respond?
Pac-12: Oregon at Arizona State
A Thursday game in Tempe could provide the perfect opportunity for the Sun Devils to sneak one past the Ducks. Not possible? ASU did it to USC last season...
SEC: LSU at Texas A&M
Texas A&M may be new to the conference, and the Aggies probably aren't anywhere near as touted this season as the Tigers, but Kyle Field will give LSU a taste of what it's like to play in Baton Rouge as the opponents.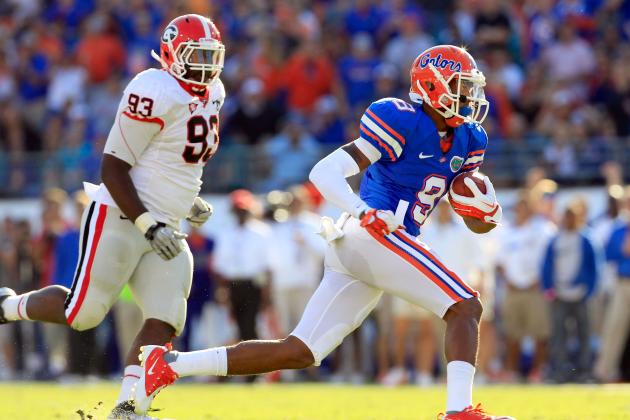 Sam Greenwood/Getty Images

ACC: Clemson at Wake Forest
This game was entertaining—and close—last season. This year, the Deacons have the home field, so anything is possible.
Big 12: Notre Dame at Oklahoma
This game could be a clash of the titans or just another ho-hum game, depending on how the Sooners and Irish fare to this point. But either way, it's great to see two storied programs mix it up in mid-season non-conference play.
Big East: Cincinnati at Louisville
Two conference co-champions from last season mix it up in Louisville.
Big Ten: Michigan at Nebraska
Michigan handed Nebraska a pretty embarrassing beat-down at the Big House last season. Can Martinez and the Huskers return the favor?
Pac-12: Washington State at Stanford
A great opportunity for new WSU head coach Mike Leach to earn some major brownie points in Pullman.
SEC: Georgia vs. Florida (Jacksonville, Fla.)
Always a good game, regardless of the records or the rankings.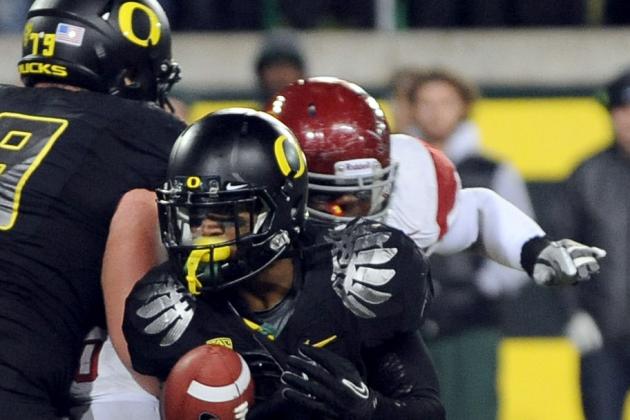 Steve Dykes/Getty Images

ACC: Virginia Tech at Miami
Big 12: TCU at West Virginia
With both teams new to the Big 12, the records of each team entering November will give us the tale of the tape.
Big East: Connecticut at South Florida
Big Ten: Michigan at Minnesota
The Little Brown Jug is finally back on the line, and Michigan will make its first trip to TCF Bank Stadium. Outside. In November.
Pac-12: Oregon at USC
A likely preview of the Pac-12 championship game. No more, no less. Clearly the game of the week in the conference, and possibly the regular season game of the season.
SEC: Alabama at LSU
Anybody who needs a reason why this game is important obviously has been living under a rock for the past year.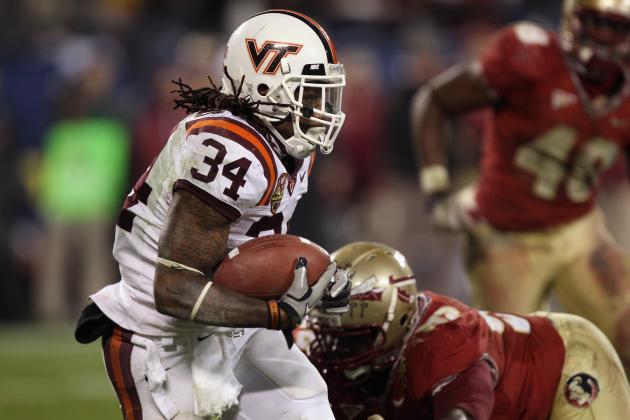 Streeter Lecka/Getty Images

ACC: Florida State at Virginia Tech
A Thursday night, prime-time, old-fashioned ACC brawl. Virginia Tech's Coastal Division is wide open this season, but Florida State is emerging as an early favorite in the Atlantic.
Big 12: West Virginia at Oklahoma State
Dana Holgorsen visits his old haunt, and we'll see just how capable the WVU defense is in 2012. We might also see how well a Holgorsen-designed offense still works against Big 12 defenses.
Big East: Pittsburgh at Connecticut
Big Ten: Penn State at Nebraska
Nebraska squeaked out a win last season at Penn State during an emotional Saturday. Can Penn State get past the Huskers this year on the road with their emotions in check?
Pac-12: Arizona State at USC
It's hard to remember now, but it was the Sun Devils who beat the Trojans last season in Tempe. USC will be out for blood.
SEC: Texas A&M at Alabama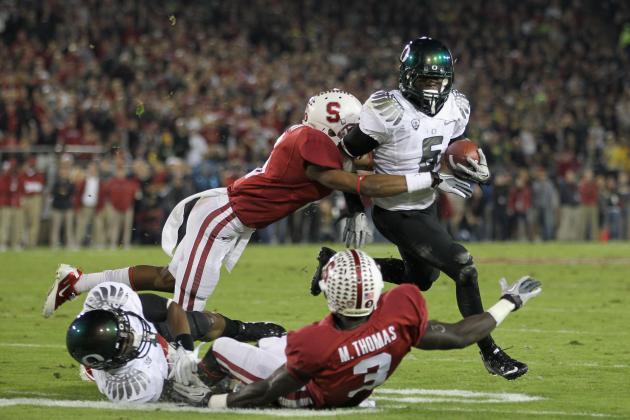 Ezra Shaw/Getty Images

ACC: North Carolina at Virginia
Big 12: Oklahoma at West Virginia
This late in the season, this game between teams that could find themselves at or near the top of the conference standings will have massive BCS implications.
Big East: South Florida at Miami
These teams have a history. A 6-3 Miami win in a snoozer last season. A 23-20 South Florida victory in overtime in 2010. Will the 2012 edition be as close?
Big Ten: Ohio State at Wisconsin
Pac-12: Stanford at Oregon
We'll see here just how good (or not good) Stanford really is without Andrew Luck.
SEC: Arkansas at Mississippi State
With Mississippi at LSU, Syracuse at Missouri and Tennessee at Vanderbilt, this is one of just four games that doesn't feature the SEC vs. the FCS. There's one word for late-season games against FCS cannon fodder: weak.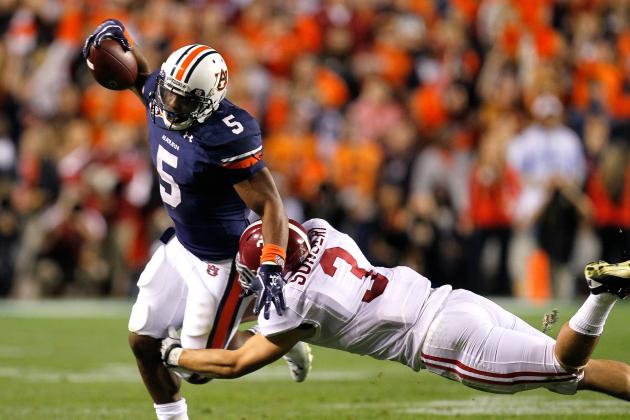 Kevin C. Cox/Getty Images

ACC: South Carolina at Clemson
No explanation really needed for this heated in-state rivalry.
Big 12: TCU at Texas
With Oklahoma-Oklahoma State likely not having the flavor of a year ago, the TCU at Texas game will likely have a much more interesting, if not relevant storyline.
Big East: South Florida at Cincinnati
Big Ten: Michigan at Ohio State
Brady Hoke got Michigan back into the win column against Ohio State. Can he now deliver the victory in Columbus? We can't imagine anything more demoralizing for a Buckeye team banned from the postseason than to finish the year with a loss to the hated Wolverines.
Pac-12: Notre Dame at USC
Will Notre Dame make it this far still generating BCS buzz? We know USC likely will. By the way, why doesn't USC dare play Notre Dame in South Bend in late November? Seems rather cowardly, doesn't it?
SEC: Auburn at Alabama
There are few games better throughout any college football season than the Iron Bowl.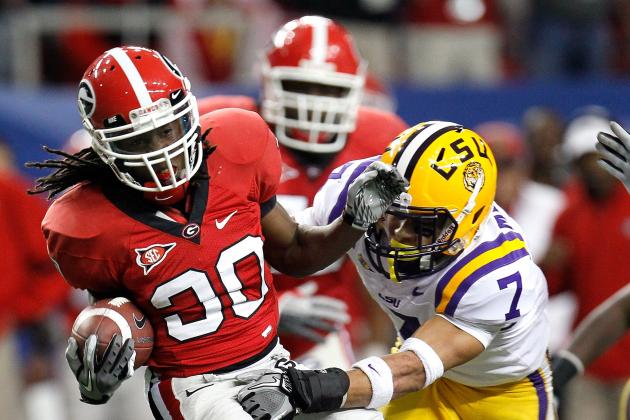 Kevin C. Cox/Getty Images

ACC: Conference Championship Game
Big 12: Oklahoma at TCU
The odds-on conference favorite, Oklahoma, will travel to TCU for the first time to finish the Frogs' inaugural Big 12 season. Somehow, the final week of Big 12 play seems anticlimactic without a conference championship game...
Big East: Cincinnati at Connecticut
In the "who cares" conference finale on December 1, Cincinnati and UConn will tangle for what could turn out to be a head-shaking back-door slide into the BCS.
Big Ten: Conference Championship Game
Pac-12: Conference Championship Game
SEC: Conference Championship Game