Chicago Cubs: Grading All 25 Roster Players After MLB's First Month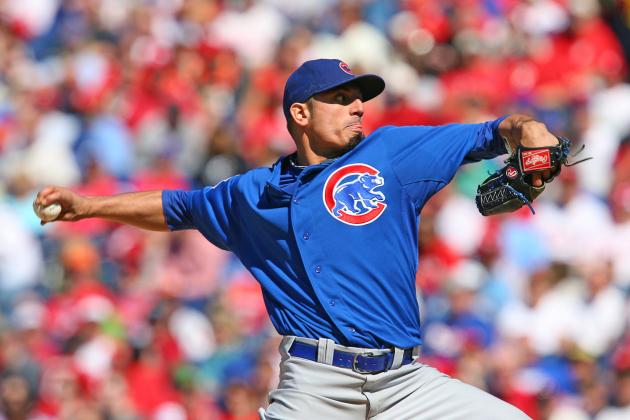 Hunter Martin/Getty Images

Well, the Chicago Cubs are not doing great.
OK—things are bad. But we expected that, as this year is clearly a rebuilding year, and fans must find a way to trust the new regime under Theo Epstein and Jed Hoyer.
Things are not pretty now, as the team stands at 8-15, but fans have stood behind this team for the last 104 years, so no reason not to give things another year—or two.
Some players have played well, but as a whole, the Cubs just clearly haven't been great. Hopefully things will start looking better sooner rather than later, but for now, this is looking like a pretty down season for the North Side.
Begin Slideshow

»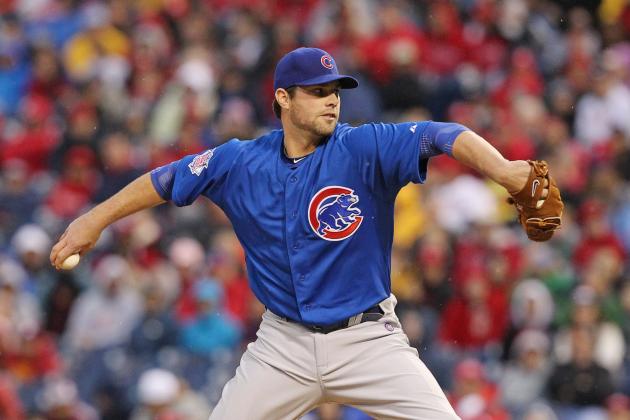 Hunter Martin/Getty Images

The Chicago Cubs' starting rotation has been hit and miss this season—no pun intended. While the team hasn't exactly been the most exciting to watch, the team must rely on their starters to at least try and keep them in most of these battles.
Matt Garza
Garza hasn't exactly had the best offense to pitch behind, but he still has solid numbers. Through five starts, the Cubs ace is 2-1 with a 2.67 ERA. He has 36 strikeouts through 33.2 innings, but as previously mentioned, the Cubs' offense isn't doing much for him.
With Ryan Dempster currently on the DL, Garza is going to need to continue to keep bringing it, despite the team struggling. Whenever he steps on the mound, the Cubs are in a good position to grab a win.
Grade: A
Paul Maholm
One of the Cubs' offseason acquisitions was Pittsburgh Pirates' left-handed pitcher Maholm. The Cubs needed a lefty in the lineup, but Maholm hasn't exactly delivered with a 6.20 ERA through four starts.
The Cubs needed a left-hander in the lineup, but it is looking like the veteran isn't exactly paying dividends just yet. Perhaps things get better in May, but from the looks of it, Maholm isn't going be dominating lineups anytime soon.
Grade: D
Jeff Samardzija
This experiment isn't close to being over, but Samardzija needs to find some consistency rather quickly.
In his last start, against the St. Louis Cardinals on April 24, the former Notre Dame product struck out nine batters in 6.2 innings. He didn't give up a single run in that outing, which was a positive after he gave up five in 3.2 innings in his previous outing against the Miami Marlins.
Samardzija has a record of 2-1 with an ERA of 4.13. That doesn't represent his best stuff, but with a little consistency, he could move his way up to potential ace status.
Grade: B
Chris Volstad
When the Cubs received Volstad from the Marlins in exchange for Carlos Zambrano, fans had to figure it couldn't get any worse. Well...it has.
In five starts this season, Volstad is 0-3 with an ERA of 6.11. The Cubs have not come away with a single win in any of his outings, and he has allowed an average of 6.4 hits per game while never going beyond six innings.
Volstad was worth a try, but don't expect him to keep any potential call-ups out of the rotation.
Grade: F
Randy Wells
Wells was brought up into the rotation when Dempster hit the DL. He has only made two starts, so his sample size is rather small, but things just haven't been good. Wells is 0-1 with an ERA of 6.23 through just 8.2 innings.
After not making the initial roster, this is Wells' chance to prove he belongs. If he can't turn things around soon, the Cubs may decide they are best to move on sooner than later.
Grade: D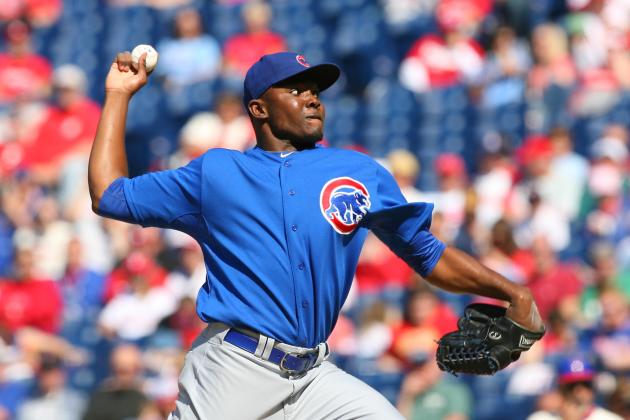 Hunter Martin/Getty Images

There were a ton of new faces in the Chicago Cubs bullpen this season, and if they keep things up, expect to see many more throughout the season.
This is definitely one of the bigger issues the Cubs must fix for the future, but perhaps some of these young guns will turn things around for the future.
Shawn Camp
Camp is one of the older players in the Cubs bullpen at 38 years old. This season, he has appeared in just 13.2 innings through 11 games, recording an ERA of 3.95.
It is nice for the Cubs to have a veteran in the bullpen while Kerry Wood is sidelined, but it will remain to be seen how he performs as the season moves along.
Grade: C
James Russell
A familiar face in the Cubs bullpen from the last few seasons, Russell has been solid in his limited appearances. Nobody can say that he will be consistent just yet, but through nine games and 7.2 innings, Russell has struck out eight batters while allowing zero runs.
It will be great for the Cubs to have a strong lefty in the pen after moving Sean Marshall this offseason, so perhaps Russell can be that guy.
Grade: B+
Michael Bowden
Not much to say about Bowden just yet. Through 6.1 innings this season, he has struck out seven batters while allowing just two runs. Once he gets a few more appearances, we will have a better idea if he can be a solid contributor, possibly in an increased relief role.
Grade: B
Rafael Dolis
Dolis is raw, but he has potential to be a solid contributor to the Cubs bullpen for years to come. He doesn't have a whole lot of experience at the pro level, but is pitching alright for what is expected. He has allowed six runs through 13.2 innings, but has only struck out two batters.
Time will tell with this one, but there is a chance he could be a stud.
Grade: B-
Lendy Castillo
Castillo has only appeared in five games thus far this season, allowing a total of five runs. His ERA is currently at 7.94, but this is another young pitcher who needs to be given some time to see what he can do.
In all honesty, Castillo could probably benefit from a little more time in the minors, but it doesn't hurt to give him a look while things aren't exactly going well.
Grade: D+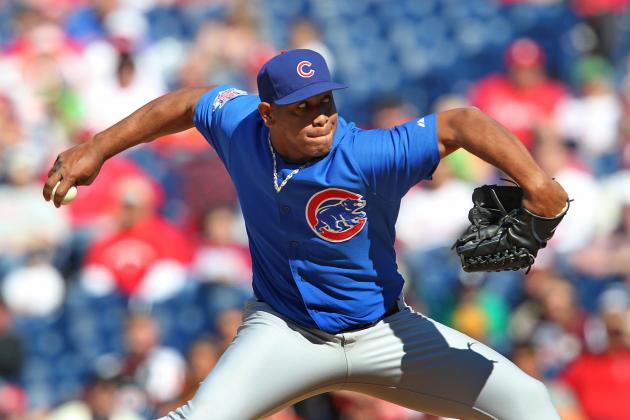 Hunter Martin/Getty Images

While the Chicago Cubs are struggling to score runs, they can't be too comfortable with their closer allowing five runs in just 7.2 innings.
Carlos Marmol's performance is always in question, and with two blown saves in 10 appearances thus far, it should be no surprise that Cubs fans are wondering what they team will do with the inconsistent right-hander.
Once again, Marmol has been giving up too many walks. Nine walks to his six strikeouts is not the number fans want to see.
Here is another stat to take note of: one.
That is the number of saves Marmol has this season for the Cubs, the same amount that Rafael Dolis has thus far.
Update: The Cubs have at least temporarily relieved Marmol of closing duties.
So Carlos Marmol is out as #Cubs closer, what does @AJMass think about the new closer candidates? sports.espn.go.com/fantasy/baseba…

— ESPN Fantasy Sports (@ESPNFantasy) May 4, 2012
Grade: D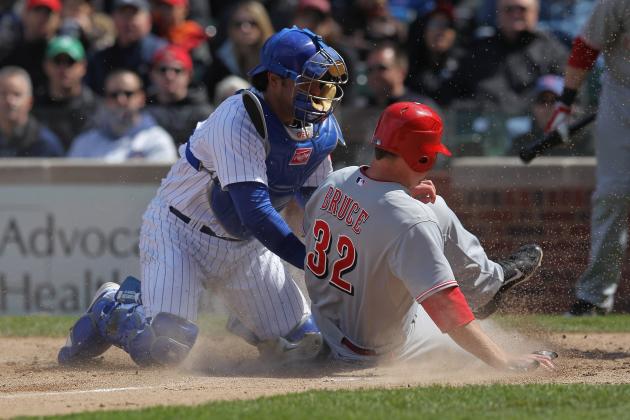 Jonathan Daniel/Getty Images

Well, it looks like that promising rookie campaign of catcher Geovany Soto won't be resurrecting anytime soon.
Through 16 games, Soto is batting .127 with just seven hits and one RBI. One of those hits accounts for a home run, while two others are a double and triple. The other four are just singles.
Soto has struck out 13 times as well this season.
The Cubs need some serious production from their veteran, otherwise they may just have to cut him loose in favor of younger options like Wellington Castillo.
Grade: F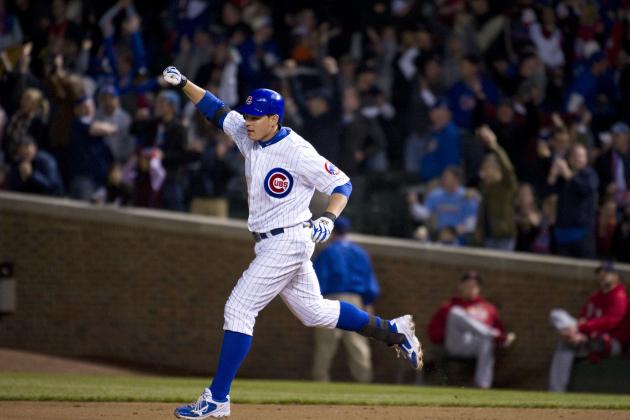 Brian Kersey/Getty Images

Well, if there is one thing Chicago Cubs fans should be excited about, it is the play of first baseman Bryan LaHair.
While some questioned the choice of LaHair over newly acquired prospect Anthony Rizzo, the choice seems to be paying off.
LaHair is batting .390 through 59 at-bats, as well as being the power of the Cubs lineup with five home runs and 14 RBI.
While LaHair is far from being a star, he is showing great strides in this opportunity that the team has given him.
If he can keep this up, the Cubs will have two strong left-handed batters for the quite some time.
Grade: A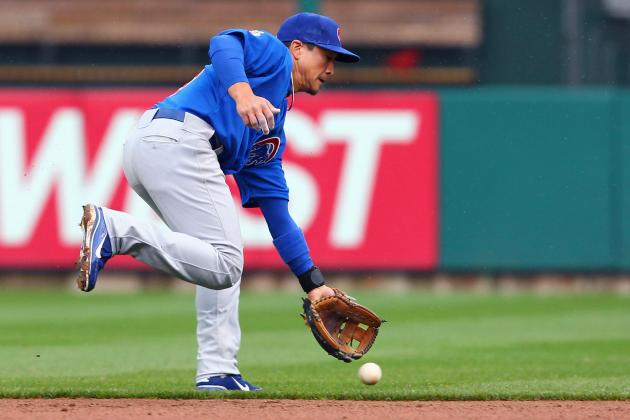 Dilip Vishwanat/Getty Images

The Chicago Cubs are pretty much getting what they expected from second baseman Darwin Barney.
Barney is in his sophomore effort after a decent performance in 2011.
This season, he is batting .263 with 21 hits in 80 at-bats. Barney won't be key in producing a lot of runs, but he must cut down on the strikeouts (11) and find a way to get on base.
Barney could be a solid contributor who can put up decent numbers, so the Cubs need to see him find a little more consistency at the plate.
He has been strong from the field, recording just one error thus far this season.
Grade: B-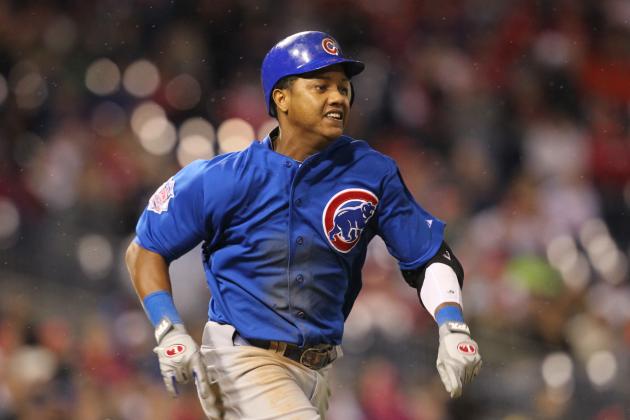 Hunter Martin/Getty Images

Were you wondering if Starlin Castro could keep things up for the third year in a row?
If you thought yes, then you are correct about the Cubs' superstar shortstop—at least for now.
Castro has been strong yet again, batting .333 with 14 RBI through 90 at-bats.
One issue is still alive—errors.
Errors have been Castro's Achilles' heel. This year, he has already recorded seven.
Castro must clean up his fielding, otherwise his performance at the plate won't carry as much weight as it should.
Grade: B+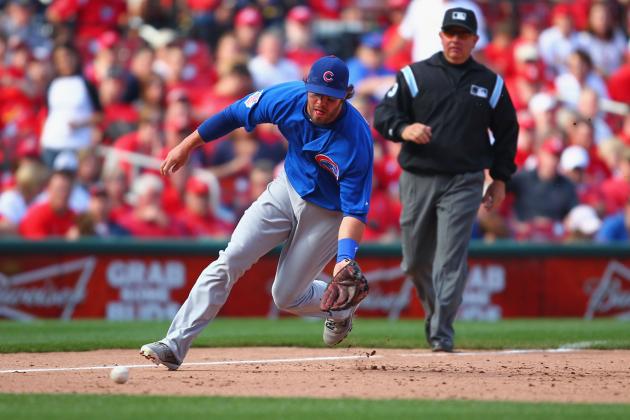 Dilip Vishwanat/Getty Images

Ian Stewart is the opposite of Starlin Castro: excellent fielding, horrible batting.
From third base this season, Stewart has made just one error.
While that is all good, his performance from the plate is horrid.
Stewart is hitting just .169 with one home run and eight RBI, while having an on-base percentage of just .247.
The Cubs can't continue to have this type of inconsistency from a position that was so prominent during the days of Aramis Ramirez.
Stewart has an uphill battle, but at least he has his defense going for him.
Grade: C+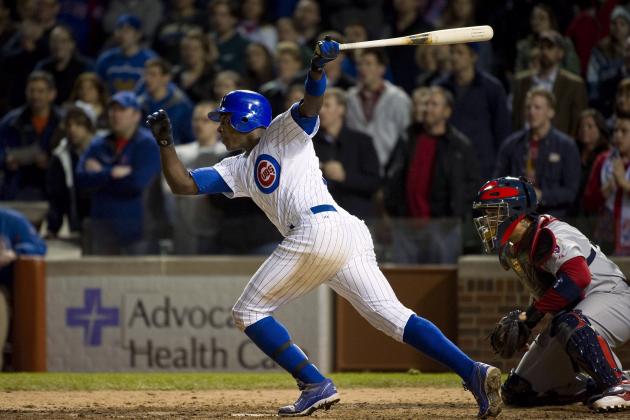 Brian Kersey/Getty Images

So where did that hot spring go for Alfonso Soriano?
The Chicago Cubs' highest-paid player isn't looking like that type of player once again, batting just .237 in 76 at-bats. While his .237 isn't as bad as others, the fact that Soriano hasn't knocked one out of the park yet is just astonishing.
This guy looked like a slugger this spring, but clearly he left that out in the desert.
The Cubs NEED Soriano to start producing runs. While this result isn't anything surprising to Cubs fans, the need now is more than ever.
This team needs a little life put into them, and nothing will do that more than having Soriano start jacking them out of the park.
Grade: C+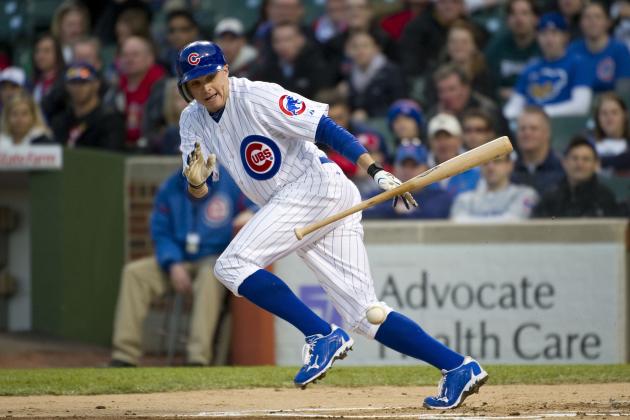 Brian Kersey/Getty Images

The Chicago Cubs brought up Tony Campana and made him the team's starter after they moved Marlon Byrd to the Boston Red Sox.
It is hard to judge Campana already, considering he has just appeared in nine games yet this season. He has batted .370 in 27 at-bats, as well as stealing seven bases thus far.
The Cubs will need his speed on the basepaths, especially if he can create any sort of opportunity for the team to score.
It will be interesting to see how the Cubs handle the Campana situation down the stretch, as the team likely will want to see what Brett Jackson can do at some point soon.
Grade: B+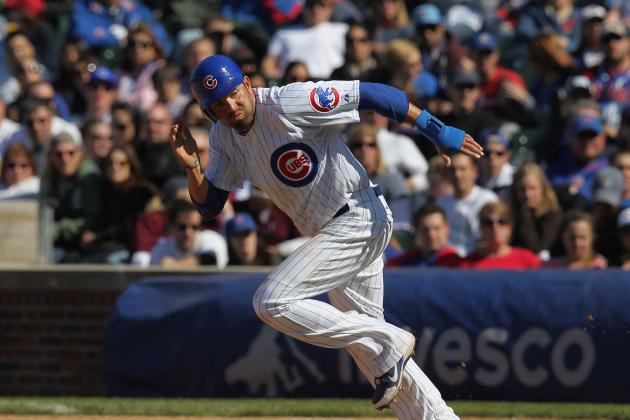 Jonathan Daniel/Getty Images

To say the least, David DeJesus is playing at the level most likely expected when he was brought on. Mediocre.
Batting just .250 through 76 at-bats, DeJesus has been striking out (17) a bit too much, but he is at least getting on base, as he has been walked 10 times this season.
Basically, the team is getting what they asked for. DeJesus definitely needs to become a little more comfortable at the plate, while also decreasing his strikeouts.
Perhaps he will find a hot streak here and there in May.
Grade: C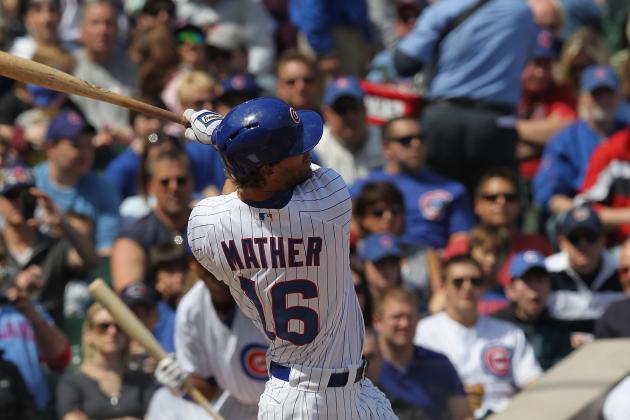 Jonathan Daniel/Getty Images

The Chicago Cubs bench has been playing to their role this season, but all must keep it up as they are continuing to fight for a roster spot as this season could become very fluid.
Wellington Castillo, C
Castillo hasn't done much thus far. That is probably because he has only been in the Cubs' 25-man roster since Friday, April 27.
There isn't much to say about Castillo at this point since he hasn't gotten a shot, but if he can put up anything close to his .320 from Triple-A, the Cubs may have their second coming of Geovany Soto.
Grade: N/A
Jeff Baker, Utility
Considering Baker hasn't been competing for a starting spot this time around, it should be no surprise that he has mostly been used in the substitute and pinch-hitter roles.
Baker has appeared in eight games this season, batting .240. While he won't do anything amazing, Baker continues to be a good guy to have in a time of need.
Grade: C+
Blake DeWitt, Utility
DeWitt has started in four games this season, but hasn't exactly taken advantage of the opportunity. He has just three hits in 25 at-bats, which comes out to a batting average of .120.
If he keeps this up, don't be surprised if the Cubs feel they could find better options elsewhere.
Grade: F
Joe Mather, OF
Mather has been rather spotty, but that is mostly because he has been in and out of the Cubs' starting lineup. He hasn't done anything amazing, but he is looking to become a good option for pinch hitting and desperate times.
The Cubs would likely be much better suited to put a guy like Brett Jackson into this role, but given that they want him to develop, Mather is fine for now.
Grade: B-
Reed Johnson, OF
Johnson still carries that "cult hero" like status with the Cubs, especially when he has those rare moments of making things happen for the Cubs offense.
Through 15 games, Johnson has seven hits, two doubles, two triples and five RBI. He is just batting .219, though, so his rare glimpses of contribution don't exactly come in bunches.
Grade: C
Jeff Chase is a Featured Columnist for the Chicago Cubs and Arizona State football.
Follow @Real_Jeff_Chase