Which Yankees on a Hot Start Are Legit?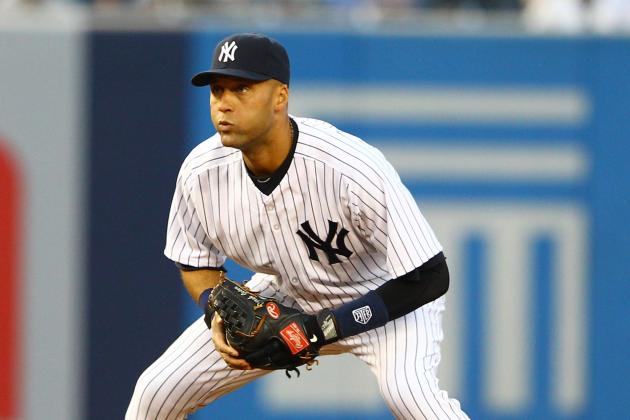 Al Bello/Getty Images

This time last season Mark Teixeira had zero home runs, Russell Martin was hitting .292 and Alex Rodriguez had a .987 OPS. A.J. Burnett had a 3.93 ERA, Freddy Garcia had a 2.00 ERA, Bartolo Colon had a 2.77 ERA and Ivan Nova had a 5.82 ERA.
Starts to the season obviously do not always hold up, so which New York Yankee players will continue their hot starts and which will not?
Let's find out.
Begin Slideshow

»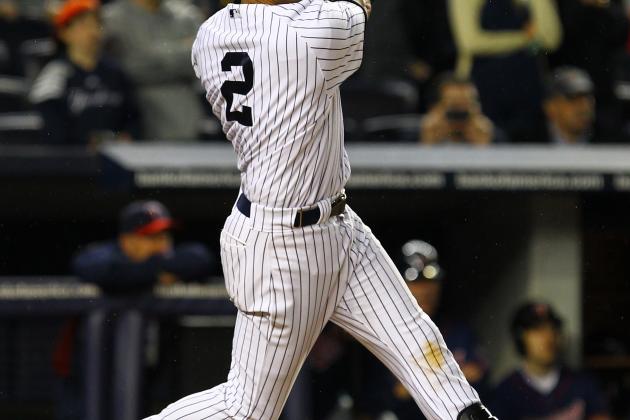 Al Bello/Getty Images

Stats through May 1st:
.400/.440/.590, 1.030 OPS, 4 HR, 13 RBI, 40 H, 16 R, 1 SB
Did anybody see this coming? Derek Jeter has been on an absolute tear in the first 23 games of the season. Due to his hot finish to the 2011 season I predicted him to hit .284/.334/.372 and people said I was being optimistic, it turns out I was not being bold enough.
Will Derek Jeter finish the season hitting .400? Not at all, but this does silence his haters and show everybody that Jeter is still Jeter; even at 37 years old he can be one of the game's best.
Projected 2012 Stats:
.335/.392/.485, .877 OPS, 15 HR, 83 RBI, 202 H, 100 R, 12 SB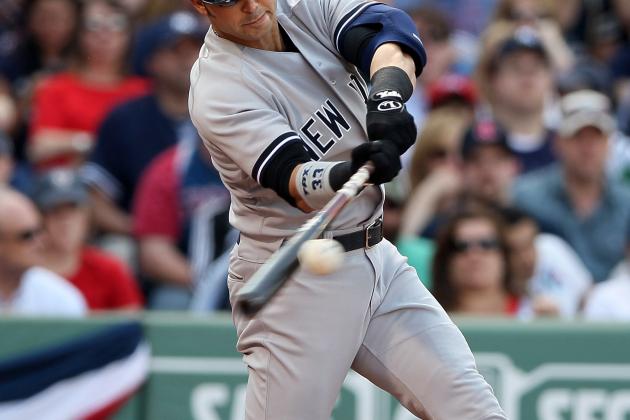 Elsa/Getty Images

Stats through May 1st:
.284/.385/.617, .972 OPS, 6 HR, 23 RBI, 23 H, 10 R, 0 SB
Nick Swisher will not keep this up in 2013 and beyond, but in 2012, on the other hand, he will. Swisher is in a contract year and we all know how motivated players can get when there is a big payday on the horizon.
Teams will pay big for an outfielder who can hit 30 HR and 100 RBI, even if he will be 32 years old by December.
Swisher may not be as good as the numbers indicate, but that does not mean he won't keep his numbers fairly steady for the rest of the season.
Projected 2012 Stats:
.290/.390/.525, .915 OPS, 32 HR, 103 RBI, 162 H, 70 R, 2 SB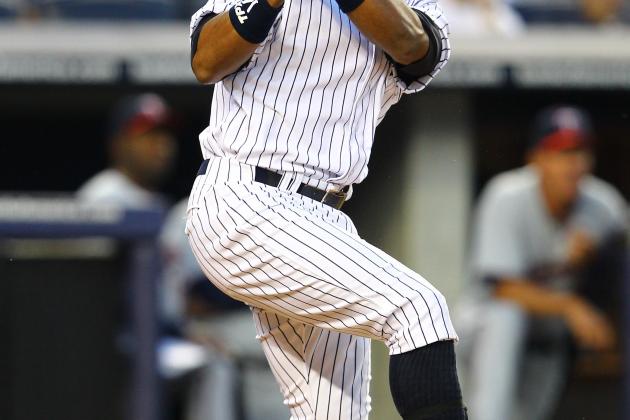 Al Bello/Getty Images

Stats through May 1st:
.276/.394/.632, 1.026 OPS, 9 HR, 17 RBI, 24 H, 19 R, 0 SB
Curtis Granderson hit 41 home runs in 2011 and people were skeptical that his power would continue into 2012. If he kept up this pace for the entire season he would hit 63 home runs. That will not happen, but this does show his 2011 power surge was for real.
On the flip side, he is on pace to strikeout 11 more times this season than last. But he is also on pace to walk 28 more times than last season.
Curtis Granderson is a great player and an MVP candidate once again. He should have no problem playing at a high level all season long.
Projected 2012 Stats:
.270/.380/.620, 1.000 OPS, 45 HR, 120 RBI, 160 H, 135 R, 22 SB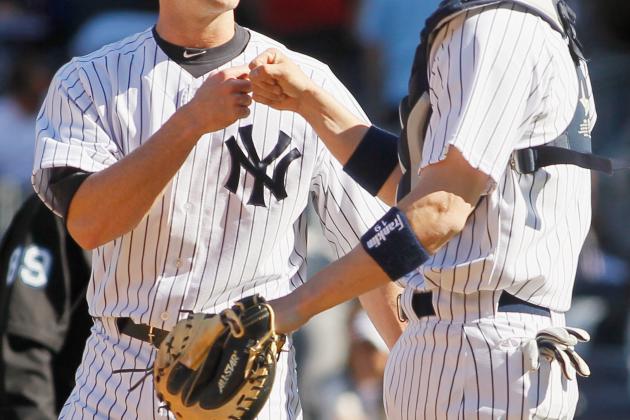 Mike Stobe/Getty Images

Stats through May 1st:
11.0 IP, 4 HLD, 0.00 ERA, 0.91 WHIP, 18 K, 3 BB
Somehow, David Robertson found a way to improve on his 2011 season.
"Houdini" has yet to give up a run—earned or unearned—all season, has a 14.7 K/9 and a ridiculous 6.0 K/BB.
People, including myself, were worried about his foot injury, but that proved to not be a problem as Robertson has dominated on the mound so far this season and he is not looking back.
The New York Yankees have found the heir to Mariano Rivera and it is not Rafael Soriano, who was signed to replace Mo, or Joba Chamberlain, who they were grooming to be the heir. The heir to Mo is David Robertson.
Projected 2012 Stats:
68 IP, 30 HLD, 0.93 ERA, 0.98 WHIP, 110 K, 20 BB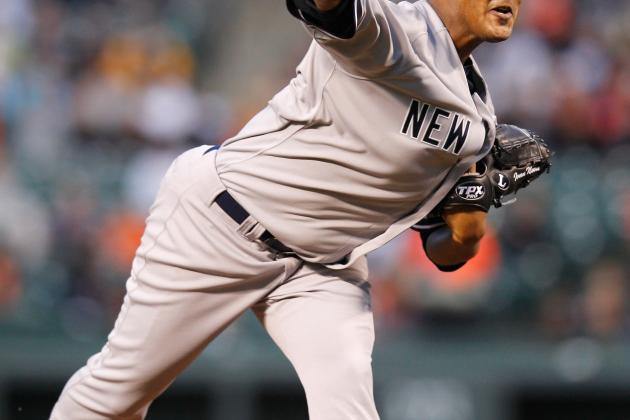 Rob Carr/Getty Images

Stats through May 1st:
24.1 IP, 3-0, 5.18 ERA, 1.68 WHIP, 25 K, 5 BB
How is a player with a 5.18 ERA and 1.68 WHIP on a hot start? Last season everybody said he would slip into a sophomore slump because he did not strike people out and he had suspect control. So far in 2012 he is striking out 3.9 more batters and walking 1.3 fewer batters per nine innings compared to 2012.
Ivan Nova is also getting very unlucky due to his .421 BABIP—the league average is about .300—and his 14.8-percent HR/FB rate—the league average is about ten percent. This shows in his 3.15 xFIP, compared to his 4.16 xFIP in 2011.
Nova has greatly improved in 2012; you just have to look deeper into the numbers. And do not forget that for some reason all he does is win. Nova has won 15 straight regular season decisions.
Ivan Nova will only improve as the season progresses.
Projected 2012 Stats:
180 IP, 17-5, 3.35 ERA, 1.28 WHIP, 175 K, 44 BB