NFL Fantasy Football Rankings 2012: The 20 Best Wide Receiver Trios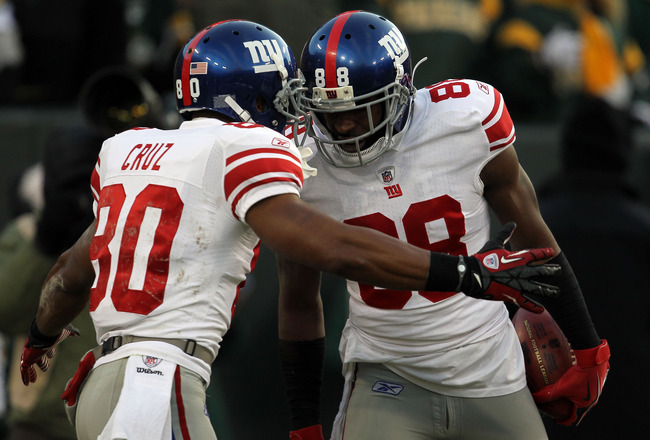 Victor Cruz and Hakeem Nicks, consensus top-10 receivers in fantasy circles, combined for 158 catches, 2,728 yards and 16 TDs last year for the Giants.
Jonathan Daniel/Getty Images
The following slideshow touts fantasy football's 20 best wide receiver trios heading into the 2012 NFL season.

To clarify, no tight ends or pass-friendly running backs were considered for this countdown.

The ranking's criteria is simple: I factored in each threesome's statistical track record (up to three years, when applicable) and matched it up with my early-spring expectations for each receiver.

Obviously, incoming rookies helped shape the final rankings, which explains why the suddenly reborn Jaguars (led by Justin Blackmon) cracked the top 20.

In case you were wondering, the Chiefs, Ravens, Panthers, Raiders and Texans comprised the final cuts.

Enjoy the show!
20: Washington Redskins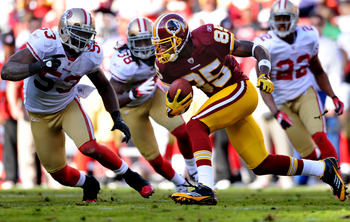 Patrick Smith/Getty Images
1. Pierre Garcon
2. Leonard Hankerson (pictured)
3. Santana Moss

Skinny: If Hankerson (eight catches, 106 yards vs. Miami last year) hadn't suffered a season-ending injury in November, if the Redskins had more consistency at quarterback (Rex Grossman/John Beck) and if Washington wasn't coming off a desultory 5-11 campaign; perhaps this trio would be ranked higher.

But then again, those factors contributed to the signings of Pierre Garcon (70 catches, 947 yards, six TDs with Indy last year), WR Josh Morgan and the eventual drafting of QB Robert Griffin III—the new franchise savior. (The Skins needed that plum spot at No. 6 to trade up to No. 2.)

In the long run, it'll prove to be a great trade-off for everyone involved (except Beck and Grossman).
19: Jacksonville Jaguars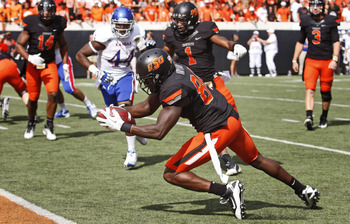 Brett Deering/Getty Images
1. Laurent Robinson
2. Justin Blackmon (pictured)
3. Mike Thomas

Skinny: Of the 32 NFL teams, the Bears and Jaguars likely made the greatest offseason strides at receiver.

Jacksonville—a club that ranked dead last in yards passing, 31st in completions and 31st in passing TDs last season—boldly signed Robinson (54 catches, 858 yards, 11 TDs with Dallas last year) then traded up to get Blackmon, a franchise anchor for the next 10 years.

As for Mike Thomas, he's far better suited for the role of No. 3 receiver (against a No. 3 cornerback) than his No. 1 or 2 status for 2010-11. New head coach Mike Mularkey will find a way to help Thomas flourish without ever feeling the pressure of carrying an offense.

That job now rests in the capable hands of Blackmon.
18: Seattle Seahawks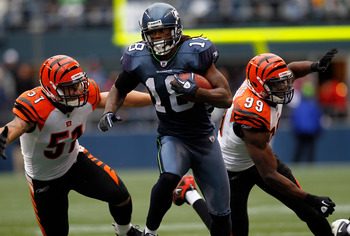 Jonathan Ferrey/Getty Images
1. Sidney Rice (pictured)
2. Doug Baldwin
3. Ben Obomanu

Skinny: The Seahawks are one of the few teams in this countdown to return with their top-four receivers; and I'm taking the positive from that easy-to-manipulate truth.

The first priority lies with Rice (32 catches, 484 yards in nine games) staying healthy all season. He's the key to talented but limited assets like Baldwin (51 catches, 788 yards, four TDs), Obomanu (37 catches, 436 yards, two TDs) and even Golden Tate staying within their designated roles in the Seattle offense.

As proven last year, the Seahawks have no qualms with airing it out 30-plus times per game, even when Marshawn Lynch is riding a 10-game touchdown streak and reaffirming his status as a top-10 running back.
17: Indianapolis Colts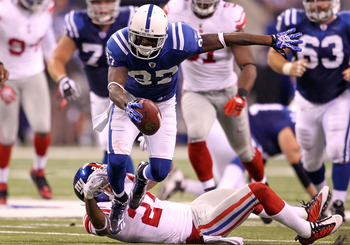 Andy Lyons/Getty Images
1. Reggie Wayne (pictured)
2. Austin Collie
3. T.Y. Hilton

Skinny: Wayne (75 catches, four TDs) struggled last year with backup QBs Curtis Painter and Dan Orlovsky, but talented wideouts with excellent route-running capabilities don't just vanish off the fantasy radar.

Luckily for Wayne, he'll have a serious upgrade this year with rookie QB Andrew Luck, since Luck should do wonders for Collie, Hilton (72 catches, 1,038 yards, seven TDs for Florida International last year) and rookie tight end Coby Fleener's numbers.

Take this prediction to heart: With Wayne, Fleener and Collie in the mix, Luck will match or eclipse Peyton Manning's 1998 numbers (3,739 yards passing, 26 TDs) in at least one category.
16: San Diego Chargers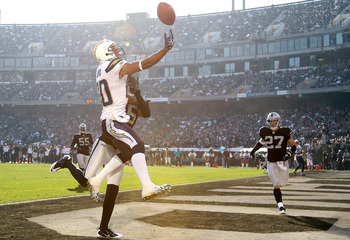 Ezra Shaw/Getty Images
1. Malcom Floyd (pictured)
2. Robert Meachem
3. Vincent Brown

Skinny: The loss of Vincent Jackson (signed with Tampa Bay) will certainly be felt in San Diego, but at the same time, the Chargers have plenty of experience playing without Jackson in recent years (injury, suspension, holdout).

Bottom line: As long as Philip Rivers (4,624 yards passing, 27 TDs last year) is quarterbacking this club, athletic dynamos like Floyd (my No. 25 wideout), Meachem and Brown will flourish against (and hopefully dominate) defenses from the AFC West, AFC North and NFC South teams this season.
15: Chicago Bears
Scott Cunningham/Getty Images
1. Brandon Marshall (pictured)
2. Alshon Jeffery
3. Earl Bennett

Skinny: The Bears should be commended for acquiring not one but two potential game-breaking receivers during the offseason.

Everybody knows what Marshall can do—especially QB Jay Cutler and QB coach Jeremy Bates.

Four years ago in Denver, Bates helped Cutler (4,525 yards passing, 25 TDs) and Marshall (104 catches, 1,265 yards, six TDs) enjoy perhaps their greatest NFL seasons.

As for Jeffery and Bennett, opposing defenses will undoubtedly have their hands full with this duo, and that doesn't even account for the potential devastation that Johnny Knox and Devin Hester could bring to a diversified offense.
14: Arizona Cardinals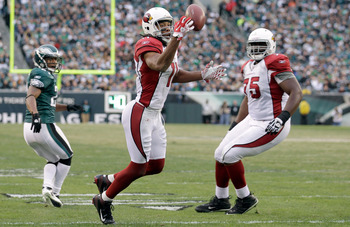 Rob Carr/Getty Images
1. Larry Fitzgerald (pictured)
2. Michael Floyd
3. Andre Roberts

Skinny: If first-rounder Michael Floyd (100 catches, 1,147 yards, 13 TDs with Notre Dame last year) impacts the Cardinals for more than 58 catches and/or seven touchdowns, this pick may be a tad disrespectful by season's end.

But for now, the power of Fitzgerald (my No. 2 wideout) can only carry Floyd and Roberts so far in this countdown.

The group as a whole needs to be more consistent this season, and that's an extension of the Arizona franchise finding consistency at quarterback, as well.

Translation: This could be a make-or-break year for QB Kevin Kolb.
13: Denver Broncos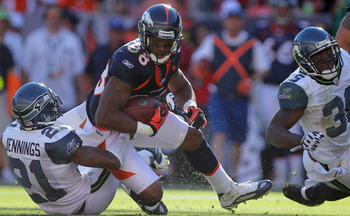 Doug Pensinger/Getty Images
1. Demaryius Thomas (pictured)
2. Eric Decker
3. Jason Hill

Skinny: Perhaps you heard about the Broncos' big offseason acquisition of...rookie Brock Osweiler? Or, on a smaller scale (kidding), that Tim Tebow was traded to the Jets after Denver signed Peyton Manning?

Well, thanks to the presence of Manning—a surefire Hall of Famer and one of the 10 greatest QBs of all time—receivers like Thomas (32 catches, 551 yards, four TDs last year), Decker (44 catches, 612 yards, eight TDs) and Hill are now strong candidates to enjoy career-seasons.

See what happens when your starting quarterback is a lock for more than seven completions every game?
12: New Orleans Saints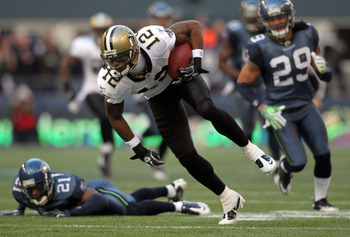 Jonathan Ferrey/Getty Images
1. Marques Colston (pictured)
2. Lance Moore
3. Devery Henderson

Skinny: Colston should pull down 86 catches for 1,202 yards and seven TDs this season, numbers befitting a top-12 receiver and Round 4 or 5 pick in standard-scoring drafts. For Points Per Reception leagues, Colston's value ascends another half-round or so.

As for Moore (118 catches, 1,390 yards, 16 TDs from 2010-11) and Henderson (32 catches, 503 yards, two TDs last year), it'll be interesting to see how they fare without suspended head coach Sean Payton calling the plays and setting the overall tone of the offense.

It should also be fascinating to track their red-zone touches, assuming running backs Pierre Thomas, Darren Sproles and Mark Ingram are healthy plays all season.
11: Tampa Bay Buccaneers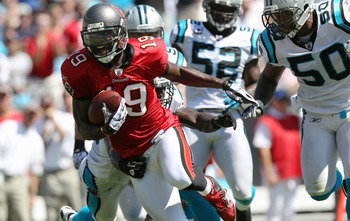 Streeter Lecka/Getty Images
1. Vincent Jackson
2. Mike Williams (pictured)
3. Dezmon Briscoe

Skinny: Before we laud Tampa Bay's signing of Jackson, let's celebrate the fact that Williams likely won't become the next Michael Clayton.

You remember Clayton, right? In 2004, he had a monster rookie season with the Bucs (80 catches, 1,193 yards, seven TDs), teasing fantasy owners into believing he'd dominate defensive backs for the next 10 years.

Instead, the '04 campaign represented the high point of a so-so career that fizzled out last year. Bottom line: Williams is getting the help that Clayton never had. He's the perfect WR2 in fantasy circles.

Regarding Jackson, you already know that he's a lock for 65 catches and nine touchdowns. He's also the ideal distraction in the red zone—allowing Williams, Briscoe, tight end Kellen Winslow and running backs LeGarrette Blount and Doug Martin to encounter single- or base-coverage in the scoring area.
10: New England Patriots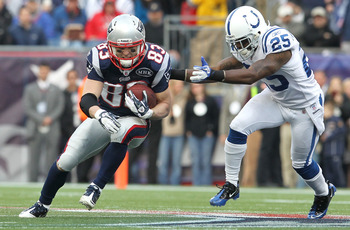 Jim Rogash/Getty Images
1. Wes Welker (pictured)
2. Brandon Lloyd
3. Deion Branch

Skinny: The Patriots have seven notable receivers on the current roster, and it could be eight if Jabar Gaffney's signing is imminent (as of May 3).

Wes Welker is a lock for 110 catches and a PPR force. Brandon Lloyd is a targets-machine and a Josh McDaniels favorite. Julian Edelman is a decent Welker injury fill-in, and the always-underrated Deion Branch puts up respectable numbers year after year.

And yet, I'd feel better about the Patriots' ranking if either Donte Stallworth, Anthony Gonzalez or Chad Ochocinco had enough in the proverbial tank to supplant Branch from the top three.

Hopefully, that's where Gaffney (68 catches, 947 yards, five TDs with Washington last year) enters the picture. New England would likely notch one or two spots higher with him in the mix.
9: Dallas Cowboys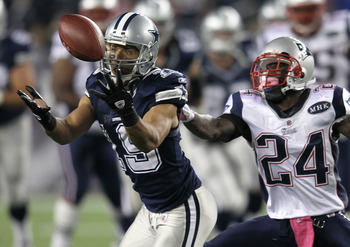 Jim Rogash/Getty Images
1. Miles Austin (pictured)
2. Dez Bryant
3. Kevin Ogletree

Skinny: Austin and Bryant have enough fantasy cred to get the Cowboys on this list, of course, but it wasn't easy to endorse a supporting cast whose best option may be Kevin Ogletree, the reality TV star-turned-NFL-receiver.

On the whole, Dallas has plenty of pass-catching question marks (Dwayne Harris, Andre Holmes, Raymond Radway and Ogletree) competing for regular playing time, and if either Austin or Bryant should sustain a significant injury once the games begin, the situation may get ugly fast.

On the plus side, Austin (43 catches, 579 yards, seven TDs in 10 games last year) and Bryant (63 catches, 928 yards, nine TDs) are easy calls for the Top 25 heading into training camp.
8: San Francisco 49ers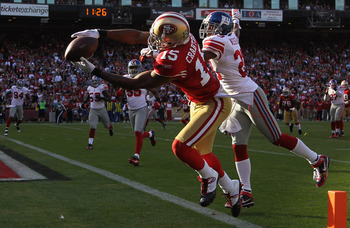 Ezra Shaw/Getty Images
1. Michael Crabtree (pictured)
2. Mario Manningham
3. Randy Moss

Skinny: On name recognition alone, the Niners' trio warrants a higher ranking.

But here's the cold truth: San Francisco's receivers accounted for only eight touchdowns last year; while Manningham, Moss and rookie A.J. Jenkins are certifiable upgrades in the passing game, there's no guarantee that any of the players will have tremendous seasons in 2012.

Moss is a surefire Hall of Famer (2019?), but he's also 35 and trying to catch up after a self-imposed year off. And even when he did play in 2010 (for three different teams), Moss stunningly had six games of two catches of less. Yikes!

Bitter memories aside, I can't wait to see how Moss, Manningham (13 TDs from 2010-11) and Jenkins mesh with Crabtree (72 catches, 874 catches, four TDs) and running backs Frank Gore, Brandon Jacobs, Kendall Hunter, LaMichael James and tight end extraordinaire Vernon Davis.

I'd be even more excited if Candlestick Park had a faster playing surface. Is it too late to install FieldTurf?
7: Tennessee Titans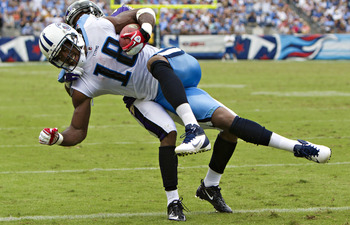 Wesley Hitt/Getty Images
1. Kenny Britt (pictured)
2. Nate Washington
3. Kendall Wright

Skinny: The following statement comes with the utmost sincerity: By season's end, Tennessee might have fantasy football's best quartet of receivers...and it might not be close.

Slowly but surely, the Titans have drafted and developed a rock-solid group of wideouts, starting with Britt (85-catch, 10-TD potential), Washington (my No. 24 receiver), Damian Williams (45 catches, 592 yards, five TDs last year) and the lightning-fast rookie Wright, who pulled down 108 catches for 1,663 yards and 14 TDs in Baylor's go-for-broke spread offense last year.

Wright has the physical tools to be the Titans' No. 1 wideout in a year or two, which should floor anyone who's seen Kenny Britt glide past some of the AFC's best corners.
6: Philadelphia Eagles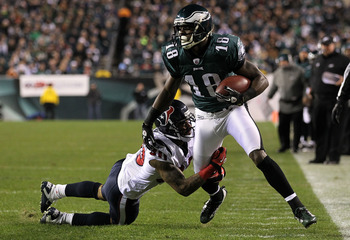 Al Bello/Getty Images
1. Jeremy Maclin (pictured)
2. DeSean Jackson
3. Riley Cooper

Skinny: Maclin (63 catches, 859 yards, five TDs last year) rarely collects nine targets or seven catches per game, and yet there are enough tangibles to believe a Year 4 breakout will occur.

Jackson has a new contract, but can he recapture his production in 2008-09 (125 catches, 2,079 yards, 11 TDs)? Can QB Michael Vick, who averaged 34.8 passes last year, find eight or nine targets for Jackson in the weekly budget?

As for the third receiver, Cooper seems to have the inside track over veterans Mardy Gilyard and Jason Avant, but the real competition lies with rookie Marvin McNutt, who has the requisite tools and hands to be an ideal WR3 in Philly's offense.
5: Pittsburgh Steelers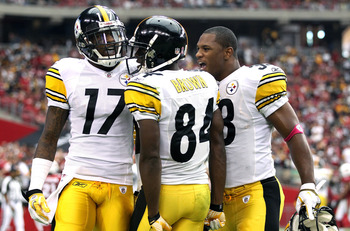 Christian Petersen/Getty Images
1. Mike Wallace
2. Antonio Brown
3. Emmanuel Sanders

Skinny: To justify his top-10 status, Wallace needs to eclipse last year's respectable but hardly all-world numbers (72 catches, 1,193 yards, eight TDs). He also must reverse a deflating trend of catching less than 50 percent of his targets once every three Sundays.

Brown, on the other hand, must combat the potential pratfalls of increased expectations heading into this season. Yes, he had 69 catches, 124 targets and 1,108 yards last year, but two touchdowns won't cut it again in the eyes of fantasy owners looking to invest a Round 5 or 6 pick on the speedster.

Nitpicks aside, Wallace and Brown are one of the NFL's best 1-2 receiving punches, even if the Steelers follow through on their promise to run more in 2012.

(What's that mean for Sanders? I don't know.)
4: Detroit Lions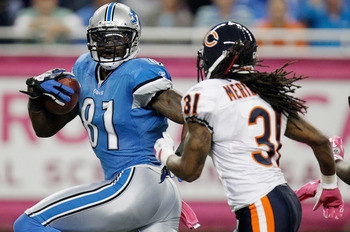 Gregory Shamus/Getty Images
1. Calvin Johnson (pictured)
2. Nate Burleson
3. Titus Young

Skinny: It can be debated whether the Lions needed a luxury item like Oklahoma wide receiver Ryan Broyles in last week's draft, but there is no argument over Detroit's lofty standing in this countdown.

Calvin Johnson (96 catches, 1,681 yards, 16 TDs) is the No. 1 asset in standard-scoring and PPR leagues (over Welker and Fitzgerald). Burleson (73 catches, 757 yards, three TDs) is a strong candidate to surpass last year's totals in two categories.

And the fleet-footed Young has immense potential working from the slot, so much that 65 catches, 770 yards and seven TDs seem plausible (especially if Broyles opens the season on the PUP list).

All told, the Lions keep supplying QB Matthew Stafford with every offensive weapon he could possibly need...even though he doesn't require much ammo to be a fantasy star.
3: Atlanta Falcons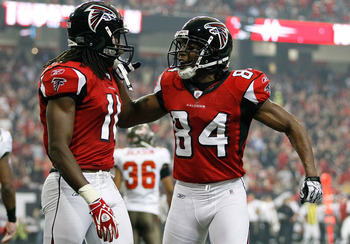 Kevin C. Cox/Getty Images
1. Roddy White
2. Julio Jones
3. Harry Douglas

Skinny: In 2011, White finished with 100 catches, 1,296 yards and eight touchdowns—arguably the second-greatest fantasy season of his career. As a result, he's a comfortable lock to be a top-six receiver and top-25 overall pick during the August drafts (top 15 for PPRs).

White's greatness aside, he'll have to play at a high level just to hold off Jones (54 catches, 959 yards, eight TDs in 13 games last year) from becoming QB Matt Ryan's go-to target between the 20s and in the red zone. (In case you've forgotten about Jones' explosive, limitless talents, click here.)

Harry Douglas solidifies Atlanta's elite ranking here. He could have signed with other clubs in the offseason but chose to build upon his role within an offense that features tailback Michael Turner and tight end Tony Gonzalez.

Perhaps Douglas believes more eight-catch/133-yard days are on the horizon.
2: Green Bay Packers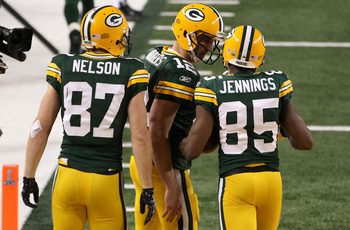 Streeter Lecka/Getty Images
1. Jordy Nelson
2. Greg Jennings
3. James Jones

Skinny: It's not easy to find fault with the Packers' trio or rationalize their status outside of the top spot, but here goes:

Nelson's breakout campaign in 2011 (15 TDs) came out of nowhere. Now, he must pay a Victor Cruz-like tax of mild disrespect heading into this season. That's the prudent response for a player who posted five touchdowns of 50-plus yards last year yet had only one 10-target game and zero days of 10 or more receptions.

Jennings (67 catches, 949 yards, nine TDs) had three irrelevant games last season, fantasy-wise; he also had his worst output with receptions and receiving yards in four years.

As for Jones (38 catches, 635 yards, seven TDs), he'll drive fantasy owners batty with his week-to-week inconsistency, but beware: He's becoming more efficient in the red zone.
1: New York Giants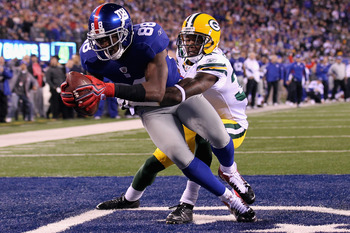 Nick Laham/Getty Images
1. Hakeem Nicks (pictured)
2. Victor Cruz
3. Reuben Randle

Skinny: We could have gone with either the Giants or Packers at No. 1—it's that close.

However, in my Top 25 rankings from March, Nicks (28 catches, 43 targets, 444 yards and four TDs in last year's playoffs) and Cruz (82 catches, 1,536 yards, nine TDs) had higher combined marks than Green Bay's Greg Jennings and Jordy Nelson.

And when comparing the No. 3 receivers, Reuben Randle vs. James Jones, I prefer Randle's catches-yards upside to that of Jones.

Yes, Randle's a rookie, but I envision at least three games of five catches/75 yards from the LSU standout.
Keep Reading