Boston Red Sox: Grading All 25 Roster Players After MLB's First Month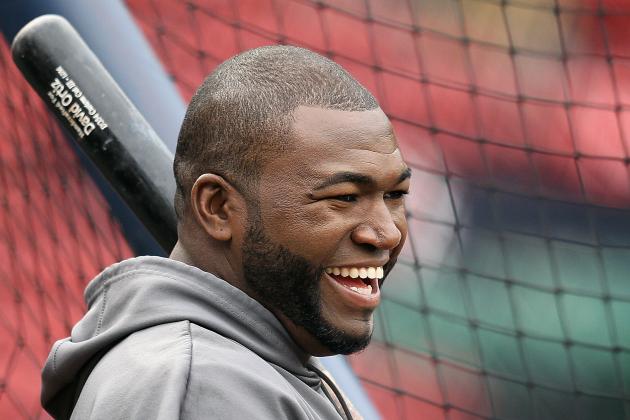 Jim Rogash/Getty Images

The 2012 Red Sox season has already been filled with highs and lows.
Despite a slow start, things have started to heat up, as Boston recently went on a six-game win streak and is now 11-12 on the season.
With a stellar offense and ramshackle pitching, here are grades for the current Boston Red Sox 25-man roster.
Begin Slideshow

»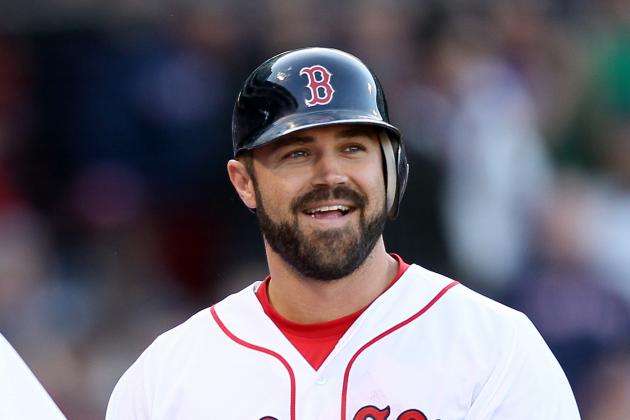 Elsa/Getty Images

Grade: C
The backup backstop hasn't done anything to single himself out, in a good or bad way. He's hitting a respectable .258, but doesn't have any home runs. He's also yet to throw out a base stealer.
With only nine games under his belt, I think Shoppach still has a lot to show.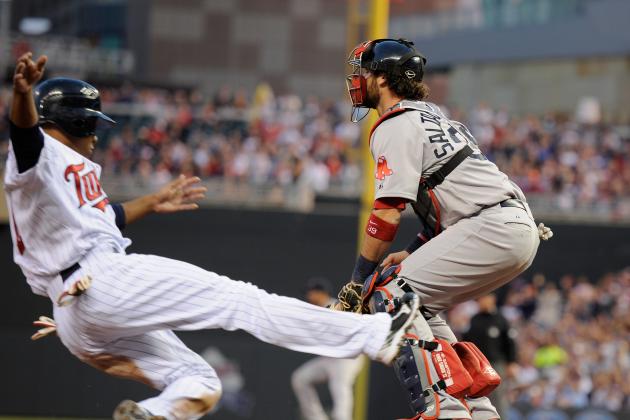 Hannah Foslien/Getty Images

Grade: C+
Fresh off a recent hot streak, Salty managed to improve his grade by hitting .324 with 3 home runs over his last 10 games.
However, defense remains the issue. With just one base stealer caught in seven attempts, the 27-year old remains inept at throwing out runners.
Until that defense picks up, it's hard to be more generous than a C+.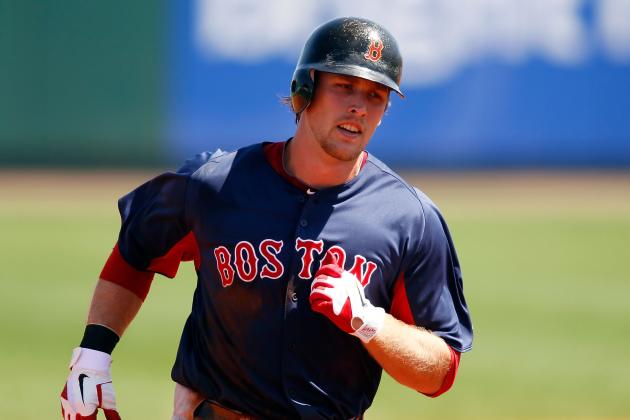 J. Meric/Getty Images

Grade: D
With only 5 games under his belt, it's tough to give Anderson a grade.
The fact remains, the bat that once made Anderson a top prospect remains a thing of the past, and he's still a brick on defense.
It seems the Red Sox feel the same way, as they demoted Anderson following Tuesday's game.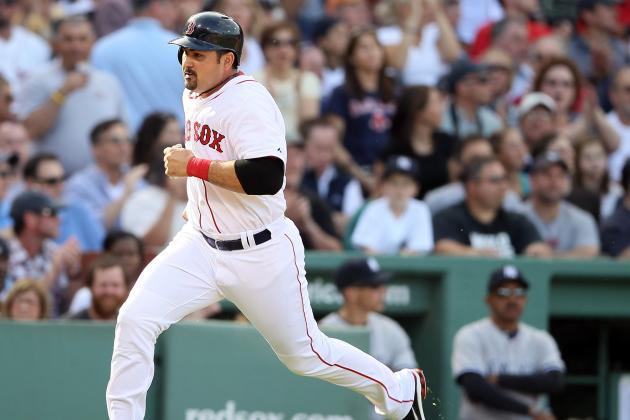 Elsa/Getty Images

Grade: B
A-Gon is doing everything that's expected of him: play gold glove defense and drive in runs.
Most concerning is the inconsistency of his bat. His power was down last season, particularly in the second half, but at least he hit well above .300. So far in 2012, there haven't been signs of either tool.
Once he starts heating up, there is no doubt that A-Gon will be one of this team's most valuable players.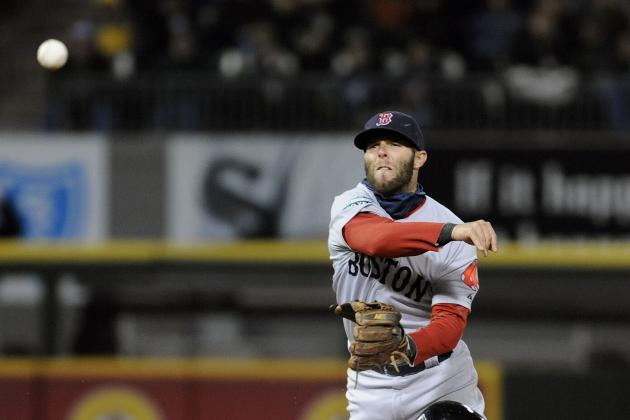 David Banks/Getty Images

Grade: A
Boston's stud second baseman remains one of the most consistent players in the game.
He's setting a standard for defense, scoring a lot of runs and maintaining a healthy balance of power and speed.
Off the field, Pedroia remains the heart of this team.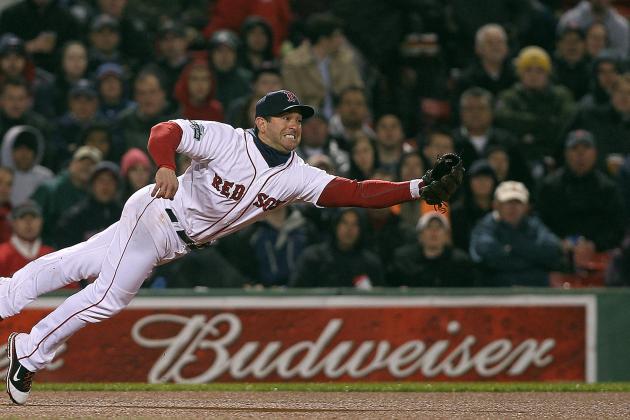 Jim Rogash/Getty Images

Grade: C
Nick Punto is giving Boston exactly what they expect. He's been a liability with the bat, but continues to show defensive versatility and prowess.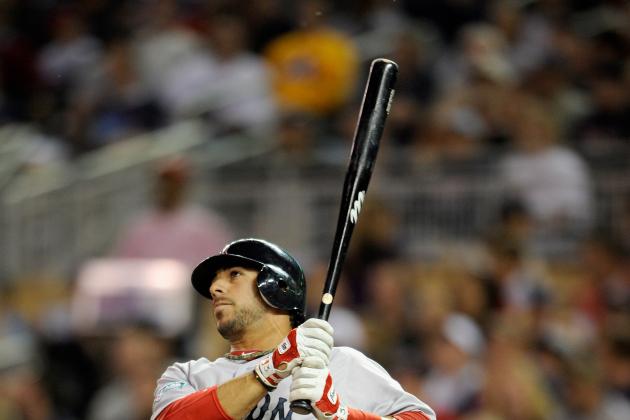 Hannah Foslien/Getty Images

Grade: B+

Mike Aviles is enjoying one of his best starts in years, and Boston certainly needs it.
The Sox took a shot making him their opening day shortstop, and he's paying dividends. Aviles is flashing stellar power, driving in runs and looks more than formidable with the glove.
As Aviles starts to cool off, it's yet to be seen how much power he can sustain.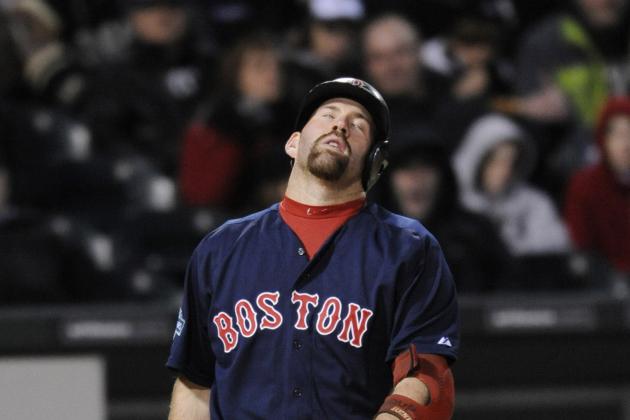 David Banks/Getty Images

Grade: F
Kevin Youkilis has been a huge disappointment, and it seems like his time in Boston is ticking down.
Once an offensive standout, his degrading bat seems a complete mystery. Youk has just 2 home runs on the season, and is hitting a weak .219.
With injuries already rearing their ugly head, Youkilis continues to be a 2012 dud.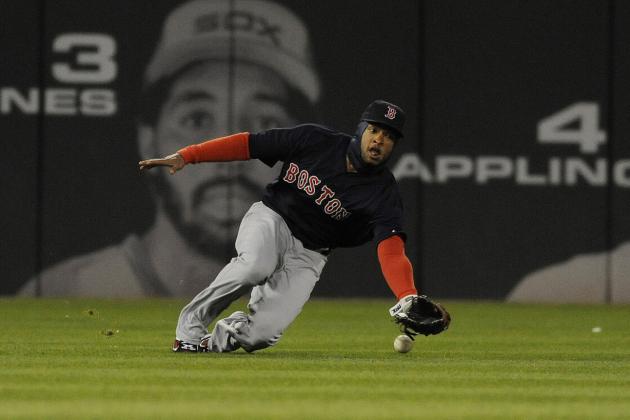 David Banks/Getty Images

Grade: D+
With the addition of Marlon Byrd, McDonald has been relegated to the bench—as he should be.
He does have two home runs on the year, but only one stolen base. The Sox need a Dave Roberts-type speedster off the bench, and McDonald is no Dave Roberts.
While McDonald may have a decent glove, until he contributes on offense the Sox could do better.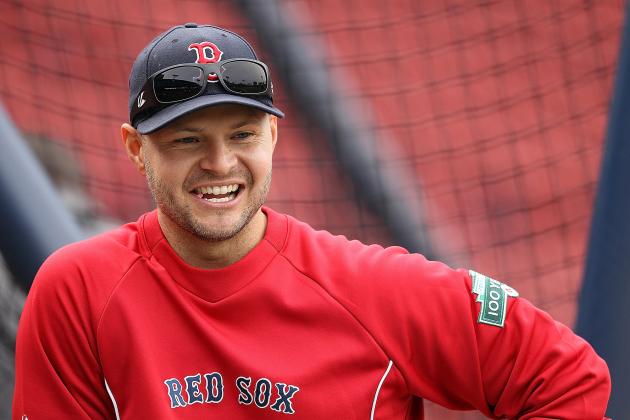 Jim Rogash/Getty Images

Grade: A
Cody Ross has been a pleasant surprise in 2012, and looks like one of Boston's wiser pickups.
His versatility has been a godsend, filling the voids left by Jacoby Ellsbury and Carl Crawford. His five home runs put him one behind Big Papi for the team lead.
As long as he keeps his offensive pace, Ross could finish the season as team MVP.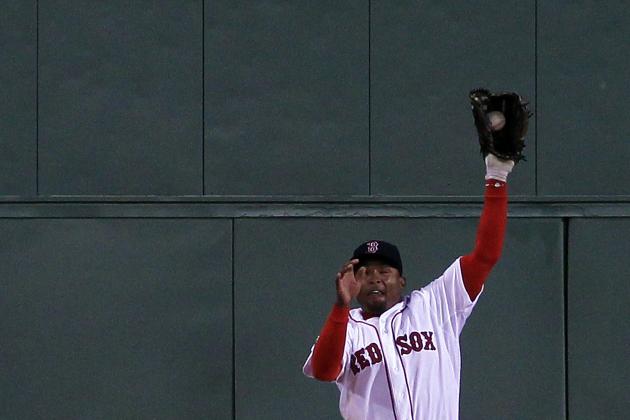 Jim Rogash/Getty Images

Grade: D
Byrd is hitting .286 over his last 10 games, and that's the only reason his grade climbs this high.
The recent Sox acquisition remains just a stopgap until Ellsbury is healthy. As long as he keeps his defense up, and keeps a hot bat, Byrd will earn his "B."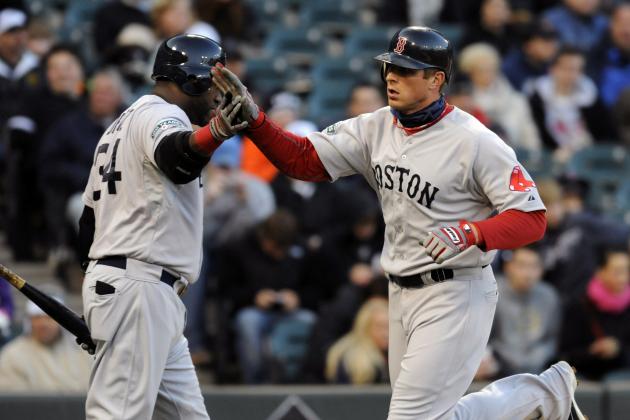 David Banks/Getty Images

Grade: B
With Andrew Bailey hitting the DL, Ryan Sweeney remains the only dividend coming from that trade.
Sweeney continues to be used in a specified role, but he's making the best of it. His OBP is nearing .400, while adapting well to being moved throughout the lineup card.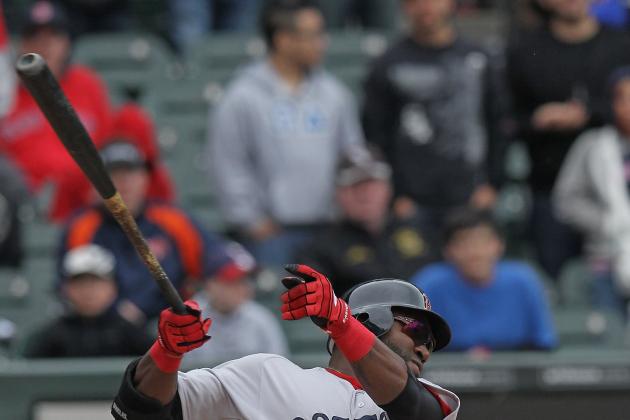 Jonathan Daniel/Getty Images

Grade: A+
If anybody on this team deserves top marks, it's David Ortiz.
Despite his age and any doubts surrounding him, Big Papi is completely raking, leading the team in average, home runs and RBI. While he's still just a DH, it's impossible to deny the effect Ortiz is having on the team.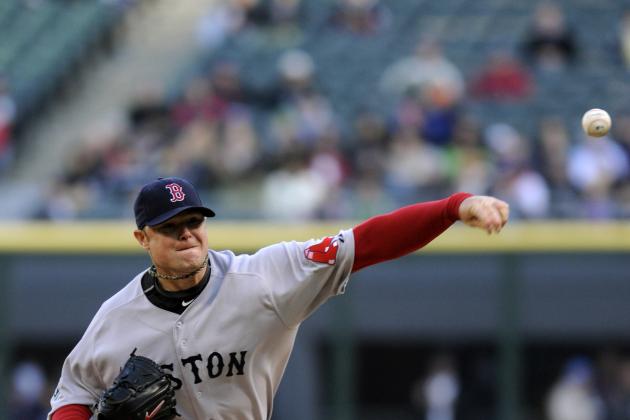 David Banks/Getty Images

Grade: B
Lester has been enigmatic on the season, but he remains the ace of this staff.
Outside of two implosion starts, Lester's been pretty solid on the season. The scariest stat is his 14 walks, but that once again seems tied into his two bad starts—he had 4 walks in each of those.
Lester is a normal slow starter, so as he settles down and settles in, he should continue to be one of the American League's best.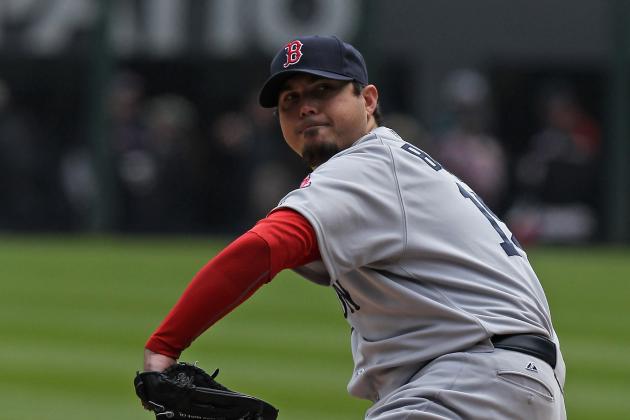 Jonathan Daniel/Getty Images

Grade: B+
Josh Beckett started the season on the wrong foot, giving up seven runs in 4.2 innings. Since that start, he's gone 2-2 with a 2.98 ERA.
As long as his string of quality starts continues, Beckett will be just fine.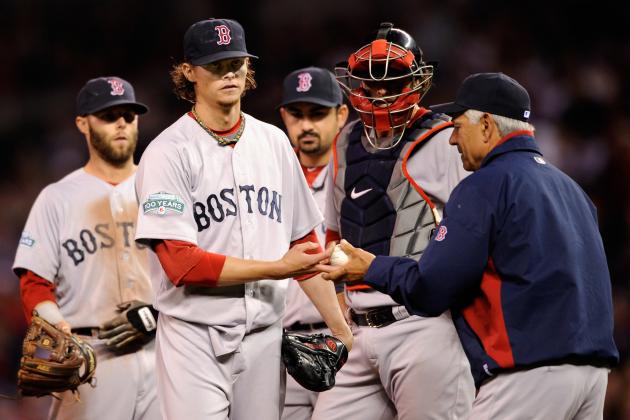 Hannah Foslien/Getty Images

Grade: F
Despite a mystical 3-1 record, Clay Buchholz has been horrific. The right-hander has an 8.69 ERA and a 1.897 WHIP.
Even when it looks like Buchholz might be settling down, he finds a way to blow the game.
I thought John Lackey was out for the season...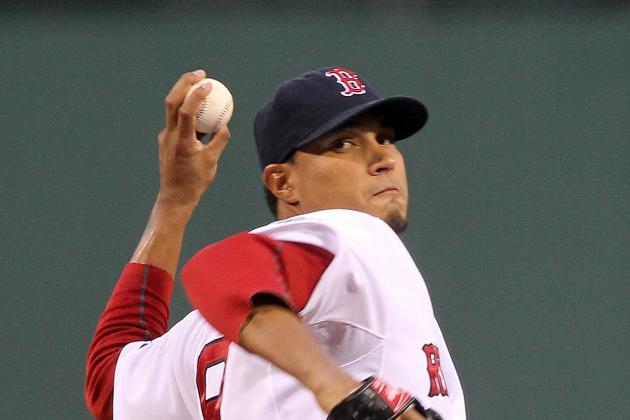 Jim Rogash/Getty Images

Grade: C+

While his stats aren't eye-poppingly good, Doubront remains a pleasant surprise for the 2012 Sox rotation.
The lefty has a nice 4.09 ERA and 9.0 K/9, much better than most No. 4 starters. The biggest hurdle remain pitch count, as Doubront has a 4.1 BB/9 and is only averaging 5.5 innings per start.
If he masters his control, Doubront could be on his way to a great career.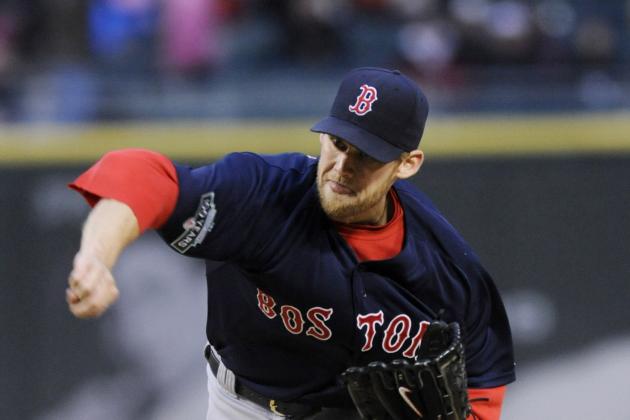 David Banks/Getty Images

Grade: B-
The starter-turned-closer has managed to hold his own in 2012. Bard is 2-2 on the season, with a 3.72 ERA and 8.8 K/9.
Unfortunately, pitch control remains in issue. Bard is having issues getting through innings and is walking 4.7 batters per nine innings.
With the bullpen in disarray, Bard's role in Boston remains in the air.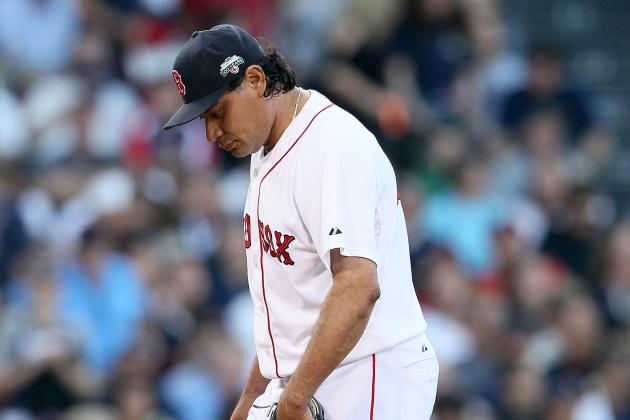 Elsa/Getty Images

Grade: F
Each time Padilla touches the ball, everybody in Boston cringes.
The 34-year-old is, well, 34. His performance has been abysmal, with an 8.00 ERA and 11 hits in nine innings. With Aaron Cook lighting it up in Triple-A, chances are Padilla doesn't last much longer.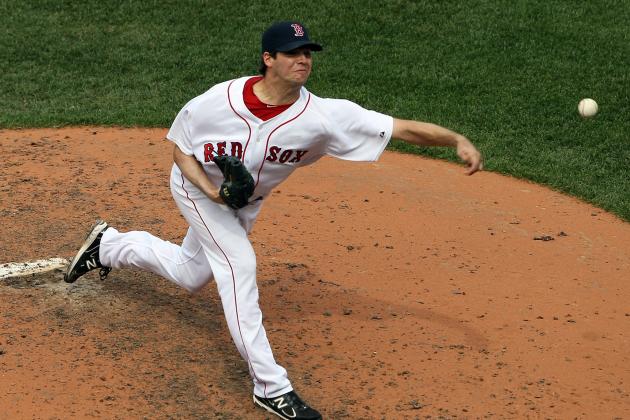 Elsa/Getty Images

Grade: F
It seems unfair to rate Hill, especially because he just came off the DL and has only two appearances under his belt.
Going just off his first appearance, though—0.2 IP, 1 H, 2 BB, 1 ER, 20 pitches—he deserves this grade.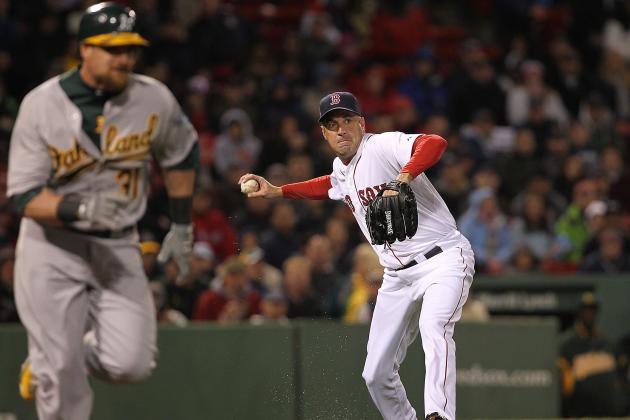 Jim Rogash/Getty Images

Grade: A-

Scott Atchison continues to defy reality.
The 36-year old—who has never excelled anywhere—is putting together a third solid season in Boston. With a 2.19 ERA and 4.00 K/BB, he continues to provide the consistency Boston's bullpen needs.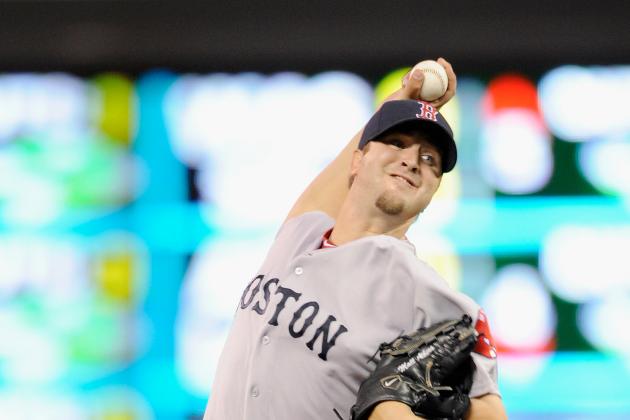 Hannah Foslien/Getty Images

Grade: B-
At first glance, Albers looks like he's having a solid season. But in reality, he only has eight innings under his belt, in which he's striking out a measly 2.3 batters per nine innings.
Though things look good, I expect the 29-year-old to start to crumble anytime now.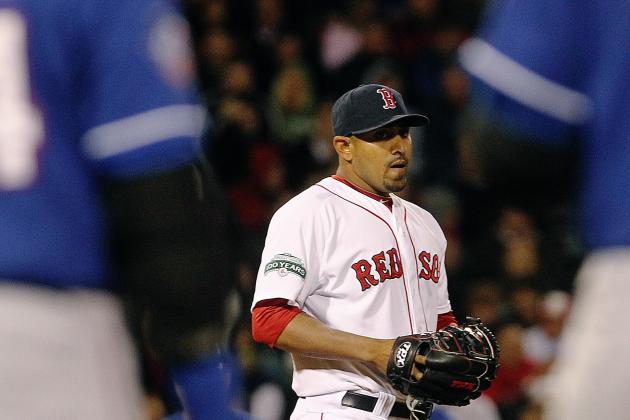 Jim Rogash/Getty Images

Grade: C+
Morals is putting together a pretty solid start to his season. He's seen a couple hiccups, but is still punching out plenty of batters he faces. He's also managed to cut down on his walks.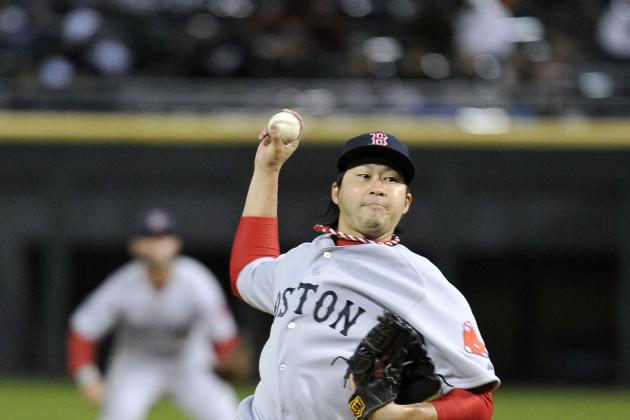 Brian Kersey/Getty Images

Grade: A-
Thought the sample size is small, Tazawa has provided much needed consistency to Boston's bullpen.
The 25-year-old has a 0.00 ERA on the season, striking out four and not walking any batters. With 19 batters retired, the hope is Tazawa keeps the good times rolling.
Tazawa was actually optioned to the Minor Leagues after Tuesday's game to make room for infielder Jose Iglesias.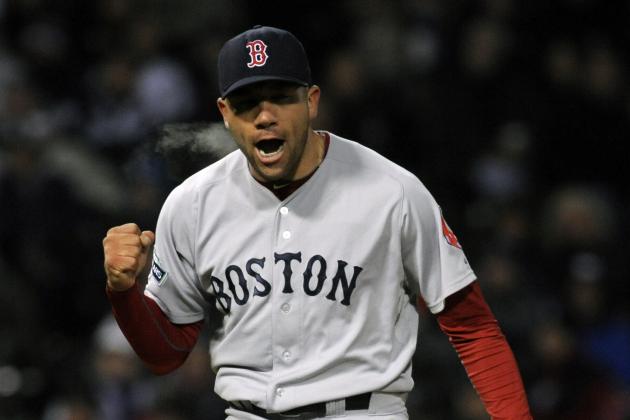 David Banks/Getty Images

Grade: F
Despite his five saves, Aceves' peripherals paint a depressing picture on Boston's late-inning prospects.
The rubber-armed righty has a 10.29 ERA, 2.00 WHIP and 6.4 BB/9 on the season.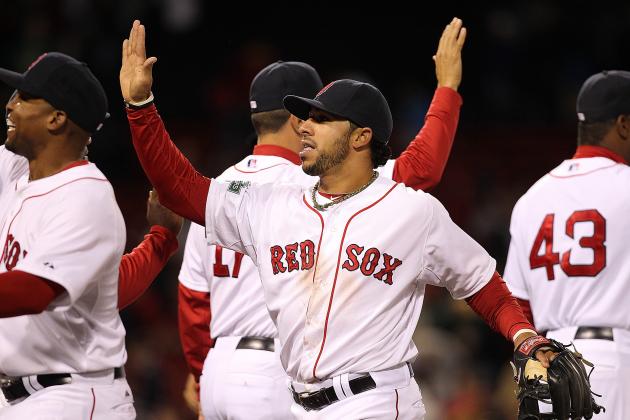 Jim Rogash/Getty Images

Team Breakdown
A+: 1
A: 2
A-: 2
B+: 2
B: 3
B-: 2
C+: 3
C: 2
C-: 0
D+: 1
D: 2
D-: 0
F: 5
Team GPA: 2.16