Sixers vs. Bulls: Game 2 Highlights, Twitter Reaction and Analysis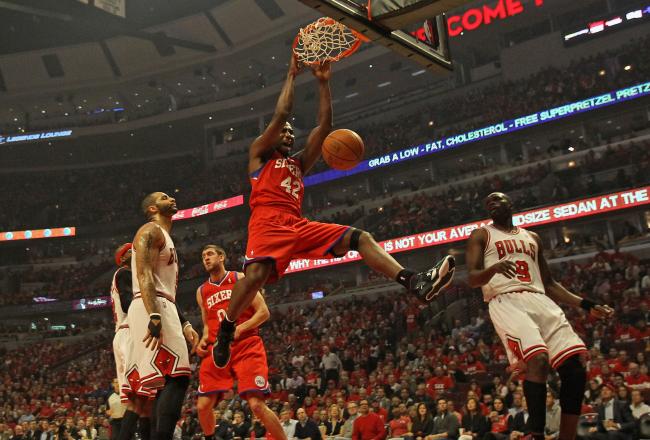 Jonathan Daniel/Getty Images
No Derrick Rose? No problem...for the Philadelphia 76ers, that is.
The Chicago Bulls struggled without their best player and reigning NBA MVP in a 109-92 Game 2 loss to the Sixers at the United Center on Tuesday. The Bulls struggled to create opportunities on offense without Rose's deft touch on the ball, suffering through a stretch of 11 consecutive misses between the third and the fourth quarters.
On the other end, Chicago was helpless in stopping Philly's athletic, guard-oriented attack, which connected on 59 percent of its shots from the field against one of the league's stingiest defenses.
The Bulls had better get their act together in a hurry, now that the Sixers have evened the score at 1-1 and will own home-court advantage, as the series turns to the City of Brotherly Love on Friday. The Sixers don't seem to care that the Bulls went 18-9 without Rose during the regular season and have plenty of confidence on which to draw after a commanding road victory.
Tweets of the Night
You know, Mother's Day is right around the corner. Need a reminder as to why it's important to make your mom happy?
Here's Derrick Rose, sitting alone in a suite at the United Center while watching his Bulls take on the Sixers, courtesy of basketball blogger Ben Golliver:
PICS: Derrick Rose watches Bulls-Sixers alone in a suite twitpic.com/9g6zmx/full

— Ben Golliver (@blazersedge) May 2, 2012

Here's Rose sitting with his mom, courtesy of Sarah Lauch:
Rose in the suite with his mom. #Bulls twitter.com/SarahLauch/sta…

— Sarah Lauch (@SarahLauch) May 2, 2012

See the difference? The moral of the story: if you want to be happy, then be nice to your mom.
Now, go buy some chocolates or something.
Oh, and here's proof that Bleacher Report's Dan Levy loves sports in the City of Brotherly Love...sort of:
Watching Phillies and Flyers, flipped over to watch Sixers during intermission and...halftime. You had your chance, Sixers.
— Dan Levy (@DanLevyThinks) May 2, 2012


Must-See Highlight
The Pac-12 spirit is alive and well in Philly, thanks to the burgeoning chemistry between UCLA's Jrue Holiday and Arizona's Andre Iguodala, as seen on this fast break:
And this one:
Grades for Key Sixers Players
Jrue Holiday: A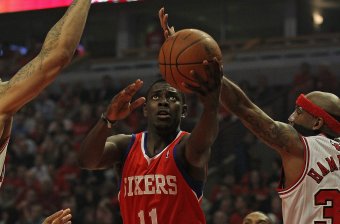 Jonathan Daniel/Getty Images
Nobody on the Sixers benefited more from Rose's absence than Jrue Holiday. The third-year point guard put together one of the finest games of his career—a game-high 26 points on 11-of-15 shooting with two rebounds and six assists—and it's not exactly a shock that he did.
After all, he didn't have to worry about Rose hounding him on one end and having to defend the All-Star guard on the other.
Lou Williams: A
Lou Williams had himself a field day in the Windy City as well. The Sixers' sixth-man supreme and leading scorer during the regular season poured in 20 points on 8-of-13 shooting along with six assists and two steals off the bench.
Grades for Key Bulls Players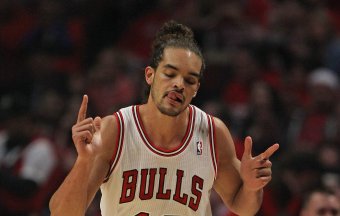 Jonathan Daniel/Getty Images
Joakim Noah: A
Joakim Noah did what he could to keep the Bulls afloat, but could do little to keep his team from drowning. He finished the game with a spectacular stat line of 21 points on 10-of-11 shooting, eight rebounds and five assists, but got little help from the rest of his confused teammates.
C.J. Watson: C
Nobody expected Watson to play like an MVP in Rose's place, though his performance left much to be desired. All told, Watson contributed 12 points, two rebounds and three assists while registering nary a blip on the impact radar.



Deciding Factor: Defense
Defense has long been the calling card for both of these teams, but while Philly's continued to flourish, Chicago's fell apart without Rose in the lineup. The Sixers held the Bulls to 45.2 percent shooting from the field while scorching the nets for 59 percent on the other end.
Which team will win Game 3?
Game MVP: Jrue Holiday
Evan Turner deserves props for an awesome game of his own (19 points, seven rebounds and six assists as a starter), but Holiday's impact on the game—statistically and otherwise—was too much to ignore.
What's Next
These two teams will reconvene for Game 3 at Wells Fargo Arena in Philadelphia on Friday.
This article is
What is the duplicate article?
Why is this article offensive?
Where is this article plagiarized from?
Why is this article poorly edited?