New York Knicks' Pathetic Performance Isn't Mike Woodson's Fault
May 2, 2012

Marc Serota/Getty Images
There's not a coach in the NBA who could rectify what's currently going wrong for the New York Knicks. After all, as much as their pain is self-imposed, the two first-round losses to the Miami Heat also have a lot to do with...the Miami Heat.
Mike Woodson may be the unlucky guy overseeing this madness from the bench, but it is a nightmare over which he no longer has any control.
Even if it were possible to talk some sense into a guy like Amar'e Stoudemire, a coach would first require extended rapport and psychological insights that take time to develop—something like a locker room Horse Whisperer.
Of course, Stoudemire isn't the only culprit here. Nor are the rest of the Knicks.
As good as this team looked under Mike Woodson toward the end of the regular season, this was still a club playing without its starting point guard under a new head coach. Those of us who expected New York to give Miami more of a test were relying on an overly selective sample size.
Winning with an isolation-heavy offense and a few three-point shooters isn't a sustainable strategy, even if Carmelo Anthony is on your team.
Just ask the Denver Nuggets.
Woodson made the most of what he's been given. We shouldn't be too surprised if that isn't enough to beat a team with LeBron James, Dwyane Wade and Chris Bosh.
Sure, there's talent on New York's roster. But, there are also a lot of guys who commit horrible fouls, take bad shots and don't play a lick of defense.
Such is life, coaching an inherited roster with a lot of bad habits.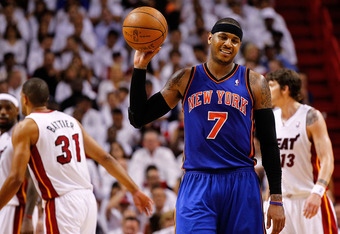 Mike Ehrmann/Getty Images
There's also something to be said about the fact that this team hasn't really been a team at all for that long. Baron Davis missed over half the season and shared time with Jeremy Lin after that. J.R. Smith played just 35 games with New York before the start of the postseason.
Tyson Chandler didn't miss much time this season, but this is still his first season with the Knicks (and after a shortened training camp, no less). Same for Jeremy Lin.
And while Carmelo Anthony and Amar'e Stoudemire should be gelling by now, there's no doubt they continue to lack chemistry in important ways.
Organizations like the Chicago Bulls and San Antonio Spurs pride themselves on "institutional knowledge"—the longer a roster remains intact, the more opportunity there is to learn a system and build trust.
The Knicks simply haven't had the time to build that.
This is a team that's been cast into an unconventional rebuilding mode. Rather than developing young talent internally, New York has added its stars via trade and free agency. Given the fanfare surrounding those acquisitions, expectations for a turnaround have been instant and unforgiving.
That's probably not fair to this still-developing roster, and it's certainly not fair to Mike Woodson.
To be sure, there are no excuses for the flood of turnovers these guys gifted to the Heat in Game 1. Nor is there justification for the lack of composure Stoudemire demonstrated after Game 2.
But those aren't Mike Woodson's failures.
There's no question the Knicks are better now than they were under Mike D'Antoni. Woodson may not be the best coach out there, but he's a good one—good enough that he deserves the opportunity to see what he can do with this team.
At the very least, New York could use the stability. The unfolding first-round disaster says more about a franchise still emerging from dysfunction than it does about any player or coach.
Mike Woodson isn't a miracle worker, but he's the best man for a job that is long, difficult and nevertheless completely doable.