Concepcion, Larkin and Hamilton: Cincinnati Reds and a Shortstop Dynasty
May 2, 2012

Matthew Stockman/Getty Images
Between 1951 and 2004, only four men laid claim to the title of shortstop for the Cincinnati Reds.  Let me rephrase that: For 53 years only four men manned the defensive captain position for the Redlegs.  I challenge you to find another team that can make such a claim of remarkable consistency in the field—not just at shortstop, but at any position.
Roy McMillan, Leo Cardenas, Dave Concepcion and Barry Larkin brought not only amazing consistency to the organization, but also All-Star talent.  
It's hard to put into terms what type of feat this is.  Before we continue—let's look at some stats.
Roy McMillan began this streak in 1951 and claimed the shortstop position with Cincinnati through the 1960 season.  During that span he won three Gold Gloves ('57-'59), made two All-Star teams ('56, '57) and finished in the top 25 MVP voting four times.
Leo Cardenas would take over in 1961.  Between then and 1968 he would win the Gold Glove ('65), be named to four All-Star teams ('64-'66, '68) and finish in the top 25 MVP voting once.
Dave Concepcion began his reign in 1970 and would hold on to it for 17 years.  The on-field defensive leader of the Big Red Machine would lay claim to five Gold Gloves ('74-'77, '79), be elected to nine All-Star teams ('73, '75-'82), win two Silver Slugger awards ('81, 82) and finish in the top 15 MVP voting three times.  Did I mention that he should be in the National Baseball HOF?
Barry Larkin would begin his HOF career in 1986 and officially took over for Concepcion in 1987.  For the next 17 years Larkin would gain many accolades and lay claim to three Gold Gloves ('94-'96), be a part of 12 All-Star teams ('88-'91, '93-'97, '99, '00, '04), take home eight Silver Slugger awards ('88-'92, '95, '96, '99), be the first shortstop to go 30/30 in a season and lead his way to the 1995 MVP award.  Larkin will be enshrined on Cooperstown this summer.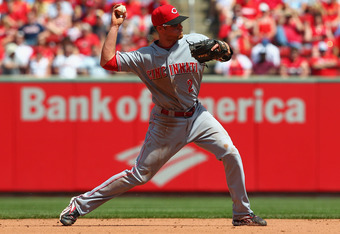 Dilip Vishwanat/Getty Images
The Reds weren't just blessed with consistency but, with All-Stars at what is arguably the most important position on the field—what a bloodline to follow in.
Since Larkin's retirement the Cincinnati shortstop position has been a rotating showcase of veterans past their prime, rookies with talent that they couldn't find and bench players with decent gloves and no bat.  
A tradition that lasted 53 years was suddenly halted.  That was, until Zack Cozart and Billy Hamilton showed up.  
Zack Cozart seems poised for a run at the ROY award this season.  With Gold Glove-caliber defense and his polished approach at the plate—Cozart is trying to erase seven years of mediocrity by reminding us of what once was.
On Cozart's heels is rookie phenom, Billy Hamilton.  I believe enough has already been said about Hamilton's abilities.  Not only is he the most exciting player currently in the minors, but he has the potential to be the Reds leadoff hitter for many years to come.  It will be interesting to see how the Reds deal with a sudden abundance of talent at the once proud position.
When you look back at the history of baseball and the Reds in particular, you can't help but wonder if there will ever again be such a great dynasty at one position for a single team.  After all, the talent has to be developed and the timing has to be perfect.  Luck is involved—and Cincinnati fans have been a lucky bunch.