NBA Playoffs 2012: Breaking Down the Odds of Every Playoff Team's NBA Title Shot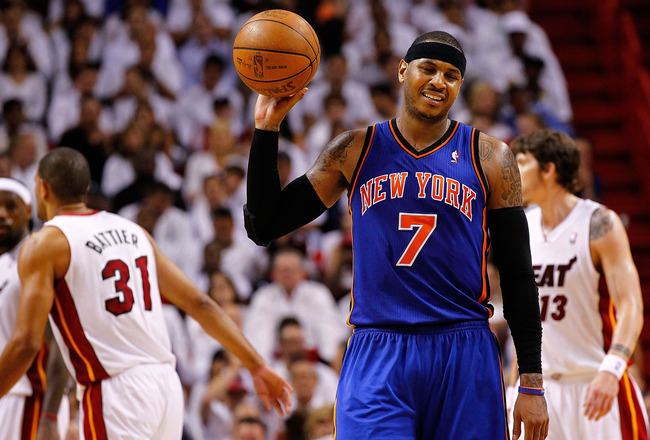 Mike Ehrmann/Getty Images
With nearly a week of playoff basketball in the books, the contenders and pretenders are beginning to identify themselves.
Via injury or inconsistency, some teams have already written themselves off as pretenders. On the contrary, some have been so impressive through one or two playoff games that their title hopes have become labeled as realistic.
Here's a breakdown of who's real and who's not, as well as how likely it is that they win the 2012 NBA championship. Enjoy.
Note: All title odds are according to VegasInsider.com.
8. Philadelphia 76ers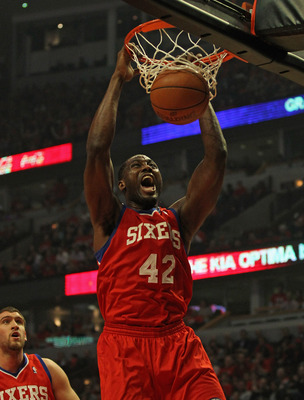 Jonathan Daniel/Getty Images
Current Series: Tied 1-1 vs. Chicago Bulls
Derrick Rose's season-ending injury has changed everything in the Philadelphia 76ers' series with the Chicago Bulls. The Sixers, who led the Atlantic Division until a complete and utter meltdown after the All-Star break, have a major advantage at the point with both Jrue Holiday and Lou Williams taking over in Game 2.
Expect more of the same throughout the remainder of this series.
After trailing by six entering the second half, Philadelphia went on a 12-0 run in the third quarter that gave them a 68-61 lead. After the Bulls cut it to 73-68, Philly exploded with an 10-1 run to end the quarter. There was no turning back from there on out.
The 76ers actually match up well with potential foes Atlanta and Boston. Their athleticism and ability to score in transition actually make for favorable matchups. Should the Sixers face the Heat, however, the series would be competitive, but not upset-alert worthy.
Title Odds: 100/1; Weak, Rising
8. Utah Jazz
Ronald Martinez/Getty Images
Current Series: Trail 0-1 vs. San Antonio Spurs
The Utah Jazz are built around a dominant frontcourt that consists of Al Jefferson, Derrick Favors and Paul Millsap. All three bring something different to the table, with the end result being dominance on the glass, in the paint and on the scoreboard.
Against Tim Duncan and the Spurs, however, that advantage appears to be insufficient.
Despite combining to go 19-of-35 for 43 points, the trio failed to lead the Jazz to victory. Gordon Hayward scored 17 in an attempt to aid the Jazz in achieving victory, but 12 of those points came from the line. It's very unlikely that the well-disciplined Spurs will allow him to reach the charity stripe on such a consistent basis from here on out.
The big men that Utah will deploy can keep this series interesting, but its lack of any perimeter threat will be its undoing.
Title Odds: 200/1; Weak, Steady
7. New York Knicks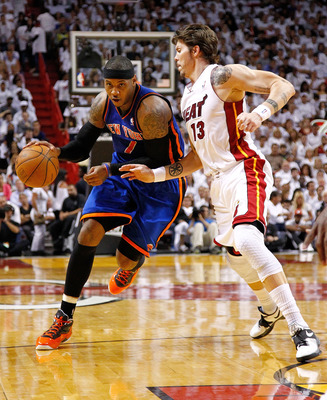 Mike Ehrmann/Getty Images
Current Series: Trail 0-2 vs. Miami Heat
According to Ian Begley of ESPN New York, half of Amar'e Stoudemire's hand was "falling off" after punching the glass casing of a fire extinguisher. Coincidentally, the New York Knicks' title hopes are hanging by just as thin of a thread.
The Knicks appear lost on defense, as they have no answer for the duo of Dwyane Wade and LeBron James. Even Chris Bosh recovered from a weak Game 1 to drop in 21 points.
Hopefully Neil Paine of ESPN is correct when he says the New York Knicks are better without Amar'e. Otherwise, this is going to be another short and bitter series for the Knickerbockers.
Title Odds: 50/1; Very Weak, Declining

7. Dallas Mavericks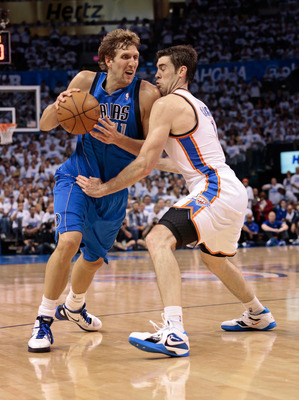 Brett Deering/Getty Images
Current Series: Trail 0-2 vs. Oklahoma City Thunder
Of any team to ever go down 2-0, no one should have as much confidence as the Dallas Mavericks. Kevin Durant has put up big points, but Shawn Marion has absolutely shut him down when it comes to shooting from the field. If only the Mavericks had committed one or two less unnecessary fouls, they might be up 2-0.
Nevertheless, they're in an 0-2 hole.
Now the series moves to Dallas, where the Mavericks were virtually unbeatable in the 2011 postseason. While this team is different from a year ago, Dirk Nowitzki continues to take over when he needs to, and Jason Terry has countered all production from James Harden. But again, stupid fouls have the Mavericks down 0-2.
Responsible play could cause this series to turn around quickly. If it does, the Mavericks will be in perfect position for another title run.
Title Odds: 40/1; Strong, Declining

6. Orlando Magic
Gregory Shamus/Getty Images
Current Series: Tied 1-1 vs. Indiana Pacers
For Orlando Magic fans wondering what the franchise would be without Dwight Howard, there are two promising signs. For one, Jameer Nelson is one hell of a point guard who has run circles around the Pacers' tandem at times. For two, Glen Davis is one heck of a player when he's on his game.
While the Pacers took control of Game 2 and won by 15 points, it's important to note that the Magic controlled the tempo for nearly three quarters. Unfortunately, their shots just weren't falling, and they could not take advantage of the surplus of opportunities.
Should those shots fall, as they have all season, expect the Magic to open some eyes. Also expect Stan Van Gundy and company to give a team some trouble in the Eastern Conference semifinals.
If they get those shots to fall.
Title Odds: 75/1; Weak, Steady

6. Denver Nuggets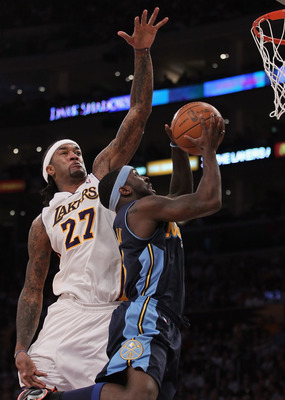 Ty Lawson is keeping the Nuggets within striking distance.
Jeff Gross/Getty Images
Current Series: Trail 0-2 vs. Los Angeles Lakers
For the Los Angeles Lakers, when one guy steps up, another one follows. For the Denver Nuggets, when one player steps up, another one falters.
Not a great way to win a playoff series when Kobe Bryant is opposing you.
In Game 1, it was Andrew Bynum's triple-double. In Game 2, it was Kobe's 38 points. Regardless of who is on the attack, the Denver Nuggets just don't have an answer at this point. The promising sign is they lost Game 2 by single digits by virtue of Ty Lawson's brilliance and Danilo Gallinari's struggles.
Had the Italian Stallion stepped it up, who knows how this game would have gone? Unfortunately, it went the way it did, and the Nuggets are one step closer to elimination.
Title Odds: 100/1; Weak, Declining

5. Atlanta Hawks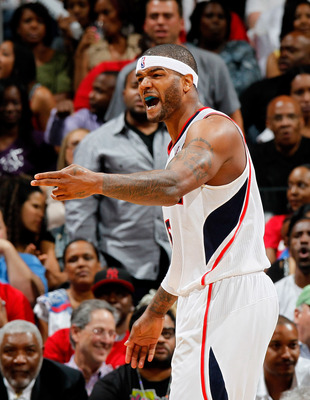 Kevin C. Cox/Getty Images
Current Series: Tied 1-1 vs. Boston Celtics
After dominating the pace of Game 1, the Atlanta Hawks just couldn't put it together in Game 2. With Rajon Rondo out and the Hawks in what some considered to be a must-win as the series now moves to Boston, Jeff Teague and Josh Smith just couldn't get the job done.
Worst of all, Smith went down with an apparent knee injury.
If Smith is done, the Hawks are as well. If Smith can return, this series changes entirely. So will the Hawks' chance of making the Eastern Conference finals, as Philadelphia and Chicago are much more favorable opponents than previously imagined.
Getting past Miami, New York, Indiana or Orlando could create other difficulties.
Title Odds: 60/1; Mediocre, Steady

5. Los Angeles Clippers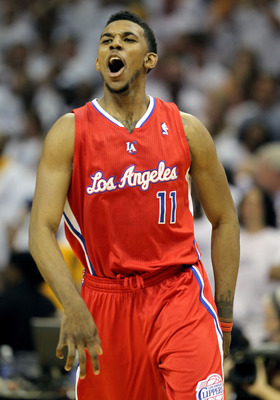 Andy Lyons/Getty Images
Current Series: Lead 1-0 vs. Memphis Grizzlies
The Los Angeles Clippers made history in Game 1, rallying from 27 down to come back and stun the Memphis Grizzlies in Tennessee. To add salt to the wound, they were down 24 points with just eight minutes remaining in the fourth quarter.
Led by Nick Young and Reggie Evans, the Clippers battled back and took control of this series in a commanding way. While Memphis has been to the playoffs before, it's never felt such a letdown. This could either motivate the Grizzlies or cause them to falter, making the Clippers' path to the title that much easier.
Upon their potential defeat of the Grizzlies, the Clippers would face either San Antonio or Utah—potentially favorable matchups, as their depth goes virtually unmatched, as does the presence of Chris Paul.
Title Odds: Mediocre, Rising

4. Boston Celtics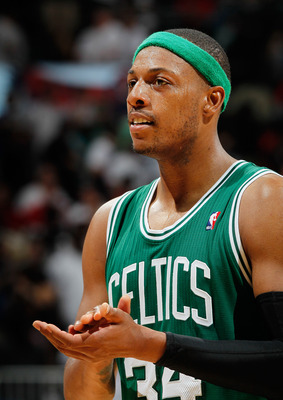 Forget about Rondo's absence—how about Pierce's presence?
Kevin C. Cox/Getty Images
Current Series: Tied 1-1 vs. Atlanta Hawks
The game that Rajon Rondo missed due to suspension resulted in unheralded optimism.
Paul Pierce went off for 36 points and 14 rebounds, while the Hawks' star forward, Josh Smith, went down with an apparent knee injury. While the extent and severity of the injury are unknown, Smith's absence would drastically change the outlook of this series.
Already down Al Horford, the Hawks have had trouble matching up with Kevin Garnett down low. KG's advantage would increase significantly if he didn't have to deal with Smith, thus making Rondo's life easier as he penetrates and facilitates.
As for the second round, Boston should be more than comfortable facing the Derrick Rose-less Bulls or division rival Philadelphia 76ers. It's also comfortable facing the Miami Heat, whom it has a favorable path to face in the Eastern Conference finals.
Another title run is far from out of the question.
Title Odds: Strong, Rising

4. Memphis Grizzlies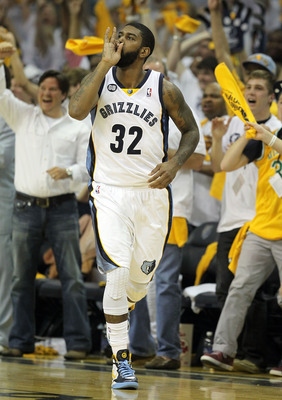 Andy Lyons/Getty Images
Current Series: Trail 0-1 vs. Los Angeles Clippers
From the first quarter to the third quarter, the Memphis Grizzlies played absolutely brilliant basketball. Mike Conley Jr. was outdueling Chris Paul in every sense of the word, and the Clippers had no response for the Grizzlies' low-high attack.
And then the Grizzlies forgot that basketball games consist of four quarters.
With eight minutes remaining in the game, Memphis had a 24-point lead. Suddenly, unexpected heroes emerged as Nick Young and Reggie Evans led the Clippers back to an eventual 99-98 victory—from 24 points down.
How Memphis will recover is beyond me, but it definitely needs to. Quickly.
The Staples Center will come to life with the Clippers playing in their first playoff series since 2006, making the Grizzlies' uphill battle that much more difficult. Look for Mike Conley Jr. to continue to play at an elevated level and Rudy Gay to shoot more consistently.
Otherwise, look for an early exit.
Title Odds: 25-1; Strong, Steady

3. Indiana Pacers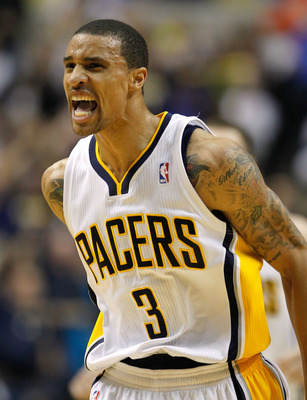 Gregory Shamus/Getty Images
Current Series: Tied 1-1 vs. Orlando Magic
The Indiana Pacers have to be pleased with evening the series at one game apiece. What they can't be happy about is the fact that, even in their double-digit win in Game 2, the Magic controlled the tempo of the game for approximately three quarters.
As the series shifts to Orlando, it's important for the Pacers to take control early in the game. The Orlando crowd can be overwhelming, and with every three-pointer made bringing it to life, the Pacers will find it that much more difficult to compete.
And believe me, the Magic will hit plenty of three-pointers.
Nevertheless, the Pacers are one of the deepest teams in the NBA. David West has been a revelation through two games, and Danny Granger's poor shooting is bound to correct itself. Expect the Pacers to give Miami or New York a run for its money in Round 2 should they get past Orlando.
Title Odds: 50-1; Mediocre, Steady

3. Los Angeles Lakers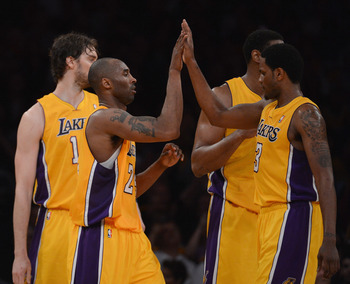 Kobe's 39. Bynum's triple-double. Gasol & Ebanks' versatility. It's all coming together in LA.
Harry How/Getty Images
Current Series: Lead 2-0 vs. Denver Nuggets
In Game 1, Andrew Bynum posted a historic triple-double by recording 10 points, 13 rebounds and 10 blocks. Kobe Bryant complemented him perfectly with 31 points of his own, while Pau Gasol nearly recorded a triple-double of his own with 13 points, eight rebounds and eight assists.
In Game 2, Bryant led the way with 38 points. Bynum pitched in with 27 points, nine rebounds and two blocks, while Gasol posted 13 points, 10 rebounds, five assists, two blocks and two steals.
One common theme is that the Lakers won both games. The other common theme is that Bynum's elevated effort on defense led to a blowout in Game 1, while his offensive-minded attack led to a four-point win in Game 2.
Now, don't jump the gun. Without Bynum's scoring output, the Lakers would have lost Game 2. With a stronger effort on defense, however, the Denver Nuggets would not have continued to come back via low-post scoring and offensive rebounding.
If Bynum continues his defensive effort, the Lakers have a legitimate chance to win the title. If he and Pau Gasol continue to give up 19 offensive rebounds, however, the Lakers' championship dreams will turn into offseason nightmares.
Title Odds: 8-1; Very Strong, Rising

2. Miami Heat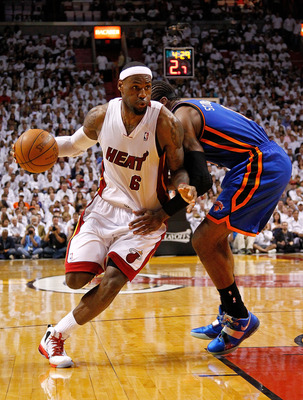 Mike Ehrmann/Getty Images
Current Series: Lead 2-0 vs. New York Knicks
What really needs to be said here? The Miami Heat have been the favorite to win the title since the beginning of the season, and with consecutive drubbings of the New York Knicks, the hype is proving to be well-deserved.
The Big Three combined for 65 points in Game 2, with three other players in double figures. In Game 1, they combined for 60. In other words, this team keeps on getting better when it comes to distributing the wealth.
Not what you want to hear if you're a potential opponent. This team is well built to go to the NBA Finals.
Title Odds: 3-2; Very Strong, Rising

2. Oklahoma City Thunder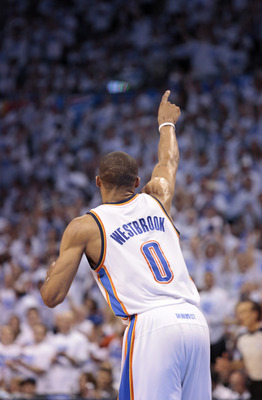 Brett Deering/Getty Images
Current Series: Lead 2-0 vs. Dallas Mavericks
The Oklahoma City Thunder should be counting their blessings after escaping with two victories to open up their series with the Dallas Mavericks. Great free-throw shooting has counteracted the fact that Shawn Marion has smothered Kevin Durant on D, as has a bounce from the basketball gods.
In Game 3, the passionate crowd will not be on Oklahoma City's side. Instead, it will be pulling for the Mavericks as Dirk Nowitzki and company look to build on their two-way success from the first two games. This time, however, the reigning NBA champions will be prepared for crunch time.
Will OKC?
If Russell Westbrook has anything to say about it, they will be. And that's why they're favored to make the Western Conference finals.
Title Odds: 7-2; Very Strong, Steady

1. Chicago Bulls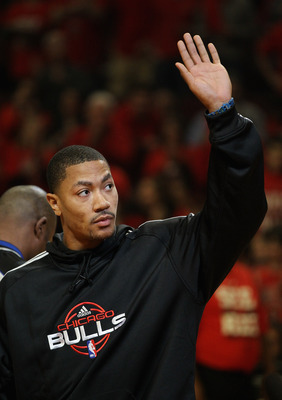 Jonathan Daniel/Getty Images
Current Series: Tied 1-1 vs. Philadelphia 76ers
With Derrick Rose injured, this team has become rather weak.
After starting Game 2 with a fiery passion that led to more than a handful of second-chance points, the Bulls suddenly transitioned to a team that had displayed no sign of teamwork.
Rather than running plays and working off screens, the Bulls were dribbling themselves into corners and putting up long, contested jump shots. They also had no answer for Jrue Holiday or Lou Williams, who broke the game open and brought the series to a 1-1 tie.
The bright spot would have to be Joakim Noah, who again impressed by scoring 21 points on 10-of-11 shooting. The former Florida Gator also tacked on eight rebounds, five assists and a steal.
While I'd like to believe in the Bulls' Cinderella story, I can't.
This team just doesn't have a direction without Rose, and they don't appear to be motivated enough to win. Sad potential ending to a promising season.
Title Odds: 9-1; Very Weak, Declining

1. San Antonio Spurs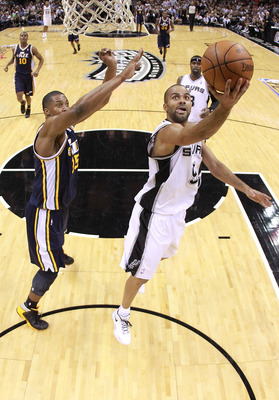 Ronald Martinez/Getty Images
Current Series: Lead 1-0 vs. Utah Jazz
The San Antonio Spurs have looked as impressive as any team in the NBA, and unlike a year ago, they're healthy and poised for a run into the second round. While both Memphis and the Los Angeles Clippers could potentially pose problems for Gregg Popovich and company, this team is mature enough to get the job done.
Their core's four rings are evidence of such.
Nevertheless, the Spurs cannot overlook the Utah Jazz. Paul Millsap is a legitimate star, and Al Jefferson is one of the top 10 centers in the NBA. Derrick Favors is already one of the better defensive big men in the NBA, and Gordon Hayward has become a nightly thorn in an opponent's side.
Should the Spurs manage to make it past the Jazz, the future looks bright.
Title Odds: 4-1; Strong, Rising

Keep Reading