NBA Playoff Schedule 2012: Projecting Winners for Wednesday's Action
May 2, 2012

Gregory Shamus/Getty Images
The NBA is treating fans to a fifth consecutive day of three of more playoff games, and Wednesday's slate is a doozy.
With two Game 2s and a Game 3 on the slate, here are my predictions for each game…with one choice sure to shock the pants off you.
(Click here for full NBA playoff schedule)
San Antonio Spurs vs. Utah Jazz: TNT, 7:00 p.m. ET
(Spurs lead 1-0)
The Spurs looked incredible in their easy Game 1 win, and that's because they can minimize the big advantage of the Jazz.
Utah made the playoffs because of their monstrous frontcourt that features Paul Millsap, Al Jefferson, Derrick Favors and Enes Kanter. Most teams can't hang with that sort of depth and talent upfront, but the Spurs are able to with their outstanding play on the perimeter.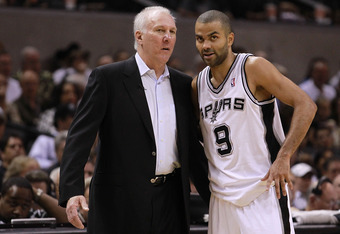 Ronald Martinez/Getty Images
They were second in the league in scoring during the regular season (103.5) because they were the most efficient shooting team (47.8 percent, first in NBA) and killed teams with their three-point shooting. They have five players that shoot over 40 percent from three-point land. That's mind-boggling.
Expect Tony Parker to continue to shred Devin Harris (the obvious weak link of Utah) and create wide-open looks for guys like Matt Bonner, Gary Neal and Danny Green.
Tim Duncan is looking rather refreshed and it was recently announced that Gregg Popovich has won Coach of the Year. Expect a young Jazz team to become overwhelmed early and later make a comeback, only to fail in the game's most important moments. Too many veterans for the Spurs.
Prediction: Spurs 96, Jazz 88
Orlando Magic vs. Indiana Pacers: NBA TV, 7:30 p.m. ET
(Series tied 1-1)
The Magic lucked out in Game 1 as the Pacers clearly were shaking off nerves, but Indiana came out with an incredibly dominant second half to pull away for the easy win in Monday's Game 2.
When the threes stop falling for the Magic, they are unable to push the tempo and their offense is atrocious. Without Dwight Howard, the Pacers have an incredible size advantage that led to a ridiculous 50-28 advantage in the paint in Game 2.
With Quentin Richardson and Glen Davis banged up, it's hard to envision the Magic pulling this one off.
But they will.
Pacers coach Frank Vogel foolishly played both David West and Danny Granger over 40 minutes on Monday. Granger has really struggled with his shooting, and went 1-of-10 from three-point land in Game 2. Jason Richardson is playing spectacular defense on him and Granger refuses to stop shooting. The quick turnaround is not going to help.
With Glen Davis holding his own against David West inside, I think the Magic will be able be able to stretch the floor from the outside.
While I'm not convinced they can win the series, they'll take a 2-1 advantage Wednesday night.
Prediction: Orlando 89, Indiana 82
Memphis Grizzlies vs. Los Angeles Clippers: TNT, 9:30 p.m. ET

(Clippers 1-0)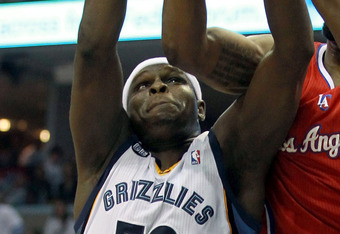 Andy Lyons/Getty Images
After allowing the Clippers to go on a 26-3 run to close out one of the greatest comebacks in postseason history, the Grizzlies have to win this game if they have any hope of winning the series.
They were clearly the better team for the first 38 minutes in Game 1 because of the outstanding play of Rudy Gay and Mike Conley. Zach Randolph played horribly (six points, 3-of-13 shooting) because of the defense of Reggie Evans.
I don't expect this to become a trend. While the Clippers won't be falling asleep for three quarters again, expect the loss of Caron Butler to really hurt. And what's more dangerous than a ball hog like Nick Young one game after getting red hot for seemingly the first time in months?
Memphis has the motivation, home crowd and the better talent. No way the Grizzlies lose two in a row in front of that crazy home crowd.
Prediction: Memphis 104, Los Angeles 99