UFC on FOX 3: Josh Koscheck vs. Johny Hendricks Head-to-Toe Breakdown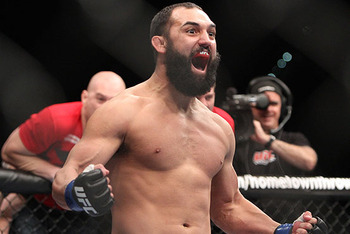 Scott Peterson/MMAWeekly.com
After becoming the first fighter to knock out Jon Fitch since December 2002, Johny Hendricks has propelled himself into the hunt for a shot at the welterweight title. Accordingly, Hendricks has been slated to meet veteran Josh Koscheck at network-televised UFC on Fox 3 this Saturday.
With second straight impressive victory over a former top contender, Hendricks could put himself at the front of the race for a shot at the winner of an eventual title fight between long-time champion Georges St-Pierre and interim champion Carlos Condit.
Meanwhile, Koscheck has won five of his past six fights, with his only loss during that time coming against St-Pierre. Since Condit now holds a belt around his waist, Koscheck has been given new hope that he could still become 170-pound champion despite having lost to St-Pierre twice.
Less than one week away from one of the most important welterweight fights of 2012, let's take a look at which fighter has a better chance of winning on Saturday.
Stand-Up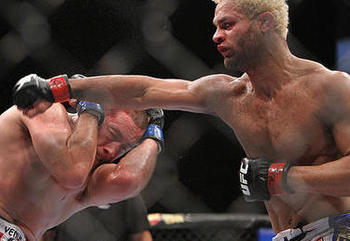 Scott Peterson/MMAWeekly.com
Striking/Striking Defense
With seven knockout victories in only 13 professional fights, former two-time NCAA champion wrestler Hendricks has already turned into one of the more devastating strikers in the welterweight division. Instead of utilizing his high-level wrestling to drag fights to the ground, Hendricks prefers to use his grappling background to keep fights standing.
Though he too was a four-time All-American wrestler in college, Koscheck also prefers to use his wrestling in reverse to keep fights standing. Koscheck has shown to have a more diverse striking arsenal than Hendricks, but he tends to rely heavily on his overhand right. This gets him into trouble against smart fighters who are able to circle away from his right hand and counter.
Whereas Hendricks has never been knocked out in his MMA career, Koscheck was stopped by Paulo Thiago in February 2009. That being said, Koscheck brings more striking experience into this fight and will be prepared to defend the limited range of attacks that Hendricks has shown thus far.
If this fight stays standing, Hendricks' power gives him the better chance of finishing this fight, but Koscheck would likely have the edge in a fight where he plays it safe and takes Hendricks the distance.
Edge: Push
Takedowns/Takedown Defense
Despite the outstanding wrestling credentials of both fighters, there's a good chance Hendricks and Koscheck will remain standing for most of their fight on Saturday night.
If one fighter does have an edge over the other in the MMA wrestling department, it may actually be the one with less NCAA titles resting on his mantle. This may not come as that big of a surprise considering Koscheck has had much more time to adapt his wrestling to his new sport of choice.
In his 22-fight career, Koscheck has only been taken down by three different opponents, St-Pierre, Mike Pierce and Dave Menne. Meanwhile, Hendricks has been dragged to the canvas in nearly half of his appearances.
That being said, Hendricks has proven that he can quickly regain his feet and score takedowns of his own. So, for the most part, expect the high-level wrestling abilities of Hendricks and Kocheck to cancel out in this matchup.
Edge: Koscheck
Ground Game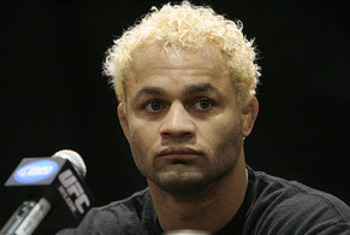 Ken Pishna/MMAWeekly.com
Grappling/Ground Striking
Considering his accomplishments in amateur wrestling, Hendricks should be capable of controlling opponents on the ground, but he has not yet shown that ability against any of his high-level UFC opponents.
Despite recording six takedowns against Rick Story, Hendricks suffered the only loss of his career in December 2010 because he was unable to force his opponent to continue fighting off of his back.
Conversely, Koscheck has successfully used his smothering top game to grind out victories over several opponents. In fact, Koscheck was able to control opponents on the ground so easily that it led many to criticize him for being a boring fighter earlier in his career.
If he can take Hendricks to the ground, Koscheck is more capable than any Hendricks' past opponents of forcing the former Oklahoma State University wrestler to fight off of his back, a position in which he would likely be very uncomfortable.
Edge: Koscheck
Submissions/Submission Defense
Though Hendricks has never been submitted, he has yet to be put in a position where he's had to fend off submission attempts. Many elite wrestlers transition very well into the jiu-jitsu realm, but there hasn't been enough evidence in his young career to show that Hendricks has picked up the submission game as well as Koscheck.
With five submissions in his career, Koscheck is no jiu-jitsu black belt, but he is certainly capable of locking up a rear-naked choke if he is able to take Hendricks' back at any point in this fight. In all likelihood, though, this fight probably won't stay on the ground long enough for Koscheck to have a chance at submitting Hendricks.
Edge: Koscheck
Intangibles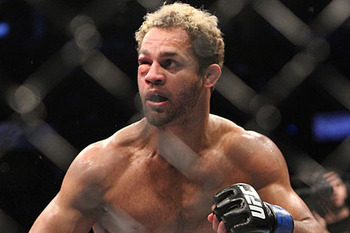 Ken Pishna/MMAWeekly.com
Experience/Game Plan
Had his fight with Fitch gone into the later rounds, it could be argued that Hendricks had gained all the experience he'd need against Koscheck. However, while it was certainly great for his career, finishing Fitch in 12 seconds prevented Hendricks from gaining valuable experience.
Koscheck, on the other hand, has fought for the welterweight title and competed in countless fights of great importance during his career. Expect Koscheck to learn from the mistakes of his long-time teammate, Fitch, by being very conservative in this fight and avoiding Hendricks' power.
Edge: Koscheck
Athleticism/Conditioning
Both four-time All-American wrestlers, Hendricks and Koscheck are two of the most athletically gifted fighters in the welterweight division.
Considering neither fighter has a great jab, Koscheck's reach advantage shouldn't be a major factor in this fight. Likewise, both fighters a well-conditioned competitors and should be able to go three rounds without much difficulty.
Edge: Push
Prediction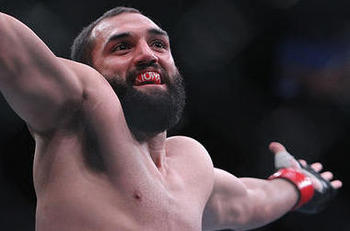 Scott Peterson/MMAWeekly.com
Coming off of a grinding fight against Pierce, Koscheck will be well-prepared for a bout against another powerful wrestler like Hendricks. After watching Fitch get knocked out by Hendricks, Koscheck will also be very hesitant to get himself into wild exchanges with the heavy-handed southpaw.
If Koscheck is patient and uses his whole striking arsenal instead of relying heavily on his overhand right, he should be able to walk away with a decision win as the more well-rounded fighter against a somewhat inexperienced opponent.
Though Hendricks wasn't given an advantage in any of the aforementioned categories, don't mistake that as a sign that this writer is not giving the 28-year-old any chance at victory. On the contrary, Hendricks is capable of finishing this fight with a single punch.
However, Koscheck's experience will go a long way toward not allowing that to happen, as he has been much more aware of the damage that one shot to the chin can do since his lone knockout loss against Thiago.
Prediction
Koscheck defeats Hendricks by unanimous decision.
Keep Reading