Celtics vs. Hawks Game 2: Live Stats, Highlights and Analysis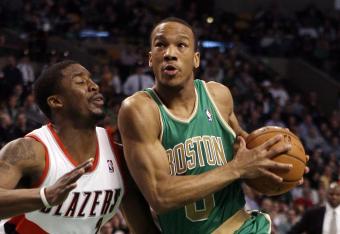 Golden opportunity? Avery Bradley has a chance to shine in Atlanta tonight.
Elsa/Getty Images
Keep it here live as the Celtics take on the Hawks.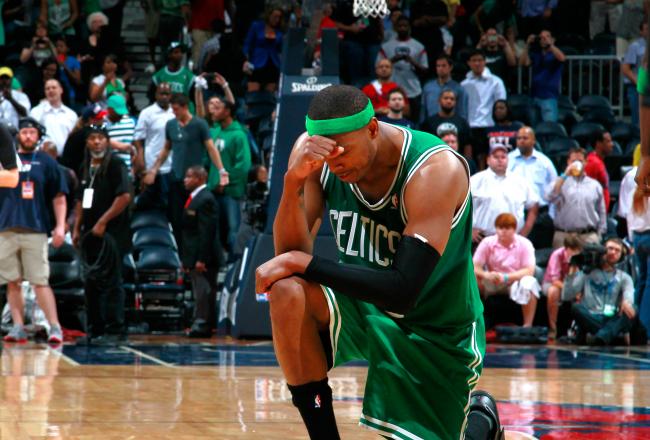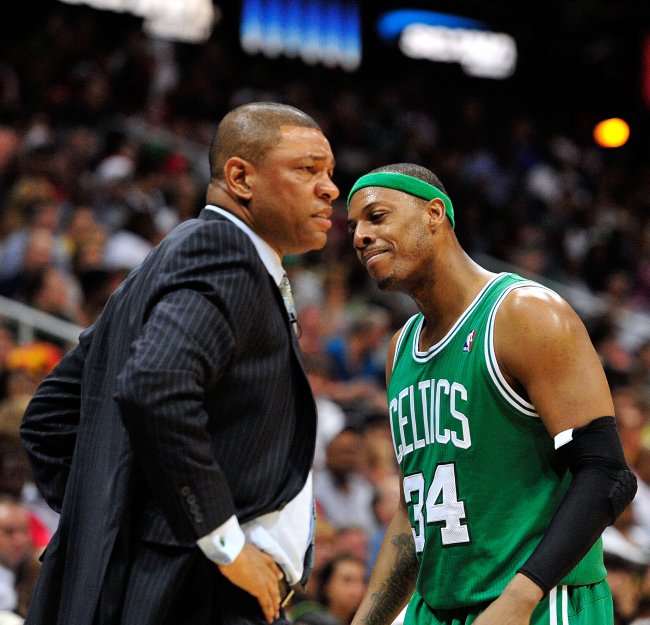 Grant Halverson/Getty Images
Post Game Analysis
The Boston Celtics probably need a healthy "Big Three" to win a title. Actually they need that plus an active non-suspended Rajon Rondo as well.
On this night the Celtics needed only a "Big Two". That's the two-headed monster that Kevin Garnett and Paul Pierce formed to beat a scrappy Atlanta Hawks team on the road without their entire starting backcourt.
Boston out-rebounded Atlanta 45-40. The Celtics shot 42.6 percent the Hawks shot just 34.9 percent.
Pierce and Garnett were special, especially Pierce. He had 36 points, 14 rebounds ( both game highs) along with five assists. Pierce was 11 of 13 from the free throw line and 12 of 26 from the field.
Kevin Garnett answered the bell as well. He had 15 points, 12 rebounds and five assists. Boston playing without it's entire starting backcourt had the same amount of assists as Atlanta, 14.
For Atlanta they were paced by Josh Smith who left with just over four minutes remaining in the game with a left knee sprain. No word on his status for game three. He had 16 points and 12 rebounds on the night but the bulk were in the first half.
Joe Johnson led Atlanta is scoring with 22 points. Like Smith the majority of his production was in the first half.
That's really the story. Atlanta was outscored 26-14 in the fourth quarter. That's the type of performance a team can only get away with if they've got a huge lead after three quarter. That certainly wasn't the case tonight as the Hawks will have to figure out a way to bounce back from a loss in a game that they entered with a decided advantage.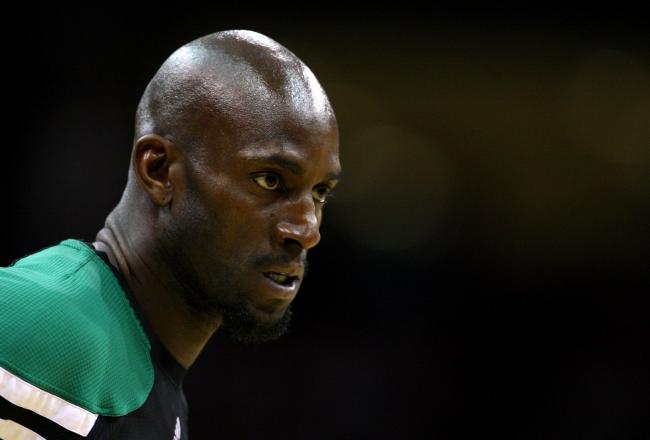 Celtics 87 Hawks 80: FINAL
Atlanta didn't even foul down the stretch. Down seven with 24.7 seconds left the Hawks simply allowed Boston to run the clock down and end the game. Is the series over? Of course not but as mentioned earlier this was a game the Hawks have no excuse for losing.
Yes Josh Smith left the game late in the fourth quarter but Boston was playing without it's starting backcourt for the whole game.
Celtics 87 Hawks 78: 41.4 seconds 4th Quarter
With just 41.4 seconds left the Celtics have a nine point lead. It's a 34-16 run since 3:47 in the third quarter and Boston has outscored Atlanta 24-12 in the fourth quarter.
The veterans for the Celtics really stepped up. It was Garnett early in the fourth and then Pierce as the quarter got closer to ending.
Celtics 85 Hawks 78: 1:15 4th Quarter
Joe Johnson has been guilty of bad shot selection in his career. The ill advised three he jacked up and missed with 1:18 left and his team down five won't help his reputation for poor late game decisions.
Paul Pierce grabbed the missed three and got fouled, he then drained both free throws.
A terrible offensive possession out of a timeout by Boston led to a shot clock violation. Atlanta now operating without Josh Smith is putting the ball in the hands of Joe Johnson. Johnson is the player that Boston has to be aware of as this game inches closer to it's conclusion.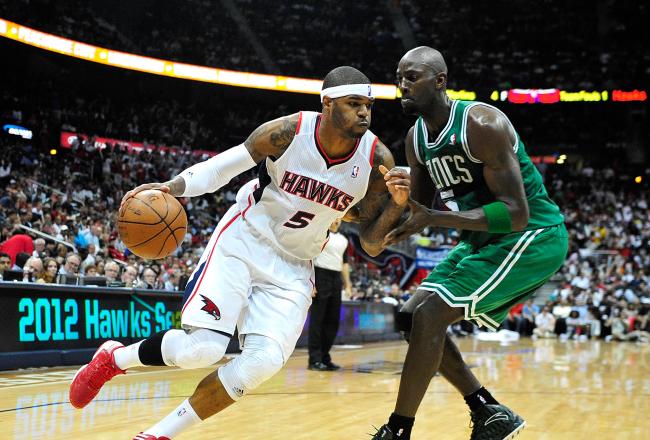 Celtics 81 Hawks 77: 2:33 4th Quarter
Boston has control of this game but it's far from over. The Celtics have turned the ball over and committed two ill advised fouls. It's only a four point game and there's plenty of time left.
Even without Josh Smith Atlanta has enough weapons to win this game.
Josh Smith has a left knee sprain. No word on his status for tonight or the next game.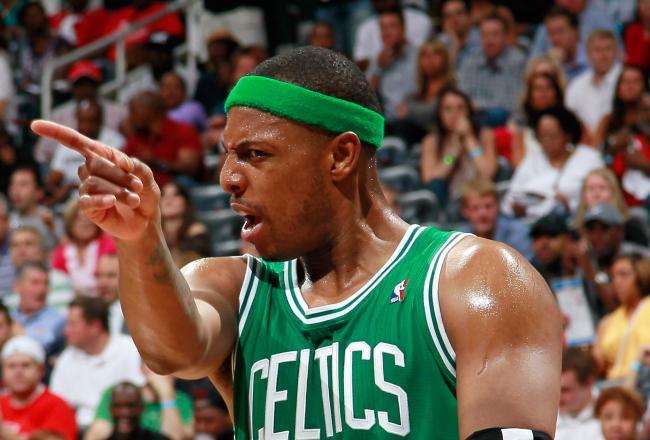 Celtics 79 Hawks 72: 3:29 4th Quarter
Paul Pierce, he's on fire and Atlanta is in big trouble. He nailed a three as Atlanta sagged off him defensively. Since Atlanta's 11 point lead late in the third quarter Boston is on a 28-10 run.
Pierce has a game high 32 points and a game high 13 rebounds.
Josh Smith has left the game with 4:20 left. No details on why.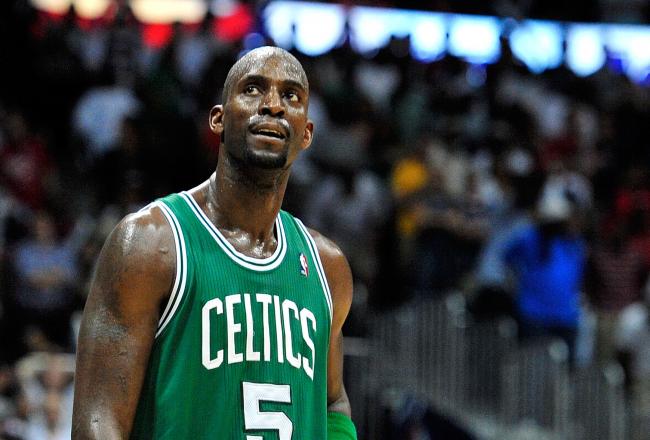 Celtics 74 Hawks 72: 5:09 4th Quarter
Each offensive possession is a struggle for Atlanta right now. They're being beaten on the boards and it's slowed the pace of the game to crawl.
Collins fouling out has allowed Garnett to operate on the low blocks with more effectiveness. He's also drawn a fourth foul on Josh Smith.
Garnett has 13 points, 11 rebounds and five assists.
This is anyone's game right now but the pace favors Boston.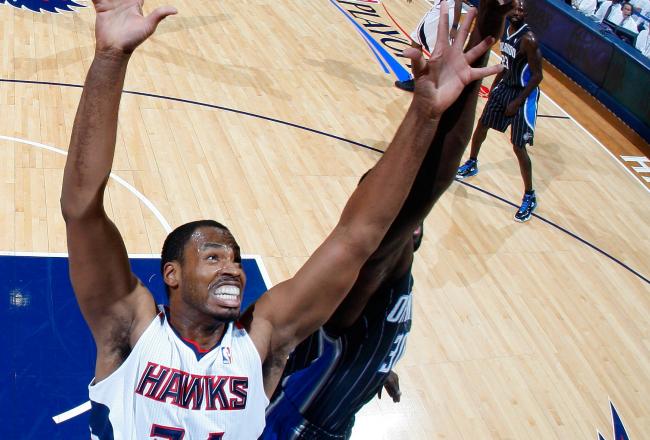 Hawks 68 Celtics 66: 8:04 4th Quarter
With 8:25 left and the game tied at 66 Jason Collins fouled out of the game. Can the Celtics and KG take advantage of this?
More importantly will they get the ball to Garnett enough to allow him to produce on the offensive end of the court.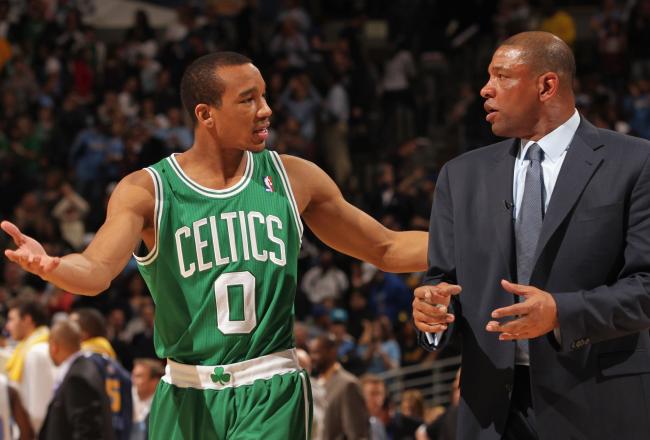 Hawks 66 Celtics 64: 9:37 4th Quarter
Boston without Rajon Rondo on the court might be better than Atlanta without Jeff Teague. The Hawks have looked anemic on offense to start the fourth quarter. Bad shots and one-on-one play have plagued Atlanta.
The Celtics haven't taken full advantage but it's concern for Atlanta that their offense completely atrophies with guys like Teague and Smith getting rest they really do need.
Hawks 66 Celtics 61: End of 3rd Quarter
Atlanta had a chance to really put some distance between them and Boston in the third quarter but didn't take advantage. It was 62-51 with 3:47 left but Boston closed the quarter on a 10-4 run and it's now a five point game with the fourth quarter set to begin.
Paul Pierce leads Boston with 23 points and 10 rebounds.
Josh Smith has 16 points and 12 rebounds while Joe Johnson has 17 points.
It's anyone's game as the fourth quarter starts. Can Boston keep up with the quicker, younger Hawks? Will Atlanta start to wilt at the prospect of losing a game they must win?
Hawks 66 Celtics 60: 46.7 seconds 3rd Quarter
One thing about Boston, they're hanging around. Make no mistake about it Atlanta has outplayed the Celtics in the third quarter but as it winds down it's still anyone's game and the Celtics' veterans could be a tough matchup in the fourth quarter.
Hawks 65 Celtics 54: 2:52 3rd Quarter
The undermanned Celtics aren't getting blown out but the Hawks appear to be wearing them down. Boston seems limited on offense and outmatched on defense.
It's been Hawks 21 Celtics 13 since halftime and the momentum is tilting toward the Hawks.
Hawks 57 Celtics 49: 5:03 3rd Quarter
Kevin Garnett has quietly accumulated nine points and five rebounds tonight. Hawks center Jason Collins has done a decent job on him but he just picked up his fourth foul. Garnett is going to have to pick it up in the second half for Boston to stay in this game.
Keyon Dooling just broke the Celtics three point streak. They're now 1 of 19 in the series.
Meanwhile Josh Smith is the guy the Celtics have no answer for. He's got 16 points, 11 rebounds and five assists.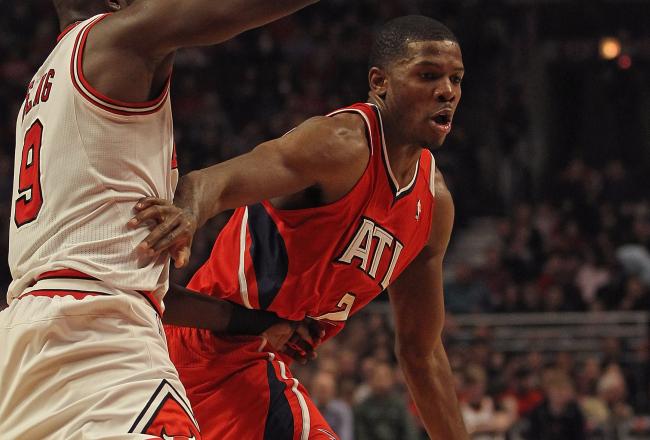 Hawks 51 Celtics 43: 9:29 3rd Quarter
The Celtics emerged from the locker room and immediately looked sloppy on the court. Turnovers, missed easy shots, not grabbing rebounds and the Hawks took advantage. Atlanta is on a 7-2 run and Boston doesn't even have a field goal in the second half yet.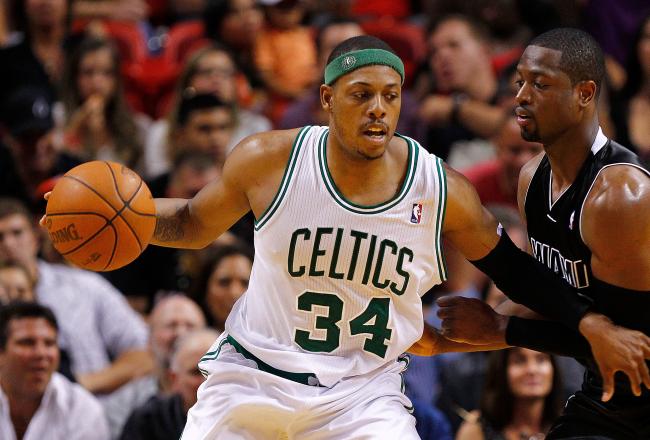 Hawks 44 Celtics 41: Halftime
The Celtics are going to have to find a way to slow down the Hawks backcourt in the second half. That's easier said than done of course. It still has to happen. Teague and Hinrich have combined for 20 points.
Teague could be real tough to slow down but Hinrich's points have come off of defensive lapses as opposed to Hinrich beating his defender or creating his own shot.
Atlanta has benefited from a complete lack of three point shooting by Boston this series. They were 0-11 in game one. They're 0-7 so far tonight. Will that keep up? If it does then this game will be tough for Boston to win but if some of those long range shots start to fall then Atlanta may find that the defense they feel so good about right now is actually not quite as good as they think.
Some numbers. Boston is shooting 43.6 percent from the floor. They have nine assists and five turnovers. They also have 19 rebounds and two of which are offensive.
Atlanta is shooting 41.9 percent. They have 10 assists and five turnovers. The Hawks have 19 rebounds as well but have five offensive boards.
The numbers look close. They should, it's only a three point game and it should be a dynamite second half.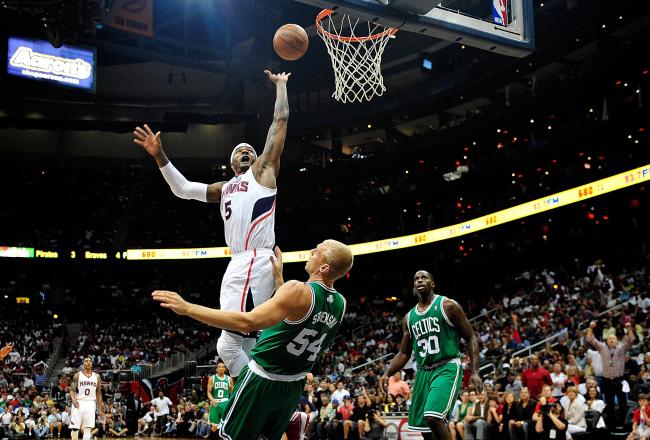 Hawks 44 Celtics 41: Halftime
Boston can't be too unhappy about where this game is at as the two teams head to the locker room. The Hawks finished the first half on a 15-7 run to take the three point lead.
The Celtics got a great first half performance from Paul Pierce who has a game high 16 points on 6 of 14 shooting. Pierce also leads the Celtics in rebounds with five and has two assists as well.
Atlanta has gotten big nights from a number of players. Most notably point guard Jeff Teague. Teague has been the Atlanta player who most seems to recognize the importance of this game. He's played with purpose and he's also taken advantage of the favorable match-ups he has as a result of both Rondo and Allen's absence.
Teague has 12 points and four rebounds. Josh Smith 10 points, six rebounds and four assists.
Hawks 42 Celtics 37: 2:03 2nd Quarter
Potential reasons for Atlanta's run? How about the lack of Kevin Garnett and Paul Pierce contributing for the Celtics?
That's probably why following a Doc Rivers timeout Pierce took two consecutive shots for Boston. He only made one but it broke the 9-0 run Atlanta was on.
It hasn't been enough though. It was 34-29 Celtics but since then it's been all Atlanta. It's a 13-3 run for Atlanta and the lead is five.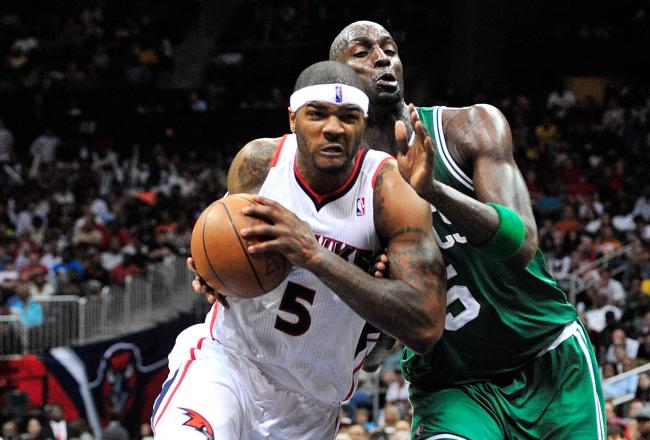 Hawks 38 Celtics 34: 4:22 2nd Quarter
A lighting quick 9-0 run by the Hawks is sparked by sloppy Celtics offense. Missed jumpers and turnovers will lead to fast breaks for skilled teams.
That's what is happening in Atlanta right now. Jeff Teague hit an open three and Josh Smith had a thunderous dunk to punctuate the run.
Boston needs to resist the temptation to match this run and instead must slow the pace, rebound the basketball and most importantly hit shots.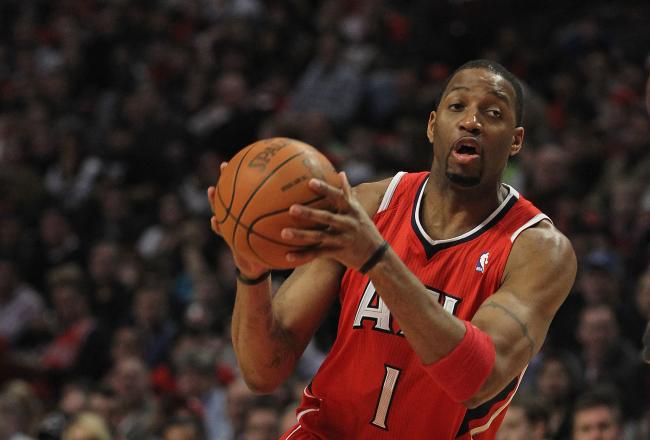 Celtics 34 Hawks 29: 6:58 2nd Quarter
Tracy McGrady. Yes that Tracy McGrady. The one that was at one time one of the dominant scorers in the NBA. He's a bench player for Atlanta and he makes contributions. Knee issues robbed him of his highlight reel athletic ability but he's learned how to play in the league with less flash. McGrady has three points and blocked shot in limited bench play tonight.
Boston has outscored Atlanta 10-5 this quarter. Brandon Bass has knocked down an open jumper and the team is getting balanced scoring from players not named "Pierce".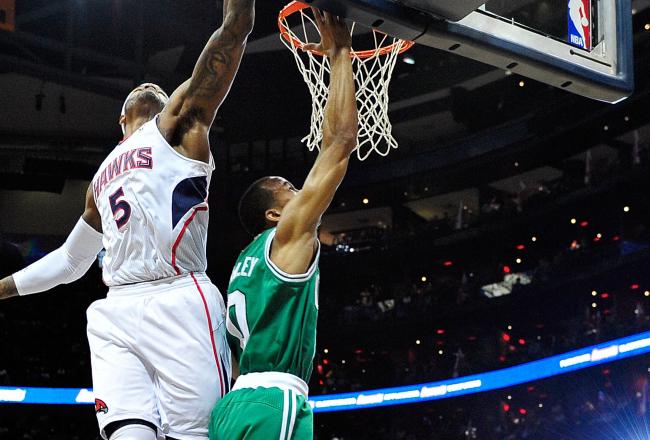 Celtics 28 Hawks 27: 9:49 2nd Quarter
Avery Bradley may be a somewhat unknown player to many in the Nation but high school hoops fans and college recruiting geeks will know who he is. The Bellarmine Prep student ( same high school as Jon Lester) was a 2009 McDonald's All American. He was one of the nation's top recruits and signed with Texas.
Boston probably wasn't the ideal situation for him with Hall of Fame Veterans and a coach in Doc Rivers who has never been a fan of giving young players tons of playing time. It took him a while but he's finding his place in the NBA and with Ray Allen a free agent this summer he could easily be a starter in Boston next year.
The second quarter much like the first has featured a decided lack of momentum for both teams. Neither team has really seized control of the game. That probably works to the Celtics advantage if it keeps up. Atlanta knows it's expected to win this one and the longer the outcome is in doubt the more they'll feel the pressure to put Boston away.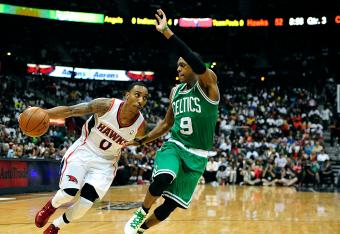 Hawks 24 Celtics 24: End of 1st Quarter
If not for Paul Pierce this game would be ugly for the Celtics. Luckily for Boston he's here and he's in rare form. He scored 12 points in game one and he's already got 13 tonight. He's also got four rebounds and two assists.
For Atlanta it's been the backcourt. Joe Johnson has been good but Jeff Teague has been doing a little of everything. His defense has been good and he's scored as well.
Boston shot 45.5 percent in the opening quarter while Atlanta shot 38.5 percent from the floor.
The Celtics are a weak rebounding team but so far tonight that hasn't been a huge issue. Boston holds a 12-11 advantage on the glass.
Hawks 17 Celtics 16: 3:14 1st Quarter
The Celtics struggled with bench production during the regular season and with key member of the bench forced into starting roles due to Allen and Rondo both being out the bench could be even weaker tonight.
So far that's not the case. Greg Stiemsma and Sasha Pavlovic have both been solid in limited time. The game is tight and so far neither team has found a groove for more than a possession or two in a row.
This article is
What is the duplicate article?
Why is this article offensive?
Where is this article plagiarized from?
Why is this article poorly edited?