St. Louis Cardinals: 3 Keys to Series Against Pittsburgh Pirates
May 1, 2012

Jamie Squire/Getty Images
The St. Louis Cardinals have played 21 of their 22 games this season against NL Central opponents en route to a division-leading 14-8 record.
That trend won't change this week, with the Cardinals taking on the Pittsburgh Pirates.
The Pirates have struggled their way to a 10-12 record this season, good for fourth in the NL Central.
How do the Cardinals keep their hot start going? Let's take a look at three keys to this week's series.
Get Adam Wainwright Back on Track
Wainwright has struggled mightily this season, compiling an 0-3 record and a 7.32 ERA. He's also allowed five home runs, something that he doesn't usually do.
The Cardinals ace is clearly not at 100 percent after Tommy John surgery in 2011, with his velocity suffering the most.
If he can get back on track with a quality start against Pittsburgh on Tuesday night, it'll be a good sign for the Redbirds.
Keep Pirates Hitters in Their Slump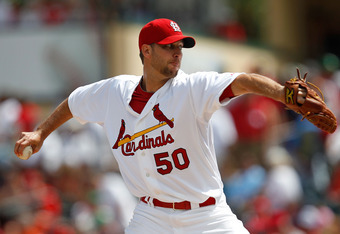 Sarah Glenn/Getty Images
As a team, the Pirates are only hitting .228. That's the fourth-worst team batting average in all of Major League Baseball.
Star outfielder Andrew McCutchen, despite hitting .302, has yet to hit a home run and has only driven in seven runs.
Pedro Alvarez (who struggled for much of last year) leads the team with five home runs, but has only nine RBI and is batting a measly .203.
If the Cardinals pitchers can keep both Alvarez and McCutchen from taking them deep, the Redbirds will be in a great position to sweep the series.
Find a New Pirate Killer 
Albert Pujols absolutely destroyed the Pirates during his time in St. Louis. It seemed like he hit at least one home run in every Cardinals-Pirates series.
Someone else needs to step into that role and start dominating Pirates pitchers on a regular basis.
With the way he's been playing lately, that guy might just be third baseman David Freese.
Freese is hitting .333 with five home runs and a team-leading 20 RBI this season. If he can keep that up against Pittsburgh, the Cardinals will be just fine.