NBA Playoffs 2012: Ranking the Best Bench Squads This Postseason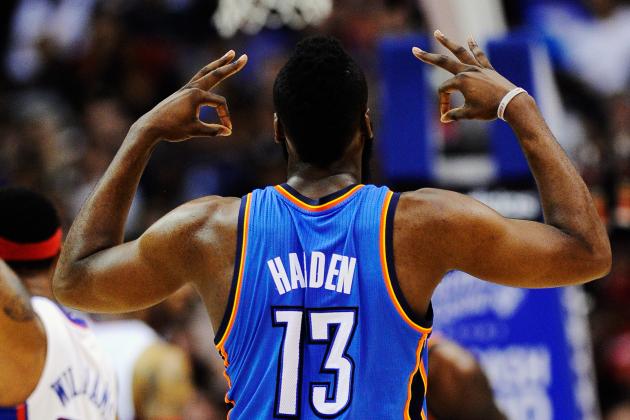 Kevork Djansezian/Getty Images

As the 2012 NBA playoffs begin, coaches of contending teams like the Miami Heat, San Antonio Spurs, Boston Celtics and Los Angeles Lakers will have a plethora of questions on their mind. Of these questions, one may be more vital than the rest: how deep and talented is the bench?
The sixth man of every team often sees his share of fame throughout the season and playoffs, but a bench runs much deeper than that single player.
Contributing quality production with limited minutes proves to be a pivotal aspect for any team's success come late April. Whether it is filling in for a resting player, taking over a role due to an unfortunate injury or simply just playing as a backup—the bench must at least stay competitive with opposing starters, or the team's championship hopes may become a past dream.
So who has the best benches amongst this year's field of championship hopefuls? Let's find out.
Begin Slideshow

»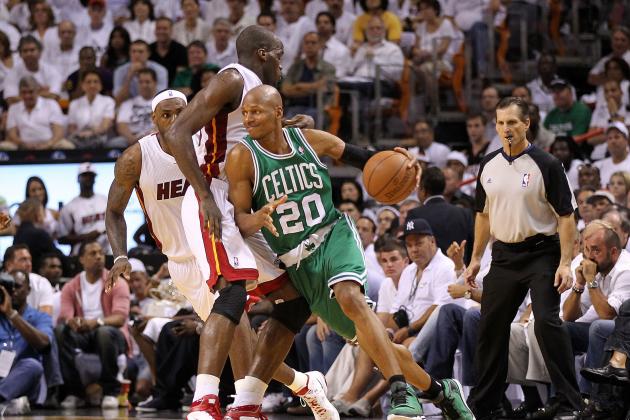 Mike Ehrmann/Getty Images

Since I am sure I will receive a fair amount of criticism—and accusations of being a homer—for putting the Boston Celtics on this list, I will preemptively defend myself by stating one player's name: Ray Allen.
When you are blessed to have one of the greatest three-point shooters of all time coming off the bench, you deserve a place on this list.
Playing a less significant role than in the past, Allen still averaged 14.2 points per game while shooting 45 percent from deep. Also, let's not forget the countless times that this dangerous shooting guard has hit shots in the clutch, especially come playoff time.
If Allen happens to start rather than come off the bench, time is shared with the very capable Mickael Pietrus.
For much of coach Doc Rivers' recent tenure, there has been a glaring void behind Rajon Rondo. With the role of backup point guard often being filled by journeymen or veterans past their prime, Avery Bradley has stepped forward and put his talents on display.
Coming off the bench to run an offense is one of the hardest roles to inherit, but Bradley has showed the ability to produce effectively and consistently—averaging over seven points a game on 50 percent shooting.
Other notable players include Greg Stiemsma, Keyon Dooling and Sasha Pavlovic.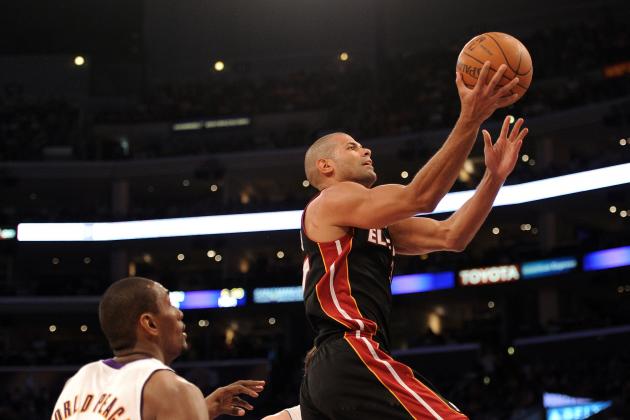 Harry How/Getty Images

There is nothing spectacular about the Miami Heat's bench—but there is professionalism, experience and solid all-around play.
With LeBron James, Dwyane Wade and Chris Bosh forming one of the most feared starting three, Shane Battier, James Jones, Ronny Turiaf and Norris Cole have formed one of the better benches in the playoffs.
While Cole and Turiaf may not dazzle crowds with flashy play and great statistics, they do provide depth with reliability. Turiaf is good for at least four rebounds per game while filling in at center, and the young backup point guard Cole scores just under seven points per game while avoiding turnovers.
Battier and Miller are the experienced veterans of the bench. Battier is amongst the league's leaders in charges taken and provides valuable perimeter defense during his time on the court. Miller has proven to be a steady presence on the boards as well as the scoreboard, averaging just under 20 minutes.
Although streaky, Jones proved last year just how dangerous his talent may be for opposing defenses. After converting 123 from long range last year, the sharp shooter provides coach Spoelstra with a deep threat for those crucial times in the playoffs.
Although the bench for the Heat may not have the ability to take over a game, they provide enough support for Miami's starters to have the luxury of resting while staying competitive.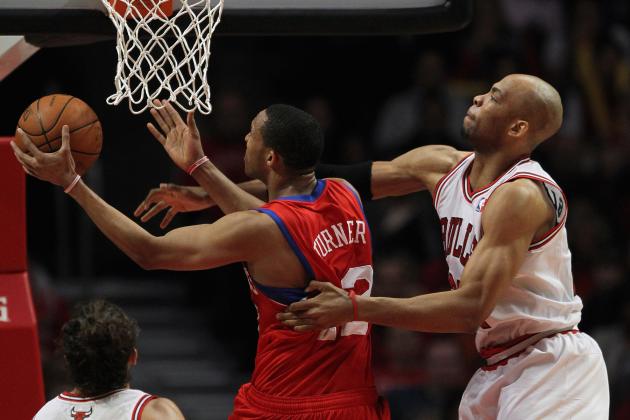 Jonathan Daniel/Getty Images

The Philadelphia 76ers are a surprisingly good team this year. Despite tailing off at the end of the season, they have been a solid young group of players. No player off the bench has been more valuable than the backup point guard, though.
As a pure scoring threat, Williams leads the team in scoring while coming off the bench—a valuable asset for any team. Scoring barely under 15 points per game while dishing over three assists per game, Williams is exciting to watch and gives the 76ers two very solid options as the floor general.
Shooting guard Jodie Meeks is another young player and is very capable of scoring behind Evan Turner, as he turns in over eight points a game.
Thaddeus Young comes in for starter Andre Iguodala at the small forward position and doesn't miss a beat replicating Iguodala's production. Scoring 12.8 points per game while grabbing over five rebounds, Young could be a starter on many teams. At Philly, he is yet another piece in a strong bench.
The exciting and young backups of the 76ers have the ability to take over the game while the starters rest. With such reliable depth on the bench—producing almost the same numbers as the starters—Philadelphia can feel assured when they take the floor.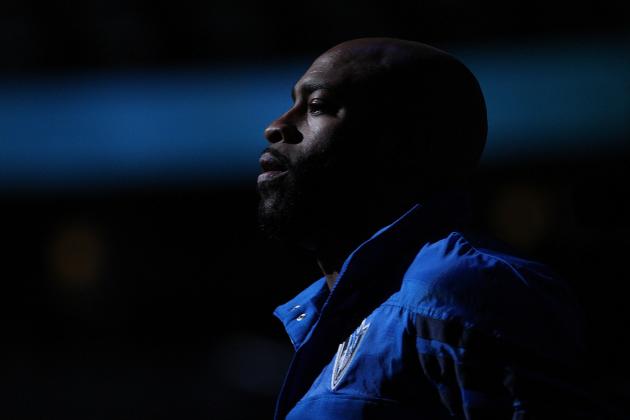 Ronald Martinez/Getty Images

The defending champs, despite the disappearance of Lamar Odom, still have one of the strongest benches in the playoffs—mainly because of the depth at the guard positions.
When two household names such as Vince Carter and Jason Terry begin games sitting on the bench, it is hard to argue Dallas' position here on the list.
We all remember Carter's days as the NBA's dunk champion. Time has progressed, and he has become one of the better secondary shooting guards in the league. Backing up Delonte West, Carter not only adds experience but is a reliable scorer with over 10 points per game. Along with scoring, he can, at times, show his leaping abilities on the boards.
Jason Terry comes in for Jason Kidd and adds a scoring threat to the point guard position. Wearing his famous headband, Terry is often the one making key plays and hitting crucial shots when Dirk Nowitzki is not.
This is no surprise.
We have seen, time and again, that Terry can take over a game and become a prolific scorer. On average, he is good for at least 15 points a game—plenty for a player coming off the bench who can take over at either guard position.
Besides the two proven scorers, Dallas finds themselves with even more scoring depth at the guard position with Rodrigue Beaubois.
The importance of the Mavericks' bench was seen by all on their way to the NBA championship last year, and things have not changed. When the bench plays well, the team wins. When the bench gets outplayed, they often lose. It is as simple as that.
Now just imagine if Lamar Odom fulfilled his potential.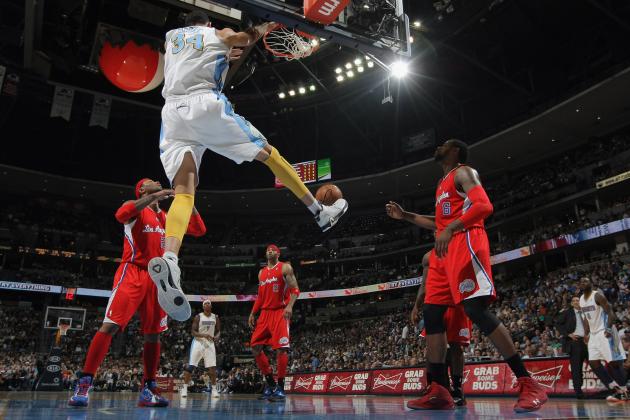 Doug Pensinger/Getty Images

An argument could easily be made that the Denver Nuggets' bench would also be a competitive starting team. With depth and scoring at nearly every position, Denver has the best bench in the 2012 NBA playoffs.
At shooting guard, the Nuggets have reserves Corey Brewer and Rudy Fernandez. Both guards average over eight points per game and provide multiple options in a single position for coach George Karl.
At point guard, the well-traveled Andrew Miller is a very reliable backup for a young Ty Lawson. His passing abilities and experience running an offense take pressure away from Lawson and leave the team with a reliable floor general in his absence.
Seven-foot center JaVale McGee is a force on the boards in his backup role. He amasses just under eight rebounds a game in less than 20 minutes. In tandem with his rebounding ability, McGee also shows a strong presence on the scoreboard—over 11 points per game.
At forward, Al Harrington and his 14.2 points per game come off the bench to relieve Kenneth Faried.
Harrington and Miller both provide extensive experience to the young team, as they have both seen over a decade of NBA action. Rudy Fernandez also has experience as an international star and Olympic competitor.
While Harrington and Fernandez are known for their scoring, Brewer and Chris Andersen do a fine job of defending the perimeter and key, respectively.
There is no doubt the Denver Nuggets have the strongest bench in the playoffs, and coach Karl is not afraid to utilize this asset—Harrington, Miller and Fernandez all see over 20 minutes per game.