College Football Final Four 2014: 10 Big-Time BCS Programs We Can Rule out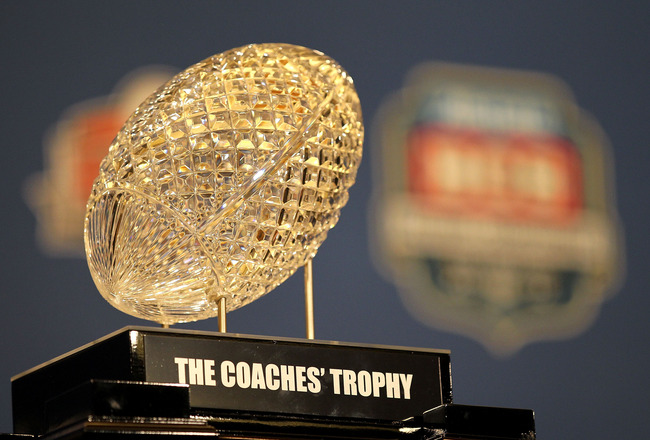 Andy Lyons/Getty Images
With the larger playoff possibilities virtually eliminated, it finally seems almost inevitable that there will be a four-team BCS playoff beginning with the 2014 season.
The exact locations and the way the playoffs will go has not yet been decided, but there will be a playoff in some form.
Perhaps the biggest question still holding things up is how the teams will be chosen for the BCS playoff.
Even though the details have not been finalized, it is never too early to already eliminate a few teams from contention.
These teams are either a few more years away from getting back to where they once were, or just do not have the talent to do so.
Here are 10 big time BCS programs that we can rule out for the 2014 BCS final four.
10. Texas Longhorns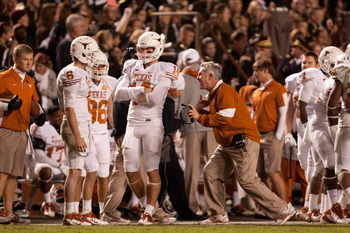 Darren Carroll/Getty Images
After struggling in 2011, the Texas Longhorns will certainly be better this season. They were in and out of the top 25 last year and finished the regular season 7-5, before defeating California 21-10 in the Holiday Bowl.
There is no question about the talent on the Texas roster, but Mack Brown has proved that he needs to have a lot of talent to be a national championship contender, and even with the players they have coming in, 2014 may just be one year off.
Texas had another solid recruiting class in 2012, and those players will be redshirt sophomores or juniors by 2014.
Chances are they will be good, but not championship caliber. The Longhorns appear to be three years away from seriously contending for a national championship, although with the amount of talent they have, becoming a mainstay in the top 25 should be no problem.
9. South Carolina Gamecocks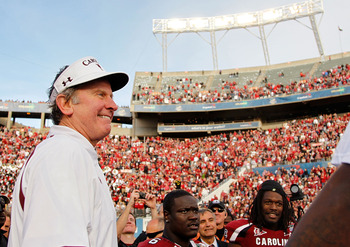 Mike Ehrmann/Getty Images
The main problem for South Carolina is they play in the SEC and it does not seem like LSU and Alabama are going anywhere anytime soon.
Even if South Carolina is better over the next few years, odds are they are not going to be as good as the Tigers or the Crimson Tide.
The BCS final four will probably include two teams from a conference, if necessary, but there is no way they are going to take three.
South Carolina is a relatively veteran team with about 14 upperclassmen in their starting lineup. They will need to have some huge recruits over the next two years, and that is not likely to happen. For the Gamecocks, 2012 may be their best chance.
8. Virginia Tech Hokies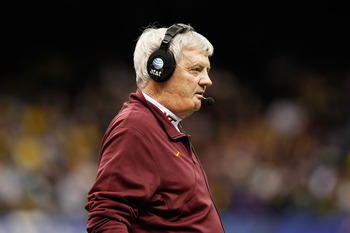 Kevin C. Cox/Getty Images
Frank Beamer is one of the longest tenured coaches in college football and has won a lot of games over the last 25 years.
The Hokies will be talented once again over the next couple of years, but not on the level of national championship talented.
One thing that may be the deciding factor in holding them back is the rise of the Florida State Seminoles.
Sooner or later, Jimbo Fisher is going to lead the Seminoles to the type of season everyone is expecting. The amount of talent on Florida State will be too much for Virginia Tech to handle, and if they don't win the ACC in 2014, there is no chance they will be able to play in the BCS final four.
7. Stanford Cardinal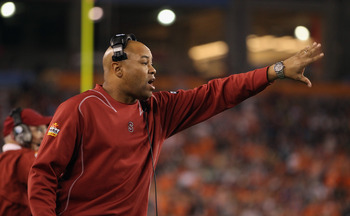 Christian Petersen/Getty Images
Stanford had a nice couple of years, led by one of the most talented quarterbacks college football has seen in a long time in Andrew Luck.
Now they will have to move on without him and chances are they are not going to be a top 10 team like they were last season.
The rise of USC over the past few years and the continued dominance of Oregon will make it even tougher on the Cardinal to contend for a national championship.
While they do have a talented recruiting class in 2012 and a lot of key contributors coming back, Stanford appears more likely for a third place finish in the Pac-12 over the next few years and a solid bowl game, but nowhere close to a national championship type season in 2014.
6. Arkansas Razorbacks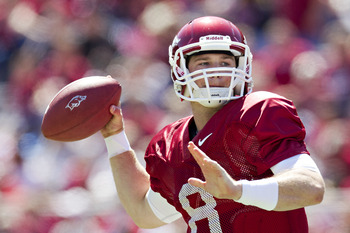 Wesley Hitt/Getty Images
With everything going on at Arkansas, it is hard to imagine the Razorbacks contending for a BCS National Championship in 2014, particularly with the likes of LSU, Alabama and Georgia in the SEC.
Even though Bobby Petrino is gone, Arkansas may have a better shot at a national championship in 2012 than 2014.
The two biggest names on the roster, Tyler Wilson and Knile Davis will no longer be at Arkansas in 2014, and it would be a little far fetched to imagine John L. Smith being able to lead a virtually new Razorbacks team to a national championship.
Things are still bright in 2012 for Arkansas, but beyond that is certainly up in the air.
5. Penn State Nittany Lions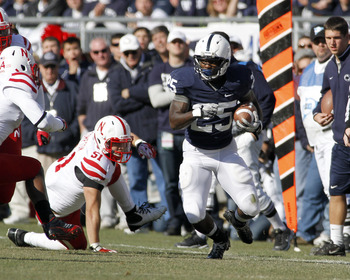 Justin K. Aller/Getty Images
Not many college football programs have gone through what Penn State has in the past 12 months, and it will likely take years to overcome and get back to where they once were.
New head coach Bill O'Brien will be taking over a program that is still has a lot of questions to be answered.
There is some talent coming back, and Penn State is always a decent team, but over the next couple of years, it is hard to imagine them finishing higher than the middle of the pack in the B1G and there is certainly no chance of them contending for a BCS National Championship.
4. Oklahoma State Cowboys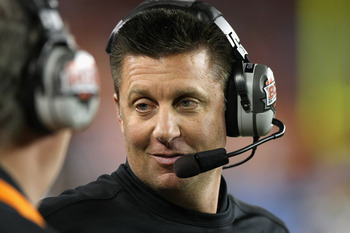 Donald Miralle/Getty Images
Mike Gundy has turned the Oklahoma State program into a national championship contender over the past few years, culminating with a Fiesta Bowl victory and a No. 3 ranking at the end of last season.
Next year they may take a step back, with multiple losses on offense, including wide receiver Justin Blackmon and quarterback Brandon Weeden moving on to the NFL.
They may still be a top 25 program next season, but have not had a top-25 recruiting class either of the last three seasons, and with a lot of talent departing, they do not appear poised to contend for another national title any time soon.
Mike Gundy is a great coach, but the Cowboys will not be national championship contenders again any time soon.
3. Miami Hurricanes
Mike Ehrmann/Getty Images
The Miami Hurricanes may not even be eligible for a bowl game in 2014, judging by what is going on with the program right now.
Miami had their first top-15 recruiting class in a few years in 2012, and talent-wise appear to be headed in the right direction.
Whether or not they get there or not will hinge heavily on what happens with the NCAA ruling.
Even if they are not placed on probation, the Hurricanes are certainly not ready to be national championship contenders any time soon.
Eventually, they will get back to where they once were, but that will not be by 2014.
2. Florida Gators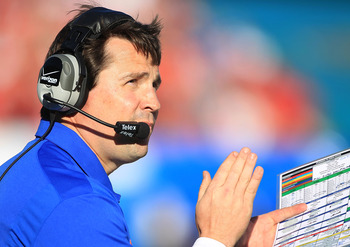 Scott Halleran/Getty Images
Will Muschamp did not have a bad first season at Florida in 2011, but things are never easy in the SEC.
The Gators appear to be headed toward the middle of the pack for the next few seasons, and have a lot of young talent, but also questions that need to be answered, including the quarterback situation.
The Gators won seven games last season, but lost both running backs and quarterback John Brantley on offense.
There is a rebuilding process that appears like it will take a few years for Muschamp and the Gators to get back to the national championship contenders they were under Urban Meyer.
1. Notre Dame Fighting Irish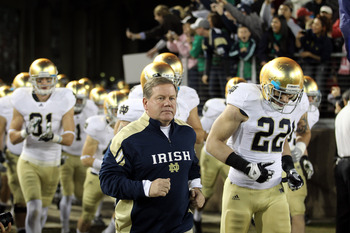 Ezra Shaw/Getty Images
Even though Notre Dame is not in a BCS Conference, they are one of the founding members of the BCS and remain one of the biggest name programs in the country.
With things going the way they have over the past few seasons for Notre Dame, it is not likely they will ever return to what they once were decades ago under Lou Holtz.
Times have changed, and Notre Dame will be very good under Brian Kelly for the next number of years, but contending for a national championship does not appear to be in their future.
A BCS bowl game is not out of the question for the Fighting Irish, but the recruiting classes and the higher standards are something they are never going to be able to overcome.
It is possible however for a 10-2 season and BCS bowl game.
Keep Reading