NBA Draft 2012: 6 College Studs Destined to Be Reached for by Desperate Teams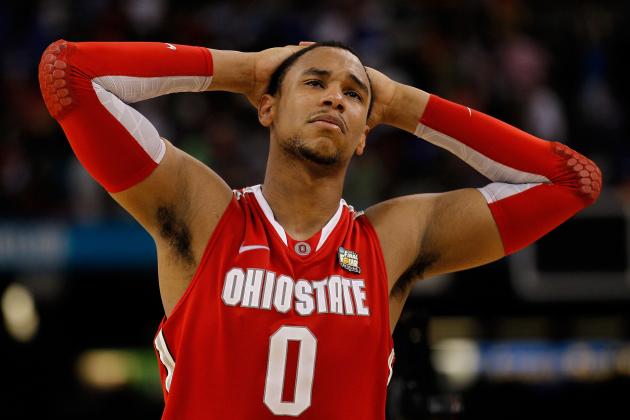 Chris Graythen/Getty Images

Certain college studs are obviously going to be snatched by desperate teams. Anthony Davis, Michael Kidd Gilchrist and Bradley Beal will all likely be top-five picks who could take on the role of "franchise savior" for their respective squads.
Players such as these are almost surely going to be high-quality NBA players and likely All-Stars. There isn't much risk in selecting them.
There are, however, players who are categorized as "high risk/high reward." While there may be concerns surrounding them, they will still likely climb up the draft board because a desperate team will select them.
Here are six "high risk/high reward" players in the 2012 NBA draft. Will these college ballers prove to be studs in the NBA, or will the concerns hovering over them prove to be valid?
Begin Slideshow

»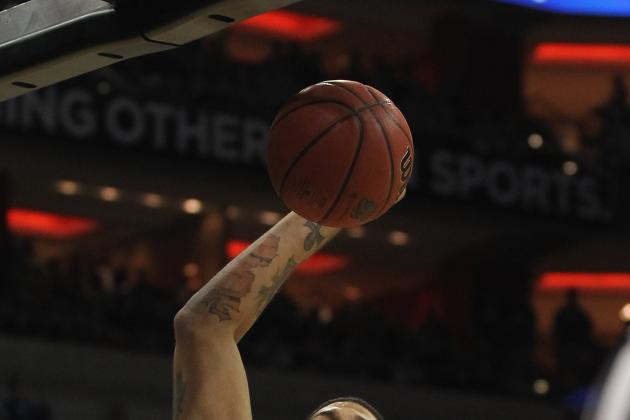 Jonathan Daniel/Getty Images

On the basketball floor, Royce White is a proven product. He stands 6'8'', weighs in around 240 pounds and can handle the rock like a point guard.
White raised many eyebrows this year with his remarkable versatility, including an impressive performance against star-studded Kentucky in the NCAA Tournament.
Unfortunately, White is a mystery off the floor. He possesses an anxiety disorder and an apparent fear of flying. These are undeniable red flags.
White's off-the-court issues make him a risky selection, but expect a team to still nab him in the middle of the first round. His talents are vividly clear and a suitor, such as the Boston Celtics or Dallas Mavericks, will hope his off-the-court issues get ironed out in due time.
How Will White Look in Five Years?
A steady starter, but not an All-Star (13.2 points per game, 6.7 rebounds per game, 3.9 assists per game).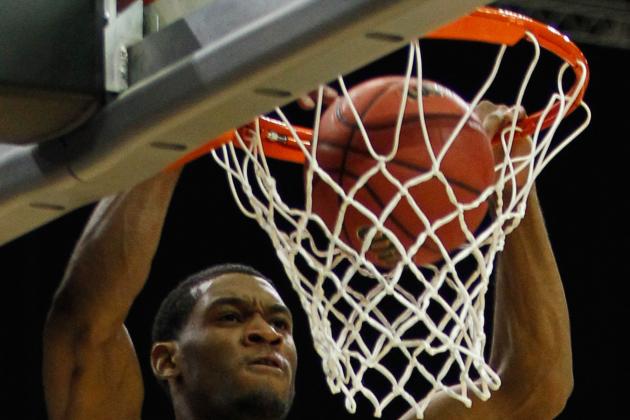 Streeter Lecka/Getty Images

Perry Jones III has sky-high potential. His athleticism and length make him a ripe NBA prospect.
But he's a bit of a tweener, as it's uncertain if he's a better fit at power or small forward. We've surely seen this type of prospect before (need a few prime examples: Darius Miles, Tyrus Thomas, Anthony Randolph).
These concerns are validated by his performance this past season. In comparing his freshman numbers in 2010-2011 to this past year's, there's not much improvement, if any. There's concern if his game will reach new levels once he hits the NBA hardwood.
Despite the worries, his upside is surely enticing and a team will likely snag him in the lottery. But Jones III is definitely not the "safest" pick in the draft. His career could go in a bevy of different directions.
How Will Jones III Look in Five Years?
A decent starter but not reaching his full potential (10.7 points per game, 5.6 rebounds per game).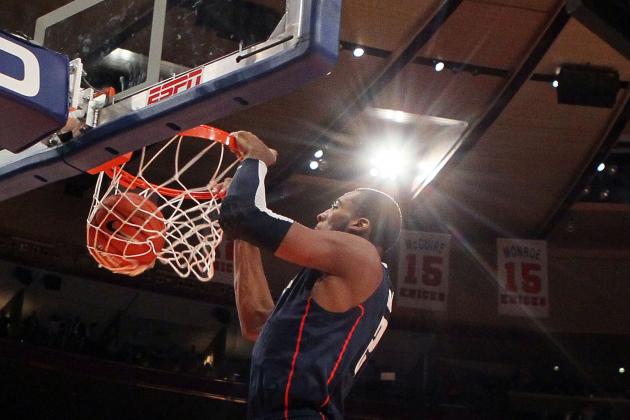 Jim McIsaac/Getty Images

Andre Drummond has the prototypical body for an NBA center. At 6'11'' and 275 pounds, Drummond surely has the attention of NBA scouts.
What's more, he's only 18 and has already shown flashes of being an intimidating defender.
His downside is that he had a rather underachieving year as a freshman at UConn. He averaged a ho-hum 10 points per game and shot an absolutely pathetic 29.5 percent from the charity stripe. Those numbers don't exactly hint at dominance.
Despite the concerns, Drummond's unique body hike him up the draft boards and it's probable that he'll get selected in the top 10, likely even the top five. Teams will at least hope he can become a consistent double-double machine and an intimidating shot blocker.
How Will Drummond Look in Five Years?
A starter and a respectable defensive stalwart, but not an All-Star (9.5 points per game, 9.3 rebounds per game, 2.3 blocks per game).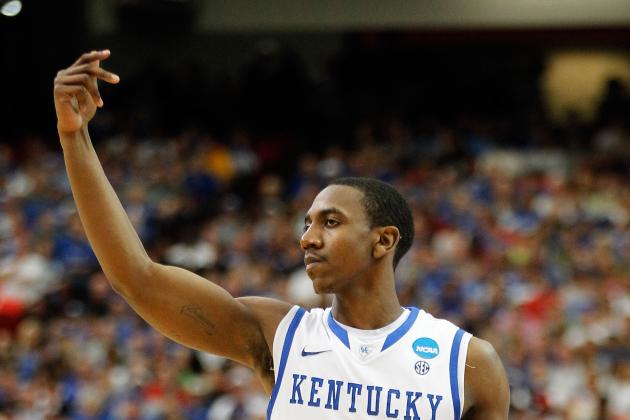 Streeter Lecka/Getty Images

Marquis Teague, brother of Atlanta Hawks guard Jeff Teague, had a stellar year for the national champion Kentucky Wildcats, but it's irrational to foresee Teague being a potential top-tier point guard in the NBA.
Teague can penetrate effectively and is an above-average defender, but he often plays out of control and lacks a consistent perimeter jump shot.
In a normal year, Teague would likely be a point guard who would fall into the second round. However, because there are a lack of quality point guards in this year's draft, a team desperate for a floor general will likely add him in the mid to late first round.
This bodes well for Teague, but the team that selects him should not expect a superstar in the making.
How Will Teague Look in Five Years?
A developing starter, similar but not as good as Jrue Holiday (10.3 points per game, 5.1 assists per game).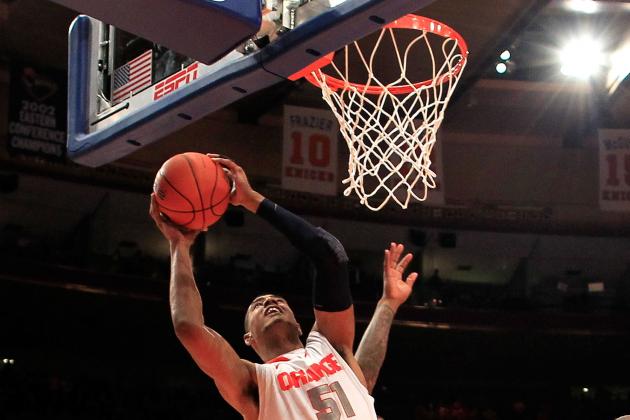 Chris Trotman/Getty Images

Fab Melo, similar to Drummond, is the perfect body type for the center position in the NBA. He's 7'0'' and thick, weighing in around 275 pounds.
Melo has the potential to develop into a rebounding machine in the NBA. He could certainly become an imposing big man.
But we've thought this same thing about guys like Hasheem Thabeet and DeSagana Diop, who are simply too raw to make major noise in the league.
Melo's in this same mold. He's incredibly raw and doesn't possess a high basketball I.Q. Therefore, at best, he'll become a decent defensive presence but not a big man to build a team around.
Despite this, he'll almost certainly be taken in the first round because teams are always desperate for size. Expect him to go in the mid-to-late first round.
How Will Melo Look in Five Years?
Backup center (4.3 points per game, 4.1 rebounds per game, 1.1 blocks per game).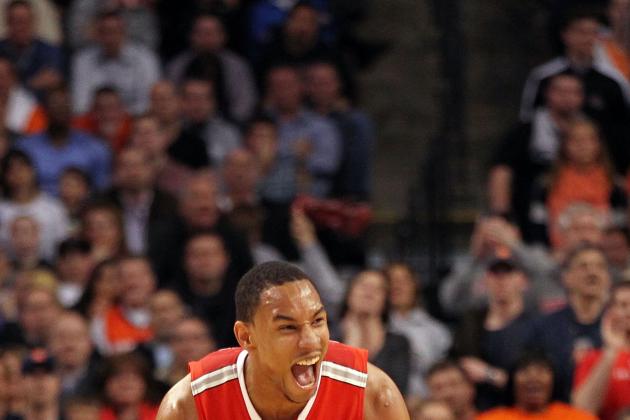 Jim Rogash/Getty Images

Jared Sullinger has been a hyped NBA prospect for the past two years. At times, he's looked dominant in the low post, like a beastly big man who could become a load to handle in the NBA.
On other occasions, namely in this year's NCAA Tournament, he's looked rather lacking. For instance, against Kansas in the Final Four, Sullinger's athleticism looked subpar, especially compared to Kansas big man, and likely top-five pick, Thomas Robinson.
This has caused concerns if Sullinger's NBA career could be reminiscent of former North Carolina standout (but NBA flop) Sean May or perhaps Glen "Big Baby" Davis. If so, "Sully's" undoubtedly over-hyped.
Despite the concerns, a team will still likely take a chance on him, potentially even in the lottery.
Out of all these guys, Sullinger could be the greatest "high risk/high reward" prospect. He could become a potent double-double threat in the low post, but it wouldn't be shocking to see his NBA career never get off the ground (much like May).
How Will Sullinger Look in Five Years?
An average starter on the verge of losing his position (10.2 points per game, 6.4 rebounds per game).