Fantasy WWE: Friday Night Smackdown (4/27)
Hey Bleacher Report! This is another episode of Fantasy WWE's Smackdown. Please leave a rating at the end of this episode with a rating from one (awful) to 10 (amazing) and give us your opinion. We really appreciate it.
For those who have never seen these articles before, Raw (Michael Broughton and Will Owen) and Smackdown (Charlie Gregory, Jack McKenzie and George Cushnie) have all drafted their own rosters and are now creating our own fantasy shows. Here is the Smackdown roster:
Smackdown Roster
CM Punk
The Miz
Dolph Ziggler
Cody Rhodes
Daniel Bryan
Christian
Alberto Del Rio
Zack Ryder
John Morrison (Drafted to Raw)
Kofi Kingston
Jack Swagger
Evan Bourne
Justin Gabriel (Drafted to Raw)
Big Show
Ted DiBiase (Drafted to Raw)
Sin Cara Azul
Sin Cara Negro
Santino Marella
Jimmy Uso (Drafted to Raw)
Heath Slater
Curt Hawkins
Trent Barreta
Tyler Reks
Brodus Clay
Richie Steamboat
Dean Ambrose
Kharma
Natalya
Gail Kim
Maryse
Eve Torres
AJ
Death Rey
Teddy Hart
Kurt Angle
Jeff Hardy
Jinder Mahal
Promo: Santino Marella, Alberto Del Rio and Cody Rhodes in-Ring Segment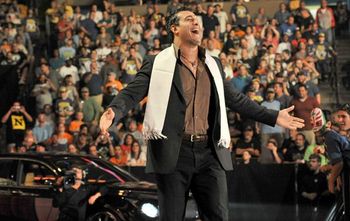 Santino Marella's music hits to open Smackdown, and the crowd pops crazy for the Italian Stallion.

Matthews: "What a way to start off Smackdown! It's the former Intercontinental Champion, Santino Marella. Let's see what he's got to say about what happened last week during his title rematch with Alberto Del Rio."

A video package of last week is shown with Santino getting the upper-hand on Del Rio before Cody Rhodes interfered. The package shows Cody taking out Santino and running off with the title belt.
Striker: "He's got every right to be upset, Josh. Santino was in a great position to regain the title and Cody took that away from him, literally!"
Santino: "Let me take you back to last year. I was going nowhere on Raw, and I'd become a comedy figure. I knew that, and I was happy to take my paycheck because I was scared of being let go. I had fun, and that's all I had to do to, but I wanted something more.
Then, the WWE decided to shake things up with a draft and I was traded here to Smackdown. I realised that this was my chance to change. I wanted to be recognised as a serious competitor instead of a joke. In order to do that, I set my sights on the championship that I won in my very first match in the WWE, the Intercontinental Championship.
Cody Rhodes had the belt, so he was my target. I overcame him. Then, at WrestleMania, I was on top of the world defending my title on the grandest stage of them all. In a five-man gauntlet match, I defeated Cody once again and then the Miz in quick fashion. I was ready for Dolph Ziggler, but as we went back and forth, Cody decided to interfere and cost me my title.
Alberto Del Rio was able to capitalise and win. I was supposed to get my rematch last week, and during the match, Cody interfered again. Well, I'm sick of it. This has got to stop!!!"

Matthews: "Santino makes a good point. He has been screwed twice out of what was his title."

Striker: "Cody's done exactly what he said he'd do last week. Everyone's talking about him!"
Santino: "Cody's nothing but a thief. He's stolen the title, he's ruined my opportunities, and spoiled my moments. He's tried to get the spotlight back because he can't hack the fact that I've beaten him twice when the title's been on the line. Cody's just a sore loser, and I'll be damned if he gets between me and the Intercontinental Championship!"
Cody Rhodes music hits and a chorus of boos come from this hot crowd. He has a microphone in hand; the title is strapped around his waist as he walks to the ring.
Cody: "Santino, Santino, Santino. You think you've stolen my spotlight? You must be in denial! I'm the future of this company, not you. You think I've stolen these things from you? Maybe you didn't deserve what you had. Maybe your victory was nothing but a fluke. Trust me, it'll never happen again!
I've now got back what's mine: the Intercontinental Championship. I brought back prestige to that title, and you ruined it during your two-week joke run with it. You ruined the legacies of men like The Rock, Stone Cold, Triple H, Shawn Michaels and me when you walked into Miami with this title.
Like any normal person would do, I took matters into my own hands and stopped you from disgracing the title any more. The funny thing is, Santino, that you've always been a joke, right from day one when Bobby Lashley helped you steal the title from Umaga. Even your fluke win over me was a joke. No matter what you do, you're always gonna be a joke!"
As soon as Cody pauses for breath, Alberto Del Rio's music hits and he struts down the ramp to a sea of boos. He also looks like he's here to talk business!

Striker: "Ah, here's the champ. Alberto's the man that everyone pays to see!"
Matthews: "I don't think the crowd's too happy to see him though Matt."
Alberto: "Well, it's a good thing I'm out here, because you two are boring this crowd to death! You're not in my league, Santino. I hope you get drafted to Raw so that I don't have to put up with you again!"
"Now, on to you Cody Rhodes. It feels like I'm missing something. Oh, that's right, last week you high-tailed it out of the arena with my championship!"
"Because I respect you, I'm going to give you a chance to give me my title back."
Cody: "Alberto, if you're the greatest champion ever, surely you should be a fighting champion! Now, as we both respect each other, how about you give me a title shot?"
Alberto: "I accept your challenge, but I say we save the excitement for No Mercy and face off there. These fans here tonight don't deserve to see us face each other!"
Both men shake hands, the crowd boos and Santino shakes his head. Just as Cody hands the title back to Alberto, Smackdown GM Michael Cole appears on the titantron.
Cole: "Gentlemen, let me ask you when you replaced me as the General Manager of Smackdown? Did the board of directors make a decision without informing me? No, so it'd serve you well to remember that I'm the GM of Smackdown."
"I won't deny that you two would put on a pay-per-view-worthy match, but we need to be fair about this. Santino has been screwed twice in recent weeks, so tonight, we're going to have a No. 1 contenders match for the Intercontinental Championship. Cody Rhodes and Santino Marella will face each other one-on-one tonight, and the winner will face Alberto Del Rio for the title at No Mercy!"
With that announcement, del Rio and Rhodes nod at each other and leave the ring. Santino starts working up the crowd, signalling that he's going to get his belt back!
Matthews: "Ladies and gentlemen, we've just received word that Chris Jericho is in the building tonight, but coming up next, the forgotten man of Smackdown, Dean Ambrose, will be in action!"
Match 1: Dean Ambrose Open Challenge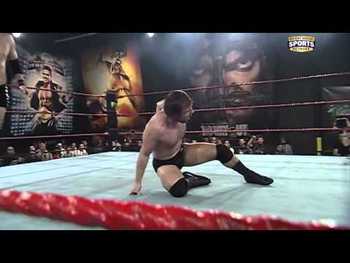 As we come back from commercial, Dean Ambrose's music hits, and he cockily walks to the ring, laughing at all the fans. He picks up a mic as he gets in the ring.
Ambrose: "For the past few weeks, I haven't had a match on Smackdown. I don't know why because I'm truly the best wrestler on this roster and the future of this business. I'll prove it tonight against ANYONE who thinks they can beat me!"
Jeff Hardy's theme hits, and Jeff comes out to a massive pop! He slaps the hands of all the fans and jumps onto the apron, then into the ring. He stares at Ambrose, who's thrown down his mic. The referee rings the bell and this match is underway!
The two men lock up in the centre. Hardy gets the upper hand first with a kick to Dean's gut, before locking in a headlock. Another kick from Jeff Hardy, and now, he locks in an armbar on Ambrose. He runs off the ropes and connects with a dropkick on Ambrose, who gets straight back up but is then hit with a hurricanrana.
Once again, though, Ambrose gets straight back to his feet, but a big DDT from Hardy sends Ambrose crashing down. He runs at Ambrose and hits a double legdrop. Jeff goes for the cover. 1...2...KICK OUT!!
Matthews: "This match hasn't been going for long, but Hardy's all over Ambrose!"
Striker: "Maybe by the end of this match, Ambrose will have to choose his words carefully next time round."
Hardy tries to lock in a Boston crab, but Ambrose kicks him away. Ambrose staggers to his feet and Jeff runs at the turnbuckle. He tries to go for Whisper in the Wind, but Ambrose reverses it into a backbreaker!
Matthews: "Oh my god! Jeff will be feeling that one for weeks!"
Striker: "Jeff landed hard after that backbreaker. This could be the turning point of the match for Dean!"
Ambrose picks Hardy up by the hair and taunts the crowd. He sends him into the corner and runs at him hitting a fierce clothesline. Ambrose follows up with some big left and right hands before nailing a running knee. Hardy is down, and Ambrose goes to the top rope. He taunts the crowd and laughs as Hardy struggles to get to his feet. He waits in the corner for Jeff to get up and then sends him straight back down with a flying clothesline!
Ambrose now locks in a headlock of his own on Jeff, who is struggling to break free or touch the ropes. After a number of minutes, Hardy finally reaches the ropes and Ambrose breaks the hold. He drags Hardy back into the middle of the ring, where he lands some kicks and then locks in the crossface chickenwing.
Matthews: "Jeff is in a WHOLE lot of trouble here. He has been totally beaten and dominated by Ambrose since that backbreaker. Jeff may need medical attention after this match!"
Striker: "That's right Josh, but remember. Jeff Hardy is one of the most resilient superstars we've ever seen in the WWE. This isn't over yet."
Ambrose eventually releases the hold after Hardy stops fighting to break free. He goes for the cover. 1...2…Kick out! How did he manage that?! Ambrose is fuming. He runs at the ropes and tries a legdrop, but Jeff rolls out of the way.
Jeff somehow jumps to his feet and nails Ambrose with a falling knee to the head. Hardy uses the ropes to climb back to his feet and taunts Ambrose. Ambrose gets to his feet and runs at Hardy. Both men have the same idea, though, and hit each other with a clothesline, and both men are down.
Again, though, Hardy jumps to his feet! The crowd are going crazy, but wait! Ambrose also gets to his feet.
Ambrose points and laughs at Hardy, so Jeff kicks him in the gut and follows up with the Twist of Fate!
Matthews: "This is it, Matt! This could be the end for Ambrose!"
Hardy climbs to his feet and taunts Ambrose. He climbs the top rope and taunts Ambrose once again. He tries the Swanton Bomb, but somehow, Ambrose reverses it into ANOTHER backbreaker! Both men are down, but Ambrose climbs to his feet first.
He goes for a cover, but Hardy reverses into a neck wrench! He holds it in as tight as he can, but Ambrose reaches the ropes. Hardy uses the whole of the referee's count before he releases the hold.
He looks over Ambrose's motionless body and taunts him again. Ambrose isn't beaten, though. Hardy drags Dean to his feet. As he gets up, Ambrose punches Hardy straight in the face! Both men are now on their knees.
The two men trade blows. They get to their feet and Ambrose hits a big boot on Hardy. Jeff tries to get up, but Ambrose sends him straight back down with a piledriver! Ambrose reaches an arm over Hardy. 1...2...KICK OUT! Hardy once again somehow manages to kick out!
Matthews: "This match has been brutal! It seems as if these two want to prove to the WWE Universe exactly how good they are!"
Striker: "They've both put up an amazing battle Josh."
Ambrose is angry. He drags up hardy and screams at him! He follows up with a suplex into another cover! 1...2...KICK OUT! Hardy kicks out again! Jeff slowly makes it to his feet, but Ambrose sends him straight back down with a dropkick. Dean looks focused now, and he locks in the crossface!
Hardy tries to fight out and reach the ropes, but Ambrose keeps it locked in hard using all his strength. Hardy reaches the ropes, but Ambrose doesn't let go and releases at a count of four. He drags Jeff back into the middle and reapplies the crossface. After another 15-20 seconds, Jeff's got no choice but to tap out.
Winner: Dean Ambrose (Match Time: 8:56)
Ambrose looks down at Hardy and taunts him. He then starts to kick away at Hardy's head. The referee pulls him off, but Ambrose just shoves him away. He picks up Hardy and hits the Midnight Special before taunting Hardy some more. Eventually, he leaves the ring and walks up the ramp whilst some backstage officials come out and check on Jeff.
Promo: Richie Steamboat Backstage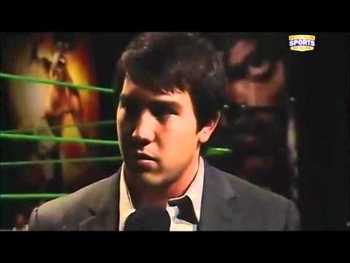 Richie Steamboat walks towards the ring, with a mic in hand, to a nice pop from the crowd. He enters the ring and immediately starts to speak.
Richie: "At No Mercy, I'm going to take Christian out. Simple. At, No Mercy, I'm going to win and Christian's gonna lose. Whether it's by pinfall or submission, it doesn't matter. Before we get there, though, I've got someone I need to deal with. His name…is Heath Slater!
Week after week, he comes to the aid of his "mentor" Christian, and he tries to attack me or Zack Ryder. He helps Christian to win matches, but it doesn't do him any good. When he tried to get the upper hand on me the other week, I hit him twice with the same move I've been using on him the past couple of weeks. That move…is called "The Flying Dragon."
Heath knows what that move feels like, but Christian hasn't. That's all going to change at No Mercy when I beat him to become YOUR new Light Heavyweight Champion!
Getting back to Slater. Tonight, I'm going to take Heath out of the picture. Slater, get your ass out here. I want a match with you right here, TONIGHT!!"
Heath's music hits, and he stands at the top of the ramp smiling. He lifts a mic to his mouth.
Heath: "Just shut up, Richie. You'll never, EVER beat Christian. He's the greatest wrestler you'll ever see. He's a true legend, someone who rose up and became a part of history. He's won everything there is to win. What have you won? You're just a wannabe. You come to WWE and think you can become a true great of this business? You're crazy."
"As for me? I'm glad you think you're better than me. I'm glad I'm 'getting in your way;' that's what I want to do. I want to beat you, Richie; you don't deserve to be here and you don't deserve a title shot. So as far as your plans for tonight go, yeah, I'll face you, but let's get one thing straight! I'll be the one who takes YOU out of the picture! I'll be the one who slays the Flying Dragon!"
Heath drops the mic and walks away. Richie is smiling in the ring
Match 2: Air Boom vs. Fortunate Americans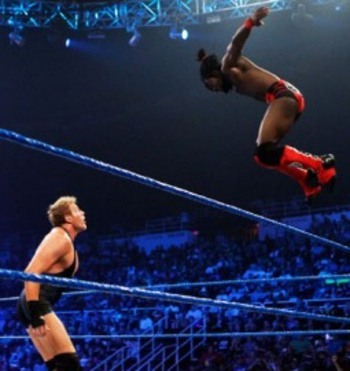 We kick off this match with the Tag Team Champions, Air Boom, making their way to the ring. Kofi and Evan look pumped up for this! They've got a point to prove to their No. 1 contenders, Hawkins and Reks, tonight.
Their opponents, The Fortunate Americans, are out next. We haven't seen or heard from them since WrestleMania, so they must have taken their defeat pretty badly. As they get into the ring, they start arguing about who's going to start this match with Evan Bourne. Eventually, they decide that Ted DiBiase will start off with Evan Bourne.
Both men lock up in the middle of the ring, and DiBiase uses his strength to shove Bourne away. As Bourne gets back up, DiBiase goes to meet him and slaps him across the face. Bourne reacts angrily and takes Ted down with a Thesz press. He punches him with lefts and rights and won't stop until the ref drags him off before he reaches a count of five.
Bourne turns around and pumps up the crowd. They're loving it!
Matthews: "Matt, Evan Bourne looks pretty intense tonight. This is a side of him that we've never seen before!"
Striker: "That's because Air Boom know that their tag-team title reign is under threat from Curt Hawkins and Tyler Reks!"
DiBiase staggers to his feet, and Bourne kicks Ted in the hamstring. Swagger moves across to the middle of the apron and tells DiBiase to up his game! As Swagger turns around, Bourne whips Ted into the ropes, and he accidentally knocks Swagger off the announce table into the announce desk!
As he comes back off the ropes, Evan connects with a picture-perfect dropkick on Ted. Evan makes the tag to Kofi. Kofi springboards off the ropes into a flying clothesline on DiBiase. He's taken a lot of punishment so far.
Kofi covers Ted, and the ref counts 1….2…kick out by Ted. He's got no help. Swagger is still out of it on the outside of the ring. Kofi picks Ted up and scoop-slams him down to the mat.
Kofi's feeling the energy off the crowd and tells us it's time for the Boom Drop. BOOM!!! BOOM!!! BOOM!!! He connects with the Boom Drop and goes for another cover. 1…2… and Ted barely gets his shoulder off the mat.
The Fortunate Americans have barely been able to get into this match. Swagger is coming to on the outside, but still hasn't made it to his corner.
The ref goes to check on Swagger on the outside as Kofi follows him. With the ref distracted, Kofi turns around and DiBiase low-blows him!
Matthews: "How can DiBiase be happy with that? He's just blatantly cheated. That's a disqualification right there."
Striker: "He had to do something to get his team back into this match. At the end of the day, Josh, a win is a win."
DiBiase gets to his feet and smiles to the crowd. He's getting huge heat for the low-blow on Kofi. He picks Kofi up and whips him off the ropes. Ted catches him with a spinebuster on the way out. Kofi's head landed hard on the mat. Ted goes for the cover. 1…2… Kofi JUST gets his shoulder up before the 3.
DiBiase's smirking now, as he's in complete control of the match. He whips Kofi off the ropes again and backdrops him to the mat, landing hard on his head again. Evan Bourne looks concerned on the apron. The ref asks Kofi if he wants to continue. Kofi says yes.
Meanwhile, Ted walks over to Evan Bourne in the corner and kicks him off the apron to the outside!
Ted helps Kofi up to his feet. Kofi looks out of it. Ted turns to the crowd, smiles and connects with Dream Street! It looks like the tag champs are going to lose this match. As Ted goes to cover him, Swagger comes into the ring, grabs him by the waist and connects with a gut-wrench powerbomb. The ref rings the bell for a DQ.
Winners by DQ: Fortunate Americans (Match Time 8:43)
After the match, as the referee helps Kofi to his feet, Swagger picks Kofi up over his head and throws him over the top-rope into Evan Bourne!
Jack then turns his attention to his tag-team partner and asks for a mic.
Swagger: "Teddy, you've been holding me back for far too long. I'm a former World Heavyweight Champion. I'm the best pure wrestler on Smackdown, yet we can't even win the tag-team titles! That's your fault Teddy. All your money can't buy me off, or stop me from doing what I want, when I want to do it."
Then he nails Ted in the head with the microphone, knocking him to the mat. Swagger flips DiBiase over and locks in the AnkleLock. He's got it locked in tight, and Ted's screaming in pain. The ref tries to pull Swagger off Ted, but Jack pushes him away. He's twisting on Ted's ankle really hard.
The ref calls for help from the back as Smackdown officials rush down to the ring. They're pleading with Jack to release the hold. He refuses, but eventually, they pull him away from Ted and drag him out of the ring.
The camera pans the ring, and we see DiBiase lying in the middle of the ring and Swagger smiling as he makes his way up the ramp.
Promo: Divas Backstage Segment with Michael Cole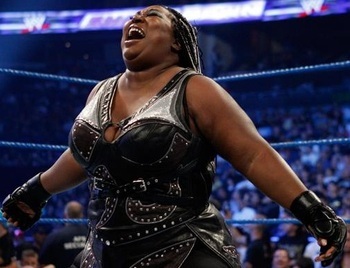 Kharma and Death Rey storm into Michael Cole's office as he's on the phone. He tells his contact he'll call them back.
Both ladies stand on either side of Cole and he looks intimidated.
Rey: "Mr Cole, doesn't it seem strange to you that two of the most dominant Divas the WWE has ever seen don't have any gold to show for it? We've gone through every single Diva here, and they can't touch us. Surely, that makes us the best Smackdown, and the WWE, has to offer? If we don't get what we want, we might have to go elsewhere. Someplace where we'll be respected."
Cole: "What did you have in mind, ladies?"
Kharma: "We want championship gold. Something to show these idiots in the crowd that we're the best. We're not asking you, we're TELLING you, to bring back the WWE Women's Championship. In case you haven't noticed, we're not Divas; we're female wrestlers. That Divas title is a joke, just like the girl who's holding it."
Cole: "I have to say that I've been thinking that something's missing from our roster for a long time. Our women's division is SO much better than what Raw has to offer, so I don't see why they need to have the belt all to themselves. I can't make that decision on my own, so I'll put it to the Board of Directors and I'll give you their decision right here next week."
Rey: "If we don't get what we want, we'll have to take matters into our OWN hands."
With that, Kharma and Rey leave Cole's office as he dials a number on his cellphone.
Match 3: John Cena vs. Dolph Ziggler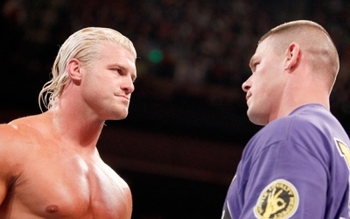 Ziggler's music plays, and he comes out to a decent pop with a couple of boos as he struts down the ramp.
Matthews: "Ziggler has really changed over these last couple of months. He's really become about pure wrestling and nothing else."
Cena's music hits, and the crowd unleashes an abnormal amount of heat on him tonight.
Striker: "The crowd showing their dislike for John Cena tonight; you could hear those boos three states over!"
Matthews: "Let's see if Cena can focus on winning the match here tonight and not on Chris Jericho."
Cena's extremely focused. He's staring a hole right through Ziggler. The referee signals for the bell and Cena charges attempting a clothesline, but Ziggler ducks. Cena spins around and catches Ziggler with an arm-drag. He follows up quickly with a headlock. Cena squeezes tighter and tighter on Ziggler's head. Dolph sways from side to side trying to find momentum to break out. Ziggler begins to lift and grabs Cena's left leg, using his other arm to roll him into a cover! .....1…..KICK OUT!!
They break up. Ziggler quickly grabs Cena and locks in his own standing headlock now! Cena tries to push Ziggler off, but he works him over to the ropes and manages to whip Ziggler across the ring. Dolph comes running back, but Cena ducks and Ziggler bounces off the ropes again, charging at him for a second time. Cena leapfrogs Ziggler, and as Ziggler comes back for a third time, Cena hits him with a running shoulder block to put him on the mat.
Matthews: "Wow! John Cena just leapfrogged Ziggler. We've never seen that before!"
Striker: "Maybe he realises that, in order to compete against Jericho, he'll have to add more moves to his arsenal!"
Cena locks in another headlock and smiles to crowd. The crowd are all over him. Ziggler works his way up and manages to reach his feet. He tries pushing Cena off, but Cena holds on tight. Cena works his way over to the corner, where he pushes Ziggler's face back to get a free shot at the abdomen. Cena connects with a series of quick right hands to take the wind out of Ziggler.
Cena now looks and taunts the crowd with "You Can't See Me", but Ziggler catches him with a massive right hand as he turns around. Cena hits the mat hard and Ziggler goes for the quick cover...1...2...KICK OUT!
Ziggler looks frustrated now and kicks Cena in the face a couple of times. He mounts Cena and hits a lot of quick rights and lefts. Cena tries to cover his face, but Ziggler continues his ground-and-pound assault of Cena until the ref pulls him away. Ziggler pushes the ref back and he runs up and delivers a massive boot that sees Cena's head whiplash off the canvas! He goes for another cover…1…2…KICK OUT!
Cena groggily tries to reach his feet and Ziggler helps him up, only to connect with another massive right as Cena hits the mat again. Cena tries to sit up, and Ziggler pulls him over into a fireman's carry and drops him straight back down.
Ziggler stands up and drops a big elbow on Cena. The crowd is LOVING Ziggler's intensity here. After Ziggler connects with another three elbow drops, he stands up and flicks his hair back, taunting Cena! Dolph runs the ropes and lands a big leg drop. He covers Cena…1…2...KICK OUT!!!
Cena tries to reach his feet and pushes Ziggler away. Dolph pushes Cena backwards into the corner as Cena loses his footing and stumbles backwards. Ziggler has Cena cornered now and begins laying big rights to wear Cena down. He goes for an Irish whip, but Cena reverses it and flings Ziggler hard across the ring into the turnbuckle.
As Dolph bounces off, Cena runs towards Ziggler and catches him with a running bulldog. Cena feels it now, as he does another "You Can't See Me" taunt to the crowd, setting up for the five-knuckle shuffle.
BREAK THE WALLS DOWN! Chris Jericho walks out with a microphone in hand. Cena walks over to the ropes to listen to Jericho.
Jericho: "Great match you're having here, Cena, but I thought I'd come out and tell you that, next week, you're going to be the special guest on Chris Jericho's Highlight Reel! See you next week, Johnny!"
Cena laughs at Jericho, but he turns around into a massive Superkick from Ziggler!
Matthews: "Oh my god, there goes John Cena, lights out!"
Ziggler covers Cena…1…2…3
Winner: Dolph Ziggler (Match Time: 9:21)
The referee holds Dolph's hand high as Cena lays there holding his jaw, trying to work out what's just happened. The crowd goes crazy for Dolph as he leaves the ring and plays to the crowd.
Striker: "Whoa, what a match! What a finish as Ziggler continues to pick up steam here on Smackdown!"
Matthews: "I can't wait to see the return of the Highlight Reel next week. It's going to be explosive!"
Match 4: Richie Steamboat vs. Heath Slater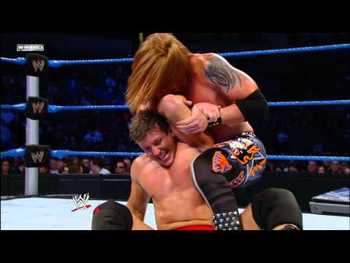 Richie walks to the ring looking focused to a reasonably big pop. He enters the ring and goes to the top rope to a huge cheer and then climbs down. Slater's in next to some heat. He laughs at the fans at Richie and then runs down the ramp and into the ring.
Straight away, Heath starts to land punches on Richie as the bell rings. Heath continues the attack with huge lefts and rights. He throws Richie into the ropes and continues to punch him. He then knees Richie four times in the gut and sends him crashing down with a DDT. He swiftly follows up with a flapjack.
Heath picks up Richie again and sends him once more into the ropes. Again, he hits the head of Richie with left and rights. He pulls him out of the corner and hits a spinning spinebuster and goes for the cover. 1..2..Kick out!
Matthews: "Well, Heath's certainly taking the fight to Richie in this match!"
Striker: "Yeah he is, but probably because that early assault gave him the advantage!"
Heath picks up Richie and tries another spinebuster, but Richie slides down and runs off the ropes, connecting with a flying clothesline. Both men get up to their feet, and Heath hits a big boot. He kicks Richie's head continuously until Richie somehow crawls to the ropes. He continues to kick Richie until the referee pulls him away. Richie rolls to the outside.
Heath laughs and jumps over the ropes at Richie, but he jumps straight into a dropkick! Both men are down. Richie is up first and hits Heath with a neckbreaker. Richie clings onto the apron and manages to stand. He drags Heath up and sends him crashing into the steel steps as the referee reaches the count of four. Richie taunts Heath and sends him back in the ring.
Matthews: "Heath's feeling the wrath of Richie Steamboat tonight!"
Richie is already looking for the Flying Dragon. Heath stands up, but ducks the finisher attempt from Richie and hits a spear! He grabs Richie on the floor and starts to choke him! The referee once again has to separate the two. Richie props himself up on the bottom rope, and Heath hits a boot to Richie's head. He starts to unleash more fists and then sends Richie to the outside again. He leaves the ring and "accidently" knocks the referee down.
As Richie tries to get to his feet, Heath looks under the ring and pulls out a chair. He tries to hit Richie with it, but Steamboat knocks it from Slater's hand and kicks him in the gut. He tries the Flying Dragon again, but Heath pushes him away and hits a backbreaker! As the referee gets to his feet, Heath sends Richie into the ring and goes for the cover 1..2..KICK OUT!
Matthews: "Well, surprisingly, Slater is still in this match."
Striker: "Don't underestimate Slater. Anyone who's a part of WWE deserves to be here."
Heath props Richie on the bottom rope and uses the ropes to choke him. The referee counts to four before Slater releases the hold. Heath goes for another cover, but it's reversed by Richie, who hits a knee to Slater's head. He uses the ropes to climb to his feet and hits an arm drag and follows up with the camel clutch!
Will Heath tap to Richie? NO!! He reaches the ropes quickly, and the hold is released. With both men on their feet, Heath nails a clothesline, but Richie gets straight back to his feet and takes Heath by surprise and tries to go for the Flying Dragon! AGAIN, Heath escapes, but Richie lands a hurricane DDT!
He goes to the top rope, looking for a frog splash, but Heath climbs to the top as well! The two are trading blows, but it's Richie who gets the upper hand. He taunts Heath and gets him in a DDT hold.
Matthews: "What's Richie going to do?"
Striker: "Oh my god, he's going to try to hit the Flying Dragon! Don't do it, Richie! This could end badly!"
Heath tries to break free, but Richie lands two punches and…he hits the Flying Dragon from the top-rope!!! Both men are down and the referee begins the count. Richie tries to go for the cover, but Heath rolls away. He reaches under the apron for something: his trusty brass-knucks!!
Striker: "Once again, Heath has to cheat with the brass knucks. This is pathetic! Richie's right. I take back what I said before about Slater!"
He places them on his hand, but before any damage can be done, someone leaps the barrier! It's Zack Ryder! The referee checks on Richie as Heath tries to push Ryder away, but Zack lands a punches Slater and steals the brass knucks! He throws them up the ramp and jumps the barrier again. Heath rolls back towards the middle of the ring, but he doesn't realise that Richie's up. Heath gets back to his feet, and Richie connects with the Flying Dragon again! He rolls into the cover…1..2..3!!
Winner: Richie Steamboat (Match Time: 11:20)
After the match, Richie goes to the top rope and gets a huge cheer from the crowd! He climbs down and laughs at Heath, who rolls out of the ring. Steamboat claps the fans and exits the ring as Heath Slater sits outside the ring looking angry.
Promo: Bryan Danielson in Ring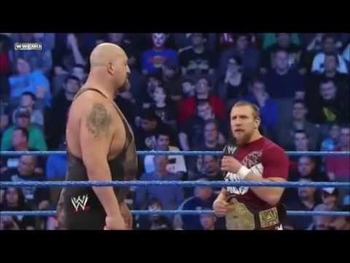 We come back from commercial as Bryan Danielson makes his way out to the ring, holding his WWE Championship high in the air. The crowd pretty much boos him out of the building as he grabs a mic:
Danielson: "So, WrestleMania was a fluke, was it? I don't think so. For those of you who missed it, I pinned your hero, CM Punk, 1…2…3 in the middle of this ring last week to retain MY WWE Title!"
We see a video replay of what happened.
Danielson: "Punk's rematch clause is DONE. He's not in my league. If he wants another shot at this title, he's going to have to earn it. It's up to me how he does it, not that ass Michael Cole.."
Before Danielson can finish his sentence, "Cult of Personality" hits, and out comes CM Punk. The crowd explodes for Punk!
Punk: "Bryan, Bryan, Bryan…You might have pinned me last week, but you had a handful of my tights! If you wanted to wear 'em, all you had to do was ask. I've always got a spare set in my bag!"
The crowd starts laughing at Bryan, chanting: "GET YOUR OWN TIGHTS! Clap, clap, clap, clap, clap, clap. GET YOUR OWN TIGHTS!! Clap, clap, clap, clap, clap, clap."
Danielson: "You think this is a joke Punk, huh? You can't STAND the fact that the last two times we've faced each other, I've pinned your shoulders to the mat, 1…2…3! Your t-shirt might say Best in the World, but this title (he holds the belt up high), proves that I am!!"
Before Punk can reply, Michael Cole comes out to address what happened last week.
Cole: "Danielson, you don't make the rules around here, I DO!! The fact is, last week, you cheated to retain your title. That's not the mark of a true champion, is it?"
Danielson: "A true champion wins, Cole; whatever it takes!"
Cole: "Very funny, Bryan. I don't think you'll find this funny, though. If CM Punk beats a mystery opponent on Smackdown next week, then he'll have earned the right to face you for the WWE Title at our next PPV, No Mercy!"
Danielson: "That's crap, Cole! You can't do that; it isn't fair. You're trying to screw me outta something I've worked my entire LIFE for."
Cole: "Don't worry, Bryan. I'll make it fair. If Punk wins next week, you'll face him at No Mercy for the WWE Title…In a LADDER match!"
The crowd explodes at the thought of a ladder match between two of Smackdown's top stars.
Cole: "Punk, don't think you're off the hook after attacking the referee last week. He can only call what he sees! Up next, you and Danielson will both be in a tag-team match with two of the men you've faced recently. It'll be CM Punk and Big Show against Daniel Bryan and The Miz!"
Danielson throws a fit in the ring as Cole goes to the back.
Match 5: CM Punk and Big Show vs. the Miz and Daniel Bryan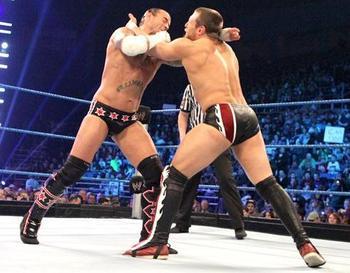 Josh Matthews and Matt Striker recap Michael Cole's announcement from earlier that if Punk wins next week, he'll go on to face Bryan Danielson for the WWE Title in a Ladder Match at No Mercy.
Big Show comes out to a huge pop first to join his partner, the former WWE Champion, CM Punk. AWESOME!! It's time for Miz to make his way to the ring. He makes his way around the ring towards his tag-team partner, WWE Champion Bryan Danielson.
Miz and Danielson enter the ring together and square up to their opponents. Punk trash-talks Miz as Big Show towers over Danielson.
The ref rings the bell as this tag-match is underway! Miz and Punk are going to start this match off. Both men lock up, and Miz quickly gets Punk into a standing side headlock. He's wrenching down on Punk's neck, but Punk nails a couple of quick elbows to Miz's ribs to escape. He whips Miz into the ropes and nails him with a clothesline. Miz gets back up, and Punk hits him with another clothesline.
Punk looks focused early on, and picks Miz up. He whips him off the ropes and goes for another clothesline, but Miz ducks it and hits one of his own. With Punk down, Miz mounts him and nails him with lefts and rights. He's in danger of being disqualified, but he gets off Punk before the ref counts to five.
Punk looks out of it and manages to stagger to the ropes. He tags Big Show in. Show grabs hold of Miz and whips him into the corner. Show follows him into the corner and tells the crowd to "SSSSHHHH!!!" as he nails Miz with a huge chop.
Miz stumbles out of the corner. Big Show whips him into the ropes and Miz bounces straight out into a clothesline from the big man. Show whips Miz into his own corner and Danielson tags himself in.
Danielson comes into the ring and charges at Big Show, but the big man nails him with a huge boot, knocking the champion down. As Show kneels over Danielson to pick him up, Danielson kicks Show in the face, staggering the big man. With Show off-balance, the champ runs off the ropes and hits a dropkick on Show's knee.
Down to one leg, Danielson kicks Big Show's legs until he's down on his knees. Danielson runs off the ropes again and hits a big dropkick on Show. He covers Show, but only gets a two-count! Show kicks out with authority.
Big Show gets up, and he looks angry. He whips Danielson into the ropes, but Bryan jumps to the second turnbuckle and goes for a cross-body. Show catches him and shakes his head at the crowd. Big Show connects with a Samoan Drop on Danielson. Show signals that it's time for a chokeslam!
He grabs Bryan by the throat and lifts him high up in the air, but the champ slithers out of it and tags the Miz back in. Miz runs at Show and tries to clothesline him, but it doesn't have any effect. He runs off the ropes again and Big Show spears him to the mat!
Matthews: "That's gotta be like getting hit by a freight-train!"
Striker: "Miz has to have a broken rib or two right now. I'd be amazed if he doesn't."
With the Awesome One down, Punk climbs to the top-rope. He points to the skies and hits a flying elbow, but only manages to get a two-count. Punk looks focused and picks Miz up. He whips him off the ropes and goes for a, but Miz ducks it and hits one of his own.
With Punk down, Miz mounts him and nails him with lefts and rights, but he gets off Punk before the ref counts to five. Miz picks Punk up and suplexes him in the middle of the ring. Big Show's on the apron, trying to get the crowd involved. They're chanting Punk's name, willing him to somehow get back into the match. He goes to the top rope and hits a double ax-handle on Punk. He covers the fallen former champion. 1…2…but Punk gets his shoulder up.
Miz is furious with the ref. He thought that was a three-count. As Miz keeps screaming at the referee, Bryan tells him to look out. Miz turns around into a roundhouse kick from Punk that knocks him on his ass! Miz gets back to his feet and nails him with a right hand. The pair exchange blows as the crowd is into everything. When Punk connects, there's a "YES!" chant. When Miz connects, there's a "BOO!" chant.
Eventually, Punk gets the best of Miz and whips him into the turnbuckle, where he hits his running knee/bulldog combo. He covers Miz in the middle of the ring. 1…2…and AGAIN, Miz kicks out.
Punk signals to the crowd that it's time for Miz to GTS. As he hoists the Awesome One over his shoulders, Danielson tries to run in, but Show grabs the champ by the throat and lifts him high up in the air. Punk and Show hit their opponents with the GTS and a chokeslam respectively. Punk covers Miz and the referee counts 1…2…3!!
Winners: CM Punk and Big Show (Match Time 14:31)
After the match, Punk and Show celebrate their victory as Miz and Danielson lie motionless in the ring.
Promo: Backstage Segment with Michael Cole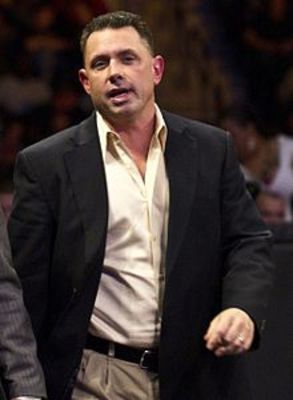 We go backstage to Michael Cole's office to see him on the phone.
Cole: "Yeah. Yep. Uh-huh, I understand, I'll be welcoming him right now."
There's a knock at the door.
Cole: "Come in? Ah, Chris Masters! It's great to have you here on Smackdown, and I'm pleased to welcome you to the No. 1 show in sports entertainment!"
Masters: "Thank you, Cole; I'm happy to be here. I wasn't getting any kind of opportunity on Raw. That's what happens when your GM is out of touch, like Vince McMahon is! I hope this show will be able to utilise my talent and that gold will finally come my way!"
Cole: "Don't worry, Chris; I've big plans for a superstar of your charisma and athleticism. Here on Smackdown, only the best superstars shine, and I'm sure you'll fit into that category! We're going to make your first match a big deal, but I don't think there's anyone on the roster that could compete with you yet. As soon as I find the right opponent for you, we'll showcase your talents for all the world to see!"
Masters: "Alright, Cole, but don't screw me around. I deserve to be main eventing shows and selling out arenas, not sitting backstage!"
At that moment, Trent Barretta bursts through the door.
Trent: "Hey, Cole, we need to talk! I deserve a shot at Chri.."
Cole: "Trent, don't barge in here ordering me around. If you want to talk to me, call my office to make an appointment and maybe then we'll talk! Since you're here, meet the newest member of the Smackdown roster, Chris Masters!"
Trent: "Oh, hey, Chris."
Barretta extends his hand to Masters, but he just looks at Trent and walks out. Barretta shrugs his shoulders and looks at Cole, but Masters comes back and locks in the Masterlock on Trent! He screams out in pain as Masters shakes him from side-to-side.
Cole: "Masters, let him go. Break the hold…now!!!"
Barretta slowly passes out and Masters lets him go. He walks off as Barretta slumps to the floor. Some referees and medical staff run in to check on him.
Matthews: "Ladies and gentlemen, what an introduction to Chris Masters, but up next, it's our main event. We're going to see Cody Rhodes vs Santino Marella in a No. 1 contender's match for the Intercontinental Championship!"
Main Event: Santino Marella vs Cody Rhodes for the Intercontinental Championship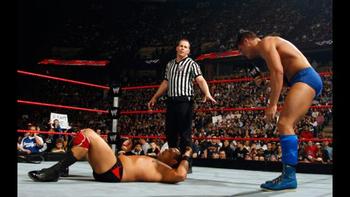 Cody Rhodes music hits, and he comes out to a chorus of boos.
Striker: "Tonight, Cody's got the chance to prove that he's a future Hall of Famer. Let's see if he can back up what he's been saying about Santino and the Intercontinental for weeks now."
Santino Marella's Italian opera sounds blasts through the arena, as he quickly walks down the ramp to start this bout! The crowd is solidly behind the former IC Champ.
Matthews: "Santino wants to earn everyone's respect, and he could very well do that by picking up a win here tonight."
The referee rings the bell as Santino and Cody walk around the ring with their eyes locked onto one another.
They go to lock up, they touch up and Cody lands a kick to Santino's gut, taking the wind out of him. He lifts Santino's head up and unleashes a right hand. He connects with three more to knock Santino to the canvas. Cody launches himself high in the air and lands a big knee to the head of Santino and covers him quickly...1...KICK OUT!
Cody gets up and bounces off the ropes and jumps up to land another big knee, but Santino moves and Cody crashes down. Santino hits Cody with an uppercut, which sends him stumbling backwards to hit the turnbuckle. Santino charges the corner and connects with a massive clothesline. He spins Cody around and jumps up on the turnbuckles, dragging Cody with him.
Cody pushes Santino off of him, hitting the top rope on the way down. Santino gets knocked off balance by that, and he lands on the turnbuckle, connecting below the belt. Cody Rhodes realises the opportunity, jumps off the ropes and lands a perfect Beautiful Disaster kick on Santino, which knocks him out of the ring.
Matthews: "Santino's jaw nearly came clean off! What a massive Beautiful Disaster kick by Cody Rhodes!"
The referee begins the count……1…2…3...4…5…Santino begins to reach his feet.…6…7.....Santino stands up fully...8...Cody Rhodes realises Santino is up and slingshots himself over the ropes to hit a cross body on Santino.
Both men are down and the referee begins the count again…1…2…3…4…5…Cody reaches his feet, pulling Santino with him up, and throws him into the ring. Cody follows behind him.
Striker: Cody's pulling out all the stops in order to beat Santino tonight.
Cody quickly covers Santino…1…2…KICK OUT! Cody lifts Santino up and connects with a DDT. Cody covers Santino…1…2…KICK OUT!! Cody can't believe that Santino kicked out again and looks frustrated!
He picks Santino up again and goes for another DDT, but Santino counters it into a suplex! Santino tries catching his breath as Cody tries getting back to his feet, but Marella dropkicks him! Santino now lays boots to the head of Cody. Santino whips Cody into the ropes and connects with an arm-drag as Cody comes back out. Santino covers Cody…1…2….KICKOUT!!
Matthews: "Santino may be working his way back into it now. He's taken a while to recover from that kick by Cody earlier on." (They show a replay of the top rope beautiful disaster kick.)
Santino waits for Cody to reach his feet and charges in for a clothesline, but Cody ducks it. Santino bounces off the ropes, but Cody kicks him in the midsection. He goes for the Cross Rhodes, but Santino reverses it into a swinging neck breaker and quickly covers Cody…1…2….KICKOUT!!
Santino climbs to the top turnbuckle and goes for a flying headbutt, but Cody rolls out of the way and Santino hits the canvas face first. Cody quickly goes for the cover….1…Santino flips Cody and rolls him up…1…2…KICK OUT!!
Both men reach their feet at the same time very quickly. They lock up, but neither man gains the advantage and they break. As Santino lands a right, Cody lands a right! The two men exchange right hands, and the crowd is SOLIDLY behind Marella. Cody stumbles back into the ropes and lands another devastating boot to the abdominal region of Santino. He sets up for Cross Rhodes, but Santino counters it into the Milan Miracle and nails it as Cody's skull bounces off the canvas.
Santino hooks Cody's leg for the cover…1…2…but Cody puts his foot on the rope. Santino looks shocked as Cody rolls out of the ring and the referee tries to hold back Santino from following him. Suddenly, the crowd starts to get a little bit more animated, but the camera hasn't caught anything yet.
Matthews: "Wait a minute! That's Alberto del Rio. What the hell is he doing with a steel chair?"
Alberto Del Rio jumps over the barricade with a steel chair, he hits Cody in the face and then in the back as he's lying on the ground! The referee doesn't see it because he's distracted with Santino.
Alberto climbs in the ring, and Santino pushes the referee out of the way, just in time to cop the chair right in the face. Alberto lays multiple chair shots to Santino now until he stops moving as the referee calls for the bell. Alberto stands over Santino, shouting at the crowd as the boos rain down on him.
Match result: No contest (Match Time: 14:28)
Striker: "Well, I guess Alberto doesn't really respect Cody that much and the IC Title picture just got more interesting, who's the No. 1 contender?"
Matthews: "Matt, I have no idea, but that's all the time we have for tonight. I can't wait to see what's gonna happen next week!"
Conclusion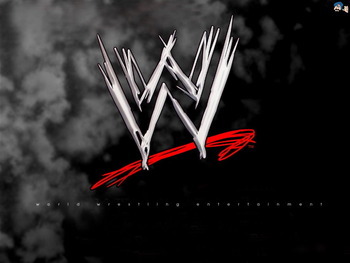 And that's a wrap! Please don't forget to rate Smackdown, as they are currently partaking in Week 3 of the Ratings war. Also, come back here Thursday at 7:00 for another great episode of Fantasy Smackdown.
Some fantasy news to address: Raw will be up tonight, and Backlash was posted last night. To read it, click here. There should be a ratings announcement next week on Raw. Tune in this Thursday for Smackdown and Sunday for Raw.
Please rate Smackdown in the comments section with a rating from 1 (putrid) to 10 (amazing) and give us a little creative input. It's helpful. Thanks for reading!
Keep Reading