NBA Trade Rumors: Why Heat Should Dangle Chris Bosh for Dwight Howard
May 2, 2012

Chris Trotman/Getty Images
According to Stephen A. Smith, Dwight Howard will ask the Orlando Magic to trade him after the season.
For those who have been following the league this past six months, this news should come as no big surprise. Dwight has been causing problems all season long with the Magic front office and coaching staff.
The Miami Heat, South Eastern Divisional rivals and Floridian neighbors, look set to at the very least make the NBA Finals this season (now that Derrick Rose's ACL tear removed Miami's biggest challenger).
And should they make it to the Finals and come away empty handed, or somehow contrive to lose to one of the East's challengers, the Heat will have plenty of questions to answer and very few options at their disposal.
Either head coach Erik Spoelstra has to go or, depending on the circumstances, a big trade has to take place.
I'd wager that Heat fans will finally lose their patience with power forward Chris Bosh if the team fails to deliver on-court.
Bosh has struggled in Miami at times, appearing overwhelmed either by the expectation thrust upon him or disinterested at looking like a third wheel to the LeBron James-Dwyane Wade love-in currently taking control of the personality of the locker-room.
And what the Heat struggle with most is fitting those three superstars into an offensive (and defensive) system that not only works for winning games but keeps all three happy.
Bosh, unfortunately, is the weak link. Yes, Joel Anthony is the black hole on offense and Mike Miller is a terrible defender, but removing Bosh frees up the Heat to address all those issues at once with one Dwight Howard-sized swoop.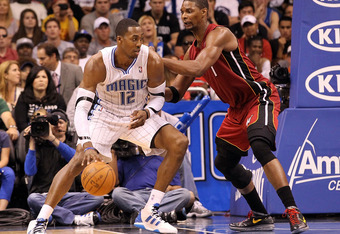 Sam Greenwood/Getty Images
Let's take a look at the Heat's needs and why a trade of Bosh for Howard (plus what it takes to make the money work out) is a definite possibility this offseason.
Miami needs a post threat
I know, Bosh actually does well in the post, just as well as Dwight does. In fact, they average 0.87 points per possession (PPP) and 0.88 PPP respectively (per MySynergySports).
However, it is Bosh's shooting from post moves (3-9 feet from the rim) that highlight what he does not bring to the table compared to Dwight.
Chris Bosh FG% from 3-9 feet: 35.5%. Dwight Howard? 41.5%, which is down some 3% on the past three seasons. (per HoopData)
At the rim, the difference is extraordinary. Bosh is shooting 66.5% at the rim (dunks, layups etc), compared to Dwight's otherworldly 74.4%.
Miami needs rebounding, badly
With Bosh seemingly allergic to rebounds at times this season and the Heat suffering badly at the hands of top rebounding teams like the Chicago Bulls (who dominate them on the glass every time the two meet), a guy who eats rebounds for dinner is a must-have.
Again, we'll take a look at the stats.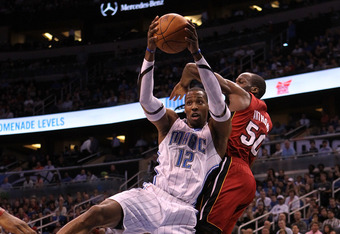 Sam Greenwood/Getty Images
Dwight's averaging some 14.5 rebounds per game to Bosh's 7.9. The real difference, however, is in Total Rebound Rate (TRR, the percentage of missed shots a player rebounds). Chris Bosh rebounds 13.9% of all missed shots, whereas Dwight muscles in at a ridiculous 21.9%.
In simple terms, Dwight is rebounding one of every five missed shots. On the defensive glass, it's an even bigger swing. Bosh's 20.6% Defensive Rebound Rate is dwarfed by Dwight's 33.1% DRR.
One in three missed shots by Magic opponents ends up in Dwight's hands.
If I'm Miami, I want that rebounding.
Miami needs a real rim defender
Yes, the Heat has a terrific defense, one of the best in the league that is built on constant rotation to challenge shots. It is relentless and it is tiring to play against, as Carmelo Anthony has found out, starting off hot but losing energy as he was ground down by the constant pressure and physicality.
So this is perhaps a minor issue, but the Heat would be even better defensively with Howard shutting down the paint.
As it is, the Heat use combinations of Joel Anthony, Udonis Haslem and Chris Bosh at center against the Knicks in round one (Bosh played the position when the Knicks went small with Amar'e Stoudamire at center and 'Melo at power forward.)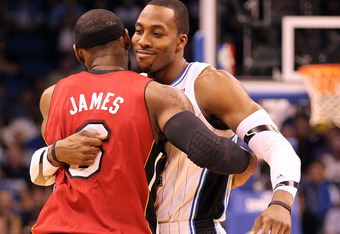 Sam Greenwood/Getty Images
Compared to Howard, Joel Anthony couldn't fight sleep.
When the Heat come up against dominating centers like Howard and the L.A. Lakers' Andrew Bynum, they struggle to hold them down at either end of the floor, choosing to let them get theirs and shut down everything around them, forcing them to beat them single-handedly.
With Dwight in the lineup, the Heat would be tooled to shut down any big man (Tyson Chandler?) while being able to play Haslem on outside big men like Dirk Nowitzki or Kevin Garnett.
Miami needs a better Pick & Roll (PnR) threat
Again, this comes down to an upgrade. Chris Bosh is a great guy for rolling to the rim (1.15PPP, 21st in the league per MySynergySports) but once again, Howard represents a significant upgrade:
Dwight Howard as PnR roll man: 1.38 PPP, 73.6% shooting. 2nd in the league.
With guys like Wade and LeBron handling the ball so often, putting them in the PnR with Howard, if it works, would be the end for most opponents, dragging their best defenders out of the paint and totally opening up the floor for cutting players like Wade.
And if the Heat were to look for a wrinkle in the PnR, Howard is also ranked 2nd in plays when he cuts to the basket, so slipping the screen would also generate points in abundance.
It's clear that without Howard, the Heat are a fantastic team probably built well enough to win a championship. However, with the consensus best center in the NBA, the Heat would truly be unstoppable.
Outside game not working? Pump the ball into Howard in the post and let him go to work.
Howard misfiring? Well, you've got LeBron James and Dwyane Wade outside.
Three great offensive threats, three great defenders.
Make the call, Pat Riley.