Live Reporting: Watching the Liverpool FC–Fulham Game
May 1, 2012

Clive Brunskill/Getty Images
The Cottagers come to Anfield looking to bounce back from a thrashing by Everton earlier in the week. The Reds have made nine changes to a squad that won, 3-0, at Carrow Road possibly to rest key players for the FA Cup Final against Chelsea. Lee Probert is the official for the match. 40,106 supporters are in the stands.
Spoilers ahead.
First Half
Fulham starts the match on their front foot, with Dempsey passing to former Liverpool player John Arne Riise, who strikes a low-driven cross in front of goal, hitting Skrtel awkwardly in the chest, the ball bouncing into the net at the five-minute mark. Doni, the Liverpool goalkeeper starting in place of Pepe Reina this game, tries to make a save, but his momentum gets the better of him, and he can only watch it go into the back of the net.
Martin Skrtel tries to atone for his mistake with a header that shoots far wide from a Fabio Aurelio free kick. 
Moussa Dembélé linking with Clint Dempsey has been a problem for the Liverpool midfield, as they are unable to take the ball from them.
Andy Carroll, as of 18 minutes into the game, has yet to make a run to beat Fulham's back four. 
Jay Spearing's passing and control have left much to desire. Jonjo Shelvey has been a bit quiet so far.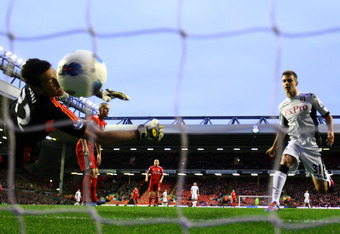 Clive Brunskill/Getty Images
Shelvey makes a run for a pass in the 22nd minute, making a meek cross, which finds the foot of a Fulham defender. 
23rd minute: Carroll links up with Shelvey, who passes back to Carroll, finding Kuyt, volleying the ball just wide from the net.
Liverpool fans are currently very quiet, still down one goal from Skrtel's own goal.
Spearing has not been playing very well, giving up passes to the opposition. He seems to be losing confidence in his passing with every pass he gives up. 
Danny Murphy misplaces a pass, which Liverpool attempts to latch on to, but Shelvey gives up the ball with a poor and weak pass which is intercepted almost immediately.
26th minute: Bret Hangeland rescues a shot from Shelvey, which Fulham's Mark Schwarzer could not save. Andy Carroll made Schwarzer fumble for the ball, which led to Shelvey trying to place his shot under the diving keeper, only to find the wall-of-a-man, Hangeland, at the line. Shelvey has not scored for the senior team in league competition.
29th minute: Dempsey elbows Skrtel on the side of the head going up for a header.
Dirk Kuyt tries a shot from outside of the box. An easy save for the Fulham goalkeeper. Kuyt has two league goals this competition.
The Liverpool players seemed to have finally settled in midfield, but their performances in the final third of the pitch are undoubtedly poor. 
Sebastian Coates finds himself in the Fulham half and passes to Shelvey, who does not make a move for the ball, and is intercepted. 
Liverpool, finding more possession, are passing more confidently. Martin Kelly wins a corner off of Riise in the 35th minute. Carroll wins the header, heads to Maxi, but the Argentinian heads the ball way over the goal.
Steven McManaman raising a good point—Liverpool players passing, but no one making a move to attack.
Carroll goes in for a late tackle, does not get carded. 
Liverpool does not have any players on the pitch that can be considered "threatening."
39th minute: Pavel Pogrebnyak seems to be injured. Kuyt's pass is too strong for Martin Kelly, as he slips and Riise clears for a throw. 
Sebastian Coates has not yet made an error, winning headers and using his body to block the Fulham attackers.
41st minute: Shelvey finds Kuyt with a wonderful cross-field pass, who crosses into the box. Carroll heads the ball, but neither Spearing or Maxi can get the ball on target.
42nd minute: Andy Carroll places a wonderful pass through the Fulham defenders to Jonjo Shelvey, who strikes the ball just across the mouth of the goal.
Maxi's header is blocked by Fulham's Kelly. Fulham seems content enough with chasing after the ball.
Andy Carroll is a nuisance up front, winning his headers. He won the header from Aurelio's cross, but Schwarzer easily saves it. Carroll shoots from outside the box with his right boot, but narrowly misses, going into the stands.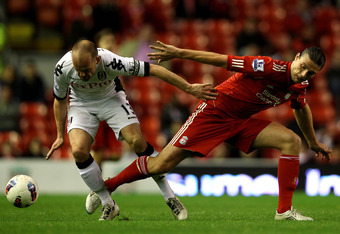 Clive Brunskill/Getty Images
The first half comes to a close, the score-line still at 0-1, from Skrtel's own goal. Andy Carroll has won four out of six headers this half. Martin Skrtel is 100 percent, winning all four headers.
Everton are up one goal against Stoke City at the end of 45 minutes.
Possession
Liverpool: 62.3 percent, Fulham: 37.7 percent
Shots
Liverpool: 12, Fulham: 1
On-Target
Liverpool: 3, Fulham: 1
Passes
Liverpool: 321, Fulham: 190
Liverpool have attempted 15 crosses as opposed to Fulham's five. Forty-seven percent of the crosses have been successful for Liverpool. Jordan Henderson leads the first-half passing stats with 39 successful passes out of 40. Jay Spearing's passing accuracy is 87 percent. Kuyt is at 82 percent accuracy.
Second Half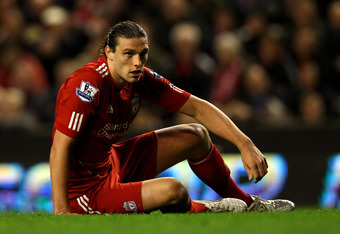 Clive Brunskill/Getty Images
Liverpool makes a change—Jordan Henderson comes off for Stewart Downing. Liverpool, as usual, attack towards the Kop end. Martin Tyler reminding viewers that Liverpool have nine draws. 
Andy Carroll looking dangerous with what seemed like a seal dribble for a bit. Jonjo Shelvey takes a shot from outside, but the ball like to have become a satellite. 
Pogrebnyak is on the ground holding his head from Coates' elbow as both went up for a header. Coates links up with Shelvey to keep Fulham at bay at the start of the second half.
Clint Demsey loses the ball in the 48th minute, Spearing latches on to the loose ball and shoots from the edge of the area. A weak attempt, which Schwarzer covers easily. Spearing hasn't scored for Liverpool in 50 games.
49th minute: Coates chips a ball above the Fulham defenders, but Kuyt is deemed offsides by the linesmen.
Skrtel and Coates looking comfortable playing next to one another. Doni has not yet made a save this half.
Liverpool passing the ball back to the goalkeeper, presumably for a long ball to catch the Fulham defenders off guard.
Clint Demsey has been quiet this half. Claude Dembélé tries a shot from the edge of the box, but is deflected. Fulham wins a corner. Damian Duff with a corner, Dempsey wins the header, but goes two or three yards wide.
53rd minute: Kuyt is offsides again.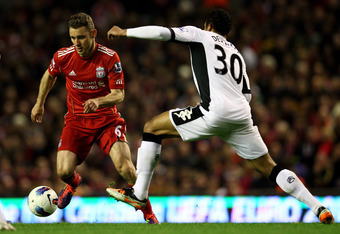 Clive Brunskill/Getty Images
Stewart Downing has yet to make an impact this half. 
Dempsey tries a through-ball, cuts the Liverpool defense in two, but Doni comes out quick to save the loose ball.
Coates makes a wonderful tackle, stopping the Fulham advance.
55th minute: Downing tries a shot from the outside of the box but goes far wide.
Downing finds Carroll with a cross. Carroll controls with his chest, but tries an overhead kick at the edge of the box.
Fulham makes a change: Kerim Frei for Alex Kacaniklic 
57th minute: Maxi Rodriguez makes a run, stays onsides, but Hangeland makes a tackle to stop Maxi from equalizing. 
Where is Carroll finding his motivation? He's been hassling the Fulham defenders and making smart headers all game.
Nice pressure between Downing and Kuyt to force the ball away, but Kuyt loses the ball. Kerim Frei takes advantage of the space, but the strike hits the post for a Liverpool goal kick. 
Liverpool seem unable to cope with Fulham's quick counter-attacks. Riise's shot on goal blocked by Doni. His attempt came from a long pass from Dembélé. Downing crosses into the box, but goes far away from the far post, but Carroll does enough to keep the ball in-bounds. The ball comes back to Carroll, but he heads it wide, with Danny Murphy marking him. Replays showing Murphy's arm on Carroll's face as he goes in for a header.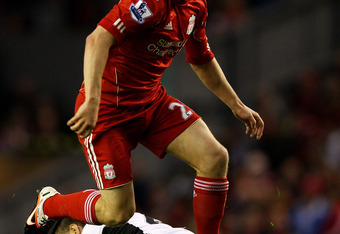 Clive Brunskill/Getty Images
65th minute: Liverpool substitutes Fabio Aurelio out for Jose Enrique.
Carroll's playing deserves a goal. Very determined and fired up.
Through ball blocked by Coates. Shelvey gives up the ball amongst a solid Liverpool passing spell.
67th minute: Kuyt heads the ball through for Carroll, but is intercepted in the end. 
Liverpool have 15 attempts, while Fulham have four, but the latter seems more threatening.
Andy Carroll, in the 69th minute, makes some wonderful moves to lose a defender, but cannot finish. The ball ends up with Kuyt, who crosses. Hangeland heads out for a corner. Dembélé clears.
71st minute: Riise tries a speculative shot, curls towards the corner flag.
The Liverpool squad has done alright keeping Fulham at bay for 72 minutes, except the lapse in concentration in the fifth minute. 
Kelly fouls Frei for a free kick, but Liverpool are able to win the ball back. Play is stopped for a Carroll hand ball. 
74th minute: Carroll with a misplaced pass, intended for Shelvey.
Carroll with a double cross-over, passes to Kuyt, who slips in the box.
75th minute: Raheem Sterling comes on for Dirk Kuyt for Liverpool. Sterling is 17 years old and can play out wide and as a secondary striker. Very excited to see him play.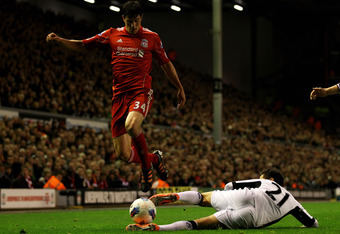 Clive Brunskill/Getty Images
Coates boots the ball upfield, provoking the ire of the Liverpool supporters. Fulham now sitting back and counterattacking to maintain their lead. 
Dempsey shot on goal, saved by Doni. Coates lets Dempsey on, but Doni is able to make a comfortable save. Danny Murphy is still on the ground. Liverpool plays on. Sterling gets tackled, but the ball finds Carroll, who seems to get fouled, but referee allows play to go on. Pogrebnyak is now on the ground.
80th minute: Fulham makes a substitution. Pavel Pogrebnyak for Dickson Etuhu.
Liverpool unable to hold the ball for a period of time. Shelvey tries for a corner, misses, and it is a goal kick to Fulham. Sums up most of Liverpool's performance this season. Dalglish does not look pleased. 
Raheem Sterling with a wonderful cross to Andy Carroll, cannot head it properly, and Downing is called off sides while going for the loose ball. 
82nd minute: Dembélé is fouled by Coates. He is holding his right knee, but looks to be alright. Free kick to Fulham. Riise to take the kick, but it is taken poorly. Carroll gets fouled at the halfway mark. Liverpool are lacking a creative spark and seem content with lofting balls for Carroll. 
86th minute: Chris Baird comes on for Moussa Dembélé for Fulham. The Cottagers are happy with time-wasting. Skrtel with a poor back-pass to Doni, Demsey takes a shot but he directs it right at the Liverpool keeper.
Sterling with another cross into the box, but Schwarzer clears. 
Liverpool are still playing a slow tempo, unable to inject any pace into the game. Sterling, however, tries to use his pace against the Fulham fullback. Liverpool corner. The ball goes out from Hangeland's header. Another Liverpool corner. The Reds are unable to find the target. 
Four minutes of injury time. 
Liverpool looks like a tired team and can't hold on to the ball in the final third. Carroll gets a free kick from a foul by Frei. Shelvey takes the shot 22 yards out from goal. Maybe Maxi should have struck it.
Liverpool are lucky it's only a one-goal margin; they may have been down 3-0.
All smiles on the Fulham bench, recording a historic win against Liverpool.
Fulham does the double over Liverpool and goes in front of the underperforming Reds tonight.
A terrible, terrible game for Liverpool. Ninteen attempts with nothing to show for it. 
Second-Half Stats

Posession
Liverpool: 47 percent, Fulham: 53 percent
Shots

Liverpool: 7, Fulham: 8
On Target

Liverpool: 1, Fulham: 3 
Passes

Liverpool: 251, Fulham: 202 
Andy Carroll actually looked lively tonight, which is a good sign. However, he has not been able to finish, even with Dirk Kuyt playing alongside the 6'3" striker. The team as a whole lost the ball and could not string passes together without a creative midfielder on the pitch. 
Possession
Liverpool: 59.5 percent, Fulham: 40.5 percent
Shots
Liverpool: 19, Fulham: 8
On Target
Liverpool: 4, Fulham: 4
Passes
Liverpool: 574, Fulham: 392
Another poor display at home by Liverpool. Why can't Liverpool players find the net?
What are your thoughts on the match?