Stanley Cup Playoffs 2012: 6 Philadelphia Flyers to Watch in Game Two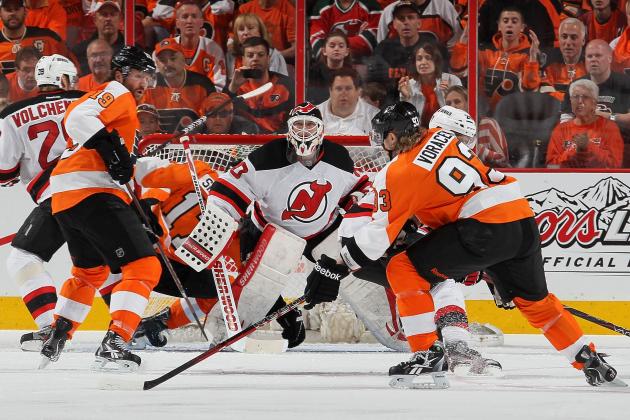 Jim McIsaac/Getty Images

Game 2 of the Eastern Conference Semifinal series between the Philadelphia Flyers and New Jersey Devils commences tonight after a stellar effort in the second and third period by the Flyguys resulted in a 4-3 overtime win in Game 1.
The Flyers are looking to take a commanding 2-0 series lead over their division rivals tonight, and while many fans are overlooking this series for the potential showdown with the New York Rangers in the Eastern Conference Finals, it will take more of a team effort to put Marty Brodeur and the Devils away.
Everyone is looking at the big names, specifically Claude Giroux, Danny Briere and Ilya Bryzgalov as Philly's keys to success in this round and moving forward.
But several role players must continue to step up if these Flyers are going to realize their aspirations of bringing a parade down Broad Street for the first time since 1975 (funny side note: of the players expected to dress tonight only two, Andreas Lilja and Jaromir Jagr, were alive last time the Flyers won the Stanley Cup).
With this in mind, here are the six Flyers to keep an eye on tonight and for the rest of the playoffs.
Begin Slideshow

»
Jakub Voracek (I didn't label the video, but I know it's wrong) was brought to the City of Brotherly Love as part of the trade, along with eight overall draft pick Sean Couturier, that sent magician Jeff Carter (disappears in the playoffs) out of town.
Voracek had a solid, but not overly impressive regular season, setting a new career high in goals (18) and putting up his career average 49 points in 78 games.
But Voracek seems to have found his groove in the playoffs, having already netted 9 points (2G, 7A) in the first seven games of the second season.
While Claude Giroux and Danny Briere garner most of the attention for their playoff performances, and rightfully so, Voracek's playmaking ability will be paramount, especially once better defensive teams (New Jersey, New York, Washington, the entire West) divert most of their attention to shutting down Philly's marquee offensive weapons.
Voracek's contributions on the power play (1G, 3A) will also be a point of emphasis, as the potent Flyers power play looks to regain its success from the first round (12-for-23, 52.2 percent) after going 1-for-6 against a New Jersey penalty killing unit that was the best in the league during the regular season (89.6 percent).
James van Riemsdyk was the Flyers' best player in their abbreviated 2011 playoff run, scoring seven goals in 11 games before the dust settled on the most embarrassing series loss in recent memory, a second-round sweep at the hands of the Boston Bruins.
After signing a six-year, $25.5 million contract extension over the summer, JvR had a disappointing 2011-12, putting up only 24 points in 43 games, missing time with a concussion and a broken foot.
Van Riemsdyk re-joined the team for Games 5 and 6 of the quarter finals in a limited role, but announced his presence in Game 1 of the second round by reestablishing himself as a top playoff performer, scoring a goal and adding a strong, physical presence to Philly's forecheck and harassing Marty Brodeur from the doorstep of his crease all game, eventually leading to the game winner in overtime.
JvR will be looking to build on his strong Game 1 and cement his place as a top-six forward for the remainder of the playoff run, starting against the Middletown, New Jersey native's hometown Devils.
If JvR is the dominating combination of power forward and skilled winger he has demonstrated in spurts in the past, the Flyers' offense will become indefensible as every line will be fitted with a force to be reckoned with in front of the net and in the corners to complement each line's tremendous playmaking skill.
Kimmo Timonen, for years the rock of the Flyers' defensive unit, played only 11 minutes of even-strength hockey in Game 1 against the Devils.
Less than:
Braydon Coburn (22:45)
Andreas Lilja (15:18)
Nick Grossmann (15:42)
Sean Couturier (14:37)
Scott Hartnell (13:37)
JvR (14:15)
Matt Carle (18:01)
Erik Gustaffson (16:49)
Max Talbot (15:32)
Claude Giroux (16:27)
Eric Wellwood (12:45)
Danny Briere (14:38)
Jaromir Jagr (11:47)
Jake Voracek (12:43).
Timonen is not the player he was not long ago, but he still needs to be a leader—even in a reduced role.
If Timonen is relegated to special-teams play (5:39 PP, 3:29 PK in Game 1), those units have to be stellar with No. 44 at the helm.
Philly's power play was 1-for-6 in Game 1, and Timonen landed the primary assist on Giroux's kill-shot, one-timer to give the Flyers a 3-2 lead early in the third period.
Timonen has been battling small injuries and age-related fatigue for quite a bit of the latter half of the season (taking an unprovoked beating from Kris Letang probably didn't help matters, either).
His one goal and two assists for an offensive squad that broke their franchise's scoring record in the first round of the playoffs is not good enough.
But Timonen is still +4 for the playoffs and has only one penalty in seven games, minus the 17 minutes worth of unwarranted penalties he received as a result of being jumped by Crosby and Letang in Game 3 of the first round.
I expect Timonen to get stronger as the playoffs move along, as savvy veterans have a way of turning it up when it means the most and they have been there before, and if nothing else, Timonen is a savvy veteran.
But if the Flyers are going to crack NJ's tough short-handed unit, Timonen needs to be a bigger factor in this series.
Wayne Simmonds was another component of the summer blockbusters, coming from LA along with Brayden Schenn, in the move that sent Captain Morgan out west.
Simmonds proved his worth in orange and black, posting career high numbers with 28 goals and 49 points in 82 regular season games.
But No. 17 had several goalless droughts that kept him from breaking out as a bona-fide star in his first year in Philly.
Simmons went eight games without scoring from October 20 to November 3, seven games from November 17 to December 2, eight games December 23 to January 10 and 16 games without a goal from February 23 to March 24.
Wayne has a goal and three assists over the first seven games of the playoffs and needs to step his offensive play to give the Flyers a legitimate chance at winning the Cup.
Simmonds' disruptive presence in front of the net and his physicality in the corners will be a necessity in advancing past any of the remaining teams, and the Devils are just the opponent to get "Simmer" hot.
In six games against Jersey this season, Simmonds has put up three goals and two assists, more points than he scored against any team except the Penguins (six points in six games).
Look for the Flyers' power forward to get going in Game 2 and not look back for the remainder of the playoff run.
The Calder Trophy snub who lead all rookies in regular season goal scoring has had an up-and-down playoff thus far.
In his first three games, Read registered two goals, one assist and a +2 rating.
Since scoring two goals in Game 3 against Pittsburgh, Read has one assist and a -2 rating in four games.
In Game 1 against the Devils, Read's first-period turnover behind the net set up Jersey's first goal and set the tone for Read's game.
After averaging over 16 minutes through the first five games of the Penguins' series, Read played only 13 minutes in Game 1 against the Devils, losing quite a few shifts in the third period.
Read's speed, shot and maturity have been keys to the Flyers' two-way game all season and Read needs to come out of his funk early in the Devils' series.
Brayden Schenn was a wrecking ball in the quarterfinals, hitting every Penguin that moved in the opening series, beating down the higher seeded Pittsburgh team and that hard work resulted in offense, as Schenn put up six points in six games.
The Flyers came out flat in Game 1 against the Devils and Schenn needs to be the energy player he was in the first round when Philly needs a spark.
Getting separated from Danny Briere will undoubtedly hurt his offensive production, but Schenn needs to be among the series' leaders in body checks to impact the remaining three games to the best of his ability.
With JvR returning to the lineup, it is up to the power forwards rather than a few fourth-line grinders/enforcers to hold up Philly's end of the physical play and frustrate Jersey into taking penalties.
If Schenn can find the form that made him one of the best players on the ice in the first round New Jersey does not stand a chance.
There you have it, Flyers fans, the six players to keep an eye on in between beers tonight. Enjoy the game.