Derek Jeter: Why Yankees Captain's First Batting Title Is in the Bag in 2012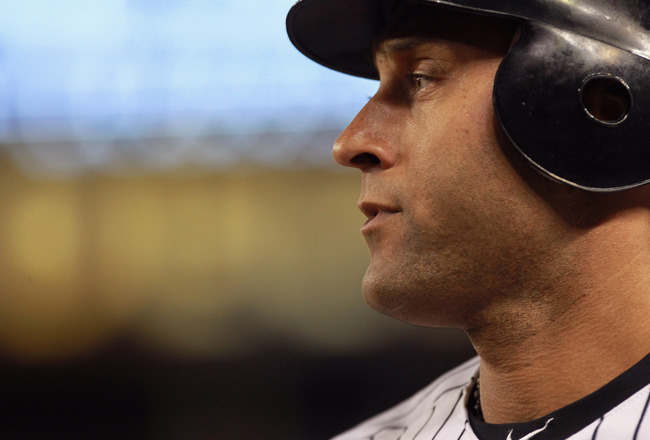 Nick Laham/Getty Images
O Captain! My Captain!
Derek Jeter is looking more like the Jeter of old in terms of his hitting. He's swinging the bat as well as anybody in the majors, with the exception of the godly Matt Kemp, of course.
Jeter is the best bat the New York Yankees have right now, and while it may be a little premature to say it, I'm gonna say it: Derek Jeter is going to win his first batting title this year.
I may be a homer. I may also be looking for an interesting angle to write about. But I certainly believe that Jeter can win his first batting title this offseason. He'll at least contend for it.
It's only April, and it's going to be a long season as always, but I've got faith in the Yankees captain. Many things need to fall into place if Jeter's going to win it, but he'll definitely be in the running.
And here's how...
He's in the DH Spot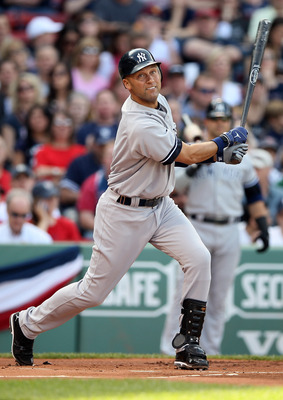 Elsa/Getty Images
This may shock none of you, but Derek Jeter is getting old. He turns 38 in June and is only going to get older.
Jeter's going to need a lot of rest, but the way his bat's been of late, the New York Yankees are going to want in him the lineup every day.
That's not possible with his age.
They can, however, give him a half day off by putting him in the DH role.
Shortstop is one of the harder and more tiring positions to play in baseball. Jeter has been playing that position for the Yankees for 17 years, and that's just in the majors.
All of that running and jumping and throwing takes its toll on a body.
By placing him in the DH spot, Jeter can still bat and help out offensively without running the risk of him getting fatigued or injured by playing the field. He gets some rest, and the Yankees can utilize his bat instead of having him sit out an entire game.
Being the DH will give him the at-bats necessary to stay in shape and in contention for the batting title.
A Little Help from His Friends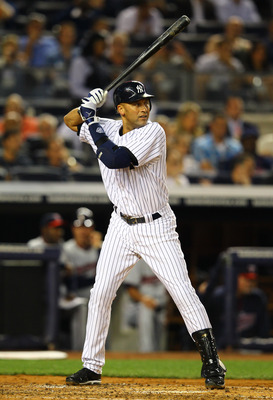 Al Bello/Getty Images
Derek Jeter is batting leadoff for the New York Yankees. He bats ahead of Curtis Granderson, who currently happens to be the only Yankee who isn't in some sort of a hitting slump.
The rest of the Yankee offense is mired in some sort of a funk, but they won't be stuck in it for the entire season. Right now, Granderson is providing plenty of support for Jeter, which allows Jeter to see better pitches.
Jeter isn't a home run hitter, so opposing pitchers would much rather give up a double to him than a homer to Granderson.
On top of that, pitchers are going to pound the strike zone with Jeter, hoping to get him out so Granderson doesn't drive in two runs should he hit a home run.
Right now, Jeter is going to hit those strikes and hit them well. He'll be able to maintain his high batting average with the way pitchers are going to go after him.
The Sabermetricians Are in an Uproar
Nick Laham/Getty Images
Sabermetricians have long tried to explain Derek Jeter.
They say he's not a good fielder. He has five Gold Gloves, the last of which he won in 2010.
They say he shouldn't be able to maintain his batting average. He's hit over .300 in all but five seasons since he's been called up full-time.
And here's another season where he's defying the stat heads yet again.
Jeter currently has a BABIP of .424. The average is .300. For those unfamiliar with BABIP, which stands for batting average for balls in play, it basically measures a hitter's luck.
Of course, there are other factors, but it boils down to how lucky a hitter is.
Balls in play means balls that are hit in the field of play, whether it be singles, doubles, fly balls or ground balls. Those are the balls that are fielded by the opposing team.
A high BABIP means that balls are getting past the fielders. In other words, Jeter has been lucky, according to sabermetricians.
Despite that, Jeter's BABIP has always been high. His career BABIP is .356. Granted, I expect his batting average to come down a little, since it's nearly impossible to maintain a .400 average nowadays.
One sabermetric that bodes well for Jeter is that his strikeout percentage is at an all-time low for him. His walk percentage is also at an all-time low, which means he's hitting the ball.
That means he's getting hits, and the more hits he gets, the better chance for him to win the title.
18 Are Left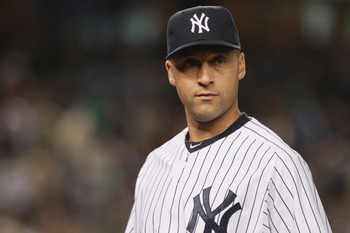 Nick Laham/Getty Images
Eighteen. That's how many people have more hits than Derek Jeter.
It's a long shot to say that he'll be the all-time hits leader, but that's beside the point here.
The point is, out of those 18, only five have never won batting titles. Out of the 10 after Jeter, only four have won. Those four include the likes of Wade Boggs, Al Kaline, Roberto Clemente and Rod Carew.
To surpass names like those and not win a batting title would be a bit of a shame.
Jeter has a chance to pass the next eight names on the list this season. Those names include Tony Gwynn, George Brett, Nap Lajoie and Willie Mays, all of whom have won batting titles.
The higher Jeter goes, the more Hall of Fame names he's going to pass. He's going to be joining the best hitters ever soon, and he even has a chance to crack the top five before his career is over.
All of those five have won batting titles. Betcha Jeter doesn't want to be the only one among them to not have one.
Now's a Good a Time as Any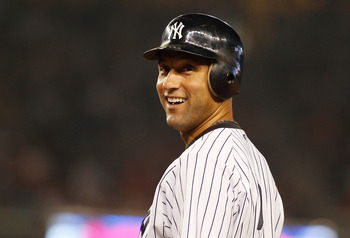 Mike Stobe/Getty Images
Let's face it. Derek Jeter doesn't have many years left playing baseball. He has even less years playing at a high level.
That means less chances for him to win a batting title.
With that being the case, he might as well do his hardest to win one now, while he's still healthy and batting like he is at the moment.
Jeter's always been known as an excellent hitter, but he's never won a title. He's won five World Series, been an All-Star 12 times, won four Silver Slugger Awards and is a two-time AL Hank Aaron Award winner.
Despite all of those accolades and various others, there's no doubt that Jeter wants to add a batting title to his collection.
The fact that he doesn't have one yet will add some fire and determination in his quest to win it this year.
Keep Reading

New York Yankees: Like this team?