Brock Lesnar: Male Diva or Working All the Right Angles?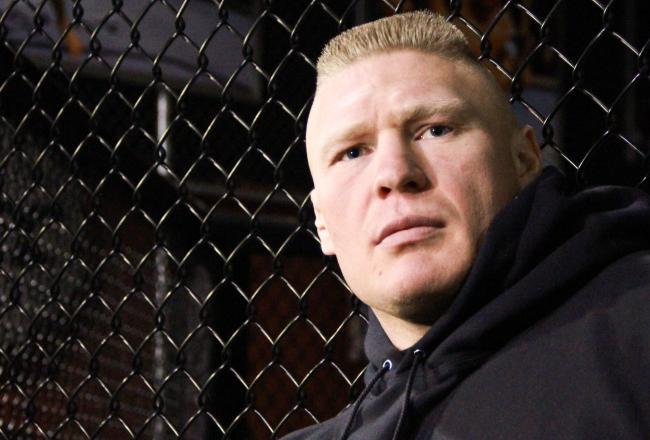 "If you have a milkshake, and I have a milkshake. And I have a straw, and my straw reaches across the room and starts to drink your milkshake. I drink your milkshake! I drink it up!"

~ Quote from the movie "There Will Be Blood"
This scene perfectly sums up the conversation Vince McMahon should've had with Brock Lesnar following the backstage nonsense that apparently took place after Extreme Rules went off the air on Sunday night.
Lesnar was reported to have thrown quite the "hissy fit" over John Cena's post-match speech and the fact that he walked away on his own power. He claimed Cena intentionally pulled the top rope down during a spot in the match where Lesnar flopped onto his knee pretty hard, claimed the match made him look weak and pretty much said everything in the WWE is done wrong.
It's reported that Lesnar was also seen sucking his thumb and shoving his "blanky" up his nose after the temper tantrum was over.
What does the WWE universe make of all this?
Vince McMahon extended an olive branch—a lucrative one-year contract for limited appearances—to Lesnar in hopes of drawing much-needed publicity to a product that was coming off one of its extreme high points in recent memory. Clearly, something needed to be done in order to keep momentum going after WrestleMania; and to Vince, Lesnar was the answer. It was bold and exciting, and many considered it a pleasantly surprising new twist in the ever-evolving landscape of the WWE.
The return—albeit limited—of Brock Lesnar would spark outside interest in the company, captivate old fans and rejuvenate the current fanbase. It had "perfect plan" written all over it, and while it still does, it may come with some side effects.
Whether it's a "work" (planned/scripted event) or not, there's one thing perfectly clear: the perception we, the WWE universe, have of Brock Lesnar. That perception? That's he's probably a male diva who lives in some sort of imaginary world where he actually thinks he's doing the WWE a favor by "wrestling" again for them.
Sure, the WWE is low on talent and suffering from injuries, a WrestleMania hangover and the sudden loss of part-time talent (used to build the big event), but Lesnar hasn't earned the right to deserve anything. He was already handed the keys to the WWE kingdom nearly a decade ago and chose to walk away from it all to pursue "greener" pastures. The company was forced to move on and did. Lesnar would be insane (probably more egotistical) to think it would be like he never left.
Let's not forget that the last time Lesnar was seen inside a WWE ring before Sunday's highly entertaining bloodbath with Cena was when he was stinking up Madison Square Garden with Goldberg. I would think losing clean to John Cena (especially after dominating most of the match) would be fair punishment enough.
My brain is screaming that this whole big to-do is an elaborate work by the WWE. A work designed to make me write articles—such as this—lambasting Lesnar and turning my back on him. Making him the greatest WWE heel in the process.
My brain is also telling me that Lesnar is more then capable of doing something like this. A self-absorbed, egotistical behemoth who hates when things either don't go as planned or—more importantly—his way.
I'd probably bet that it's a combination of the two. Lesnar had some strong, loud and vocal words with backstage officials about the event, and reports got out of hand and probably embellished as all kinds of information flooded the internet (dirt sheets) causing the WWE to arch its story around the incident.
Is this what we all have to look forward to listening to every time a "once upon a time, big-shot former wrestler" returns to the WWE part time?
Do these "wrestlers" not understand what signing a contract with McMahon really means by this point? Did he—and the WWE universe—actually think he would just be able to show back up and dominate like it was 2002 all over again?
I was shocked, just like everyone else, when Cena was put over Lesnar, but it showed me something about the WWE that I highly respected. They won't sell out their current talent for the sake of bringing in part-time talent.
Cena would have been nothing after a loss to Lesnar. Just another former champion who all the kids liked. That means nothing in the WWE universe in this current era. Now I clamor for a rematch. The WWE actually got me to not only "mark-out" for a Cena victory, but actually had me rooting for the schmuck the entire time.I thought I would never say that.
Brock Lesnar will still have immense drawing power whether he wins or loses at this stage in the game. It all comes down to what good wrestling always comes down to—proper booking. Lesnar's matches now have an unpredictable nature to them, and that's when wrestling matches are at their best. Watching Lesnar train wreck everyone for a year and then leave would have sucked for everyone except Lesnar's loyal fanbase.
What's more important: the WWE's long term future or Lesnar's legacy with the company?
Yes, Brock. Welcome back to the WWE! Hope you're happy with your milkshake (aka million dollar contract) and thanks for being back in the club.You and the WWE can do magical things together with your new-found UFC popularity, but just remember how you left, why you left and the massive hole that was created in your absence. A lot of people trusted you, put you over and got you over. Too bad you had to complain the first time someone asks the same of you.
Because everyone knows that in the land of milkshakes, Vince McMahon has the biggest straw. And if his straw reaches all the way across the room and finds your milkshake he'll drink it all up...
... along with your career if you're not careful. No one is above this business, and Lesnar would be a fool to think that another outburst like last Sunday's won't be met with so kindly. The WWE would love to have Lesnar (they do need him), but at what expense?
This article is
What is the duplicate article?
Why is this article offensive?
Where is this article plagiarized from?
Why is this article poorly edited?