The 20 Strangest Athletes' Kids' Names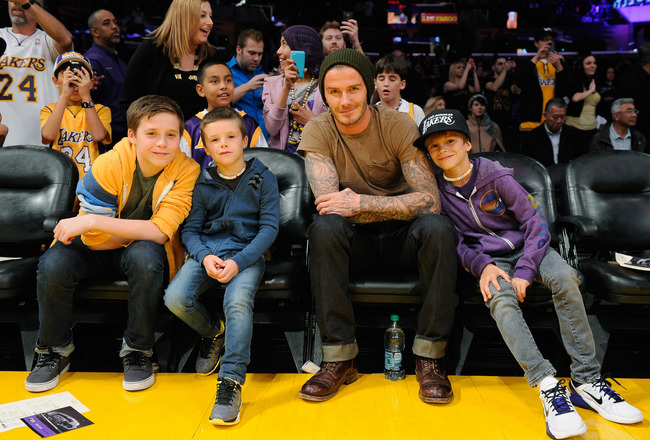 Kevork Djansezian/Getty Images
Naming your child is a stressful process. It is a journey that involves research and creativity.
But the sports world features unique characters—those who think way beyond the box, those who make splashes every time they celebrate, hold a press conference or argue with referees.
Giving their children first names is another step toward greatness, and no ordinary name like John or Doe can possibly lead them to immortality.
No, they require something far more eccentric, far more unheard of.
We've finished our search for the worst athlete baby names, and here's what we found.
Forget the spell check.
20. Kadence Clover Hawk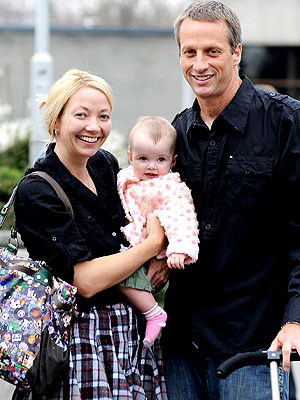 Image via babble.com
Finishing epic 900s will earn a skateboarder plenty of respect around the sports world, but naming his daughter after what sounds like a vocal plant will put him in the record books.
Tony Hawk always keeps it fresh.
19. Kroy Jagger Biermann Jr.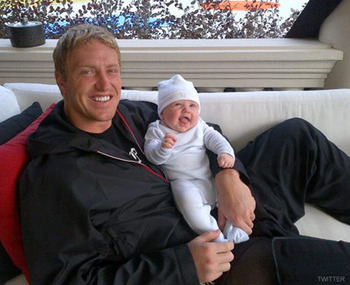 Image via aimlesslastwords.com
Naming a child mini-you Jr. is common, sure, but after a famous rock star as well?
Seems a little intense.
Although, Real Housewife Kim Zolciak and defensive end Kroy Biermann certainly fit that mold.
Start growing out that shag early.
18. Sundance Thomas Jennings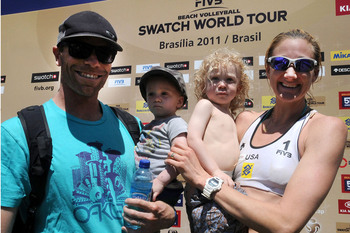 Image via usavolleyball.org
Pro volleyball couple Kerri Walsh and Casey Jennings were subtle at the start, naming their first child Joseph Michael.
But younger son, Sundance Thomas, seemed the culmination of boredom and insanity.
17. Deiondra Sanders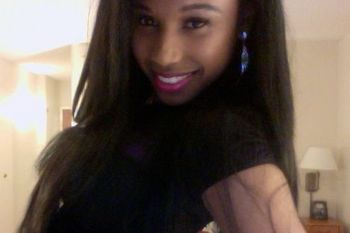 Image via hiphopwired.com
Five children with two women include the groupings of Deion Jr. and Deiondra, plus Shilo, Shedeur and Shelomi.
But I just love how Deion managed to name a girl after him as well. Well played, Deion.
16. The Moss Crew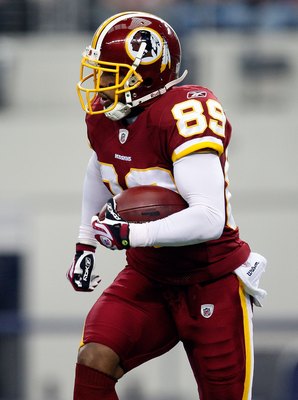 Ronald Martinez/Getty Images
His speed does wonders for him on the field, but receiver Santana Moss may have acted too quickly when naming his children.
Santana Jr., Saniya and Savion form quite the three musketeers.
15. Cooper Carr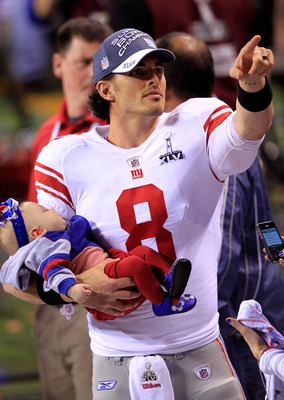 Chris Trotman/Getty Images
Austin, Cooper and Tyler—nothing really seems strange.
But giving your son the name Cooper Carr? Not so thrilled about that.
The one lacking part of David Carr's game.
14. Maxwell Drew Simpson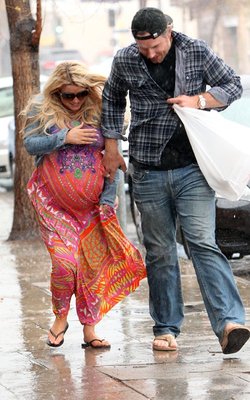 Image via thegossipwire.com
What a brilliant name—but, oh wait, it's a girl.
Classic screw-up by the same Jessica Simpson who didn't know whether tuna was chicken or fish.
Eric Johnson was clearly nowhere to be seen during this process.
13. Shaq Attack's Young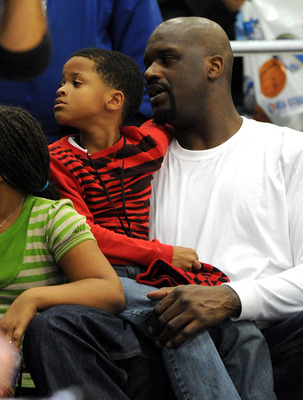 Jason Merritt/Getty Images
Shareef, Amirah, Shaqir and Me'arah—somewhat of a daunting pronunciation.
But rhythmic and in-sync, of course. We'd expect nothing less from Shaq Diesel.
12. The Ochocinco Residence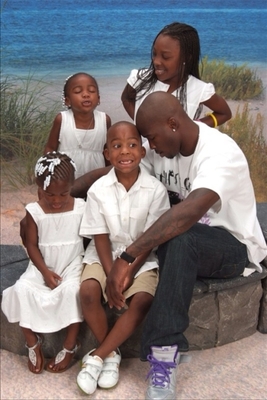 Image via carltonjordan.com
Despite his kids being called Jicyra, Chad Johnson II, Chade and Cha'ie, mercurial receiver Chad Ochocinco is still most questioned for his own surname change.
Carson Palmer deserves a jumping high five for ripping the name off Chad's jersey.
11. The Young Pacquiaos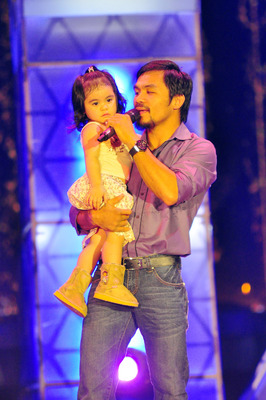 Dondi Tawatao/Getty Images
After naming two of their four kids Emmanuel Jr. and Michael Pacquiao, the Pacquiao couple decided to flip the script a bit.
Princess and Queen Elizabeth together formed a solid encore.
10. The T.O. Squad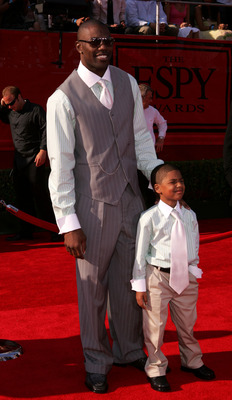 Mark Mainz/Getty Images
Terique, Atlin, Kylee and Dasha.
A slick-sounding selection to complement Terrell Owens' flashy career on the gridiron.
Well done, bro—truly.
9. Antonio Cromartie's Lost Count
Literally the worst naming of an athlete's kid, by the athlete no less.
With a total of 12 kids (including two on the way) for Antonio Cromartie, we'd expect some unique diversity.
Amid the four from his current wife and eight others with seven different women are Jagger, Jurzie, Deyjah and London.
8. The Iverson Legends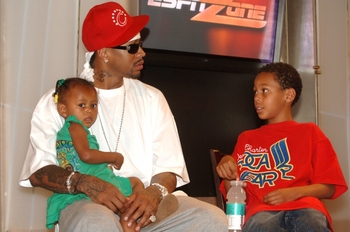 Image via blackcelebkids.com
Tiaura, Allen Jr., Isiah, Dream and Messiah. What a collection.
Allen Iverson will never disappear from the spotlight with this level of creativity.
7. Willow Sage Hart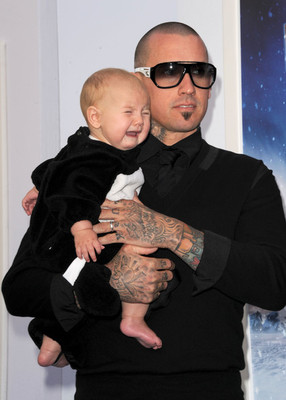 Image via zimbio.com
When freestyle motocross and off-road racer Carey Hart merged with pop singer Pink to start a family, we expected a unique future.
But Willow Sage Hart just sounds like a necessary spice in the making of gazpacho.
Let's try a carb next time—like Risotto Hart.
6. G.M. Johnson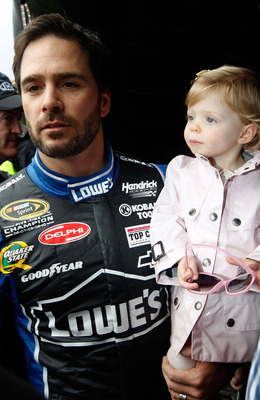 Streeter Lecka/Getty Images
It's only natural that four-time Driver of the Year Jimmie Johnson would name his daughter Genevieve Marie after General Motors.
Actually, it's just weird.
5. The Clemens Boys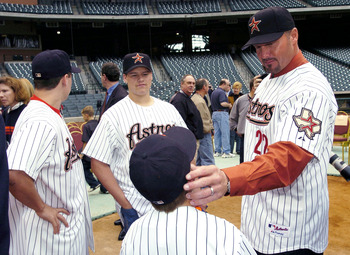 Brett Coomer/Getty Images
For the definition of narcissistic, look no further than Roger Clemens.
In naming his kids Koby Aaron, Kory Allen, Kacy Austin and Kody Alec, each after the illustrious strikeout of course, Clemens showed the sports world that he is in fact far more arrogant than we once believed.
What a legacy.
4. George Foreman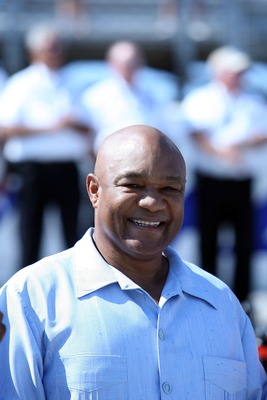 Jamie Squire/Getty Images
With 11 kids to name, former heavyweight George Foreman already had a tough task ahead of him.
But the problem was quickly solved; he named his five sons George (I, II...).
They are instead known by their nicknames, such as "Monk," "Big Wheel," "Red" and "Little Joey."
Distinguished by their grilling skills seemed more likely.
3. Ace Shane and Diesel Dean Daigle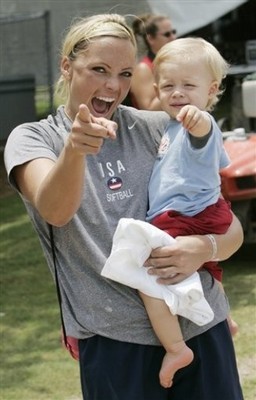 Image via deadspin.com
Both seem bordering on obnoxious, but at least Casey Daigle and Jennie Finch gave Ace a solid name.
Diesel seems more like the D counterpart to Triple H.
2. The Beckham Offspring
Kevork Djansezian/Getty Images
We'd expect the biggest stars in England to name their kids Brooklyn Joseph, Romeo James, Cruz David and Harper Seven. It makes sense.
But naming Elton John and Elizabeth Hurley the godparents was an unexpected, yet brilliant move by the Beckhams.
1. The Anderson Kids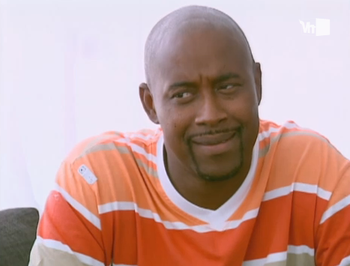 Image via nbaoffseason.com
Three marriages, seven children and five women. Kenny Anderson clearly isn't messing around.
But in naming his kids Danielle (normal), Kenneth (yup), Devin (fine), Christenese (stepping it up a notch), Lyric (um, what?) and Jazz (the icing on the cake), Anderson might be messing around a little.
Keep Reading