San Francisco 49ers Undrafted Free Agents: Odds Each Man Makes the Final Cut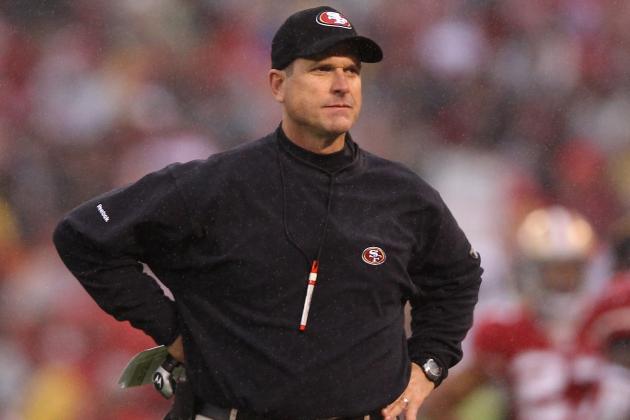 Ezra Shaw/Getty Images
Jim Harbaugh has 90 players to evaluate for his roster
The San Francisco 49ers have now completed their collegiate draft with seven new players joining the Red and Gold. In addition, the 49ers have also signed 19 undrafted free agents to bring their roster to the maximum limit of 90 players.
Unlike a few years ago when there were several roster spots available, that is no longer the case under the regime of general manager Trent Baalke and head coach Jim Harbaugh.
The odds for any of these UDFA's to actually make the opening day roster are quite long. Some of the lucky few could make the 49ers' practice squad and others are hoping to show enough that they're, in essence, auditioning for potential jobs elsewhere.
Let's take a closer look at these UDFA's and break down their chances of making the 49ers' roster.
Begin Slideshow

»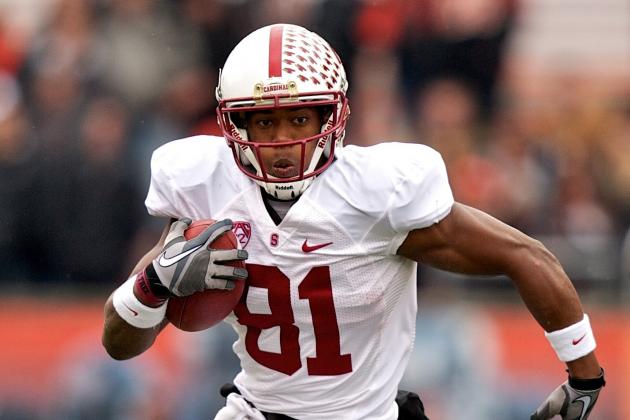 Craig Mitchelldyer/Getty Images
Chris Owusu has the athleticism to play in the NFL
Chris Owusu has NFL-caliber skills and is one of the more prominent names among the 49ers' UDFA class of 2012. Owusu caught the attention of scouts by running a 4.36 time in the 40-yard dash. His vertical leap was also impressive at 40.5 inches.
In his four years at Stanford, Owusu caught 102 passes for 1,534 yards and 10 touchdowns. His production did not match his athleticism, even when he was healthy.
The main issue with Owusu is definitely his health. He sustained three concussions in a 13-month span, which undoubtedly scared teams away from drafting him. I vividly remember two very scary occasions over this past year when he was knocked senseless and had to be carted off the field.
With a very crowded wide receiver corps in San Francisco, Owusu has almost no chance of making the opening roster. He could, however, earn a spot on the practice squad. With Randy Moss signed to a one-year contract, that's a spot that could open up a year from now.
In addition, there are question marks about Kyle Williams and Ted Ginn, Jr. making the roster, so more spots could be available. The key is whether the 49ers decide to keep five or six wide receivers.
With Michael Crabtree, Mario Manningham, Moss and first-round draftee A.J. Jenkins likely to make the team, that leaves only one or two spots available. And in addition to competing with Ginn and Williams, Owusu also has to outperform Brett Swain, Joe Hastings and John Matthews to have any chance at all.
Realistically, the best Owusu can hope for is a spot on the practice squad for 2012. I do think he has a decent shot of claiming one of those coveted spots.
Chances of making the opening-day roster: 5%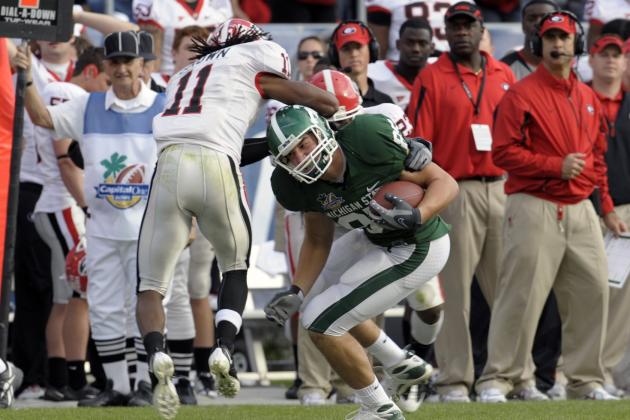 Al Messerschmidt/Getty Images
Tight end Garrett Celek was mostly a blocker at Michigan State
Head coach Jim Harbaugh is a big fan of tight ends and has several formations where he utilizes two and sometimes even three tight ends for a play. This gives Garrett Celek a chance, as realistically he needs to beat out Nate Byham for the third tight end spot, while Vernon Davis and Delanie Walker are firmly entrenched as tight ends.
While at Michigan State, Celek was utilized almost exclusively as a blocker. Although he played all four years with the Spartans, he caught only 14 passes for 135 yards.
Byham joined the 49ers in 2010 and was mostly utilized as a blocker in short-yardage situations. He is a strong blocker and also did catch five passes for 27 yards.
He also looked very good in training camp last year and it appeared his role would be expanding. Unfortunately, he sustained a torn ACL in camp and was lost for the year. It will be interesting to see if he can return to top form in 2012.
If Byham is slowed by his knee and Celek impresses in the preseason, Celek will have a shot to make the 49ers' roster. He will also need to excel on special teams to give him the best chance to stick.
Celek has a brother, Brent, who is a fine tight end with the Philadelphia Eagles. I'm sure Brent has been counseling younger brother Garrett on how he can best fit into a team.
Chances of making the opening-day roster: 25%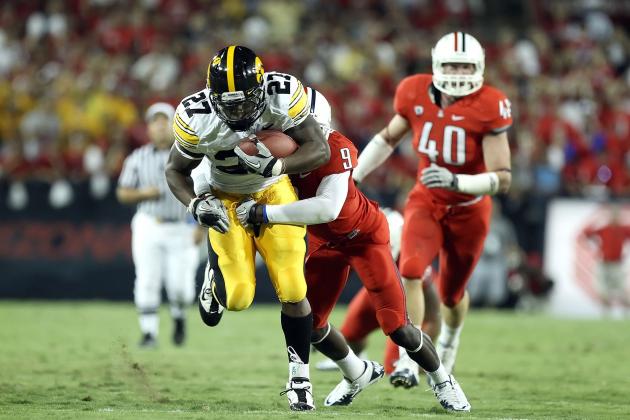 Christian Petersen/Getty Images
Jewel Hampton has overcome multiple ACL injuries
Jewel Hampton had an excellent 2011 season, so it was a bit of a surprise that he was not taken late in the draft. In 230 carries, Hampton rushed for 1,121 yards and 17 touchdowns for the Salukis this past season.
Although Hampton had a fine year, his past injuries undoubtedly hurt his draft status. Hampton tore his right ACL and missed the entire 2009 season. Then in 2010, he tore his left ACL in the second game of the year and, again, was lost for the year.
Hampton faces an uphill battle to make the 49ers' running back group. The Niners are well-stocked in the backfield with Frank Gore, LaMichael James, Kendall Hunter, Brandon Jacobs, Anthony Dixon, Bruce Miller and Rock Cartwright already on the roster.
With the 49ers likely to keep only five—or a maximum of six—running backs, there is no room for Hampton. Barring injury to a couple of the existing running backs, the best Hampton can hope for is a spot on the practice squad.
Chances of making the opening day roster: 10%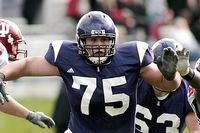 Al Netter started all 51 of his career games at Northwestern
Al Netter was a durable and valuable offensive lineman for Northwestern. He started all 51 of his games with the Wildcats and was an honorable mention All-Big Ten selection.
Netter has good size, standing 6'4" and weighing in at 312 lbs., but he may not be quick enough or a strong enough athlete to be an offensive tackle in the NFL. It appears as though he will be moved to a guard position in the NFL.
Netter will have a chance to compete for a job on the 49ers' offensive line. In order to stick, his main competition will be Daniel Kilgore, Mike Person, Joe Looney, Alex Boone, Chase Beeler and Jason Slowey.
If Kilgore wins the starting right guard job, Netter will need to beat out at least one of the other players mentioned, in order to make the team. With injuries what they are, Netter has a chance to make the team.
If Netter fails to make the opening roster, he will be a strong candidate for the practice squad.
Chances of making the opening-day roster: 10%
Georgio Tavecchio kicked for four years at Cal
There are most likely three reasons the 49ers signed former Cal kicker Giorgio Tavecchio.
First, the 49ers did not need to buy him a plane ticket to get to their Santa Clara training facility.
Second, Tavecchio will do a lot of kicking with the 49ers' primarily goal of not overworking their star kicker David Akers.
Third, as a left-footed kicker—like Akers—the entire field goal team will be able to set up and practice from the same positions as if it were Akers doing the placements. This will make sure the long snapper and holder are always in sync with a left-footed kicker.
Tavecchio had a good season in 2011 with the Cal Bears. He made 20-of-23 field goals and is 48-64 over his entire four-year career.
Tavecchio had problems with extra points last year, though, missing six of his 42 attempts, and he also did not drive the ball into the end zone on his kickoffs. This was a huge advantage with Akers, and with Tavecchio that advantage would be lost.
The one thing with Tavecchio was that you were never truly confident he would make the important kick when it counted. In his four seasons at Cal, he had numerous chances to put games away or win them for the Bears, but it seemed like he failed as often as he succeeded.
Even if Akers were injured, there is virtually no chance the 49ers would go with Tavecchio as their kicker. They would find someone else on the free-agent market.
Chances of making the opening-day roster: 0%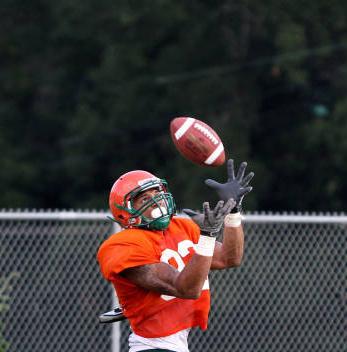 Brian Tyms has impressive size and speed
Florida A&M wide receiver Brian Tyms had a mediocre season in 2011. He caught 38 passes for 538 yards and three touchdowns.
Tyms garnered interest by having a good pro day. He ran the 40-yard dash in 4.40, and at 6'2" and 200 lbs., Tyms has the size and speed to play in the NFL. The issue with him is his productivity and the fact that he has not played against top-caliber competition.
With the glut of wide receivers already on the 49ers' roster, it is extremely unlikely Tyms can make the roster. His only real hope is to show well enough to make the practice squad.
Chances of making the opening-day roster: 1%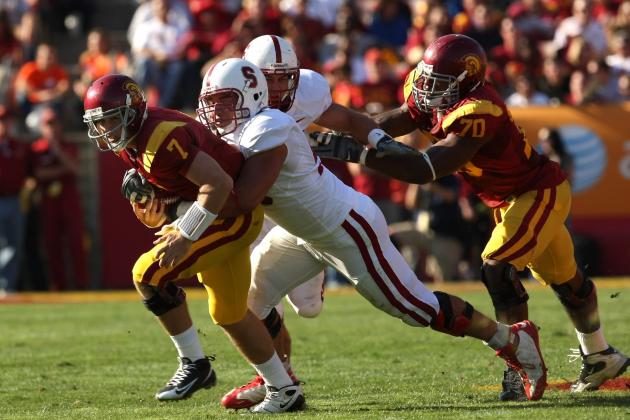 Stephen Dunn/Getty Images
Matt Masifilo makes a play against USC
Matt Masifilo is an interesting prospect. The former Stanford defensive end is well known to Jim Harbaugh and defensive coordinator Vic Fangio.
At 6'3" and 300 lbs., Masifilo has the size to be an effective defensive lineman. Although not overly productive, he was an honorable mention All-Pac-12 honoree in 2011.
In addition to the 49ers' defensive line starters Justin Smith, Ray McDonald and Isaac Sopoaga, they also have Ricky Jean-Francois, Ian Williams, Demarcus Dobbs and Will Tukuafu vying for roster spots. The 49ers also drafted defensive end Cam Johnson, who is ranked ahead of Masifilo at this time.
There is also talk of the 49ers moving Masifilo to the offensive line. He is a longer-term project and the best he can hope for is to make the 49ers' practice squad.
Chances of making the opening-day roster: 2%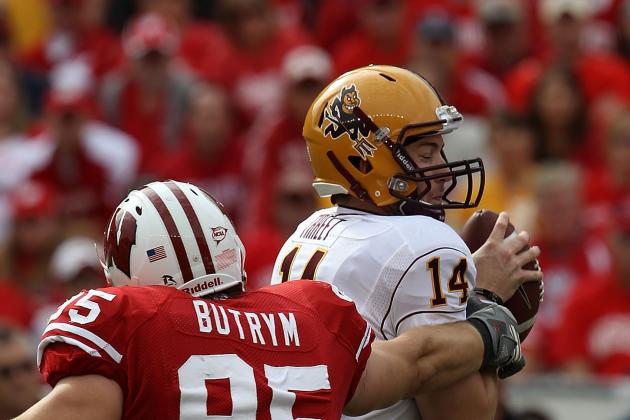 Jonathan Daniel/Getty Images
Patrick Butrym is a long-shot to make the 49ers
Patrick Butrym was an honorable mention All-Big Ten selection in 2011. He was a solid, though unspectacular defensive lineman for the Badgers.
In 2011, Butrym was credited 23 tackles, but only five of those were solo tackles while the others were assisted. His one sack this past season also does not engender a lot of confidence.
With the competition on the defensive line for the 49ers, I do not expect Butrym to make an impact.
Chances of making the opening-day roster: 1%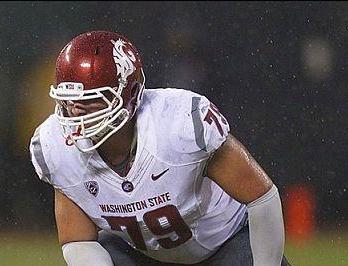 David Gonzales started 12 games for the Cougars in 2011
Offensive tackle David Gonzales is well known to Jim Harbaugh and the 49ers' coaching staff. Having seen Gonzales play offensive tackle at Washington State, Harbaugh is well equipped to make a decision on whether he deserves this chance as an UDFA.
Gonzalez stands 6'6" and weighs 295 lbs.. He was an honorable mention All-Pac-12 selection this past season. Gonzalez has decent techniques, although he is not overly strong or athletic.
He will battle Mike Person, Jason Slowey, Al Netter, Kevin Murphy and Chase Beeler for the last spot or two as depth on the 49ers' offensive line. It's unlikely Gonzalez makes the cut, but he is a candidate for the practice squad.
Chances of making the opening-day roster: 7%

Dajuan Cofield attended the 49ers' Pro Day
DaJuan Cofield participated in the 49ers' local pro day. They must have liked what they saw as they offered the San Jose State running back to an UDFA opportunity.
I could not find any statistics on Cofield for this past season.
Chances of making the opening-day roster: 0%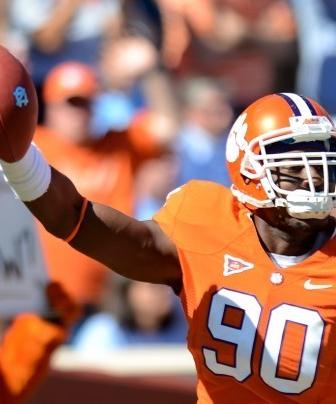 Kourtnei Brown scores a defensive touchdown for the Tigers
Kourtnei Brown played defensive end at Clemson. In 2011, he made 22 tackles and also scored two touchdowns, one on an interception return and another on a fumble recovery.
Brown is 6'5" and 256 lbs. His 40-yard dash time of 4.70 is very good for a defensive lineman, and he has the speed to be a force on the pass rush.
However, he needs to add more muscle to his tall frame and develop better technique as he has trouble fending off blockers once they engage him.
Brown is an interesting prospect because of his excellent speed. If he's able to improve on his weaknesses, I can definitely see him becoming an NFL player. At his size, Brown may also be moved to an outside linebacker and pass-rusher, where he can best utilize his speed.
Although I do not see Brown making the team this year, he does have a chance. With his speed, he could also excel on special teams and will be fighting Darius Fleming, Cam Johnson and Joe Holland for a reserve linebacker/defensive end position.
Chances of making the opening-day roster: 10%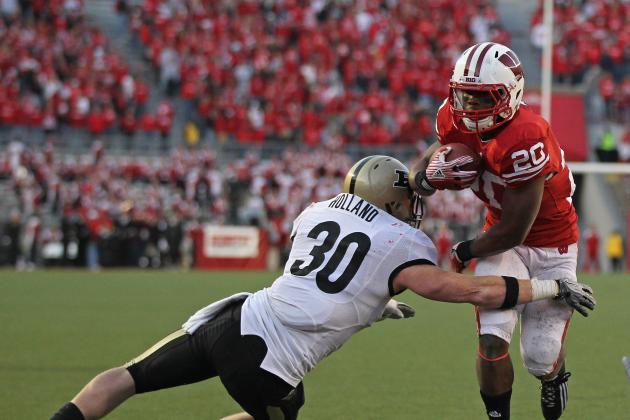 Jonathan Daniel/Getty Images
Joe Holland makes a play for the Boilermakers
Joe Holland is a smallish linebacker at only 6'1" and 225 lbs. However, his production has exceeded his limitations. Holland made 94 tackles this past season and had one interception.
Holland earned honorable mention All-Big Ten honors in his senior season at Purdue. He was has good leadership skills and was a co-captain of the 2011 team. Holland plays with a lot of heart and is one of those guys you hope makes it.
Unfortunately, Holland looks like he has topped out at the collegiate level. He does not seem to have the size or athleticism to make it at the NFL level.
With the 49ers pretty well set at the linebacker position, it is highly unlikely that Holland will be able to break through and make the team.
Chances of making the opening-day roster: 5%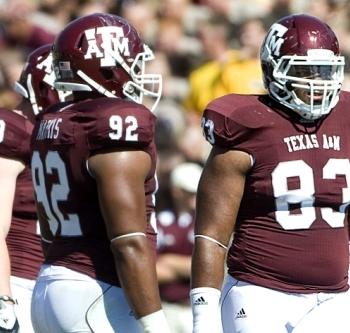 Tony Jerod-Eddie has the size and beef to warrant a shot
Tony Jerod-Eddie is a defensive tackle from Texas A&M. He is a big man at 6'4" and 305 lbs. and may be an ideal fit to back up Isaac Sopoaga at the nose tackle position.
The 49ers played almost the entire 2011 season using only three defensive linemen. They were very fortunate Justin Smith, Ray McDonald and Sopoaga did not miss much time due to injury. The odds of that happening again are slim, so the 49ers may like Jerod-Eddie for that insurance.
Chances of making the opening-day roster: 10%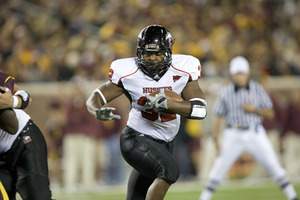 Cameron Bell will challenge at fullback
Cameron Bell joins the 49ers after playing his college ball at Northern Illinois. At 6'2" and 248 lbs., Bell has the size to play in the NFL.
The 49ers have Bruce Miller as the incumbent, with special teams star Rock Cartwright likely to act as his backup. If Bell impresses during training camp, he could find a job.
Bell only carried the ball seven times this past season, as he was mostly asked to block. Bell is a good blocker, which is a must for the 49ers' fullbacks.
With the departure of Moran Norris, that opens up a hole for Bell to make his presence known.
Chances of making the opening-day roster: 20%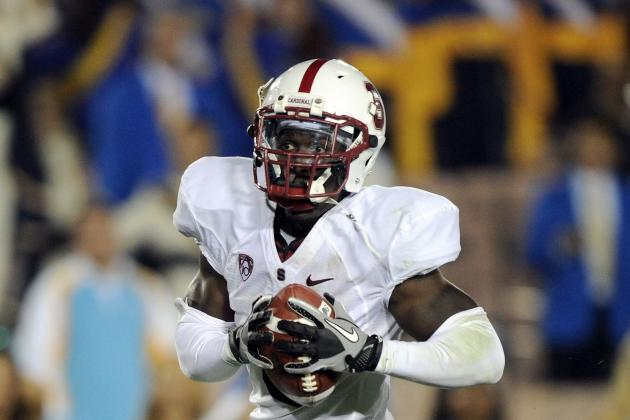 Harry How/Getty Images
Michael Thomas runs with an interception against UCLA
Michael Thomas is the third UDFA from Stanford that the 49ers have brought in. He stands 5'11" and weighs 182 pounds.
Thomas started all 13 games this past season and led the Cardinal with three interceptions. He was also second on the team with 66 tackles. A natural ball hawk, Thomas played well on defense for Stanford.
Thomas will need to excel on special teams in order to make the roster. With an abundance of players in the defensive backfield, the odds of Thomas making the team are very small.
Chances of making the opening-day roster: 5%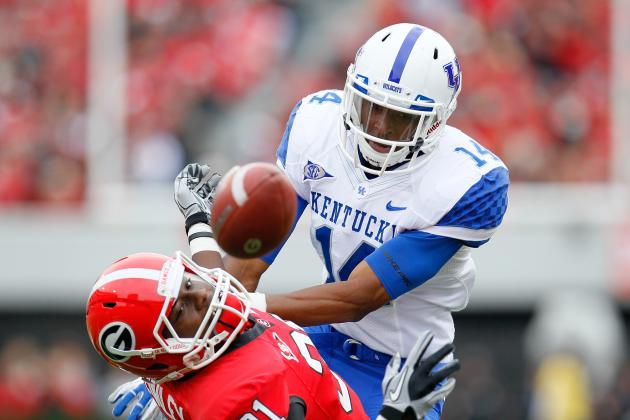 Kevin C. Cox/Getty Images
Anthony Mosley breaks up a pass against Georgia.
Anthony Mosley comes to the 49ers from the University of Kentucky. As a Wildcat, Mosley was a decent coverage man on the corner. He also accumulated 27 tackles while on defense.
Mosley faces an uphill battle to make the roster, as the 49ers have several cornerbacks ahead of him on their depth chart. In addition to starters Carlos Rogers and Tarell Brown, the 49ers also have Chris Culliver, Tramaine Brock and Perrish Cox.
Backup safeties Colin Jones, C.J. Spillman and the recently drafted Trent Robinson are also standing in the way of Mosley making the team.
Although it's very unlikely Mosley will earn a roster spot, he could be a good candidate for the practice squad.
Chances of making the opening-day roster: 10%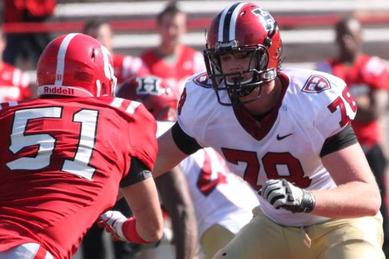 Kevin Murphy anchored the Harvard offensive line
Kevin Murphy grew up in San Clemente, Calif., so when he got the chance to join the 49ers, he jumped at the opportunity. Murphy started all 20 of his team's games over the past two seasons.
Murphy won the Joseph E. Wolf Award as Harvard's top interior lineman. The 49ers were very high on him and he has a legitimate chance to either make the team or find his way onto the practice squad.
Murphy is 6'7" and 303 pounds. With his height, he actually could put on some weight and gain strength. Playing at Harvard, Murphy did not face top-caliber competition week in and week out. He will be a developmental project, and I believe Murphy will make it to the 49ers' practice squad in 2012.
Chances of making the opening-day roster: 10%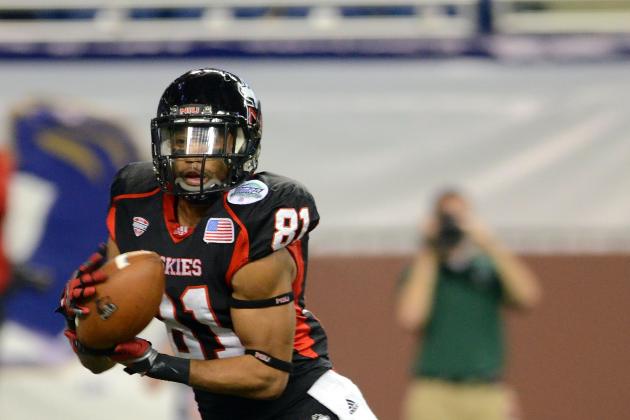 Mark A. Cunningham/Getty Images
Nathan Palmer hauls in a pass for Northern Illinois
Nathan Palmer is the second player from Northern Illinois to join the 49ers as an UDFA. The other is fullback Cameron Bell.
Palmer stands 5'11" and weighs 197 lbs. As a senior this past season, Palmer had 47 receptions for 695 yards and seven touchdowns.
Because of the large number of wide receivers the 49ers will have in camp, it is very unlikely Palmer will make the team. He will battle with other receivers Chris Owusu, Brian Tyms, Joe Hastings and John Matthews for a spot on the practice squad. Realistically, that's the best chance for Palmer at this time.
Chances of making the opening-day roster: 1%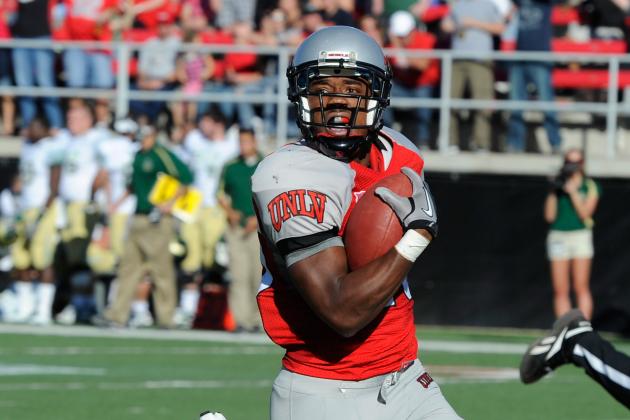 Ethan Miller/Getty Images
Deante Purvis scores for UNLV
Deante Purvis is an intriguing prospect. At 5'10" and 198 pounds, Purvis has played running back but will most likely play cornerback and return kicks in the NFL.
Purvis has excellent speed, running a 4.37 40-yard dash time. Although Purvis is unlikely to crack the 49ers' base defense, if he excels on special teams he has a chance to make the team.
Chances of making the opening-day roster: 15%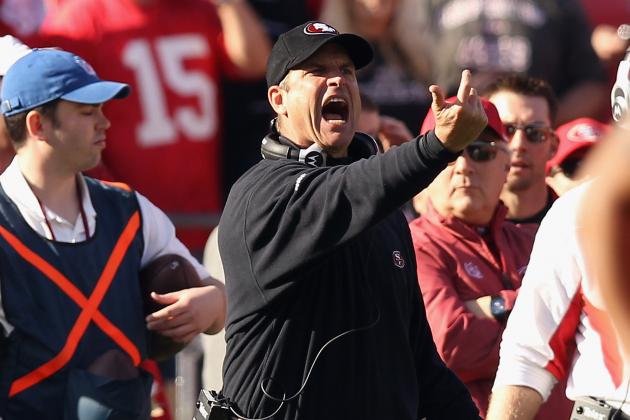 Ezra Shaw/Getty Images
Like their coach, the 49ers will display intensity and focus
San Francisco 49ers head coach Jim Harbaugh believes in competition for jobs, and there will be intense battles for roster spots. In just one short year, Harbaugh has changed the culture of the 49ers and made this a place where the players want to be at and play.
It will be very difficult for any of the UDFA's listed in this report to make the team, although, as I mentioned, some players have legitimate chances. For many others, the best they can hope for is to be seen by other teams that will sign them if they get cut.
One additional source of jobs is for the top players who either just missed making the team or have shown enough potential to be kept around. This is the practice squad, which is comprised of eight players who get to work with the team, learn and develop.
The competition for spots on the practice squad will be just as intense as the competition for positions on the 53-man roster.