Floyd Mayweather and the Most Colorful Athletes in Sports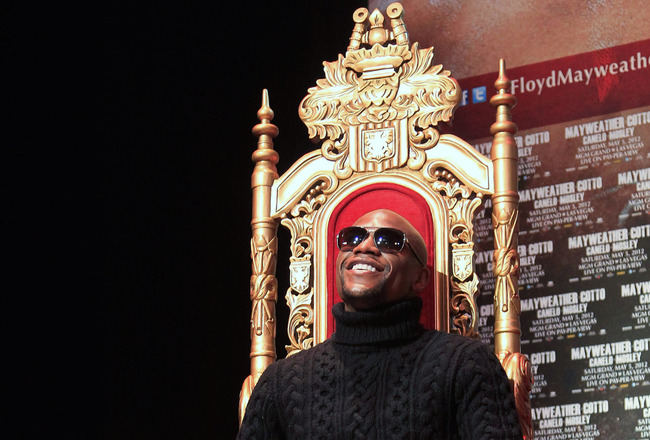 Chris Trotman/Getty Images
In the wide world of sports, there are many athletes in every conceivable sport, from football to lawn mower racing.
Each sport has their own cast of characters that make the league interesting to watch and add a hint of depth to what the sport brings.
Every sport has its stone-faced, no-nonsense characters. The Tom Bradys, the Mariano Riveras, the Alex Ovechkins. But to balance the act, every league needs its cast of odd-balls, weirdos, whack jobs, and general nut cases.
Without them, there would be no comic relief or pop to the culture of sport. They make long games as entertaining as possible and keep fans in anticipation of what they'll do next.
So in honor of the oddities that dazzle the sports world, here's a list of some of the most "colorful" athletes in the world of sports.
Terrell Owens-American Football
The list of colorful things T.O. has done in is his career as a wide receiver cannot possibly be listed in a single slide.
He's solidified himself as one of the most recognizable athletes in recent memory and will remain there for quite some time.
With such legendary episodes like the driveway work out, the popcorn celebration, the Sharpie marker, and his collection of exotic touchdown celebrations, he is easily one of the most colorful athletes in the world of sports.
Floyd Mayweather Jr.-Boxing

WATCH LARRY MERCHANT'S REACTIONS!!

With aliases like "Pretty Boy" and "Money", the ground work of being a character is firmly set for Floyd Mayweather.
He's got a history of lavish parties laden with exotic women, celebrities, and plenty of shenanigans and good times.
He likes to run his mouth a lot, say things that most others wouldn't, and makes some questionable decisions.
But if you want to tell him to straighten up, I won't stop you. His 42 wins with 26 knockouts makes me believe that he's doing just fine being a stand out. For good reasons or bad.
Chad Ochocinco-American Football
For starters, Ochocinco is not Chad's birth name...not even close. His real last name is Johnson, but he changed it to Ochocinco so it would match his jersey number, 85, in Spanish.
The self-proclaimed "Black Mexican", Ochocinco is beyond off-the-wall. His touchdowns celebrations and sideline antics have become figures of legend as his career has progressed.
Classic Ochocinco moments include the sombrero on the field, the sideline Tweeting, and proposing to a Cincinnati Bengals cheerleader.
There's just so much to draw from that I'm at a loss on where to start. Ochocinco has set his own brand to say the least.
Dennis Rodman-Basketball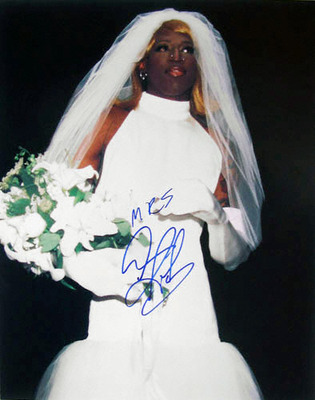 Former NBA star Dennis Rodman is another sports character that I'm at a loss for where to start. I mean honestly, he's wearing a wedding dress for Pete's sake!
On the court, Rodman was a dominate defensive force and even earned himself a Hall of Fame spot last year. The induction speech was also a spectacle along with his choice of attire for the evening— a black jacket trimmed with red which seemed to be studded with metal rings, or safety pins or something.
Covered in tattoos and piercings, sporting a different hair color every other day (sometimes multiple colors at once), and even a Kim Kardashian-like marriage to model Carmen Electra, make Rodman the odd man out when being compared to the vast majority of NBA players.
Mike Tyson-Boxing
Mike Tyson is arguably one of the most dominant heavyweight fighters to ever put on a pair of trunks. He is also one of the most bizarre people on the face of the planet.
Speaking of faces, did I mention that he has a tribal tattoo on his face, right around his eye?
Tyson has all the makings of a colorful sports figure. Violent relationships, lots of drugs, crazy parties, a tiger, and a chunk of Evander Holyfield's ear.
For those who don't know, Tyson bit off a chunk of Holyfield's ear during their fight, no lie.
Recently, Tyson has found a new niche on the silver screen, appearing as himself in "The Hangover" and "The Hangover II," where he does general, run of the mill, Mike Tyson stuff—like playing with a tiger, knocking out random people, that sort of thing.
Shonie Carter-MMA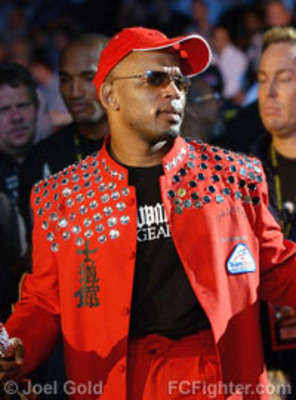 Shonie Carter is a heavily decorated mixed martial arts fighter that has just as many quirks as title belts.
He's best known for his outlandish dress and choice of fight day gear, which mostly entails a Speedo-type pair of shorts decorated with flashy colors, gem stones, or just about anything else that isn't normally found on a fighter's shorts.
Just as prominent is his animated way of speaking and boisterous personality.
Even his fighting is a bit odd, as he regularly uses the spinning backfist in competition—a move that not many bother to use due to its high risk of backfiring on you.
I wish I could put more pictures on a slide because only the pictures and sound bites could express the craziness that is Shonie Carter.
Metta World Peace-Basketball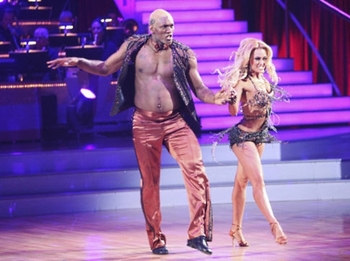 Another name changer, "Metta World Peace," is what Los Angeles Lakers forward Ron Artest is now calling himself.
He has been suspended for close to 120 games in his career due to a series of fights, verbal altercations and crude gestures to fans and officials.
Also a fan of the forever changing hair cut, World Peace tends to stick with elaborate designs shaved into his buzz cut, though he has been known to dye his hair from time to time.
He's recently made headlines by elbowing Oklahoma City Thunder guard James Harden in the side of the head a few weeks ago.
However, he's tried to clean up his image by going above and beyond in his philanthropy and volunteer work though, so we have to give him that.
Ironically, this seems like a path that has just added to the character that is Metta World Peace, or Ron Artest, which ever you prefer.
Chris Anderson-Basketball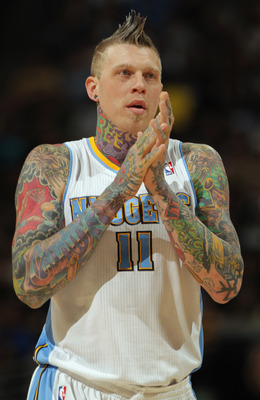 Doug Pensinger/Getty Images
"Birdman" made this list mostly because he's pretty colorful, literally. He has, what could easily be, the wildest, most colorful, and craziest set of tattoos the NBA has ever seen.
Couple the crazy amounts of vivid, full color tattoos with the ridiculous hair styles and facial hair and you've got yourself quite the character.
He has recently added to his persona by coming back to the NBA after being removed from the league following a failed drug test.
Now that Anderson is sober and back in action, he is playing better then he ever has before, electrifying "Bird-fans" everywhere.
Brian Wilson-Baseball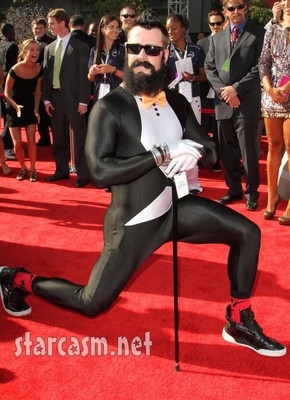 Brian Wilson is a relief pitcher for the San Francisco Giants and is probably one of the most recognizable players in the league, for both his talent and presence.
Wilson and his trademark beard have become nothing short of cult icons in the San Francisco area and for Giants fans around the globe.
He grew the beard out of impulse, dyed it black out of impulse, and seems to do a lot of things just because he can.
The mantra of "Fear the Beard" is a common battle cry for Wilson and his followers as it adorns the seats of seemingly every stadium he enters.
Nyjer Morgan-Baseball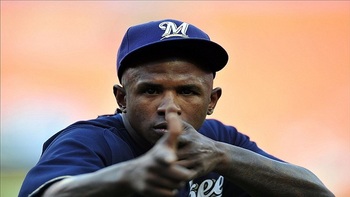 Nyjer Morgan is, at lest, completely and totally insane.
His biggest claims to fame include an alternate persona known as "Tony Plush," post-game stand up routines and tweets that are beyond human comprehension.
His craziness has been a sideshow whenever he takes the field, and is often cited as the reason for the majority of distractions for the Milwaukee Brewers.
This came full circle during a series between the Brewers and St. Louis Cardinals, when Morgan threw a wad of chewing tobacco at opposing pitcher Chris Carpenter—an action that emptied both benches.
Zinedine Zidane-Soccer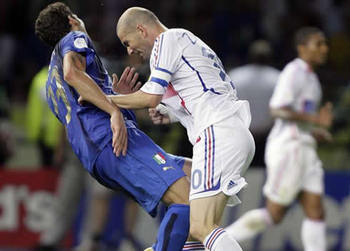 For most of his career, Zidane was a soccer icon and one of the best footballers in the world, earning numerous awards, accolades, and championships. He played for various club teams and was a member of the French national team for many years.
His career, which started when he was only 14, is enough to make him one of the most recognizable soccer players in the world.
Although, he became one of the most colorful athletes in sports following an incident that lead to his departure from the sport.
During a FIFA World Cup match against Italy, Zidane headbutted Italy's center back Marco Matterazzi, receiving a red card for the blow which forced him to leave the pitch.
Following the incident, Zidane brought the incident to an even greater level by saying that he would rather die than say sorry, a move that will forever label him "colorful," among other things.
Owen Schmitt-American Football
Owen Schmitt is currently a fullback for the Philadelphia Eagles.
Fullbacks don't get a lot of attention in today's game of football, so maybe that explains why Schmitt does bizarre things to himself...or maybe he's just that nuts.
Schmitt's claim to fame is his tendency to repetitively smash himself in the face with his own helmet, sometimes drawing blood and requiring stitches.
He did this throughout his career at West Virginia, he did it while with the Seattle Seahawks, and is probably doing it now with the Eagles.
Antonio Cromartie-American Football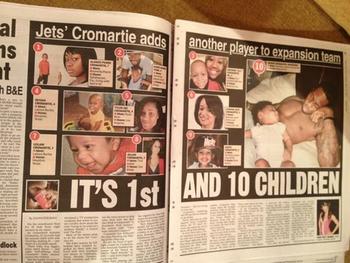 Being a successful cornerback in the NFL must get you a lot of attention from fans. But in Antonio Cromartie's case, he gets most of his attention from the ladies.
Cromartie's name is most synonymous with one of two things: his cousin, Dominique Rodgers-Cromartie, who's also a very successful corner in the NFL, and the fact that he now has 10 kids by eight different women in six different states.
That's a bit crazy by anybody's standards, including professional athletes.
Cromartie is a good corner. He has to be. If he's not, he's going to be a broke father of 10 with a lot of bills to pay and mouths to feed.
May we wish him the best of luck.
Other Notable Mentions from Sports History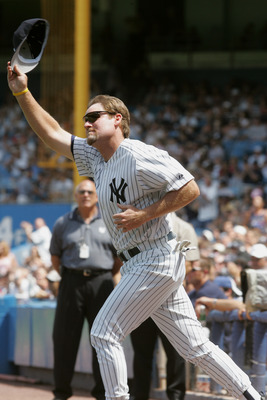 Jim McIsaac/Getty Images
Here are a few more that I thought of after I compiled the main list of colorful sports folks.
Wade Boggs- Had to eat a bucked of fried chicken before every game, among other superstitions.
Ryan Leaf- Is considered colorful not for anything he did on the field, but for what he did after he left football. His long history of drug abuse and arrests makes him the focal point of a lot of jokes and one of the most recognized sports people due to his colorful off the field antics.
Deion Sanders- Makes the list for his very loud and inspirational messages. He preaches on self-confidence and faith. His voice echos through the halls of mass media and his trademark bandanna is known far and wide.
Wilt Chamberlain- Besides having a 100 point game, Chamberlain claims to have slept with over 20,000 women during his life. He also exudes displays of wealth and prominence through his lavish housing and expensive taste.
Joe Namath- An outstanding quarterback first, outstanding drunk second. Namath had an amazing career with the New York Jets but also enjoyed many of life's vices and imbibed often. He was even the pitchman for a brand of pantyhose.
If you think of anymore, leave a comment!
Keep Reading