2013 NFL Mock Draft: Where Each Heisman Hopeful Will Land Next Year
May 1, 2012

Kevin C. Cox/Getty Images
In the 2012 NFL draft, we saw three Heisman Trophy finalists all go No. 1, 2 and 3 overall. As for the 2013 NFL draft, expect college football's four best players to be selected in Round 1.
They don't go successively but are still worth highlighting for next spring. In addition, here's where each will land along with the rest of 2013's first round.
Highlighted Players in Italics
1. Oakland Raiders: Matt Barkley, QB (USC)
It has been a tough offseason for the Oakland Raiders as Michael Bush and Stanford Routt are gone. In addition, Oakland had just six draft picks (none until the back end of Round 3), and Carson Palmer will be 33 years old at the end of the 2012 season.
Include a rough schedule on top of the rest of the AFC West making solid improvements (to say the least) this offseason, 2012 presents Oakland with the opportunity to draft USC's Matt Barkley in 2013.
After two decent years under center for the Trojans, Barkley had a great 2011 season with 39 touchdowns to just seven picks and a 69.1 completion percentage. Considering that the Raiders do possess a sound offensive line for pass protection and an effective ground game, Barkley will immediately flourish.
For one, he's Oakland's future under center and knows how to scan defenses off play-action. With a strong arm, spot on marksmanship and great size, Barkley has just as much potential (if not more) than Andrew Luck.
2. Minnesota Vikings: David Amerson, CB (North Carolina State)
In a pass-happy division, the Vikings still need to upgrade the secondary. David Amerson recorded 12 picks in 2011 for the Wolfpack, so his knack for getting turnovers suits Minnesota well.
3. Miami Dolphins: Robert Woods, WR (USC)
The Dolphins need a deep threat receiver to stretch defenses and help out the offensive line. Robert Woods is reliable all over the field and will prevent linebackers from blitzing against Miami's weak pass protection.
4. Tennessee Titans: Kawann Short, DT (Purdue)
The NFC South has two stellar running backs in Maurice Jones-Drew and Arian Foster. Tennessee is weak at defending the run, but that also happens to be Kawann Short's specialty. With 33.5 career tackles for loss, the Titans' front four significantly upgrades.
5. Indianapolis Colts: Jarvis Jones, LB (Georgia)
Indianapolis needs a young, stud pass-rusher to come off the edge, as Dwight Freeney will be 33 years old before 2013 kicks off and Robert Mathis will be 32. Jarvis Jones recorded 13.5 sacks for Georgia in 2011, along with 70 tackles and two forced fumbles.
6. St. Louis Rams: Barrett Jones, OT/OG (Alabama)
A dynamic offensive lineman, Barrett Jones' addition in St. Louis is imperative. The Rams allowed 55 sacks in 2011 and despite the upgrade of offensive weapons, production will remain scarce without a reliable line to count on.
7. New York Jets: Ricky Wagner, OT (Wisconsin)
There's no better way to improve the rushing attack than by adding a Wisconsin offensive lineman to the mix. Here, the Jets take Ricky Wagner as they need to keep Shonn Greene working in the trenches to set up Stephen Hill downfield off play-action.
8. Seattle Seahawks: Sam Montgomery, DE (LSU)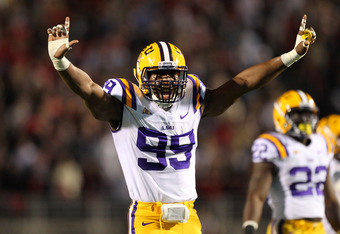 Joe Murphy/Getty Images
Bruce Irvin may be an intimidating pass-rusher, but Seattle needs an every down defender opposite of Chris Clemons. Sam Montgomery recorded 49 tackles and nine sacks for LSU in 2011, so expect more production against the rush and pass from him in 2012.
9. St. Louis Rams (via WAS): Eric Reid, Safety (LSU)
The Rams are slowly on the rise, and the defense has made some major upgrades. Still, getting LSU's Eric Reid must happen in 2013 as he a safety who can play in the box or back deep. With 76 tackles, eight defended passes and two forced fumbles in 2011, Reid will make even more noise in 2012.
10. Cleveland Browns: Tyrann Mathieu, CB (LSU)
The Browns definitely helped themselves by improving the offense via the 2012 draft, but the defense is still missing a few parts.
One of those areas is the cornerback opposite of Joe Haden. Fortunately, another SEC defender will be available in the playmaking form of Tyrann Mathieu. In two seasons for LSU, the Honey Badger has forced 11 fumbles, made 133 tackles, defended 19 passes and picked off four passes.
Now Mathieu may come in somewhat undersized, but his knack for causing turnovers and physical play bodes well in Cleveland. Putting him opposite of Haden allows the safeties more freedom to roam and make plays as well as the front seven to focus more on stopping the run.
Mathieu is also an excellent punt returner. In 2011 he amassed 429 yards on 25 returns and took two back for touchdowns. This is important for Cleveland, because not only will Mathieu change the field position, but it allows Josh Cribbs to focus on offense and become a better-developed slot receiver.
11. Carolina Panthers: Jonathan Banks, CB (Mississippi State)
With Josh Norman and Chris Gamble in the secondary, Carolina still needs to bring in talent for depth and rotational purposes. Jonathan Banks has defended 30 passes, taken three picks back for touchdowns and forced four fumbles in three college seasons. Not to mention, but the man is a solid punt returner with 166 yards on 16 attempts, including one score last season.
12. Tampa Bay Buccaneers: Brandon Jenkins, LB/DE (Florida State)
Tampa's defense is really coming around after selecting Mark Barron and Lavonte David in 2012. On the outside of the front seven though, Brandon Jenkins provides an intimidating pass rush (21.5 sacks past two years) and has the size to play defensive end in a 4-3 or 3-4 as well as outside 'backer in the 3-4.
13. New Orleans Saints: Johnny Adams, CB (Michigan State)
New Orleans needs a cornerback to help with the horrendous pass defense. Johnny Adams is a sound player with 24 defended passes and 122 tackles in three seasons for Michigan State. Despite being undersized, Adams is a better tackler than given credit for and reacts well once the ball is thrown.
14. Chicago Bears: Robert Lester, Safety (Alabama)
Along with Chris Conte at the safety position, Chicago needs a safety who can patrol the deep middle in Cover 1 and 3, while also rolling down to the second-level for a blitzing linebacker. Robert Lester has recorded 10 picks in the past two seasons but saw his numbers drop because of Alabama's stellar front seven. Against pass-heavy offenses of the NFC North, Lester will see plenty of opportunities to shine in Chicago.
15. Arizona Cardinals: Sean Porter, LB (Texas A&M)
One missing piece to Arizona's defense is a fast outside linebacker to complement Sam Acho. Sean Porter plays well against the run and has developed even more as a pass-rusher. With 194 tackles in three years, Porter's speed will help the Cardinals against the tough NFC West running backs.
16. San Diego Chargers: Manti Te'o, LB (Notre Dame)
Now that San Diego has that stud outside defender in Melvin Ingram, finding Takeo Spike's replacement on the inside is the next step. Well, Notre Dame's Manti Te'o is a pure interior player who possesses the quickness to make plays outside the box as well. Through his career with the Irish, Te'o has compiled 320 tackles and brings the instincts to control anywhere in the middle.
17. Jacksonville Jaguars: Aaron Murray, QB (Georgia)
The quarterback position is the final missing piece to Jacksonville's puzzle. Blaine Gabbert has potential, but it's reasonable to be concerned with him heading into the 2012 season and Chad Henne has underachieved during his career (otherwise he'd still be in Miami and not have durability concerns).
Well, right now the Jaguars' offense is loaded with weapons in Justin Blackmon, Lee Evans, Laurent Robinson, Marcedes Lewis and running back Maurice Jones-Drew. Not to mention, but coordinator Mel Tucker has a potential top-five defense backing the offense.
So, there aren't many holes on Jacksonville, but getting Georgia's Aaron Murray creates a more explosive unit. In two seasons, Murray has racked up almost 6,200 yards with 59 touchdowns to only 22 picks.
Despite not having A.J. Green in 2011, Murray improved upon his 2010 season, therefore 2012 only has increased expectations. If anything, Murray has been dominantly consistent for the Dawgs' offense. In Jacksonville, his mobility and arm strength will dice up defenses with the talent surrounding him under center.
18. Pittsburgh Steelers: Marcus Lattimore, RB (South Carolina)
Now that Pittsburgh has an upgraded offensive line, all the Steelers now need is a running back who can get the job done on every down.
In 2013, that man is South Carolina's Marcus Lattimore, who was responsible for 1,000 total yards and 11 touchdowns through just seven games before his 2011 season was cut short.
As a freshman in 2010, Lattimore dominated the SEC for the Gamecocks with 1,409 total yards and 19 touchdowns. Behind a dominant line that presents guys like David DeCastro and Maurkice Pouncey, Lattimore will make Pittsburgh's play-action pass much more dangerous.
Ben Roethlisberger needed improved pass protection, and he got that for 2012. Needing a complete package running back, Lattimore can also pass protect and be a reliable receiver out of the backfield. Getting yards after the catch is Lattimore's specialty, which is a major advantage when defenses load the box up front.
19. New York Giants: Kevin Reddick, LB (North Carolina)
The one area of weakness on the Giants is the inability to consistently defend the intermediate passing game. So, allow Kevin Reddick to enter the equation as this man has accounted for 145 tackles and 11 defended passes between 2010 and 2011.
20. Kansas City Chiefs: Tyler Eifert, TE (Notre Dame)
The Chiefs' offense is nearly complete. They have a two-back system in Jamaal Charles and Peyton Hillis with a solid receiving corps led by Dwayne Bowe. The final part is snagging tight end Tyler Eifert to make plays over the middle and help as a run-blocker. Compiling 803 yards on 63 catches last season, another good year from Eifert makes him even more appealing to Kansas City.
21. Buffalo Bills: Keenan Allen, WR (California)
To complement Steve Johnson out wide, Buffalo must get Cal's Keenan Allen in Round 1. A receiver with great size and reliability over the middle, Allen was responsible for 1,343 yards on 98 receptions in 2011. Provided he keeps dominating against man coverage, Allen may go higher than No. 21 overall.
22. Atlanta Falcons: Alex Okafor, DE (Texas)
With John Abraham already being old, Atlanta needs to bring in a younger presence on the edge. Alex Okafor is an improving pass-rusher and can read well against the run. Having recorded 79 tackles and 9.5 sacks that past two years, anticipate big things from the Texas defensive end in 2012.
23. Cincinnati Bengals: Tavon Austin, WR (West Virginia)
Complementing A.J. Green are Mohamed Sanu and tight end Jermaine Gresham. Now, Cincinnati gets Tavon Austin who can be the immediate slot player and widen defenses as a horizontal rushing threat. The past two seasons for the Mountaineers, Austin has collected almost 2,000 receiving yards but also has 341 rushing yards and 1,862 total return yards.
24. Detroit Lions: T.J. McDonald, Safety (USC)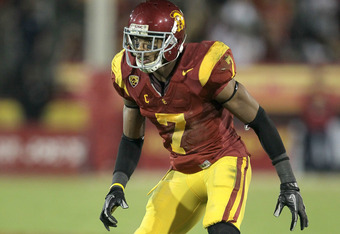 Stephen Dunn/Getty Images
The Lions still need to improve defensively, and adding T.J. is a great way to keep building. McDonald is a good-sized safety who knows how to make plays all over the field (156 tackles, six picks between 2010 and 2011) and can roll down into the box.
25. Dallas Cowboys: Travis Frederick, OG (Wisconsin)
Dallas definitely made many improvements via free agency and the draft this offseason to become Super Bowl contenders. Big D, however, still needs talent and depth in the trenches to prevent the aggressive NFC East defenses from controlling the line. Travis Frederick only enhances the offensive line as he comes from Wisconsin's pro-style offense that thrives at presenting a balanced attack.
26. Baltimore Ravens: C.J. Mosley, LB (Alabama)
Considering that Ray Lewis will be 37 before the 2012 kicks off, he's not going to be controlling Baltimore's front seven for the next 10 years. That said, the Ravens can't go wrong with Alabama's C.J. Mosley, who has 15 defended passes and 104 tackles for Nick Saban in two seasons.
27. Denver Broncos: Desmond Trufant, CB (Washington)
Champ Bailey turns 34 years old this summer, so adding more youth to the secondary must occur in Denver. Desmond Trufant is a consistent performer with 29 defended passes at Washington. Pair him opposite of Tracy Porter and the Broncos have a complete secondary.
28. Philadelphia Eagles: Jelani Jenkins, LB (Florida)
Philadelphia addressed its front seven needs with DeMeco Ryans and Fletcher Cox this offseason. Now, it's upgrading at outside linebacker to complete the defense. Jelani Jenkins has the speed to make plays against the pass (seven defended passes in 2011) and the awareness to fill quickly against the run (151 tackles the past two years).
29. Green Bay Packers: Rod Sweeting, CB (Georgia Tech)
Green Bay added one future stud corner in Vanderbilt's Casey Hayward during the 2012 draft. Here, we see the Cheese select Georgia Tech's Rod Sweeting who has defended 20 passes and accounted for 94 tackles between 2010 and 2011. Another strong campaign in 2012 and the Packers may have to trade up for Sweeting.
30. New England Patriots: Montee Ball, RB (Wisconsin)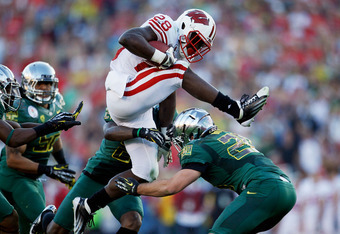 Jeff Gross/Getty Images
The Pats' offense is pass-oriented, but Tom Brady still requires that effective running game to set up play-action. Montee Ball is a complete ball-carrier with over 2,900 yards and 51 touchdowns between 2010 and 2011. His size and vision fit New England well, because defenses won't attack Brady as much with a dominant ground game working between the tackles.
31. Houston Texans: Shayne Skov, LB (Stanford)
Despite having durability concerns, when healthy Shayne Skov is as good as any middle linebacker in the game. Possessing excellent instincts and reactionary skills, Skov compiled 145 tackles in his first two college seasons. Put him with Brian Cushing in Houston's front seven and the Texans' defense is complete.
32. San Francisco 49ers: Lane Taylor, OG (Oklahoma State)
Allowing 51 sacks of Alex Smith including the postseason was a major flaw in San Francisco's offense in 2011. Oklahoma State's Lane Taylor, however, was rock solid for the Pokes as Brandon Weeden was sacked just 20 times in two seasons. Frank Gore becomes more presentable to set up play-action, and the passing game becomes a more relevant threat.
John Rozum on Twitter.