Mayweather vs Cotto: Why Epic Showdown Will Go the Distance
May 1, 2012

Mayweather vs Cotto is a tale of two quick-striking ring veterans that have showcased knockout power, but this PPV cash-cow will be milked until the final bell.  
Floyd "Money" Mayweather Jr. and Miguel "Junito" Cotto couldn't be more distinguished. 
Mayweather continually summons the trash-talking spirit of legendary wordsmith Muhammad Ali. But don't expect him to evolve into the beloved figure of the aforementioned boxing god. 
Floyd, perhaps first and foremost, is a businessman. He's conscious of what sells fights, plays the part of the disrespectful villain, but does so with his own twists that kick his polarization into overdrive.
Cotto is the opposite. When the camera pans to him, audiences usually see a polite family man, whose highest aspirations are to provide for his household through the medium of boxing.
Well, that and leaving Floyd Mayweather face-first on the mat for the first time in his illustrious career. 
It's a classic antagonist vs protagonist duel. 
During "Money" Mayweather's climb to the peak of boxing's apex, he was a knockout machine. Floyd amassed 18 stoppages in his first 24 fights.
However, the majority of casual boxing fans won't recognize a name until his 25th match against Diego Corrales.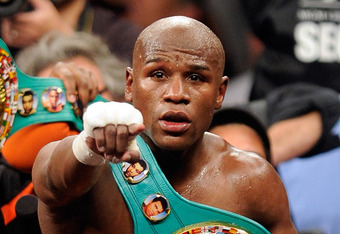 Including the TKO of Corrales, Mayweather has only forced stoppages upon six of his last 18 victims. 
Why?
Floyd is a frustratingly elusive counter-puncher. He boasts the anticipation of a psychic, and reflexes that could make The Matrix's cast look like Galápagos tortoises. 
Boxing is in Mayweather's DNA; his father, Floyd Mayweather Sr., once sparred with greats such as Sugar Ray Leonard.
Much to the fans' chagrin, "Pretty Boy" Floyd has shown that crowd restlessness won't distort the tactical gameplan Roger Mayweather (his uncle and trainer) lays out. Once the blueprint is finalized, Mayweather will not be enticed by outside influences—the only aspect that will dictate his next move, is his opponent's visible weaknesses.
Even when he's at his most vulnerable, trapped against the ropes, connecting with a clean shot against Mayweather is equivalent to the likelihood of sniping a gnat.
What's the solution to Floyd's seemingly constant head movement that has riddled 42 adversaries?
Body shots. And Miguel Cotto deals more of them than Coyote Ugly on spring break.
When boxing is simplified to its most basic of principles, one truth becomes evident: you can't hit, what you can't catch.
During Mayweather's rise to fame, his speed has been unparalleled. Arguably, his closest competition in the aforementioned department was Zab Judah, whom he dismantled in a 12-round showcase of patience and precision.
In order for "Junito" to overcome his opponent's slick maneuverability, the only feasible option for Cotto is to aggressively pursue Mayweather. 
Floyd will allow any forthcoming assailant to cut off the ring to an extent. Most slowly pursue, step by step, as if they're outwitting "Money" into an unavoidable trap before cashing in. 
Then, at the last moment, Mayweather squirms to the opposite side of the ring with a condescending smile. 
Miguel Cotto can't afford to slowly pursue like those before him. Mentally, he has to disregard Mayweather's rigorous counter-punching, and charge full-steam ahead. No boxer will stand over a defeated Floyd Mayweather due to selective pot-shots.
Should the Puerto Rican sensation hope to have his hand raised on May 5th, it will be attributed to a fearless mentality, intrusive stalking, and a barrage of diverse combinations. If the key to crumbling Floyd Mayweather's puzzling defense is a mixture of body blows, then Miguel Cotto possesses the recipe for success.
But will he execute under the bright lights of Vegas?
Doubtful.
Floyd Mayweather's gameplan usually consists of one strategy: avoid the opponent's strongest asset(s) at all cost, elude the competition until he shows signs of fatigue throughout the middle of the bout, then swoop in for the kill via calculated punches. 
The Michigan native's signature may be his defensive counter-punching, but his cardio is also second to none. 
His adversaries always attempt to repeatedly lambaste him, resulting in a significant blow to their stamina following the latter rounds.
Mayweather knows when to capitalize, and he will leave it to the judges if it's necessary to claim his 43rd victory. 
Make no mistake, Mayweather vs Cotto will be entertaining. 
Miguel Cotto has as much heart as any fighter to ever anchor the opposite corner of Floyd Mayweather Jr. 
However, ultimately, it's a remake of the same movie, and boxing enthusiasts know the ending all too well.